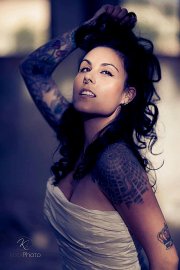 photo by Francisco José Garcia Morcillo
Your upcoming film Carnivoros - what is it about, and what can you tell us about your character in it?
Carnívoros is going to be a crazy film, full of laughter and lots of gory scenes. The film tells the story of a Heavy Metal band trapped in a small village inhabited by cannibal hillbillies.
My character, Pussy, is the lead singer of the band ("Las Pollas del Metal"). She's the kind of girl you would expect to find in a toilet, getting high and having sex with anyone she finds. In fact, she is pregnant but it is not clear who the father of the creature is. She is going to be a very funny member of the crew and I'm sure you'll have fun with all of her comments and with all the things she gets to do.
As far as I know, Carnivoros is going to be a rather gory movie - is that something you are at all fond of?
Sure ! I really enjoy gore films. It is a very funny sub-genre and I would highly recommend to watch this kind of films, if your only purpose is having fun and spending a good time.
The fact of being able to participate in this kind of films is making a dream come true for me.
With Carnivoros also being a comedy - to what extent can you identify with the film's brand of humour, and would you at all describe yourself as a humourous person?
Well, the kind of humor you can expect from Carnívoros is closely related to the gory facts it depicts. It's got nothing to do with a highly intellectually-concerned comedy. The aim of the film is to amuse those who can understand (and stand) how funny it can be to see somebody torn into pieces in a fictional work. Of course, I know it's not something most of the audiences would pay to see but I'm sure those who would enjoy so will find it worth watching.
On the other hand, I regard myself as a very humorous person, and I don't just refer to the kind of humor you'll be able to enjoy in this film. I enjoy and listening to all kinds of jokes and funny stories with all of my friends telling. I tend to share them via Facebook or whatsapp so we all have fun together. The best thing about funny things is to share them with the ones you appreciate.
How did you get involved with the project in the first place?
I had already gotten in contact with director Manolito Motosierra during the shooting of the film The Corpse Grinders 3, in which I played one of the main roles. It could be said that, after that, everything came by itself. Manolito was very happy with my performance in The Corpse Grinders 3 and he thought the character of Pussy would fit me. He proposed me to play this role and, well, you'll get to see the end of the story once the film is released…
What can you tell us about your director Manolito Motosierra and what was your collaboration like? And how did you hook up in the first place?
Manolito is a very kind person. He always deals with the scenes so in-depth he can even suggest changes minutes before shooting. Once he starts a project he can't stop thinking of it, he is always willing to improve it.
The first time I met Manolo was during the celebration of the festival Navidades Sangrientas, which he organizes in Alicante. Well, everything was quite fast, I was there with the intention of watching some films, he was looking for a girl for The Corpse Grinders 3 and he just proposed me to be there. It isn't a really complicated story to be told, as you can see, hehehehe…
With Manolito Motosierra, you previously made The Corpse Grinders 3 - so what can you tell us about that movie and your character?
The Corpse Grinders 3 is a very funny camp movie in which you'll be able to see all kinds of the things you would expect from a Ted V. Mikels film. In fact, Ted is very happy with the result and you'll be able to check it very soon.
In regard to the role I play, she is a strong girl who joins the hero, who is not exactly what could be considered a "clever boy". In my opinion I think both characters make a good combination in all of their scenes, it was a pleasure to work with the actor Pedro García, who did a great work. In fact I think all of the characters you'll see in the movie will have something you'll find appealing but, at the same time, I'm afraid you won't feel sad when they get finished in a very cruel way…
When making The Corpse Grinders 3, were you actually aware of the original The Corpse Grinders from 1971 and its 2000 sequel?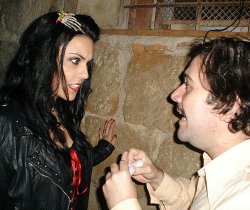 The Corpse Grinders 3
You might find this surprising, but even though I knew about the existence of the saga, I had never seen any of the original films. It was once I had been offered my role in The Corpse Grinders 3 that I got to see both of them. I must admit I had to get them via internet as, unfortunately, it is quite difficult to get this kind of films in Spain. However, I had a very good time watching them and it became one of the biggest motivations I found to prepare my role in The Corpse Grinders 3.
What can you tell us about 593 Vidas?
593 Vidas is a very interesting film. It's a thriller dealing with the human memory and it's full of details which refer to our homeland, Alicante. The film implied an exhausting pre-production task, though I'm sure the final result will satisfy anyone who has the chance of watching it.
How did you get hooked up with that project, and do talk about your collaboration with director Alex Monserrat for a bit?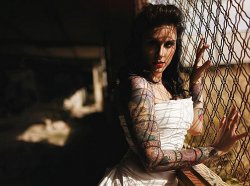 photo by Roberto Ramos
The story is not very surprising. I was informed there was a casting for a film and I decided to try to get a role in the film, so there I went… Alex did a great job and I consider it can be clearly seen once you have a look at the final result.
He was very kind with all of us, which helped to feel motivated enough to give our best. Everyone was satisfied with Alex's task, he had everything under control in every single moment, a thing which made it much easier to work. We could say that the shooting worked as a perfectly designed piece of engineering thanks to Alex and all of his team.
Any other films of yours/future projects you'd like to talk about?
There have been a couple of short films and I hope there will be something else just before the year ends. I'll keep you up-to-date about these affairs!
With most of your films being of the horror variety, is that a genre you can at all identify with?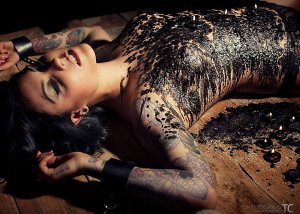 photo by Tomás Czurylo
As I have said, I really love this genre and I have had great moments watching horror films. In fact, I'm a big fan of movies such as Evil Dead or Bad Taste. I also love the films by Troma, The Toxic Avenger"being one of my favorite ones. Luckily, I was able to meet Lloyd Kauffman
Nevertheless, horror is not the only genre I'm interested in. I also follow other directors, such as David Lynch or John Waters, though they don't strictly belong to the horror genre.
How did you get into acting in the first place, and did you receive any formal training on the subject?
Well, it wasn't really on purpose. I come from the modeling world. A friend of mine suggested me trying a casting for a film… and that's how everything started, I got into 593 Vidas, although I hadn't the slightest idea about acting.
Apart from an actress, you're also a model. So what can you tell us about Nereida Lopez, the model?
Being a model just started as a hobby, I've never had the plan of dedicating myself to it professionally. One day I met a friend who brought a camera, we did some sessions and the results were quite good, so I fancied doing so. I decided I could I could take it more seriously so I sent my profile to several modeling agencies and I was contacted for several different campaigns. I've collaborated in different catalogues and features.
Regarding modeling, I consider everything has already been invented, one has to be very original to really make a difference. However, the major amount of inspiration comes from the past. Some photographers try to capture and depict a lifestyle and aesthetics I really adore. I also get inspiration from some other models I admire such as Betty Page, Suzie Parker or Dita von Tesse, who is much more contemporary.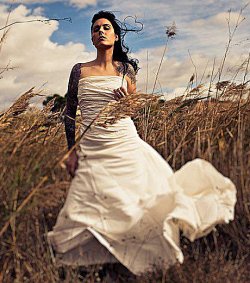 photo by Roberto Ramos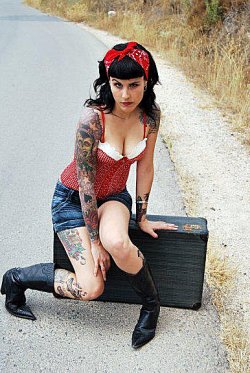 Modeling and acting - how do the two compare, and which do you prefer, actually?
It's a very difficult comparison. I find being a model easier, photographers help you to pose and they give you a very clear idea of what they want, though there's also space for improvisation and unexpected snapshots.
When it comes to acting, you have to work with several complicated shades, you have to stop being yourself to become someone else. It's very enjoyable but also demands hard work, but getting the results at the end, after hours and hours of shooting and all those people working on the same project is very gratifying.
You just have to talk about your countless tattoos for a bit!
I've loved tattoos ever since I was a little girl. I got my first tattoo when I was 14, it was a little spider on my shoulder. As you can see I haven't stopped since that moment. It's true that through all these years I've covered some of them. I don't think the same nowadays as when I was 14, for example.
Most of my tattoos remind me of places I've visited, important friends, my mum… very meaningful things, you know.
How would you describe yourself as an actress, and what do you draw upon to bring your characters to life?
Regarding my working experience I can say that I love to work hard, even though I find some roles very difficult to be brought to life. It is in those moments when I try to listen to the details my coaches give me. I can say I have been very lucky because I have had the chance to work with young but very talented coaches. Most of the times the process becomes very interesting and funny, as I always like to investigate and look at real-life-models. For instance, Victor Nacher, the actors' coach in Carnívoros sent me some videos involving real life junkies and some TV parodies, so I could be able to take some reference to build my character, Pussy. I think this has been one of the funniest and most surrealistic situations I have ever experienced. You should have seen the first rehearsal sessions, with both Manolo and Victor chasing me around a room trying to help me get the right tone of voice… I just couldn't stop laughing.
Actresses (or indeed actors) who inspire you?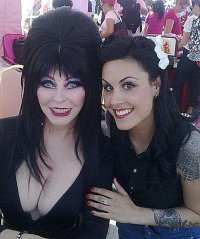 Feeling lucky ?
Want to
search
any of my partnershops yourself
for more, better results ?

The links below
will take you
just there!!!

Find Nereida Lopez
at the amazons ...

amazon.com

amazon.co.uk

amazon.de
Looking for imports ?
Find Nereida Lopez here ...
Something naughty ?
(Must be over 18 to go there !)

The actress I admire the most is Elvira, from the film Elvira: Mistress of Darkness. I've loved her since I was 9.
There are other actresses though, such as Natalie Wood. They are not only my references but actresses I really adore because of their 'savoir-faire' and hypnotic presence on the screen. I think being an actress is the result of both talent and bringing 'something extra' to the screens, something that carves your characters into the audience memory.
Your favourite movies?
There are loads of them: The Toxic Avenger, The Evil Dead, Elvira or Braindead would be just some of them…
... and of course, films you really deplore?
I could not think of any, although there are loads of them as well, take it for granted (lol)
Your website, Facebook, whatever else?
Currently I haven't got any website or Facebook profile dedicated to my artistic life so… If anyone feels like helping me with it I'd be more than grateful!
www.facebook.com/nereidadevilbone
Anything else you are dying to mention and I have merely forgotten to ask?
There is a further thing I'd like to talk about, regarding tattoos. It also deals with music.
I love the band The Meteors, I really love their music and I go to all of their concerts if at all possible and meet WWWC family. otmapp
No one like us but we don't care!
Thanks for the interview!