You've recently edited the movie Love Me Not - so first of all, what's that movie about?
The story is about a young woman named Jenny. Lost in the idea of "true love", she is constantly let down until the pain finally drives her to madness and she ends up kidnapping and tying her current boyfriend Brad to a chair for a romantic Valentine's Day dinner. Surrounded by a bloody massacre of ex lovers, Jenny tries to make a point that the pain and suffering she has gone through was never justified. Brad is soon to become the new ex and must fight for survival under the name of love.
How did you get involved with the project in the first place?
My friend Michael Coulombe [Michael Coulombe interview - click here] got me on board. I have been friends with him for several years and have cut together some of his other short films as well. I joined in on a new production company called Horror House Media, which I quickly took an interest in because I love the horror genre. Michael has been the director of three of the company's short films and I hope to continue working with him as time goes on because I love the direction we are heading in.
Now what can you tell us about your editorial approach to Love Me Not?
The basis of my approach is different for every project, but for Love Me Not I was also recording sound on set. I was then easily able to point out necessary footage and sound we would need in order to make the post-production process run more smoothly. I then make a rough cut with dialogue, temp music, and footage. I solidify the cut, go back in and put in all the sound effects and finish off with color correction.
On the edit, how closely did you work with director Michael Coulombe [Michael Coulombe interview - click here]? And since this isn't your first movie together, do also talk about your previous collaborations? And how have you two first met even?
Most of the time during the shoot I was right next to Michael, viewing the monitor and making sure he wasn't missing any necessary shots. We have a brotherly relationship so we feel comfortable calling each other out on mistakes or if something is just not working out for the story. Our minds think alike and so the editing process runs very smoothly because I already know what he is going for. On previous collaborations, starting a couple years back, I was very much a newbie. I would try and help out as much as I could with his smaller projects but with time my skills have tremendously gotten better. We had taken a year break from working with one another, but then I got back on the bandwagon with him when he told me about Horror House. I cut together one of his previous short films, Soundbite, which turned out very well. We met six years ago on a feature film called Discarded. He was the script supervisor and I was only a production assistant at the time. We immediately connected on the four week shoot and have kept in touch ever since.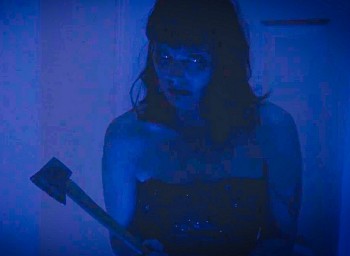 You also did the sound design for Love Me Not, right? So what can you tell us about that aspect of your work?
Sound design is my favorite part. I usually add in some sound effects during the first rough but then I get extremely detailed once the cut is finalized. For this shoot I recorded a lot of sounds on set but I also had to record a lot of my own sounds on my own terms. Almost all of the audio that comes from Brad when he is tied up was recorded on a separate day. I then had to create all the sounds for the axe kill as well. A sound effect is usually never just one sound, but a combination of 3-6 different sounds. For example, to get a realistic axe cutting into flesh sound effect, I recorded wet pasta being squished and an egg cracking in my hand with a mixture of the yolk plopping onto the floor. I then added the swing of a bat, an axe cutting into wood to add the heavy impact, and then finishing it off with the squirting of blood. All of these combined create a very realistic and brutal sound as she axes away at Brad and so I tend to get very detailed with my sound design and combine sounds in many different ways throughout this film.
Any future projects you'd like to share?
At the moment I look forward to the next Horror House project. I do not know of anything going on just yet. I am working with another friend right now on a horror/mystery called Phone Home. I will also continue to work on many other short films including some of my own.
What got you into editing to begin with, and did you receive any formal education on the subject?
As a kid, my imagination was running wild. I had a lot of energy to burn off and I was constantly on the go. Since my dad is also in the entertainment industry I was surrounded by movies constantly. At the age of 8 my father gave me a camcorder and so I began to shoot little short films with my friends. Years went by and I realized I wanted to become a director. I found it fun to piece images together to tell a story and so I started to learn Final Cut Pro and cut together several of my own projects. I then went to film school and graduated with an emphasis in Editing and Sound at California State University of Northridge. I now work as an editor at a post-trailer house in Burbank on home entertainment trailers, content, and featurettes.
What can you tell us about your filmwork prior to Love Me Not?
I went through a phase of shooting strictly on film. I have a Super 16mm film camera that I bought about a year ago. I was shooting a couple of my own short films but realized that shooting on film, although a beautiful process, is very expensive and so my interest in shooting on film is put on hold for now. I honestly love working on other people's projects. I enjoy helping other's visions come to life. There is something very satisfying about that. So I work full time but on the weekends I try to work on as many other projects as I can to keep my creative juices flowing.
How would you describe yourself as an editor?
This is a tough question. I would say that I am detailed, intuitive, and a perfectionist. I notice every issue, every flaw, every small detail, and so cutting for me can be difficult at times because I am never fully satisfied with anything that I cut. I really have to know when to stop, otherwise I would continue to work on something forever. I will say that I enjoy slow-burns. I like playing out scenes, getting a feel for the environment and letting a mood settle in. That to me is powerful and it connects very much through the visuals and the sounds I create. Music is everything to me but lack of music can also be equally as powerful. Editing is a lot of fun to me because there are endless amounts of directions you can go to create an effect, and I love that.
Editors, filmmakers, whoever else who inspire you?
I don't have many editors that inspire me but in terms of filmmakers: Martin Scorsese, Ridley Scott, David Lynch, John Carpenter, Roman Polanski, Stanley Kubrick, Steven Spielberg, Quentin Tarantino, Wes Anderson, Brian De Palma, Paul Thomas Anderson… so many more!
Your favourite movies?
Some of my favorite films are: Chinatown, Dances With Wolves, Boogie Nights, Halloween, Eternal Sunshine of the Spotless Mind, Shaun of the Dead, Jurassic Park, Indiana Jones, Star Wars, Clockwork Orange, Goodfellas, Alien, Pulp Fiction, Drive, Whiplash, Blue Velvet, … and many more.
... and of course, films you really deplore?
I am not going to name off specific films but I really do not like any of the Marvel films nor do I like superhero movies that often. I loved Nolan's Batman trilogy and the original Superman from 1978, but most of the Disney films in general these days lack soul and strictly revolve around making a quick profit. Disney to me is not helping out the entertainment industry, and so any film they make at moment I will not see. I am a heavy believer in original ideas, that is why I appreciate filmmakers like Jordan Peele and Yorgos Lanthimos for coming up with new an interesting concepts. I think the industry needs to head in a slower-paced direction. Less films a year and a heavier focus on compelling and moving stories.

Feeling lucky ?
Want to
search
any of my partnershops yourself
for more, better results ?

The links below
will take you
just there!!!


Your website, Facebook, whatever else?
No website, no Facebook. I like to work through word of mouth, and examples of projects I've worked on posted on YouTube and Vimeo.
Anything else you're dying to mention and I have merely forgotten to ask?
Not much else to say but thank you for this opportunity. I really enjoyed your questions and I hope the readers find my responses intriguing. Keep dreaming and keep watching movies!
Thanks for the interview!