Your new movie Normal - in a few words, what is it about?
Normal is about a guy dealing with the worst day of his life. Through those events he is forced to deal with his feelings about his deceased father.
The first question that will probably pop into everybody's mind: Why a gorilla costume?
The gorilla costume was inspired by a family story. My father got a gorilla suit for Halloween one year. Being the prankster he is, he decided to go over to his cousin's house, burst through the door, pick her up, and run around the house with her. She had no idea who it was at first and was freaking out. That story gets told at every family get-together. We had that gorilla costume in our basement for years. I actually won my 8th grade costume contest with that fur suit.
I admit this question will sound either silly or pretentious - or both, actually -, but here goes: Since it's in the title, what does the word "normal" mean to you personally, and what does it mean in relation to the movie?
For the film, normal has a double meaning. The destination of Phin's road trip is Normal, IL, an actual town (where my sister went to college). But it also becomes a reminder of how abnormal Phin's circumstances are and how abnormal the people he encounters along the way are.
On a personal level, normal is what I never was - until I found a group of people just as abnormal as I am. Once I found my abnormal wife, my abnormal friends, and recognized how abnormal my family was, I found myself feeling quite normal. It illustrates how normal is simply a matter of perspective. I think the same is true in film. It takes strangeness to shake up the formula.
Your sources of inspiration when writing Normal?
Normal was inspired completely by the people I met after moving to the South-side of Chicago and their stories. Cal City and Northwest Indiana have the weirdest collection of characters I have ever found in my travels. Their stories would be completely unbelievable if not for the conviction with which they told them. I wanted to channel that same vibe into Normal. I hope that the audience gets the same feeling that I got listening to the folks I met in the guitar shops, diners, and factories in that little pocket of the Midwest.
Normal is a wild genre mix if there ever was one. When conceiving the film, did you ever think within genre boundaries or just let your imagination run loose?
I set out to write a dark, sarcastic comedy. And while there are smatterings of other genres in there, I think at its core, it is still a comedy. I think when a film fits too well into its own genre it is often times formulaic and predictable. Many of my favorite films are ones that I would describe as "sci-fi, but also a great drama" or "a comedy, but it also has this angry, dark streak" or "a horror film, but it's not really a horror film". I just wanted to write something fresh.
Normal is not your most ordinary film by any stretch of the word - so how easy/hard was it to get the project off the ground?
I finished the script right when the housing bubble burst and the recession hit. No one was interested in funding a micro-budget indie film from someone without a well-established track record. That's hard enough when the economy is soaring. So I was faced with the decision to shelf it or find a group of people to do it for free with an extremely limited budget. My first two calls were star and producer Geno Rathbone and director of photography Chuck Przybyl. I sent them the script and explained our decision - and they both said let's do it. So we did. All of our cast and crew worked for free based solely on the merits of the script. We raised our modest budget through a successful Kickstarter-campaign, supplemented by one additional investor. And while we ran into our expected share of problems and setbacks, the team that rallied around the film made it relatively easy to get made considering the limited resources that we had.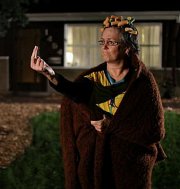 How would you describe Normal's brand of humour, and any conscious influences?
Normal makes you laugh for the same reasons that you say "No f-ing way" when a friend tells you about the unbelievably terrible day he just had. When Geno first called me after reading the script he couldn't stop laughing about the idea of him wearing a gorilla suit, in handcuffs, running through a cornfield, then needing to summersault out of a stranger's condo after he interrupts the stranger's attempt to wrangle his first three-way. It's that kind of funny. And while after the script and film finished I found and was shown several similar storylines, there weren't any specific influences when I was writing, except for the fantastic weirdos of Illinois and Indiana.
What can you tell us about your directorial approach to your subject at hand?
Most of my work as the director went into casting the right people and making sure that they understood what I needed out of the roles. That being said, I wanted to craft the characters together with the actors. A lot of the quality of the film comes from the work that the actors did in developing their particular kook. On set, I just tried to keep them on course as they might drift slightly from the characters that we created together.

Geno Rathbone
A few words about your lead Geno Rathbone, and what made him perfect for the role?
I met Geno back in high school. We played tenor sax together in the band and we had small roles together in Our Town. After drifting apart for a few years, we reconnected as I was writing the film. I actually wrote the role of Phin for another actor friend of mine, but he moved to LA to pursue his career. Knowing that I wouldn't be able to fly him out for the role on our limited budget, I started talking to Geno about the role. Geno has never done any serious acting, he's actually an incredible guitar player (currently playing for the metal band Product of Hate), but I knew he'd be comfortable on camera, and Geno and Phin had very similar personalities and comedic styles. And he did a fantastic job. I think Geno was a bit worried, needing to lead this group of experienced Chicago actors, but he did. He's a natural leader and helped rally the troops whenever things got rough.
What can you tell us about the rest of your cast?
Each of the actors had such a diverse background, and that is reflected in the final film. Really talented, really creative, and they nurtured and supported this project from the beginning. I am so grateful to everyone; Geno, Erin, Mike, Rocky, Neil, Emmi and everyone else. Even the actors in the smaller roles treated their characters seriously, which made them stand out instead of blending in like a prop. I was so fortunate for having the opportunity to work with such an inspiring group of artists.
A few words about the actual shoot and the on-set atmosphere?
I am a pretty laid back guy. You'll never see me "Kubrick" out on someone. I'll certainly get things on track if it starts to get too loose, which it always will at some point, but I make films because I love making films. If I had to yell and scream to get what I wanted, it wouldn't be fun anymore. If anything, the on-set atmosphere was a little more serious than I am used to. We had our fun, but the cast and crew were equally as dedicated as I was, and they all knew we were up against a lot of challenges. We kept it light, but every single person on the set was there to do the best job they could.
The $64-question of course: When and where will your movie be released onto the general public?
We are currently submitting to film festivals. So hopefully we'll start announcing screenings in the next month or two. Beyond that, it's all up to whether or not it speaks to a distributor or not. In either case, we'll have DVDs available to buy, and we're in talks with Tugg.com about possible theater showings. Information on DVDs, festivals, and theater showings will be kept up to date on our official website and our Facebook page.
You have recently also made the drama Transcendence. What can you tell us about that one? And how does it compare to Normal?
Transcendence was my first feature film. I shot Transcendence in 2005 and 2006 on DV cameras. With the usual laundry list of challenges, it took a little while to get Transcendence wrapped up. By the time it came to distribute, HD had fully taken hold, and festivals and distributors were not interested in narratives shot on DV. It was very disappointing given the work and dedication everyone put into the film, especially since we got good feedback on the story and acting. But technically, it just didn't stand up. I learned a lot on Transcendence about writing, directing, and producing. Everything that I learned I was able to put into Normal.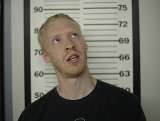 Nicholas P. Richards
What got you into filmmaking to begin with, and did you receive any formal training on the subject?
My good friend and cousin-in-law Michael R. Steinbeck introduced me to filmmaking. When we were in high school, he included me in some of his early short films. I started college with the intentions of becoming a music teacher. That didn't work out, so I needed to find a new path. Given my experiences with Mike I attended Madison Media Institute in Madison, WI. I got a great education there that has served me well, but it was not a film school. I learned how to run a camera and Final Cut Pro, along with a myriad of other media skills. Everything else film related I learned from doing it (or screwing up while trying to do it). Mike and I continue to work together on all of our films.
What can you tell us about your filmwork prior to Normal and Transcendence?
My last semester at MMI, I convinced all of my teachers to let me make a short film in lieu of taking a final exam, as long as I incorporated what I learned into the project. That was my first experience with writing and directing. After school I worked with Mike on two of his projects. The first was Green Eyes for Anastice. This was our first attempt at a serious narrative feature film. In addition to my behind-the-camera work, I also starred in the film. After that I shot Transcendence. Then I worked with Mike on Tree, a mini-feature that did very well at festivals. I helped with the script and I was the Director of Photography on that film. After that I shot a series of music videos and then shot Normal.
Any future projects you'd like to talk about?
Nothing specific. I recently moved to Maryland. Having lost my network of filmmakers and actors, I have been focusing on writing. I have four scripts that I want to finish by the end of the year. At that point I will need to decide whether to get an agent and pursue writing, or if I will try to rebuild a team out here and shoot another one myself. I did write a script for Mike that is currently looking for investors called Alia. You can check out a teaser scene and get info on it at http://www.aliamovie.com.
Directors who inspire you?
Christopher Nolan - I have been a huge fan of his since Momento. Sam Raimi - aside from him just making great films, his success story of becoming huge because of the Evil Dead-films is inspiring and gives indie filmmakers hope that we too can make it. And while not a director, writer/producer Rod Serling is a huge source of inspiration for me.
Your favourite movies?
This is a very serious question. In an ode to High Fidelity (not on my list but still a great movie), I will give you my top 5.
1. It's A Wonderful Life - I cry every single time. When he comes home and hugs his kids, then the whole town rallies behind him... and then the inscription in the book, "Remember, no man is a failure that has friends. Thanks for the wings." - Waterworks.
2. Fight Club - If scrawny Edward Norton can become a badass, maybe I can too. It's smart and funny (another genre bender). It is thick with ideas about social constructs and the definition of being a man. A great film and a great adaptation that speaks to me as a writer. And yes, the twist is cool too, but that's not what makes it brilliant.
3. The Prestige - Here's my Christopher Nolan flick. Another adaptation. I saw this in the theater four times. It's such a driving examination of obsession and competition. Really well-acted. This is the story that I hold my scripts up to and say, "Why can't you be more like this?"
4. SLC Punk - This was probably my first "favorite movie". A film that got me interested in good film, and indie film. Matthew Lillard at his finest. And while I was never a true punk, I did dye my hair in high school the same bluish-purple that Stevo has. PS, if you like SLC Punk, check out Fat Kid Rules the World, directed by Matthew Lillard.
5. Saw - I went through a serious horror phase before the new school of Japanese influenced horror films started cropping up. So I own all of the Nightmares, Halloweens, Friday the 13ths, etc. And while Saw is a cool, gritty, visual horror flick, it is also a really smart low-budget film. A horror film that makes you think instead of just squirm. The sequels were just a down-hill plummet, but the original is a great example of what excites me as both a filmmaker and as an audience member.
... and of course, films you really deplore?
I have given this topic significantly less thought, so these are a little more off the cuff.
1. House of the Dead - In addition to it being just an uninspiring zombie flick, the cutaways to the video game were weird, and the Matrix-camera moves they put in were obnoxiously out of place.

Feeling lucky ?
Want to
search
any of my partnershops yourself
for more, better results ?

The links below
will take you
just there!!!

Find Nicholas P. Richards
at the amazons ...

amazon.com

amazon.co.uk

amazon.de
Looking for imports ?
Find Nicholas P. Richards here ...
Something naughty ?
(Must be over 18 to go there !)

2. Confessions of a Teenage Drama Queen - I was pulled into the theater kicking and screaming. My only hope was that Lindsay had carried over some of the Mean Girls-vibe (which I LOVED! Thank you Tina Fey). But I was expectedly disappointed. Awful.
3. The modern spoof movies (Epic Movie, Date Movie, etc.) - The Scary Movie-franchise wasn't terrible, but after that producers started churning them out for $$$, they really ruined the concept of spoof for me - which is a dirty shame.
Your website, Facebook, whatever else?
Normal official website - http://normalfilm.com/
Normal Facebook-page (make sure you like us to find out when the film is available) - https://www.facebook.com/pages/Normal/156053387743577
Rule 42 Productions website (you can check out my other films and music videos) - http://rule-42.com/
Anything else you are dying to mention and I have merely forgotten to ask?
No, not really. Thanks for the interview. It was a lot of fun and I hope your audience enjoys reading it.
Thanks for the interview!