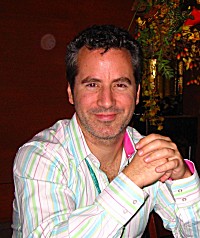 Nicholas Tabarrok
1. You recently released a new movie called Weirdsville. What is it about?
It's about three stoners who get caught up in a crazy series of events all in one night in a small town. They end up on the run from a Satanic cult, the local drug kingpin (whom they owe money to) and a band of angry little people. It has been described as "Trainspotting directed by Guy Ritchie, and played for laughs."
2. Where can people log on to find out more information about this?
Check out www.weirdsville-the-movie.com !
3. What has reaction been so far to this?
Incredible. It has been one of the best reviewed movies of the year. We opened this year's Slamdance Film Festival, and Variety Magazine gave it an incredible review, as did many many other critics. The reviews have been just overwhelming.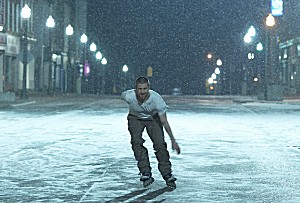 Scott Speedman ice-skating in
Weirdsville
4. You also did a weird comedy a while ago about a fictional singer named Guy Terrifico?
Yup, that was me. The Life and Hard Times of Guy Terrifico. This was also received well, it won the Best First Time Director Award at TIFF and was named the Best Canadian Film of 2005 in a magazine poll.
5. Before this, you were heavily invovled in the production of those faith based films like Left Behind and such. You were mistakenly branded as a Christian Producer it seems. Are you trying to break that misconception with some of these new releases?
Ha ha, no, not intentionally. Though it's true I am not a Christian Filmmaker, the films I have made since then just appeal to my sensibilities and are not a deliberate result of my previous work.
6. There was gossip though that Cloud Ten has planned to do some more films, sequels to the ones already out. Any truth to that as you know it and will you be involved?
I do know they are actively developing more projects and I am friendly with the company still, so I hope they make more films. I don't know any details though.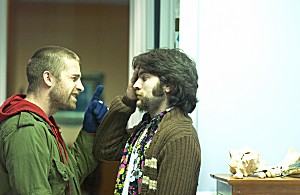 Scott Speedman and Wes Bentley in
Weirdsville
7. Your own company, Darius Films, actually released some interesting stuff both before and during the Left Behind craze.
Yes that's true. I worked for Cloud Ten in what is called a service producer capacity, which means they owned the films and I was paid a fee to make them for them. My own films, like Guy Terrifico and Weirdsville are ones that I have developed and own.
8. Motel was a fairly murky film, was it not?
Hmmm, I'm not sure what a murky film means ... but it was a film noir, if that helps. A classic murder mystery film.
9. You have also done some acting in film ...
My distance past! Yes, it't true. I used to take a small role in all my films, I don't anymore. I think it was fun for a while and now I really just concentrate on producing.
10. Because of your size, have you ever thought of persuing the acting role further. You could have made a good gangster for The Sopranos before the series ended.
Because of my Size ???
Man what does that mean ?
Acting would be a lot of fun, but it's not a career for me. I know what I am good at, and that's what I concentrate on.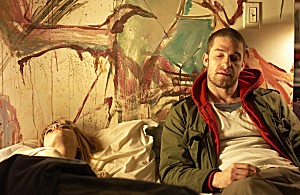 Taryn Manning and Scott Speedman in
Weirdsville
11. You operate out of Canada. Is there much censorship or government regulating going on in this country as far as film goes?
Darius Films actually has offices in both Toronto and Los Angeles, so I go back and forth. And I would say the censorship body in Canada works much the same as in the US. We seem to get the same rating the US does and allow the same films in.
12. For any casual visitor rather than a big movie fan who might log on, maybe explain your functions as producer as opposed to say line producer or other behind-the-scenes activities.
A line producer is responsible for physical production, meaning their job is to get the film made on time and on budget, that job is really a nuts and bolts kind of position. A true producer owns the material, often initiates the project, is involved creatively in all aspects, such as the script, the casting, the final cut, the music, the poster and trailers etc. A line producer typically comes on a couple of months before the film begins shooting, a producer can work on a film for years and years before it ever sees the camera rolling.
13. Being behind the scenes affords you some privacy though, as opposed to being a film star, correct?
For sure. No one ever mobs film producers on the street for autographs, though sometime I wish they would ...
Wes Bentley, Taryn Manning and Scott Speedman in
Weirdsville
14. Do you ever get any fan mail yourself, requests to appear at covnentions or the like?
I would not say fan mail, that would be greatly over-exaggerating it, but I do get asked to speak on panels and teach classes on producing pretty frequently. I have to say I enjoy it quite a bit.
15. Anyway, back to Weirdsville. What else can you tell us about it that we might have missed?
It stars Scott Speedman (Felicity, Underworld), Wes Bentley (American Beauty, P2) and Taryn Manning (Hustle and Flow) and was directed by Allan Moyle (Pump up the Volume) ... and is very funny.

Feeling lucky ?
Want to
search
any of my partnershops yourself
for more, better results ?

The links below
will take you
just there!!!

Find Nicholas Tabarrok
at the amazons ...

amazon.com

amazon.co.uk

amazon.de
Looking for imports ?
Find Nicholas Tabarrok here ...
Something naughty ?
(Must be over 18 to go there !)

16. Is this the project you are most proud of or do you have any favourites?
That's like asking a parent which is his favourite child! I do love Weirdsville and am very happy with the final result, but I won't pick favourites.
17. People usually don't like to talk about it, but any least favourites?
Nope, I'm not going to go there either!
18. Anything else to touch on before closing?
Thanks for the chance to talk about my films. Weirdsville will come out on DVD in February, and the soundtrack which is kick-ass comes out on Nov 27th in stores and on Itunes.
Thank you for the interview,
and good luck for the movie.