Your upcoming movie Dark - in a few words, what is it about?
What youíre asking for is a logline. Did you ever notice how hard loglines are to write? I think the ninth circle of Hell may be a small humid room where writers, who have committed some sin, are locked away and forced to come up with loglines for scripts - forever. The best loglines are deceptively simple. A lot of shared effort went into this, so here is the logline for Dark:
A disturbed young woman must confront her worst fears when she finds herself trapped alone in a New York City loft during the 2003 blackout.
How did the project come together in the first place, and whose idea was it? Oh, and do you have any personal memories concerning the Northeast Blackout of 2003?
I came up with the original concept while stuck in a house buried under snow a couple of winters back. It seemed like the East Coast would be buried in snow forever and I couldnít go anywhere and I was getting cabin fever. I felt trapped and longing for hot weather. Feeling kind of claustrophobic and anxious, I started to imagine a simple concept for a film that would utilize the factual event of the 2003 blackout as a setting for a thriller about a young woman stuck, going crazy, in an apartment and starting to believe someone was trying to stalk and kill her in the darkness. That was the basic idea. So, I called my longtime friend Elias [Elias interview - click here], who is also a filmmaker, and pitched him the idea to see if he would want to develop the screenplay with me and I would direct. That began many sessions on the phone with Elias, lasting late into the night, with us discussing and developing the characters and story. Especially the main character of Kate, whose state of mind is really what the movie is about. The blackout is really the McGuffin.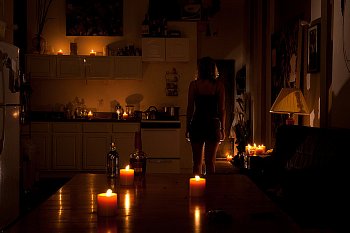 What can you tell us about your writer Elias [Elias interview - click here] and your collaboration with him?
Elias and I met in film school back in the late nineties. We both went to SVA in NY. I liked Elias because he made weird and extreme movies, but always very personal films. Weíre both very different but also the same in many ways. We would always work on each otherís student films and help one another. There was comradery working together. Iím grateful weíve grown as friends over the years and continue that collaborative relationship. Elias and I will discuss an idea, then get into an argument about some element of it, then through that come up with an even better idea or solution which weíll both get excited about. Thatís how we work.
How did you get of all people genre icon Joe Dante on board to executive-produce, and what is that collaboration like?
Originally we started working with another production company on this movie and were prepping to go into production last summer, then the money fell through, not an unusual story in the world of indie film, and we decided at that point to part ways with that company. I started to shop the project around with the current actresses attached and eventually I brought it to Joe Danteís company Renfield Productions. They liked it, he liked it and now we are working together to raise the funding through Kickstarter to get it going. Iíve always been a huge fan of Joe Dante. I grew up loving Gremlins, like any kid of the 80s, and also his other great movies like The 'Burbs, The Howling, Piranha and Innerspace. So, I was really happy and excited when he came on board for Dark.
So what can you tell us about the intended look and feel of your movie?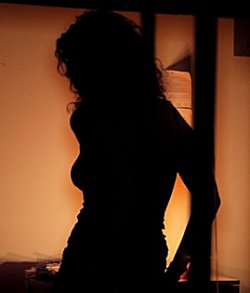 The concept for me always originated with the idea of - what if Cassavetes told a Hitchcock story? I thought it would be interesting to have a movie that starts off very much like a raw character piece, a NYC street picture, and then have it gradually evolve into this suspenseful nightmare after the blackout happens and night starts to fall. I am also intrigued by the idea of telling an entire story from one single characterís perspective. The audience only knows what she knows and what if that perspective couldnít exactly be trusted as fact? So, early on the look would feel very raw and real, almost observational, utilizing long lenses and doing long takes. The longer lens will also turn the city into a blur around her; she is a character who is very much in her own head. I also like the idea of using the sound of the city as a character. Then as the movie progresses into night, the blackout portion, we would incorporate more wide angle lenses on a hand held camera. Iíve had a number of conversations already with our DP Trent Ermes, we also did some tests with cameras and lenses. Trent loves naturalistic lighting and a sort of less is more approach to his cinematography which I think is exactly what this film needs.
From what I've read, location seems to be one of the key elements of Dark - anything you can tell us about that aspect of your movie yet?
We have done some initial location scouts and there is a building in Brooklyn we photographed that I like very much. Itís an old factory building that has been converted into loft space. The interiors for this film are definitely a main character, especially Kate and Leahís loft space. Most of the action takes place in the loft and I was looking for that older, industrial look that you can find in parts of Brooklyn.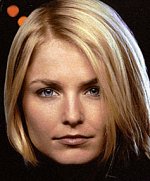 Whitney Able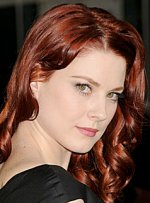 Alexandra Breckenridge
What can you tell us about your key cast and crew, and why exactly these people?
Kate, the main character in this, is really important. She is in every scene and is the point of view for the audience. So, we really needed to find an actress who not only fit the physical description of the character but had a rich inner life behind her eyes and could hold the attention of an audience for an hour and a half. Also someone who would illicit sympathy from the audience and possess a certain level of vulnerability mixed with paranoia. Whitney Able is the right actress who has that ability and on-camera life to embody all of those elements. I saw her in the Gareth Edwardís 2010 film Monsters and completely fell in love with her on-camera presence. She and Scoot McNairy basically carry that film themselves and there was a naturalism mixed with a certain type of melancholy I saw in her that was Kate. Whitney and I have discussed the character a lot and she understands her. There is potential for a great tour-de-force performance by her. Whitney also was the one who recommended Alex Breckenridge for Leah. Alex is great on American Horror Story and because she and Whitney have a close relationship in real life and Alex is also a photographer just like her character in the movie, we all saw the opportunity to bring a rich history to these characters by mining from their real experiences and then building the characters from there.
As for the crew, Iím working with many of the people I have worked with in the past on some of my short films and the documentary American Carny. We have a trusted group of people that, for the most part, already know each other and have developed a short hand on set. Some of them worked with Elias on his film Gut. Iím also looking forward to working with some new people on the crew who I think will bring a lot of creative energy to the project!
As we speak, Dark is still in its fundraising stages. So what can you tell us about your fundraising efforts?
We did a lot of preparation before we launched our Kickstarter campaign. We spent the time on the videos and the rewards featured in the campaign. We planned and discussed the social media aspect and press strategy. Our associate producer and campaign manager Lauren Rayner specifically came on board to work with us on all of this and sheís been a great asset. Elias, Lauren, our other producers Kathryn Belli and David Boulton have all worked hard to put a solid campaign together. We had a great first week so far, raising over 22k in week one alone, and we just hope to keep the campaign fresh as we continue and the excitement from the donors and potential donors strong.
http://www.kickstarter.com/projects/nickbasile/dark-a-new-feature-thriller
Once your funds are raised, how do you plan to proceed, and any idea when the movie might be released yet (and I do realize it's waaay too early to ask)?
Once the funds are raised we plan to make the movie and then the real fun begins! It is very early to accurately forecast when the actual release would be, but hopefully if we raise the money and we go into production it would be sometime in late 2014 or early 2015.
Any future projects beyond Dark you'd like to share?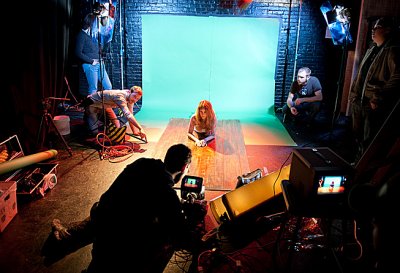 Crawl Space
There are two projects in the script stage I would like to do after Dark is completed. One is a horror movie called Crawl Space (no relation to the Klaus Kinski movie). We shot some test footage for that and cut it into a teaser. That teaser can be seen on Vimeo. The other is a script Iíve been developing with another writer called The Witching Hour. Itís a strange picture. The best way I can describe it would be Ingmar Bergman meets Lewis Carroll. Thatís all I can say for right now.
What got you into filmmaking in the first place, and did you receive any formal training on the subject?
Like I mentioned before, I studied film at The School of Visual Arts in NY with a focus on directing and editing. I always wanted to make movies since I was a kid. I started making little amateur movies around the neighborhood with my friends when I was like 10 or 12 with the familyís home movie camera. Itís part of my DNA. I have always been a huge Star Wars fan and Indiana Jones fan. Again, like any kid who was part of the 70s or 80s generation, those films by Lucas and Spielberg were very influential. They were movies in the truest sense, with a capital M! They still are! I can smell the popcorn talking about it! Joe Danteís movies are the same!
What can you tell us about your filmwork prior to Dark?
I made several short films, a couple of which I won awards for, and the feature documentary American Carny: True Tales from the Circus Sideshow. For that I hung out with circus freaks and working acts for the better part of two years. I spent a lot of time out at Coney Island.
How would you describe yourself as a director?
That is a difficult and dangerous question to ask a young filmmaker. Iím a work in progress. I can say that. I draw inspiration from all sorts of places and Iím still developing my style. Thatís not to say that I donít have a strong vision for my films or Dark especially, I do, but I am open to adjusting my process to achieve that vision as I learn and develop as a filmmaker. I study the films and read a lot about all types of directors. Everyone from Hitchcock to Bergman, from Kazan to Fellini, from Spielberg to Woody Allen. What Iíve learned from studying all these great directors and their films is that there is no one right way. Every director is different and each one has a different process for getting there. I try to pick up tricks of the trade to utilize in certain scenarios and filter it through my own sensibility. Whatever the influence is though, itís still filtered through me and hopefully what comes out on the other side and makes it to the screen will represent that. Itís also the shared process of all your collaborators, and as I get older I find myself more open to relying on their input. Iím not afraid to say I donít know exactly what I want here, I know what I donít want, so why not let the actors play a bit and show me. Same thing with key members of my crew who Iíve established trust with. I think people respect and appreciate that kind of collaboration.
Filmmakers who inspire you?
Well I already mentioned some of them in the previous question. For this project specifically Hitchcock and Cassavetes are inspirations. Also Polanski and Antonioni. Other directors I love are the Coen Brothers, Orson Welles, Akira Kurosawa, Quentin Tarantino, Lina WertmŁller, Martin Scorsese, David Lean and perhaps the best director who ever lived Stanley Kubrick.
Your favourite movies?
Jaws, Lawrence of Arabia, Star Wars, Raiders of the Lost Ark, Touch of Evil, The Seven Samurai, Seven Beauties, Raging Bull, The Big Lebowski, Ed Wood, An American Werewolf in London, The Wizard of Oz, Psycho, Rear Window, Vertigo, West Side Story, All That Jazz, Meet Me in St. Louis, Itís a Wonderful Life, Empire of the Sun, Pinocchio, The Grapes of Wrath, 2001: A Space Odyssey, Dr. Strangelove, A Night at the Opera, Annie HallÖ those are the ones for today.
... and of course, films you really deplore?

Feeling lucky ?
Want to
search
any of my partnershops yourself
for more, better results ?

The links below
will take you
just there!!!

Find Nick Basile
at the amazons ...

amazon.com

amazon.co.uk

amazon.de
Looking for imports ?
Find Nick Basile here ...
Something naughty ?
(Must be over 18 to go there !)

I hated the new Superman-movie Man of Steel. Also anything from Roland Emmerich, Stephen Sommers, or Michael Bay. On the flip side of that coin I also find Jean-Luc Godard boring.
Your/your movie's website, Facebook, Kickstarter, whatever else?
http://www.kickstarter.com/projects/nickbasile/dark-a-new-feature-thriller
https://www.facebook.com/darkmovieNYC
https://twitter.com/darkmovienyc
Anything else you're dying to mention and I have merely forgotten to ask?
Yes, one: I really want to thank you for asking me to do this! Two: I would one day love to produce and direct a new bunch of holiday specials for Halloween and Christmas. I love those old holiday specials and they really donít make them anymore. Iím talking about those great Rankin/Bass stop motion ones like Rudolph and Mad Monster Party. I also love The Great Pumpkin, Garfieldís Halloween and Ziggyís Gift. Someone needs to make new ones in that classic nostalgic style. Tim Burton and Henry Selick kind of did with The Nightmare Before Christmas, but I would like to make a few in my lifetime that would become part of the annual holiday viewing. I just love them!
Thanks for the interview!