Your new movie Ad Men - in a few words, what is it about, and what can you tell us about your character in it?
Ad Men is the story about three aspiring money-makers that have alcoholic tendencies.
What did you draw upon to bring your character to life, and how much of Nick Dayal can we find in Sala? And do you "dance" with girls in the back of your van in real life as well? ;)
Sala and myself are eerily similar, I think that's why Jesse Barack [Jesse Barack interview - click here] asked me to do the part. We're both a little over-animated, all over the place, inappropriate and slightly crazy.
It's funny because we filmed Ad Men in June-July, and there's a scene where Sala just got back from Jamaica… he's always up and leaving. And in July I met a girl I liked. She said she'd always wanted to travel and had never been anywhere outside the country. "Just get a passport" I said to her, repeatedly, and she did. She didn't really believe me, nor did she know where we were going until we were at JFK a month later, and the security guard said, "Have a good time in Jamaica." That same spring, I went to Costa Rica and Panama where I fought a bull, went bungee jumping, white water rafting, and that's the censored highlights of the trip. In 2013, I finished my UMass Boston undergrad degree during a summer program in Puerto Rico, and at the end of the trip I cancelled my flight home. I was the only one out of 33 students not to return to the US. I stayed and drank. Then in the fall I went WOOFING and drinking wine across Italy from October 'til Christmas with my buddy Carlo. We spent a third of the time farming, a third of the time drinking and exploring, a third of the time passed out, and all of it together. If I could pick an honorary brother it would be Carlo. He's a dumb idiot with a mustache who happens to be a brilliant artist, unconventional genius and the nicest guy ever it makes me sick.
Point is, I like to drink and travel, and so does Sala.
As for the van… I drive a Subaru Impreza Wagon, butttt the back seats do go down completely ;). And there's always the hood of the car.
How did you get involved with the project in the first place?
I was a production assistant, did some make-up and set design, and acted in Harvey the Great. That was a week of non-stop filming, constant movement: Changing locations through three states, with little or no sleep, and nailing it. I liked the people I worked with, and I think the feeling was overall mutual. And Ad Men brought a lot of these people back together.
To what extent can you identify with Ad Men's brand of humour?
It's sarcastic, hypocritical and unpredictable just like the funniest aspects of life. The unintentional fall, the regrettable drunken incident in public… I think it's hilarious.
One day I was walking around Great Barrington and this cool looking girl said, "sick t-shirt, man." I looked down and it was raccoons throwing rolls of toilet paper across a cop car. I think I wore it during the filming, and never realized how cool it was until cool looking girl said something. Thanks Raccoon Brand!
What can you tell us about your director Jesse Barack [Jesse Barack interview - click here], and what was your collaboration like?
He's great. He has an ability to convey what he envisions, speaking to each individual actor in a language they understand, and making it come to life.
Do talk about the shoot as such, and the on-set atmosphere!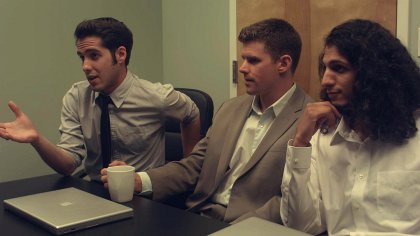 John Segalla, Graham King, Nick Dayal
The atmosphere was fun.
There's only two kinds of people in this world and it's very obvious in this situation. When you're filming and time is precious, those breaks that you do get, what you do with that time is very telling. So there's the smokers and the non-smokers.
I'm a not a smoker, but I do smoke cigarettes occasionally every day. Anyways, us smokers always had a good time. When everyone else is calling their girlfriends or moms or rescheduling appointments. Guys like Quinn Wilson, Matt Nissen and I, would disregard all responsibilities or health concerns and smoke as often possible. We would stand off somewhere to shoot the shit, laughing and learning from each other. Quinn "the sound guy" was amazing to watch on set. He showed me how dynamic and important sound is to any production, and I really learned to appreciate sound production as an art form. Capturing sound in a continuously changing environments, and just holding that boom stick steady, in awkward positions for hours. It's intense, and crucial.
His passion for it finally opened my eyes to how "sound guys" are artists and express themselves just like actors, writers, and costume designers. And from watching and listening to him I felt confident enough to take a sound production position in the film Atropic by Stephen Billick. And I was successful, thanks to Marb 27's and Quinn Wilson.
Any future projects you'd like to share?
I performed in the play Tarot Show, singing and dancing, pretty much naked. Director, writer, and actor Heather Fisch explained,"if you are intrigued by mysticism, sexy young performers, beautiful music, mathematics or bizarre characterizations of classical archetypes then you will love this." It was at the Mahaiwe Theatre in Great Barrington, and that was a lot of fun. It's a beautiful theatre and it was full of smiles and laughter. Tarot Show will also be at HERE Arts Center in Manhattan September 1-6.
I also played a Spanish matador turned soldier in Olé, a long short film based on the life and writings of Ernest Hemingway. It was written and directed by Stephen Billick - here's the trailer https://www.youtube.com/watch?v=64hBDj7yhA0.
The film will be finished by September and available on the OU PHRONTIS PICTURES CO. page on youtube.com.
What got you into acting in the first place, and did you receive any formal training on the subject?
I started acting in elementary school to get out of class. I learn from all the people I work with. Aside from grammar school training and improv classes at the Improv Asylum, I've hosted TV shows for one of the papers for which I am a contributing writer, The Berkshire View. And I've done public readings that I've been invited to for some of my short stories.
What can you tell us about your filmwork prior to Ad Men?
I did Harvey the Great with this crew and Atropic with Stephen Billick. I also was a main character in Project Carlo and co-starred in Chick and Carlo Leave the Nest by B.D.J. Films in 2012 and 2013.
How would you describe yourself as an actor, and some of your techniques to bring your character to life?
Improv classes at the Improv Asylum in Boston have been among the most beneficial to me. Someone said, "good acting is when you don't see acting," or something like that. Improv classes, public speakings, hosting local TV shows, being on the radio, it's that aspect of not thinking on your feet, but simply not thinking and being on your feet. If you rehearse something too much in your head it doesn't come across organically. It seems forced or unnatural. So when I take on a role I try not to think too much, I let my brain and body do its natural job. I sang and danced in a play called Tarot Show at the Mahaiwe Theatre half-naked in front of hundreds of people, including my friends, who can be ruthless. I'm not a singer or a dancer, but I simply let go of any thoughts holding me back and had fun, which led to applause and an invitation to continue touring with the play. I had a good time. When people on set are smiling and laughing in between takes that's a strong indicator that things are going well. That kind of energy is infectious, and so is negative energy. When people are looking down with looks of frustration it is a reflection of their performance and translates to more of the same. Things won't always go well, or according to plan, and I think the best approach in acting is to accept that as a definite, and roll with the punches. My approach to avoiding setbacks and really becoming a character is to have fun with it. That energy will resonate and bring a character to life.
Actors (and indeed actresses) who inspire you?
Eric Cartman, first and foremost. Then you got Edward Norton, Giovanni Ribisi, Uma Thurman, Judi Dench is badass, obviously I love Robert De Niro, Samuel L. I mean that's not fair, I could go on and on.
Your favourite movies?
The Lion King.
... and of course, films you really deplore?
I love Leonardo DiCaprio, almost to a point that raises alarms, and I think Kate Winslet is great. With that being said, I hate Titanic. Hate it. No thank you. I'd rather subject myself to a Lifetime movie than watch the Titanic. If Scarlet Johansson asked me to cuddle in bed and watch Titanic with her, I'd tell her to fuck off.
Your website, Facebook, whatever else?
Nick Dayal from Boston, MA. Check out my monthly articles at http://theberkshireview.com. And you can e-mail me at nickdayal44@gmail.com
Anything else you're dying to mention and I have merely forgotten to ask?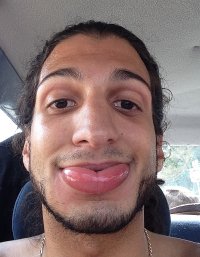 Feeling lucky ?
Want to
search
any of my partnershops yourself
for more, better results ?

The links below
will take you
just there!!!

Find Nick Dayal
at the amazons ...

amazon.com

amazon.co.uk

amazon.de
Looking for imports ?
Find Nick Dayal here ...
Something naughty ?
(Must be over 18 to go there !)

During Ad Men, within the first couple hours of shooting, I got stung in the face by a bee. Right on the fucking lip. It was during a scene where we're emptying out Graham King's apartment, and I was holding a filing cabinet and a bee stung me in the bottom lip.
I tried spitting it out, nonchalantly, because it was in the middle of a shoot. I dropped the filing cabinet and slapped the motherfucker to the ground.
And of course it happened right before my dance-van scene with this beautiful girl I had just met.
"I normmawwy downt wook wike this." I told her
"I really can't even tell," she was a sweetheart, and it was a nice lie
Johnny and Jesse were looking up remedies…I was putting baking soda on my lip, and dunking it in vinegar, and lots of ice, more baking soda and vinegar, children's benadryl.
Nothing worked. It didn't really hurt too much, it was just impossible to talk and disgusting to look at. Everyone was worried because my bottom lip got to be at least ten times its normal size. I walked into Rite Aid with Johnny Segalla and it was like Angelina Jolie walked in, everybody stopped and stared at my lips, no one looked me in the eyes. The pharmacists said, "boy, you best go to the hospital.."
Because it's so difficult to get a specific group of about twenty people together, all of which are involved in different projects, not to mention we live in four different states, to find a day that we're all free and can get to Boston… there was a logical chance that due to the circumstances they would have to cut Sala's role heavily from the script. I would have understood, but Johnny Segalla who plays the lead role decided to drive me to the hospital. Johnny is a good guy, and good friend.
Filming was limited for the next five hours.
A half hour later I ran into Boston Medical Center through the ambulance E.R. entrance, half naked, looking crazy, agreeing that my throat was closing up even though it wasn't, because this was B.M.C. on Massachusetts Ave in Boston, having lived in Boston for 5 years with past experiences, unless your dying you're going to wait for hours, maybe even years.
They got me a bed in the hallway right away, ahead of patients who had been waiting for God knows how long, so I must be a decent actor.
After some shots, pills, ice, and a couple hours the swelling had gone down enough that my lips weren't the first thing that strangers looked at.
I left against medical advice, and salvaged the second half of the day for filming.
A beer or two later I was dressed as a raccoon breaking into Jesse Barack's actual house to eat everything in sight. Of course this is a one take shot, so I went all in. Ate everything from cereal to plastic.
It ended with me falling out the window, partially choking and actually puking. Someone was hitting me on the back while Nick Norman, the cameraman, was yelling that the guy was ruining the shot.
And what a shot it was.
Thanks for the interview!