Your new movie Capture Kill Release - in a few words, what is it about?
A seemingly normal couple plot to murder a stranger just out of sheer curiosity, documenting the entire process from planning to execution.
What were your sources of inspiration when writing Capture Kill Release?
We were really inspired by talking about true events of couples that have committed terrible crimes together wondering how more than one person can go along with such a terrible thing. From there we started doing some dark research online on how people would 'theoretically' get rid of a body and came upon some really upsetting stuff that inspired us to go further down this rabbit hole and develop the film.
From a filmmaking standpoint, we proudly wear a few different influences on our sleeve in this film. There's a little bit of Henry: Portrait of a Serial Killer in there as well as a huge Man Bites Dog influence. We also wanted to flip a few tropes on their head that you've seen from movies like Natural Born Killers, so those influences are in there with their own twist.
To what extent can you actually identify with the homicidal protagonists of Capture Kill Release?
Almost none. I say 'almost' because there's a lot of dark jokes in the film and I'm very fond of gallows humour. The two leads brought a lot of their own humour to the film so coming up with a lot of the dark jokes together was something I can identify with, but as for their identities I can't relate at all. I detest violence in real life which puts me at complete odds with Jenn's character and Farhang's character is very weak-willed which I can't relate to.
You have taken the found footage route for Capture Kill Release - why, and what were the advantages and maybe also challenges filming that way? And especially regarding your approach, were you following your script rigidly or did you leave the actors space to improvise?
We really wanted to explore themes of vanity, our 'selfie culture' that's obsessed with documenting everything and how we present ourselves to the camera. Not to mention the validation we get from putting a camera on ourselves and how we're always willing to go further and further when a camera is watching us in the age of YouTube and reality TV. Some have dubbed the film a "killer POV" film over "found footage" as everything you're seeing is very deliberately shown from the main characters POV instead of contrived reasons of the camera being left on, forgotten, etc.
It definitely has some advantages and disadvantages. You can pair your crew down to be very small and intimate which is great, but you also have to craft very deliberate choices while making them feel organic and in the scene. It's a very delicate balancing act where you want something to feel authentic but not come off as too amateur that the audience is going to tune out. There are also a lot of technical considerations you always have to keep in mind - the genre has a lot of "rules" you have to abide by so you're always testing which ones you can bend without cheating your audience.
What can you ell us about your co-director Brian Allan Stewart, and what was the collaboration between the two of you like?
Brian and have been very good friends for a long time and have done a lot of work together. We make a great team, balancing out each others ideas, trusting each other to take risks while also calling out any BS from each other if it doesn't ring true. Usually I'd shape the scenes with the actors while Brian was behind the camera. You try to plan everything as best as you can before you roll but due to the improv-heavy nature, Brian would have to make choices on the fly to make things work which he does amazingly - he has great instincts and has great drive.
For the sake of all the gorehounds in my audience you just have to talk about the bloody bits in your movie for a bit!
We thought the gore was very important to our film, almost as a way of luring in gore hounds and then turning them off of it when they see how it's presented. We wanted to make a film that people would tune into for the violence (it has KILL right in the title) and then make them pay for it a bit, maybe even feel a little guilty. We have a character the audience would normally root to have killed, but then instead of giving them their head on a platter we take that option away and make the victim someone who doesn't 'deserve' it. And then we don't let it happen right away, we make the audience get to know this person. And then when we finally give them that release, we drag out that aftermath so the violence has real consequences. By the time the violence is done, it should really be more exhausting than thrilling in our eyes.
I really have to tip my hat to Mitchell Stacey who did an incredible job with the prosthetic FX in this movie. We knew that when we got to the big scene it was going to have to be pretty nuts and he definitely delivered.
At least for me, Capture Kill Release was also darkly humourous throughout - do you at all agree, and would you like to elaborate on this?
Absolutely, and so much of that is from our great cast. There was always dark humour throughout but these guys brought so much to the scene that we were constantly laughing throughout filming. I think the humour is important to the movie as it makes the dark subject matter seem like a joke that isn't REALLY going to happen and make the ride up to that point seem fun. Then when things do get out of control, that laughter stops for the audience. Jenn is still cracking jokes to the end but once it becomes 'real', the tone really changes.
What can you tell us about your cast, and why exactly these people?
The key ingredient to this film was chemistry between the actors. Finding the right actors was more about who fit well together, so we built the cast out piece by piece. We had worked with Farhang Ghajar on several projects in the past and once we brought him on board, we moved from there to find the right chemistry to make everything work. Once we saw him and Jennifer Fraser together we knew we had a very powerful and talented pair that would be the glue to the film.
A few words about the shoot as such, and the on-set atmosphere?
The shoot was very intimate, most of the times just a few of us on set when we weren't dealing with bigger set-pieces and the atmosphere was great. The people you work with can make or break the mood of a shoot and I have to say I love the entire team we worked with.
The $64-question of course, when and where will your movie be released onto the general public?
I can't speak to the details yet but we have something in the works to hopefully get it out to the world early 2017.
Anything you can tell us about audience and critical reception of Capture Kill Release yet?
We are very happy with the response we've gotten. We've actually gotten a number of reviews that can't say if they love or hated the movie because it made them feel uncomfortable which has made us rather happy. We'd rather make people FEEL something than ambivalently say "it was ok" - even if those feelings are a little ugly and complicated.
Any future projects you'd like to share?
We have some stuff in the works. We're still massaging things to make sure everything clicks and then have to work out logistics and small details like "find money" but there's definitely a twisted idea or two developing.
What got you into filmmaking to begin with, and did you receive any formal training on the subject?
I was always into storytelling and as soon as I got my first cheapie camera I filmed anything I could. I did go to film school and have been working on a variety of stuff since.
What can you tell us about your filmwork prior to Capture Kill Release?
This is our second feature, our first was a dark little dramedy called Uncle Brian. We've also done a number of shorts and industry work outside of our flicks.
How would you describe yourself as a director?
Clear and collaborative. I think it's important for a filmmaker to know what they want, but I also think you have to be open. At the end of the day the filmmaker should know what they want to achieve but not think you or your ideas are above everyone else's. You'd be amazed at what great things can happen when you communicate and listen.
Filmmakers who inspire you?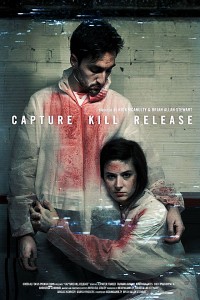 Outside of the clichés (of course I love Scorsese - how can you NOT love Scorsese?) I'm really inspired that anyone that just goes out there and does it. Gareth Edwards who went out and made a 100K movie look like a 20 million dollar which landed him Rogue One: A Star Wars Story is very inspiring - I think anyone half interested in indie filmmaking has to check out Monsters just to see what CAN be done. Matt Johnson who is a Canadian guy is really shaking things up here by making huge waves outside of the system. Not to mention people that make stuff in the muck and don't go on to doing blockbusters - like Lloyd Kaufman and Larry Clarke. I'm also a huge fan of really nasty humour. The term 'black comedy' is thrown around a lot but I like when a filmmaker explores true human depravity and yet somehow finds a way to mine true humour with honesty out of it.Todd Solondz, Yorgos Lanthimos, Adam Wingard - and of course as any film nerd of a certain age would say Tarantino.
Your favourite movies?
That really seems to change as there's just too many to choose from. At one point I had some go-to staples that I'd seen a million times but now I find I'm really open to just discovering something new and letting that be my favourite in that moment. Any time a movie can do something different or kick me in the gut, it sticks in my mind and won't leave for a while until something new comes along. So as cop-out of an answer as it is, in the moment the latest thing I saw can be one of my favourite movies.
... and of course, films you really deplore?
Anything that is completely soulless. Hey, let's make a nostalgia cash grab - who wouldn't like a CG 100 million dollar reboot of Ninja Turtles with 30 writers? If something was made that nobody involved actually cares about outside of the money it could (potentially) make, I don't care. That's not to say I don't love a blockbuster, just make sure it's a blockbuster that everyone WANTED to make. Also Garden State. God damn it do I hate that movie.
Your/your film's website, Facebook, whatever else?
The works - go to all of these places:

Feeling lucky ?
Want to
search
any of my partnershops yourself
for more, better results ?

The links below
will take you
just there!!!


Facebook: http://facebook.com/capturekillrelease
Twitter: https://twitter.com/CriticalFocusPr
Website: http://capturekillrelease.com/
IMDb: http://www.imdb.com/title/tt5363736/
Anything else you're dying to mention and I have merely forgotten to ask?
Filmmakers: It has been said a million times before but always remember that the audience will be ok if you kill a kind character and dismember them in a horrible manner onscreen, but the second you kill an animal in your film they're going to be very mad. Do with that what you will.
Thanks for the interview!