First of all, why don't you introduce yourself to those of us who don't already know you?
My name is Nicola Orichuia. I'm an Italian citizen originally from Rome, living in the United States since 2008.
You run I AM Books, which bears the distinction of being the first Italian American bookstore in the country - now what was the inspiration behind that, and when and how did the store come into being?
Well, it's not so much the product of one inspiring moment. It's more the young tree of a seed that was planted many years ago, when I first moved to the United States. In Italy, you're not taught much about the big migration movements from Italy to all corners of the world. You know millions left, but then you know nothing of what happened to communities of immigrants. Being in a similar situation, leaving my country, I could immediately relate to those who left Italy many years before me. I started working for an Italian American publication in Chicago, Fra Noi, and wrote a thesis for my master's degree on the history of Italian immigrant newspapers in Chicago. Then, in 2010, I moved to Boston, where I started the Italian-American news website Bostoniano.info, and in late 2012 I launched Bostoniano, Boston's Italian American Voice, a sister publication of Fra Noi that is still printed every month and counts over 1,000 subscribers. The website and magazine organically grew into the bookstore, which translates into a physical location what has been done so far with the two media outlets for Italian Americans in the Boston area. I didn't know anything about the book industry before opening the bookstore, except for the fact that I liked to read books. I just had a hunch that it was something that the community needed, and I was lucky enough to find a business partner, Jim Pinzino, who shared my same vision.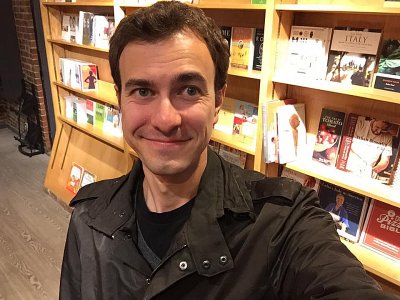 Quite obviously, you need to give us the physical address of your bookstore?
It is located at 189 North Street, in the heart of Boston's North End neighborhood. We're right across the street from Paul Revere's House!
With your store being located in Boston, what can you tell us about the Italian American community there?
It is a very large and vibrant community. What amazed me when I moved here in 2010, was the high number of organizations, societies and clubs that worked hard to promote and cultivate Italian culture. Boston has a very strong Italian side to it, and some parts of the city - like the North End - are still seen as very Italian.
I've read somewhere that you compare I AM Books to the traditional Italian piazza - care to elaborate?
Yes, the piazza in Italy is a central part to any Italian's life. The square, the piazza, is a natural meeting point, a place where everyone gravitates at some point of the day. It is where friendships are made, consolidated and renewed, where families laugh and talk, where strangers exchange ideas. I wanted to reproduce this feeling inside I AM Books, letting visitors feel like they could have a conversation, talk about culture or even the weather, if they want. The purpose of I AM Books is to cultivate and promote culture, and to do so we need to meet with others and make it happen. I can't build a piazza, so I tried to replicate the feeling inside the bookstore.
For those uninitiated (like myself I freely admit), what can you tell us about Italian American literature, and in your eyes, what makes it special? And some of your favourite Italian American writers?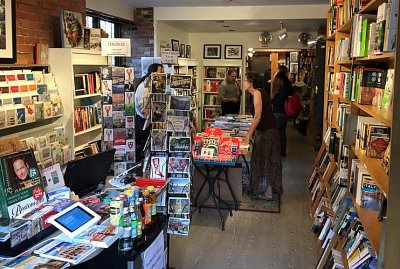 Italian American literature is an interesting topic, which is being studied in many universities, such as CUNY, where they have a department dedicated to Italian American Studies. There are very many American authors of Italian descent, but I consider Italian American literature anything that includes the aspect of growing up Italian American. For example, one of my all-time favorite authors is John Fante. He inspired authors such as Charles Bukowski. In most of his novels, Fante narrates his stories through an Italian American lens. References to his Italian-style upbringing in Colorado are interspersed in books like Ask the Dust. Ironically, Fante is not very well known in mainstream America, but he is huge in Italy, where his books are still very popular. There are many other authors worth mentioning, although the list would be very long. Just to mention a few: Helen Barolini, Fred Gardaphe', Anthony Tamburri, Rita Ciresi, Christopher Castellani, Frank Lentricchia...
Some of your highlights running I AM Books?
Well, let's just say there's a highlight a day! But I'd have to say that our events are what creates lasting memories. In early December 2015, we had children's author Tomie dePaola signing books. We had a line out the door and around the block for three hours! In April and May, we ran a concert series every Saturday, featuring bands and musicians from the Boston area.
Besides running I AM Books, you're also founder and editor of the website Bostoniano, "Boston's Italian American Voice" - so do talk about that project of yours for a bit?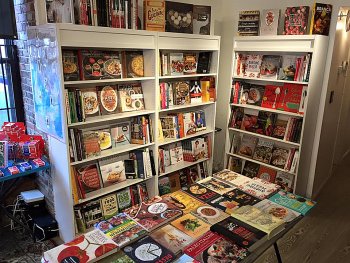 The magazine is really the base of everything. Without the magazine, I AM Books would not exist, or at least I would probably never have arrived to figuring out how to make it work. The idea of the magazine sprouted in the spring of 2012, when I approached Paul Basile, the inspiring and visionary editor of Fra Noi, a monthly Italian American publication in Chicago. It is, in my opinion, the best Italian American publication in the country, and I thought the Boston community deserved having a similar magazine. So he gave me the go-ahead to launch a sister publication in our area, sharing most of the content but also presenting original material. The first issue of the magazine came out Dec. 22, 2012 — I'll never forget it. I drove all over the Boston metropolitan area, fighting holiday shopping traffic to get the magazine into stores before Christmas. It was a lot of fun, and very stressful, too! It's really hard to believe for me that in a few months we will be celebrating our fifth anniversary.
What got you into journalism in the first place, and did you receive any formal education on the subject? And what can you tell us about your career as a journalist?
I was in university in Rome, studying Communications. I had no idea of what I wanted to do, until I took a journalism course with an inspiring professor. I decided I would try out an internship at a newspaper. That internship turned into a stable position for over two years, and then I worked at a free press magazine in Rome. It was a lot of fun, and I learned so much from the two experiences. The only issue was they didn't pay! It's a bit of a generalized problem in Italy, nowadays... so I moved to the United States, where I went into a graduate program in journalism at Columbia College Chicago. The amazing program and people I found there consolidated in me the passion for journalism and gave me the necessary tools to approach the job in the United States.
Any other aspects of your career I neglected to cover?
Well, when you run your own business, no one tells you beforehand that you'll have to do absolutely everything, including accounting, invoicing, cleaning the bathroom... you get where I 'm going, right?
.. and since this is a movie site first and foremost, some of your favourite and least favourite films?
Two movies that have touched me deeply as I was growing up were One Flew Over the Cuckoo's Nest and Full Metal Jacket. I am also a big fan of Italian Neorealism. Directors such as Vittorio De Sica, Federico Fellini and Mario Monicelli have made a lasting impression on me.
Your/your store's website, Facebook, whatever else?
The bookstore's website is iambooksboston.com, and the Facebook page is facebook.com/iambooksboston.
For Bostoniano, you can visit bostoniano.info or facebook.com/bostonianoinfo. Both have Twitter accounts as well.
Anything else you're dying to mention and I have merely forgotten to ask?
My favorite gelato flavors: pistachio and hazelnut.
Thanks for the interview!