Your new movie The Black Emperor of Broadway - in a few words, what is it about, and what can you tell us about your character in it?
The Black Emperor of Broadway is a wonderful biopic about the life of an unsung hero, 1920ís Broadway star Charles Gilpin. He was a trailblazer that very few people know about. He was the first black Broadway star. And he was very outspoken about his beliefs.
What did you draw upon to bring your character to life, and how much Nija Okoro can we find in Florence Gilpin?
I drew mostly upon the time period and my imagination. Thereís very little information out there about Florence Gilpin. So I tried to put myself in the shoes of a woman who supports her partner in becoming a star of the stage. Which really made me curious about her. I mean, it was the 1920ís so it was almost revolutionary to believe in anything other than porter work or being an elevator operator or other jobs usually available to black men in that time period. I drew on my own ability to dream despite the hand I was dealt. As a kid I was told by a guidance counselor not to apply for LaGuardia HS (the arts school that the movie Fame was based on) because ďno one from here ever gets into thereĒ. I decided to only apply for LaGuardia as a result. When I got in it felt like a national holiday. They made a big announcement and students were running through the halls cheering. I also went on to get a full merit-based scholarship to Juilliard. So I know a little something about stepping out on faith.
Since your character in The Black Emperor of Broadway is based on a real person, did you at all prepare differently for the role compared to a fictional character, and did you do extra research on Florence Gilpin in preparation for the movie?
Unfortunately, there wasnít much information on her. So I mostly studied the time period and Mr. Gilpinís life. I sort of worked backwards to fit in Florence almost like a much needed puzzle piece to complete the picture.
How did you get involved with the project in the first place, and did you at all know about the story it covers before making the film?
I was recommended to our director by my dear friend Eve Annenberg who plays Susan Glaspell in the film. Sheís also a fellow Juilliard alum. I sent in a tape to Arthur and was hired as a result. And no, sadly, I had no prior knowledge of Mr. Gilpin and his work. As a black actress I stand on his shoulders and had no idea. It made me even more excited to help being this story to life. It is a necessary one.
What can you tell us about The Black Emperor of Broadway's director Arthur Egeli [Arthur Egeli interview - click here], and what was your collaboration like?
Arthur is awesome! He was as cool as a cucumber to work with. He was very open to collaborating. And when there were logistical shenanigans like a problem with a location or even a short window of time we could use a key prop, Arthur kept a poker face. He never allowed anything to shift the mood on set. Heís a rock star for sure!
Do talk about the shoot as such, and the on-set atmosphere?
Working on this set was dream. It felt like theatre camp. Not that Iíve ever been, but itís what I imagine it to be like. Everyone brought a spirit of play and joy to the work. And we had a beautiful synergy. I certainly enjoyed every moment of it.
Any future projects you'd like to share?
Yes! I am the co-lead in a pretty awesome thriller called The Stay. Itíll be released soon. Iím looking forward to seeing it, although I donít do well with watching horror/thrillers. Iím sure Iíll have nightmares. Also, Iím scheduled to be in the world premiere of Dominique Morrisseauís new play Confederates at the Signature Theatre in New York. We got postponed because of the current quarantine. So fingers crossed weíll begin rehearsals in January. Iím really excited about getting back on stage. And Dominique is one of my favorite playwrights. So Iím thrilled.
What got you into acting in the first place, and did you receive any formal training on the subject?
As a kid I was a bit of an overachiever in school. Everything felt easy. Except acting. It really challenged me. My mother enrolled me in Harlem School of the Arts when I was 2. I took dance and later acting. My first role on stage ever was there. I played Eliza Doolittle in My Fair Lady. Iím so glad camera phones were not around at that time. Iím sure Iíd be mortified to see that footage.
What can you tell us about your filmwork prior to The Black Emperor of Broadway?
Other than independent films I did more television work. I did ER when I first moved to LA. And Iíve worked on Insecure, The Deuce, Animal Kingdom, Monday Mornings and some other shows. Iíve also been blessed with a lot of stage work. Most recently I was on the National Broadway Tour of August Wilsonís Jitney directed by Ruben Santiago Hudson. That was an incredible ride.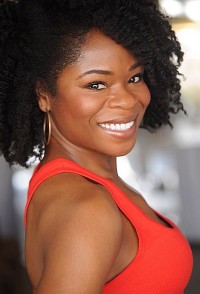 Feeling lucky ?
Want to
search
any of my partnershops yourself
for more, better results ?

The links below
will take you
just there!!!


How would you describe yourself as and actress, and some of your techniques to bring your characters to life?
I am definitely into transformation. I love stepping into the shoes of my characters. I love all genres too. Iím always curious and well prepared. I enjoy preparation! I still utilize the Alexander technique that I learned at Juilliard. Itís sort of a mind, body and even spiritual technique. I love it. I am grateful for my education because I have a ton of tools in my actorís toolbox. So it depends on the role. Whenever I whip out animal work (where I pick an animal to begin creating my character) I know Iím about to have some fun. I usually work inside out though.
Actresses (and indeed actors) who inspire you?
I love Phylicia Rashad. If youíve never seen her on stage, sheís a revelation. Iíve been blessed to have been directed by her three times. Iíll never forget seeing her on Broadway in Gem of the Ocean while I was at Juilliard. I was forever changed. Sheís a big inspiration and my mentor. Also Ruben Santiago-Hudson. He is divine on stage (and screen). I learned so much working with him. His dedication to the work is unparalleled. Love him!
Your favourite movies?
I donít know if I have a favorite. Hmm... I love Carmen Jones, Moonlight, The Tree of Life, Claudine, Imitation of Life, The Devil Wears Prada and just about any other Meryl Streep movie.
... and of course, films you really deplore?
I canít seem to get through Gone With the Wind.
Your website, social media, whatever else?
Iím @NijaOkoro on Instagram and Facebook and my website is NijaOkoro.com
Anything else you're dying to mention and I have merely forgotten to ask?
Nope, this was thorough! Thank you!
Thanks for the interview!