Your new movie Up on the Glass - in a few words, what is it about?
Up on the Glass is an indie thriller about a wanderer-type named Jack DiMercurio who secretly desires the life and wife of his more affluent friend, Andy Shelton. Past tensions surface between the two men during an informal reunion at Andy's cottage on Lake Michigan. One heinous act allows Jack to draw close to Andy's wife Liz, but Jack finds living Andy's life is a dangerous lie.
What were your sources of inspiration when writing Up on the Glass?
My creative partner Kevin Del Principe [Kevin Del Principe interview - click here] and I were inspired by the slow-burn psychological vibe of stories by Patricia Highsmith as well as the class dynamics in The Servant, a 1963 drama whose screenplay was written by Harold Pinter.
What can you tell us about your writing partner (and director) Kevin Del Principe, and what was your collaboration like?
I'm very lucky to have found a partner in life and creativity in Kevin. We had worked on a couple short films together that we co-wrote and that I acted in and he directed before embarking on our first feature, Up on the Glass. These experiences allowed us to establish a solid collaborative foundation. I'm constantly inspired by Kevin's depth of insight, and I'm always learning from the way he brings that perspective on humanity into his creative work.
Up on the Glass isn't your first time working with Kevin Del Principe - so what can you tell us about your previous collaborations, and how did the two of you first meet even?
We first met in the Writing for Screen & Television MFA program at the University of Southern California in Los Angeles back in 2011. We became friends while in school and kept in touch after graduation by participating in the same writing group. Over a matter of months after we graduated, our conversations deepened and, ultimately, we became a couple. Though we had been together for some time by the time we shot Up on the Glass, it was actually the herculean effort of making the film that inspired us to tie the knot. The extraordinary outpouring of support from our families and the local community where we filmed helped us to realize the value in bringing people into our lives in the form of shared celebration.
What were the challenges bringing Up on the Glass to the screen from a producer's point of view, and how hands-on or hands-off are you as a producer?
Given Up on the Glass is an ultra-low budget film, one of the biggest challenges was making the most of the resources we had at our disposal. We could not have made this film without support from the local community of Shelby, Michigan where we shot. People put up cast and crew in their homes. Businesses allowed us to use their shops as sets. One of my closest family friends, Tom Schultz and Julie Woods,
turned their kitchen into a canteen and prepared every meal for cast and crew. We had a lot of help, which I needed as the sole producer on set with Kevin focused on directing.
You also have to talk about Up on the Glass's location, and what was it like filming there?
I'm very excited to be able to share the beauty of Lake Michigan and the surrounding community in Up on the Glass. I grew up spending summers there as a child and so this place will always have a special place in my heart.
You also appear in front of the camera in Up on the Glass - so what can you tell us about your character, what did you draw upon to bring her to life, and did you write her with yourself in mind from the get-go?
Though Kevin [Kevin Del Principe interview - click here] and I did not write the role of Kate for me from day one, as the script took shape, we recognized that she would be a good fit for me. Once that decision was made, my experience spending time in the lakeshore community of Shelby began to inform Kate's character. In that sense, it was not a stretch to bring Kate to life. Though her history is different from my own, we both feel at home in that Lake Michigan coastal town and want to believe that people are mostly good at heart.
Do talk about the rest of Up on the Glass's cast, and as writer/producer, how much of a say did you have when it came to casting the movie?
Kevin and I made the casting decisions together as a producing team, though, of course, his sentiment as a director mattered greatly in making these choices. Our casting director, Rachel Imbriglio, did an incredible job finding actors who would be well-suited to each part. Each of our cast had at least some connection to the Midwest, which we felt was important for bringing the feel of this small-town environment to life.
A few words about the shoot as such and the on-set atmosphere?
We shot the film in eleven and a half days, and so we had to move fast and be efficient. I'm very pleased that we were able to take advantage of the natural beauty of the environment by shooting outdoors, which I think helped to expand the world of the film.
Anything you can tell us about audience and critical reception of Up on the Glass?
For the most part, I think people tend to understand the story of the film. Everyone has felt like an outsider at some point, and that's really the crux of Jack's story. We're early on in our roll-out to critics, but I anticipate that it will be a mixed bag depending on the critics' appreciation of films made in an independent spirit.
Any future projects you'd like to share?
Kevin [Kevin Del Principe interview - click here] and I have started thinking about developing Kevin's novel, I Animal, into a movie. I'm also working on a novel, and we've created a press arm for our production company Save Them Wild Dogs called Save Them Wild Dogs Press and will be releasing a book of poetry, Tracking the Masked Dawn, by Brian Brogan, this fall.
What got you into the filmworld to begin with, and did you receive any formal training on the subject?
I studied screenwriting in the University of Southern California's MFA program. This is also where I first dipped my toes into acting. Wendy Phillips, known for her roles in Bugsy and the TV show Big Love, taught an acting class for writers. She encouraged me to continue training as an actor and took me under her wing. I'm really grateful for her mentorship.
You seem to be equally comfortable in front of as behind the camera on your projects - so what do you prefer actually, and is there anything you could really do without?
I am a writer first and foremost, but I also find acting incredibly rewarding. As an actor, there is something magical when all the preparation comes together in a moment, and the character becomes real.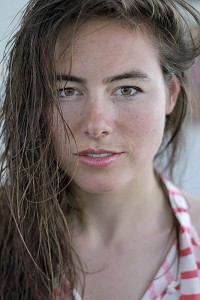 Feeling lucky ?
Want to
search
any of my partnershops yourself
for more, better results ?

The links below
will take you
just there!!!


What can you tell us about your filmwork prior to Up on the Glass?
Kevin and I wrote two short films together that I acted in and he directed. We were able to screen both at the Other Venice Film Festival in Venice, CA. These experiences definitely prepared us for making Up on the Glass.
Filmmakers, writers, actresses, whoever else who inpire you?
I am inspired by Tom Ford's specific choices and eye for aesthetics. I also love the humanity of Debra Granik's films. As far as actors go, I think Alicia Vikander has amazing presence.
Your favourite movies?
I absolutely love The Clouds of Sils Maria, and Gladiator is a guilty pleasure.
... and of course, films you really deplore?
When it comes to well-known films that many people applauded, I did not care for Amadeus.
Your/your movie's website, social media, whatever else?
Film website: http://www.upontheglass.com/
Facebook, Twitter & Instagram: @upontheglass
My website: https://nikkidelprincipe.com/
Facebook: @nikkidelprincipecreates
Twitter: @NJDelPrincipe
Instagram: @ nikkidelprincipe
Company website: http://savethemwilddogs.com/
Facebook: @SaveThemWildDogs
Twitter: @STWDFilms_Press
Anything else you're dying to mention and I have merely forgotten to ask?
That covers it! Thank you for the interview!
Thanks for the interview!