Your new movie Faithful - in a few words, what is it about?
Faithful is a psychological thriller/drama. The story surrounds a woman named Lauren, who one day finds her marriage to be in struggles. She tries to save her marriage, but the truth may not be as it seems to be.
How did the project fall together in the first place?
Faithful is my thesis project that I was making to graduate from the New York Film Academy. Since it was my thesis, I didn't want to make some random story and some half done project. I wanted to make something that I could be proud of. And the story of a film is, in my opinion, the most crucial and important factor when making a film. So I wanted to create a compelling story with a subject and theme that is very close to me. The pain and suffering of losing a loved one and how important it is to stay well and healthy even in our minds during those hard times. "You believe what you want to believe" is a phrase I heard many times when I was growing up, and during my experiences I believe those words to be very true.
Do talk about your writer Aleksandra Milanova, and what was your collaboration with her like?
Aleksandra and I met and talked at the very beginning while both of us started studying at the New York Film Academy. We got to know each other and became good friends, and after doing some test projects for fun, we realized we had a very similar style and mindset and we worked really well together. So when it came to the point where I had to start writing the script for Faithful, I gave her a beat sheet and told her my idea, and she liked it and started writing. We made sure to always review and talk about the current draft of the script. We probably went through 8 drafts of the script until both of us said, we are happy with this, this is great, let's shoot this! She is an amazing writer who really helped making the script as good as it turned out to be.
To what extent could you actually identify with Faithful's lead character Lauren and her way to deal with things?
The subject and theme of Faithful is something that is very close to me. Lauren's mindset is something I was a bit of a perfectionist of and wanted to make sure we got right, because there have been a few moments in my life where I personally had that kind of mindset. First time was when I was maybe 5-6 years old, and a old relative of mine passed away, we went to the hospital and I saw her lying there on her death bed, and I didn't know how to react, maybe because I was too young to understand the concept of death. I don't have many memories from that young age, but that is an image that still to this day is very clear in my head. Then there was when I was a young child, and my dog had just died, I refused to believe it and was saying to myself that everyone was lying and it was all a bad joke and my dog was coming back home soon, but he never did. My great grandmother passed away when I was 15. I was at the field playing football with my friends and I got the call she was passing away so I rushed over to be with her at her final moments. And when it had passed, I didn't know how to react, I didn't know what to say or do. Even during the time we were in the process of writing the script for Faithful, my grandmother who I was very close to passed away. I flew back to Sweden to attend the funeral, and after coming back to LA I got even more serious about making the script perfect. I wanted to make sure I could make a movie that my late grandmother could be proud of.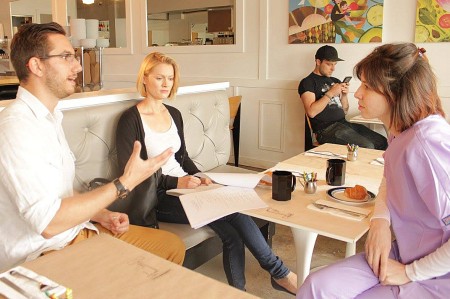 What can you tell us about your directorial approach to your story at hand?
I consider myself to be a very visual director. So the cinematography was very important to me and I spent a lot of time working on the shotlist and floorplans so my cinematographer (Brooke "Cookie" Schulte) knew what I wanted before we got on set. But I also knew that what would really sell the story would be the cast and acting. So I spent a lot of time holding auditions and going through a handful of really good actors until I found a cast I felt confident with. I had quite a few talks with Clarissa, who plays Lauren, about the character and what I was looking for. She did her prep really well and I think it's easy to see when you look at the film.
Do talk about your cast, and why exactly these people?
It was a difficult choice because I had a few really good options. I held several auditions and callbacks for all roles, but my main focus was getting the best for the lead and have actors that I thought would be best to support her. I chose Clarissa to play the lead because the performance she gave in the audition and callback really impressed me a lot. The same went with all other roles. There were so many great options to choose from, but Ellis, Cynthia, and Eve really stood out a more than the rest and I thought they all could have a good connection with each other, which I think really showed when we were shooting the movie.
A few words about the shoot as such, and the on-set atmosphere?
It can be described with one word: Amazing. I'm so thrilled and overjoyed and feel so lucky to have worked with such a wonderful cast and crew. Everyone worked so hard and really helped me a great deal to make my vision come to life. And even tho it is a heartbreaking story, as soon as the camera was off, everyone was making jokes and having a good time. Everyone seemed to get along really well, and me and my producer (Lucas) tried to do everything we could to make everyone feel appreciated.
The $64-question of course, where can your movie be seen?
Faithful is about to begin its festival run so at the moment it's not available to the public. But we will announce on the movies official Facebook page as soon as it's been accepted in a festival where it can be seen. And after the run is over, we will be looking to see if we can get a distribution deal with a online platform. If we can't, we will make the movie available for people to watch on Vimeo.
Anything you can tell us about audience and critical reception of Faithful?
So far it's been really great. We've had a few reviews written about Faithful which you can find on the movie's official Facebook page, and so far they have all been very positive reviews. We also held a closed screening at Warner Bros where everyone had many good things to say about the movie.
Any future projects you'd like to share?
I'm currently writing a script for a feature that I'd like to make in the future but nothing locked yet. I have 2 other ideas for feature films that I've started on. But at the moment I'm working mostly as a freelance cinematographer. A horror short film I recently shot, Nite Nite, directed by Chad Meisenheimer, is an official selection at the Fake Flesh Fest, and we are waiting to hear from more festivals. I have another horror short film called Little Girl in White, which will also be directed by Chad Meisenheimer. I also have another script for a short film I want to make. It's called Anke, which was the name of my grandmother who passed away, and it's a film I'd like to dedicate to her memory and I'm hoping have have it made in 2018.
What got you into moviemaking in the first place, and did you receive any formal training on the subject?
I went through most of my life having no idea what I wanted to do. And for a few years I was also suffering from depression, and during that time I wasn't really thinking about what it was I wanted to do with my life. But I studied Interactive Media at HRC (Hertford Regional College) in England, and during my studies I did a stop motion short, and even a music video. And I thought it was a lot of fun and decided to give filmmaking another try. So I was looking online for film schools until I eventually found NYFA (New York Film Academy), and I enrolled in the BFA Filmmaking Program where I graduated from in September 2017. When I first got the acceptence letter my mother was joking that I was a reincarnation of my grandfather who passed away when I was newly born. He was a known Romanian theater actor named Petre Vasilescu. And he is the only one in the family who other than me has ever been or tried to be in the industry.
What can you tell us about your filmwork prior to Faithful?
Before Faithful I was still a rookie who was learning. I worked on a few sets and did some school projects, just to learn and gain more experience. Most of them aren't really worth mentioning since I was still a rookie back then haha. But in 2016 I made my directoral debut with a short film called Code of Iron, which was my Intermediate Project at NYFA. It's a crime/drama short about a father who is also a mafia boss, and he has to save the life of his own son after the son comitted a crime he wasn't allowed to make. The film was a semi-finalist at Los Angeles CineFest, and a official selection at L.A. Neo Noir Novel, Film & Script Festival where it also recieved an Honorable Mention / Gold Award.
How would you describe yourself as a director?
I see myself as a very visual director. I love cinematography and I really enjoy working as a cinematographer, and whenever I direct a film of my own I always take most of my time thinking about the visuals. Creating a shotlist and floorplans.
Filmmakers who inspire you?
There have been a few but the ones who stood out the most to me would be David Fincher and Conrad Hall. To me Conrad Hall is one of the greatest cinematographers of all time, and every time I watch a movie he shot I'm always compelled and I've learned so much about cinematography just by watching his movies and analyze them. David Fincher is my favorite director because he is also a strong visual story telling director who knows how to catch the viewers' attention. Every shot, every camera move, every framing in his movies has a purpose and he doesn't waste a second of showing the audience some information they don't need.
Your favourite movies?
You know this is probably the most frequently asked question to filmmakers, and even during the short time I've been in the industry I've been asked that question countless of times. And still to this day I don't have a solid answer. There are so many great movies out there I can't just pick one. But some of my favorites are Infernal Affairs, Oldboy, Fight Club, Road to Perdition, Seven, and Pirates of the Caribbean. And a childhood favorite of mine is Blackbeard's Ghost.
... and of course, films you really deplore?
Oh dear that's a long list as well, haha. But I think the one movie that is on top of that list of recently released movies is Death Note. I'm a massive fan of the anime, I think it's one of the most well written stories ever and despite watching all episodes over and over again, I still get the chills when I'm watching it. So when I saw the live action movie of Death Note (both Japanese and Netflix version), I had high expectations. And both of them failed miserably. None of them really got the essence of what made Death Note such a compelling story. In the Japanses version, the acting was so bad I couldn't focus on anything else. And the Netflix version... Why on earth would you change the rules of the Death Note when the rules have already been established to a huge fan base? If they want to make their own version of it and change rules, ok. But don't call it a Death Note movie then (sorry for the rant but that's how much it annoyed me haha). And don't get me started on the acting in the Netflix version either. I mean, just the scream Nat Wolff gives us when he first meets Ryuk just says it all.

Feeling lucky ?
Want to
search
any of my partnershops yourself
for more, better results ?

The links below
will take you
just there!!!


Your/your movie's website, Facebook, whatever else?
Faithful official Facebook page: https://www.facebook.com/FaithfulShort/
My cinematography Facebook page: https://www.facebook.com/NBcinematographer/
Email: niklas.berggren@hotmail.com
Website: https://niklasberggren.wixsite.com/nbcinematography
Anything else you're dying to tell us and I have merely forgotten to ask?
I would just like to thank you for this interview and opportunity and I hope people will continue to show their support to Faithful and independent filmmakers.
All the support means the world to me because without it I wouldn't be able to continue doing what I love.
Thanks for the interview!