Your new movie Paranormal Asylum: The Revenge of Typhoid Mary - in a few words, what is it about?
Paranormal Asylum: The Revenge of Typhoid Mary tells the story of two film school best friends, Mark (Aaron Mathias) & Andy (Nathan Spiteri), who set out to make a documentary about the mysterious disappearance of a character called Typhoid Mary. What they discover is that the story is far more disturbing than they thought, and turns out that Michelle (Laura Gilreath), Andy's fiancée, is being slowly possessed by Typhoid Mary.
Paranormal Asylum: The Revenge of Typhoid Mary is said to be inspired by true events. Care to elaborate?
Yeah, Typhoid Mary, aka Mary Malone, was a real person who lived in the US at the turn of the century. She was an immigrant from Ireland, who worked in the US as a cook. She was a healthy carrier of the Typhoid fever, at that time an easily-transmitted and highly-deadly disease, and as a result of her line of work – a privately hired cook working for wealthy families – she infected 51 people with confirmed 3 fatalities. She was arrested and sentenced to live the remainder of her life in solitary confinement on a tiny island just east of Manhattan. Her metonym Typhoid Mary is still used today in popular culture and in scientific literature. She is considered to be the first diagnosed healthy carrier of a disease in a time when such concept was not well understood or believed to be possible. It also carries a set of moral issues – at what price would you trump individual liberties over the well-being of society – an issue we are facing today in various forms. There are additional true events that tie into the film, such as the creation of the drug Thorazine – the first drug ever created with the intent to control people's behavior, and which was one of the leading causes to the closure of many psychiatric hospitals, among them various historical and nearly condemned sites in New York state and the Hudson Valley, which is rich in US history.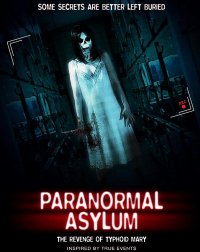 How did you get involved with the project in the first place, and how did it get off the ground?
I was at the Hudson Valley in New York State for business and spotted the dilapidated remains of what is left of the Hudson River Psychiatry Hospital, which at the time was one of the most ornate and opulent psychiatric hospitals ever built. It's the type you see in movies such as Shutter Island and One Flew Over The Cuckoo's Nest – the real deal. It was a formidable structure. Just sitting there, hidden from the public, overgrown, partially damaged and extremely quiet, and on a dreary, rainy day, which is very common in New York, being there is a frightening experience. I think that place set the tone for the movie. Coupled with the story of Typhoid Mary, which I described above, is simply a fascinating one from many different aspects, - it was simply irresistible.
With Paranormal Asylum: The Revenge of Typhoid Mary being a ghost story, is that a genre you can at all relate to? And your personal take on actual "paranormal investigations"?
You know it's funny – we interviewed many experts in the field about paranormal, and opinions range from non-believers to agnostics to die-hards. I personally don't have sufficient knowledge on the matter to truly voice an opinion. Do I walk around trying to communicate with ghosts? No. Do I believe it is possible within the realm of this universe? Well, let me as ask you a question – how does gravity work? There are several opposing theories that can only explain it in - theory. There is more unexplained than there is explained in this world, so is paranormal possible? Of course.
What can you tell us about your directorial approach to your story at hand? And given that everybody does it nowadays and your movie's plot almost suggests it, were you ever tempted to turn this one into another found footage movie?
I am not a fan of found footage. It can be done very well, like in Chronicle. Paranormal Asylum: The Revenge of Typhoid Mary has some found footage, which is used primarily in the pretext of the making of the movie within the movie, but it's not the core of the movie.
What can you tell us about your cast, and why exactly these people?
The cast is great. They are all very talented and they deserve to be recognized for they work they put in. Aaron Mathias who plays Mark is very charming on and off camera and has a great ability to play a withdrawn character with intensity. Nathan Spiteri who plays Andy, is a very likeable immature jerk. I really liked his audition. He stood out. Laura Gilreath who plays Michelle was also really great. She had to play two different roles – one of a Gen-Y type modern young woman and the other of an extremely manipulative and dark character. She gave very impressive performance. Jenny Lee Mitchell, who plays Typhoid Mary, had a lot of fun with her role and gave it a slightly theatrical spin. It was nice to give her role a little "break". And Grace Evans who plays Evelyn was simply great. She is powerful and subtle.
You simply have to talk about your main location, the "haunted asylum", for a bit - how did you find it, what were the advantages, trials and tribulations filming there, and to what extent did the film mirror the place's actual atmosphere?
Oh man, that's an entire conversation. I love haunted locations and I love ruined sites. Ever since I was a child. And New York State is simply full of them. The sad part is that many have been condemned rather than preserved. I guess that's the price of modernism, even though it doesn't have to be this way. I touched up on the main location above. We also filmed at the Bannerman Armorie – it's a still standing ruined castle atop a small island in the midst of the Hudson Valley River. Very awesome place. We used various other sites, ruins, cemeteries and islands all around New York. We shot some of the scenes outside the Hudson Psychiatric State Center, which was closed down about 6 month after we filmed. It was an active psychiatric hospital with abandoned outlying posts. It's ironic, since Paranormal Asylum deals with the backstory of the closure of mental asylums – and here we are shooting at a location that was closed shortly thereafter.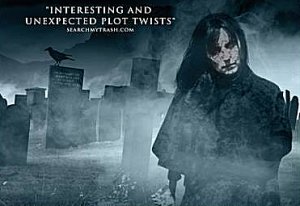 As far as I know, the film hasn't had a widespread release yet - so what can you tell us about critical response to your film so far, and any idea when the movie might be released onto the general public?
Sure. The movie is coming out in the UK August 5th, in the Philippines September 20th I believe, in the US October 22nd, Africa in November sometimes and we also have deals in Latin America, Germany and a few others that are in the works.
Filmmakers who inspire you?
Ingmar Bergman and Woody Allen. I used to go by filmmakers, but now I pretty much go by films.
Your favourite movies?
If I can name 4 – they would be: Wild Strawberries, for the existential dilemma of life, Blade Runner, for the atmosphere and tone, Dark Water, for the mother-daughter story, and Enron: The Smartest Guy in the Room, for the journey.
... and of course, films you really deplore?

Feeling lucky ?
Want to
search
any of my partnershops yourself
for more, better results ?

The links below
will take you
just there!!!

Find Nimrod Zalmanowitz
at the amazons ...

amazon.com

amazon.co.uk

amazon.de
Looking for imports ?
Find Nimrod Zalmanowitz here ...
Something naughty ?
(Must be over 18 to go there !)

You know, I really don't want to get into trouble ;-) There are films I watched that I regret, such as Hostel. It's hard for me to understand why people want to see a film like this. I'm sure there's a whole lot like it, so I'm not trying pick on this one particularly. I watched it since the director came from the same film school I went to, and I'm willing to pay up to $1,000 if I could wipe it out of my memory.
Your/your movie's website, Facebook, whatever else?
We do have a Facebook and YouTube sites. We are slowly adding videos of paranormal experts discussing their experiences, as well as cast interviews and experts discussing Typhoid Mary. Worth checking.
http://www.facebook.com/pages/Paranormal-Asylum-The-Revenge-of-Typhoid-Mary/619538091394225
http://www.youtube.com/paranormalasylummary
Anything else you are dying to mention and I have merely forgotten to ask?
I hope people enjoy what the film has to offer – a lot of different stories, great and unique locations, great acting and Typhoid Mary!
Thanks for the interview!