Your upcoming movie Evil Apps - in a few words, what is it about?
We're basically dropped into the world of Kayla West, who's a college girl on the verge losing her best friend Taylor in an ongoing rivalry over a guy. Taylor then starts to dabble in black magic and gets access to a range of weird smartphone apps, capable of everything from changing people's minds to exploding their heads. Kayla's got to decide how far she's willing to go before Taylor rips her whole damn world apart.
To what extent does Evil Apps reflect your personal attitude towards smartphones, and are you a smartphone owner/app-user?
I have a real love/hate relationship with my smartphone. I have to keep reminding myself that I own it, not the other way around. I sometimes put it into a box to stop myself checking it every few minutes.
The black magic addressed in your film - have you put any research into that aspect of Evil Apps or did you just make it up as you went along?
I used to read a lot of stuff about the occult a couple of decades ago. I was a guy at university and curious about a lot of things, and the occult was something that fascinated me for quite a while. Did a lot of background reading and made my mind up about how I felt about the various phonemena that people tend to experience. Must admit, I haven't done much background reading on the subject for a long time though; just never seem to find time anymore!
Other sources of inspiration when writing Evil Apps?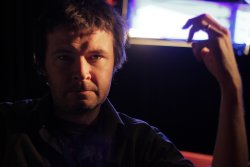 Pat Higgins
Well, the relationship people have with their phones (not just my own one) is pretty fascinating, so a lot of it does come from that. I think there's a lot of people out there with a fairly serious addiction problem; people unable to exist in the room that they are in because a vital part of their consciousness is 'elsewhere'. The ongoing grind of technology is only going to make this worse, of course. The mere concept of Google Glass scares the piss out of me. So I guess I took all those concerns and funnelled them into something that would be great fun to watch and had a kick-ass exploding head scene.
How do you intend to approach your story from a director's point of view?
I've got a very strong visual plan for the movie, in terms of everything from the wardrobe colour schemes through to the edit and the post-production process. I don't think it's possible to do a movie that's so steeped in technology without ending up with a degree of 'words on a screen', which is something that we're very much embracing rather than running away from. It's a lot more caffeinated and jittery than anything else I've done before; a real relentless barrage of information, gore, cool female characters, one liners and interesting stuff.
Black magic has the wonderful quality to it that it can make everything happen ... which might include quite a few gory special effects - so what can you tell us about that aspect of Evil Apps?
Well, there's that pesky exploding head which I can't seem to shut up about, largely because we've never done one as a practical before. There was an exploding head in KillerKiller, but that was CGI augmented with our usual bucket of grue. It all gets a bit biomechanical towards the end too; you've only got to look at one of the available perks on our Kickstarter-campaign to get an idea how!
Anything you can tell us about your cast yet, and why exactly these people?
Our two most vital cast members, Kayla and Taylor, we haven't signed up yet. We've been filling in the smaller characters with people we've worked with in the past and actors we admire, but those two central roles are still up in the air. They're in pretty much every scene so the whole damn movie hinges on their performances. The idea of making that final decision is frankly terrifying, and we'll probably keep putting it off. If you have any ideas, feel free to let us know.
As far as I know, your film is currently still in its fundraising stages. So what can you tell us about your fundraising efforts?
Well, the Kickstarter-campaign began last week. We've never tried the crowd-funding route before, despite it being a really obvious route for us to go down. This just seemed the ideal project to get people really involved with; it's high concept, great fun and we're delighted with the script and all the pre-production work so far. You can go straight to the Kickstarter at http://tinyurl.com/evilapps or head over to http://www.jinx.co.uk to read more stuff about it.
Once the funds are raised, how do you plan to proceed ... and any idea when the film will be released onto the general public yet (and yes, I realize it's still waaay too early to ask)?
We'll deliver all the perks to our backers (from digital downloads at a fiver through to executive producer perks at rather more!) by October 2014. It might be a bit earlier, but that would be the absolute last point. After we've delivered the downloads, DVDs and so on to all the wonderful people who made it happen, that's when we'll have to work out how those lowly folks who never got involved will get to watch it. A year and a bit is a long time in this business; DVD might not still be viable for a commercial release at that juncture. In fact, it's pretty touch-and-go already!
Any future projects beyond Evil Apps?
There's another thing going on that I'm not allowed to talk about. We have a habit of doing 'secret projects' from time to time, and it's one of those. I'll probably come clean about it later in the year. One of our previous secret projects ended up becoming Bordello Death Tales, the horror anthology I shot with Jim Eaves [Jim Eaves interview - click here] and Al Ronald that came out last year, so our secret project have a history of turning out pretty damn well.
We've also already had Werewolves, Cheerleaders & Chainsaws this year, which was a filmed version of my live show about low budget horror filmmaking and is available as a freebie from our website. Plus we've got a Director's Cut rerelease of The Devil's Music coming out shortly via those fine folks at Cine du Monde, so there's loads of good stuff on the way.
Your/your movie's website, Facebook, Kickstarter, whatever else?
Check out http://www.jinx.co.uk and http://facebook.com/jinxmedia and http://tinyurl.com/evilapps - but be sure to do it QUICKLY! Once the Evil Apps boat has sailed, it's gone for good.
Anything else you are dying to mention and I have merely forgotten to ask?

Feeling lucky ?
Want to
search
any of my partnershops yourself
for more, better results ?

The links below
will take you
just there!!!

Find Pat Higgins
at the amazons ...

amazon.com

amazon.co.uk

amazon.de
Looking for imports ?
Find Pat Higgins here ...
Something naughty ?
(Must be over 18 to go there !)

Actually, I'll just say a few words about crowd funding if I may. The reason we're making movies is because we love them. We're making them for people who also love them. This stuff is meant to be fun; it's monsters and technology and gore and kick-ass scream queens, and all the stuff that made me love horror movies in the first place. I can't be arsed watching movies where people get tortured in grimy locations any more. We want to make flicks that are fun, goddammit! We're also getting pretty good at this; our company has been going for ten years, in which time we've produced or co-produced six features which have all had a commercial release. If crowdfunding works out as a way of putting these kinds of movies together, everyone wins. The backers win because they not only get to be genuinely involved in the process of making the flick, they also get to see it first and cheapest. If they want to get more involved than that, they can end up with their name on the credits. For a little company like ours, this model would mean that we don't risk bankrupting ourselves every single time we shoot a feature *and* we're suddenly not answerable to any other authority. We don't have to include or miss things out just because that's what the major retailers or the supermarkets or whatever want. This is a shot at real creative freedom and a direct relationship between the guys making movies and the guys watching them.
So, if you care about supporting independent horror then please visit the Kickstarter campaign and get involved - http://tinyurl.com/evilapps -, we promise to make the coolest movie we can.
Thanks for the interview!