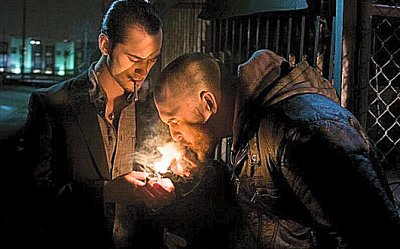 Pavle with Erik Audť
Your upcoming movie Killing Joan - in a few words, what is it about, and what can you tell us about your character in it?
Killing Joan is about a bad ass chick who works in the mob as an enforcer, realizes her lifeís wrongs after an event and comes after her former employer to redeem herself. The character I play is the main antagonist's nephew, George, and is the 1st antagonist who feels the wrath of Joan's revenge on her journey to salvation.
What did you draw upon to bring your character to life, and how much of Pavle Mara can we find in George Saltino?
George is an egotistical, sleazy Italian-American gangster from New York that grew up with a silver spoon. I donít relate to the character so much as I understand his position, his desires and goals. My research involved watching all of Scorcese's films (our director Todd Bartoo [Todd Bartoo interview - click here] told me my portrayal of George reminded him of a young DeNiro after he asked me to be in Killing Joan), it definitely helped with the accent. Also I sculpted a pretty solid idea of how different from my own Georgeís psyche is by following the more negative, indulgent impulses that came up.
How did you get involved with the project in the first place?
I submitted on LACasting for George's part, the character description caught my attention, it sounded like the perfect part for me, Iíve always wanted to play a character like that. I went in to audition and was told there would be callback in a month. I had completely forgotten about it by then and received a callback to read with Joan. 2nd time was more fun, there were a few laughs, it felt good to have someone to work of off. I received a call from Todd a few days later asking me to be in it and I couldn't say no.
Killing Joan features quite a bit of action - so how did you handle that aspect of the movie?
I've done so many different sports growing up and then martial arts too, so I am very comfortable with any kind of action, it only helped George come to life, it also helped me stay present throughout the shoot. Of course, having Erik Audť as the stunt coordinator really added to the whole experience. All in all I cant wait to do more action oriented films.
What can you tell us about your director Todd Bartoo [Todd Bartoo interview - click here], and what was your collaboration like?
It was quite an amazing experience. Todd made me feel like every 1st take was a playground for exploration of your character, it would then get tailored by Todd and his vision as the takes went on. He was so open to suggestions that it created an illusion that everyone had equal part in guiding the story forward, an actor's dream. I do wish I had more time to just talk to him.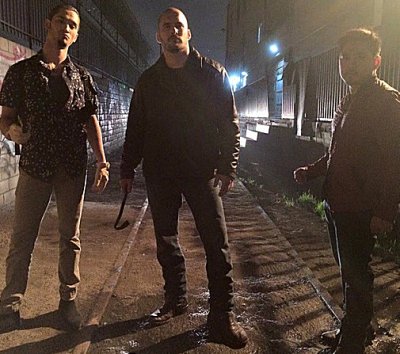 Pavle, Erik Audť, Dion Basco
A few words about the shoot as such, and the on-set atmosphere?
Every single person was a necessary ingredient to this energetic, fun and respectful atmosphere, from the PAs up to the director. Everyone was so supportive and open to everyone's work and there was no attitude to lead us away from telling the story, only positive feedback and encouragement from one another. Everyone was a class act.
Before Killing Joan, you've starred in the Serbian film Bicemo Prvaci Sveta/We'll be World Champions - you have to talk acout that one for a bit of course, and your character? And how did you get hooked up with that project?
This cool movie was filmed in Slovenia and Serbia. It is a Serbian film by Darko Bajic and it is about the very beginnings of Yugoslavian basketball in the late 30ís until Yugoslaviaís victory over the US basketball team at the world championship of 1970 and the underlying tone of communism that fueled the need for excellence throughout the depicted period. The character I play is an American basketball player, Art Wilmore. A producer from InterMedia Network, Aleksandar Radosevic saw the potential of my knowledge of American pop culture and the standard-American accent for the role and he offered it to me, I said yes immediately because I knew some of my favorite Serbian actors were going to be in it and I wanted to experience working on such a large set. There were days, while we were filming the final game, that required over 400 extras. I also got to go on the Serbian tour for the premiering of the film which made us travel from city to city and going to do signings and pictures and always a good party at the end of the night. Overall great time, great people and good fun, it made me feel more in touch with my culture.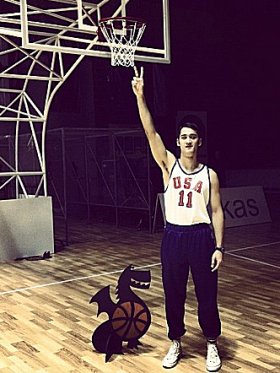 We'll be World Champions
Any other present, past and future filmwork of yours you'd like to talk about?
I am currently preparing for an awesome role in a feature length pilot called Batman Beyond: The Series directed by Nate Lyles, it is a fan funded project about the Batman Beyond cartoons/comics. Also preparing for a feature called In The Wilderness which starts filming in May, and writing a feature film with my creative partner, actor Brett Justin Koppel.
What got you into acting in the first place, and did you receive any formal education on the subject?
Iíve always performed and played, since I was a kid imitating the TV, my mom was super supportive from day one and would make me these costumes of Peter Pan and Robin Hood and Phantom of the jungle that fueled this game turning it into a real passion. The 1st time I got to actually practice acting was when my family moved to Singapore and my middle school offered drama class. That was how it started, it was mainly theater and improv based stuff. In Beijing, in my senior year I had the pleasure of doing film studies and ended up going to New York after high school and getting an Associate of Fine Arts degree in Acting for Film from the New York Film Academy. This allowed me to stay in the US and work as a professional actor.
You have made movies pretty much all over the world - so how do the sets in different countries compare, and which method of filmmaking appeals to you the most?
The only things that rank movie-sets apart for me is the quality of work and everyone's commitment and mutual respect on set. Iíve seen all kinds of sets all over the world and every single one is different. This is one of the main reasons I like this work so much, it tests your patience and compatibility skills every day. The best sets are those where everyone feels responsible to do their particular task and respects everyone elseís task as much as their own. Mutual comfort and respect is key on any good set Iíve ever stepped on.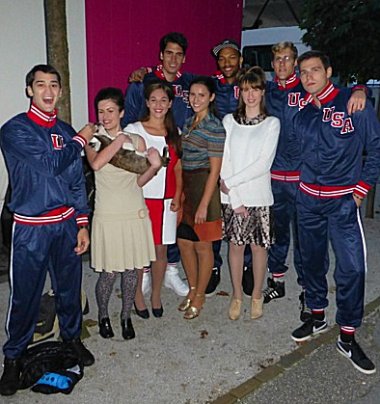 We'll be World Champions
Besides making movies you've also done your fair share of theatre - so how does performing on stage compare to acting in a movie?
It's a strange line between the two. They say theater is an actor's medium and film the director's (or editor's as Iíd like to think of it) and it's so true. In theater your director and pretty much anyone else has nothing to do with your performance, they lead you through rehearsals but after the lights go up and curtains open you can walk out there naked and juggle for all they know. But in film you have to be on point every take, make sure your continuity is right, make sure to give options to the editor or no options at all depending on what you want to go into the film, but there will always be better takes that will never see the light of day because of who knows what. So it's a lot more unnervingÖ not a lot of control in film acting from the actorís point of view but that's a thrill to me to some extent, I just donít like feeling like unless my director cares about me I will not see my failures until the movie is done with post production. The reason I like both is because creating a character is the same regardless of the medium.
You're also a musician, right? So what can you tell us about your music, and your musical influences?
When I was 4 I wanted a violin after I saw the cricket in Pinocchio, so my interest started early. I started taking guitar lessons when I was 10 but they were on Saturday mornings so I soon gave up. I picked up drums when I was 14 as an extra curricular activity in my middle school in Singapore. That made me turn my ears towards rock music and I started up again on the guitar. Soon I was in a high school rock band until senior year, this is when I moved to Beijing. There I didnít have a band to jam with so at 1st I started rapping, and making my own beats and writing lyrics. My voice was too kiddy so I stopped rapping and focused on making instrumentals for a while and writing. My girlfriend stayed behind in Singapore and I missed her a lot so I started to record songs for her over my instrumentals and slowly through that Iíve branched off into my own genre of music that I enjoy making almost every day.
Any other talents of yours you'd like to talk about?
Not in particular, I do professional photography as well as most other art forms whenever inspiration calls, I do parkour too and I love me some group sports.
How would you describe yourself as an actor, and some of your techniques to bring your characters to life?
I would say Iím a very physical actor, I use a lot of Michael Chekovís technique and some other body related techniques to guide the building of my characters. Iím fascinated by actors like Daniel Day Lewis or the late Philip Seymour Hoffman that have the ability to transform into a different human being to represent their character and I always strive for that. For research I like to find ways in which my characterís body carries itself through space differently to me and then I take it out for walks and let impulses inform me. It tends to be easier to stay in character if I have a clear image of the differences and if Iím focusing on my character's actions at hand (Stanislavski). I use Meisner when it comes time to interact with other characters. Its an ever changing formula though and cracking every character takes a different approach. All really fun work.
Actors (and indeed actresses) who inspire you?
People I would love to work with and watch are Joaquin Phoenix, Shia LaBouf, Jake Gyllenhaal and Hugh Jackman from the gents and from the ladies I like Melissa McCarthy, Tilda Swinton, Charlize Theron, Penelope Cruz to name a few.
Your favourite movies?
Too many to choose from, some films I appreciate for the cinematography, some for the story, some for the acting so its hard to choose... Goodfellas or anything Scorsese made with DeNiro, any of Tarantinoís films, Big Lebowski, True Romance, Snatch or anything by Guy Ritchie, Darjeeling Limited by Wes Anderson, Drive by Nicolas Winding Refn. The more I think the more I find...
... and of course, films you really deplore?

Feeling lucky ?
Want to
search
any of my partnershops yourself
for more, better results ?

The links below
will take you
just there!!!

Find Pavle Mara
at the amazons ...

amazon.com

amazon.co.uk

amazon.de
Looking for imports ?
Find Pavle Mara here ...
Something naughty ?
(Must be over 18 to go there !)

Iím not a big fan of horror films because I have a very developed imagination but not a lot of control over it, so I avoid voluntarily steering it in a spooky direction.
Your website, Facebook, whatever else?
My official website is PavleMara.com where you can find my bio, music, pictures and videos. You can also find me as Pavle Mara on Facebook.
Anything else you are dying to mention and I have merely forgotten to ask?
Me and my creative partner Brett Justin Koppel just started a channel on YouZube called KidCreative where weíll be posting our own short films, comedy skits, musical covers and anything else we might create and feel like sharing. And also thank you for the interview Michael, I hope we talk again soon regarding another interesting project.
Thanks for the interview!