Your new book Mushroom Clouds and Mushroom Men - The Fantastic Cinema of Ishiro Honda ... I think it's pretty obvious what it is about, but could you go into a little more detail anyways?
First of all, thank you for giving me this opportunity to talk about my book, which is the first book ever in English dealing with the life and genre work of arguably the most-prolific fantasy filmmaker in history: 21 films over a 25-year period, as well as the first to analysis his movie-making methods, themes and concepts. There are also excerpts from essays he wrote as well as interviews with those who knew and worked with him.
As Ishiro Honda is a director rather underappreciated by Western film criticism, I imagine there is not too much research material in English language on him around. So how did you go about your research?
The majority of my research came from Japanese sources such as the Toho Sci-Fi Encylopedia and the books Godzilla and My Life as well as The Complete (sic) Films of Ishiro Honda. Getting this source material translated was costly and time-consuming but ultimately worth it.
During your research, what have you found out about Ishiro Honda, the man?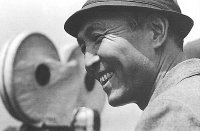 Ishiro Honda
He was a very kind and gentle man, somewhat ironic given that he directed films of violence on a massive scale. He was also eternally grateful to Toho for giving him the chance to direct films and suffered many disappointments along the way, both personally and professionally, but with quiet determination went about his business of making the best films he could.
How easy/difficult was it for you to find a publisher for your book?
Very difficult as some publishers (such as Titan Press in the UK) dismissed the project out-of-hand due to the subject matter which they deemed unworthy of consideration. I contacted approximately two dozen publishers and submitted some ten proposals to those that were interested, such as McFarland (which did not consider the book to be "scholarly" enough), Wesleyan University Press (which held onto the manuscript for six months before deciding "this is not something we would be interested in"), Santa Monica Press (which ended after constant haggling over whether or not to include pictures), and Midnight Marquee Press (which had the manuscript for three months before they even knew they had it and did not see eye-to-eye with me on the time-element needed to publish the book).
In the end I decided to publish it myself with AuthorHouse and time-and-space limitations prevent me from detailing all the problems I have had with them!
How and when did your fascination with Ishiro Honda start?
When I first saw Godzilla, King of the Monsters (1956) on television when I was seven years old (this was in 1960). My grandmother turned it on for me and I was transfixed; I had a vague idea of what a "movie" was but this was unlike any movie I had seen up till then; it didn't seem to be a movie at all but a documentary of something that had actually happened but no one had told me about!
Incidentally, I was extremely fortunate to see six of Honda's films during their initial American releases: Battle In Outer Space (1960), Varan the Unbelievable (1962), King Kong vs. Godzilla (1963), Godzilla vs. the Thing (1964), Atragon (1965) and Mothra (1962).
What people often forget: Before striking gold with Godzilla: King of the Monsters, Ishiro Honda had made films in various genres for about five years. What can you tell us about those, and to what extent do you cover them in your book?
Prior to Godzilla, Honda a film about women pearl divers called The Blue Pearl (1951) and a film about farmers whose crops were destroyed by floods called The Skin of the South (1952), a film about whaling called The Man Who Went to Sea (1952), a juvenile love story called Adolescence II (1953), as well as two war films, Eagle of the Pacific (1953) and Farewell Rabaul (1954). I covered these films in greater detail in earlier drafts of the book but had to scale them back due to space limitations. In total Honda directed over 40 feature films and assisted directed on at least 40 more.
Unfortunately the vast majority of Honda's non-fantasy films have never been released on home video, so other than brief synopsis little is known about them. If I could have one wish granted it would be to see those films finally getting a DVD release.
For me, Ishiro Honda's fantasy films seem to fall into two categories, the serious ones like Godzilla: King of the Monsters of course or Matango, and the goofy ones like King Kong vs Godzilla or Godzilla's Revenge. Is that a verdict you are at all happy with, and could you elaborate on this?
I completely agree with that statement. When Honda first started directing fantasy films the subject matter was very grim, films such as Godzilla, Half Human, Rodan, The Mysterians, and The H-Man are deadly serious without any humor whatsoever. Gradually the films changed to accommodate a broader audience, but the real change came with King Kong vs. Godzilla, a comedy which was Honda's biggest financial success. When the following film Godzilla vs. The Thing (another serious film considered by many as the best of the sequels) did not make as much money, producer Tomoyuki Tanaka decided that since the mature audiences were tiring of the novelty that his films should be altered to make them more juvenile for a younger audience with silly plots and funny monster battles.
Thus we have this amazing transition from serious adult fare to silly kid films. Needless to say Honda was very upset with this conversion.
How would you rate the importance of special effects wizard Eiji Tsuburaya for the bulk of Honda's fantasy work?
He made a tremendous contribution which Honda always acknowledged. Honda adored Tsuburaya and considered him as his true mentor and respected him to such an extent that he would let Tsuburaya get away with certain concepts (such as Godzilla dancing a jig on Planet X in Monster Zero) that he did not necessarily approve of.
Your personal favourite and least favourite Ishiro Honda films?
Well the original Godzilla has always been my favorite film while Ghidrah the Three-Headed Monster I never cared for.
How would you, in a few words, compare Honda's classic Godzilla: King of the Monsters to its immediate sequel, Gigantis the Fire Monster by Motoyoshi Oda?
The first film was a treatise on man's tampering with atomic power and the self-searching of a nation decimated by war, whereas Gigantis is simply a monster-vs-monster movie with no other intended meaning.
Your opinions about the monster movies by Jun Fukuda, the director who eventually took over the Godzilla-series from Ishiro Honda?
They are very entertaining. Honda always tried to incorporate a human subtext into his stories and after watching them one inevitably feels a sense of loss, whereas Fukuda's are simply fun to watch and enjoy.
The Godzilla- and Mothra-series were relaunched in the 1980's and 90's, respectively. Your thoughts about the new films, and is there still some of Ishiro Honda's spirit left in them?
Honda often remarked his dissapointment with the newer films as he felt that the spirit of integrity and involvement that was so much a part of the earlier pictures was somehow missing, once commenting that the younger actors in Godzilla vs King Ghidorah (1991) didn't seem to be committed to their parts. I thought those made in the 1990s were quite good, particularly Godzilla vs King Ghidorah (1991), Godzilla vs Mothra (1992) and Godzilla vs MechaGodzilla II (1993). However, Boon Joon-Ho's brilliant The Host (2006) was a film which embodied everything Honda stood-for as a director.
Is it true that you have also written a novelisation of the Bela Lugosi-vehicle The Devil Bat [Bela Lugosi bio - click here]?
Yes it is based on the 1940 film but with certain embellishments as told by Johnny Layton (played in the movie by Dave O'Brien). It was great fun to write and I hope to have it available by the end of May.
If you would ever write a book about another director, who would it be?
Possibly Nathan Juran or Eugene Lourie.
Your favourite movies (apart from Ishiro Honda's output)?

Feeling lucky ?
Want to
search
any of my partnershops yourself
for more, better results ?

The links below
will take you
just there!!!

Find Peter H. Brothers
at the amazons ...

amazon.com

amazon.co.uk

amazon.de
Looking for imports ?
Find Peter H. Brothers here ...
Something naughty ?
(Must be over 18 to go there !)

Well there's quite a list but to keep it short: King Kong (1933), The Seventh Voyage of Sinbad (1958), The Seven Faces of Dr. Lao (1964), Seven Samurai (1954), Destination Moon (1950), The Baron of Arizona (1950), Reptilicus (1962) and Gorgo (1961). Incidentally, my favorite non-Honda Godzilla film is Godzilla vs. MechaGodzilla (1974).
... and of course, films you deplored?
I'll have to pass on that because once I list them sure enough someone will get upset with me, although I was outraged with Final Wars (2004) as I saw that as a deliberate parody of a Godzilla-film. I never saw the American Godzilla (1998).
Your and your book's website, Facebook, whatever else?
I have two Facebook sites: one is under Peter Hayes Brothers and the other is under Mushroom Clouds and Mushroom Men, and my website is www.encinostalgia.webs.com.
Anything else you are dying to mention and I have merely forgotten to ask?
I feel very fortunate to have published the first American book on Ishiro Honda (it is also the first book in the history of the genre to be available as an "e-book"), particularly during his Centennial which for me turned out to be a delightful coincidence (another nice coincidence as that the book went "live" on October 20th, the birthday of my idol, Bela Lugosi). For many years I have seen Honda's films dragged through the mud and it is a wonderful thing to see them finally getting their proper credit.
Thanks for the interview!
My pleasure.