Your film Renfield: The Undead, which you have written, produced, created the effects for and starred in, has debuted only recently. In a few words, what is the film about?
Renfield: The Undead is a reimagining and sequel to Bram Stoker's Dracula told around the character of R. N. Renfield. We begin in present day. Dracula is dead and the house of Dracul is out of order. Mina Harker and her son Quincy Harker, now both vampires, are on a quest to resurrect Count Dracula and bring order back to their world. The only thing stopping them is Renfield. He is a very powerful, very mad vampire and in his possession are Dracula's earthly remains. In order to resurrect Dracula they have to retrieve his remains from Renfield and perform a blood rites ritual. Renfield is currently hunting in Bayou City where he is being hunted by the local police force. The police think they are hunting a serial killer. Those are the main story lines, the film is about Renfield acting and reacting within them.
You describe your film as "the world's first comicbook Dracula movie" - explain! And is it true that Renfield: The Undead has already been (or is going to be) turned into a comicbook?
I wrote this movie as a 1980's comic book movie, in that style. The movie opens with a sexy girl reading the Renfield the Undead comic book and we enter into it. We are working on the graphic novel of the movie, it is being done by Melissa Nichols and I, we hope to premiere it sometime in 2012. If the response is good, we will continue the book as a serial.
Of all characters in Bram Stoker's Dracula, what drew you to Renfield exactly, and how close to you stick to Stoker's concepts and vampire mythology?
It all goes back to 2004. My Creature FX company Facades FX Make-up Lab was contacted to provide the make-up and Creature FX for a new stage production of Dracula. I attended the auditions to see what we would have to work with. The play script called for all of the Horror FX elements from the novel, Dracula beginning older then getting younger, the bat and wolf beasts, blood, fangs, etc. At the auditions the Director, a lady named Bonnie Hewett, had learned I was once upon a time a classically trained actor and asked me if I was interested in auditioning. I passed, but as the night went on the character of Renfield came along and nobody was playing it scary. In my mind they were missing it. I got the script sides did my very best Dwight Frye inspired reading [Dwight Frye bio - click here] and creeped the entire theatre out thus secured the role as well as the FX work.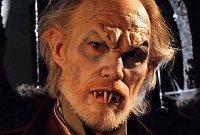 It was through that journey as both an actor and FX artist exploring Stoker's text and all the writing's I could about Dracula and Renfield I realized there was an untapped resource for a great vampire movie here… not just a vampire movie… A DRACULA MOVIE. In 2005 I wrote the first draft of the screenplay. Then we work shopped it for years. A stage version called The Curious Mr. Renfield was created from the 1895 elements of screenplay as well and we did a staged reading of it to help raise interest and budget money. Most of the key cast members of the Dracula story in the movie began their journey with that staged reading. That is how it all got started. I studied the old texts and folklore about what makes somebody become a vampire, as we were not interested in doing a Twilight or Anne Rice version of Dracula, we wanted to do it old school. (We do have a different vampire script along those romanticized themes in development though.)
Other sources of inspiration for Renfield: The Undead?
Chiefly F. W. Murnau's Nosferatu and Stoker's book were my main sources and my imagination from a lifetime of watching the 1960's Dark Shadows TV show, all of the Hammer Horror Films, Dan Curtis' Night Stalker, and Buffy the Vampire Slayer and of course Marvel Comics' Tomb of Dracula and the Blade movies and TV show.
A few words about your director Bob Willems, and how easy was it to hand your vision over to someone else?
Bob also co-produced with Melissa Nichols and me. We have known each other for 20 plus years and My FX company have done work for him on well over 50 projects. When it comes to setting up shots there is nobody better. He created some really great pictures in this movie. Bob is also a very relaxed director. He does not micro-manage a performance. He will not give you a note unless it is necessary and then it is just a few words to make it happen. He asked me at the beginning of shooting if I also wanted to direct the movie since I had been working on the project for 5 years by then and knew it better than anyone. I told him no. With all I had on my plate he needed to direct it. And we created something really cool together.
A few words about your special effects creations on Renfield: The Undead?
An Award winning over the top blood and Fang-fest. I have always loved the Charles Band Empire and Full Moon-movies. They always have great creature FX and I thought that was the best style to create the Make-up and Creatures for the comic book Dracula movie we were making. When our vampires bite, they take out chunks of flesh, more like you see in zombie movies. We explore every look of the vampire that has been done in movies of the past. For Count Dracula though we kept it close to the source Bram Stoker, with a hint of Murnau's Nosferatu thrown in. Renfield's Vampire look is definitely inspired by Nosferatu and Tobe Hooper's Salem's Lot. In Renfield: The Undead we created Vampire Creature FX, biting Fx, stakings, stabbings, cross burns, decapitations, disintegrations, and a lot more. Not one day went by in the 35 days of shooting that we weren't doing some kind of special make-up or creature effect work. And as a result at the 44th Worldfest Houston our Make-up FX received the top honor of the festival for Special Effects Make-up.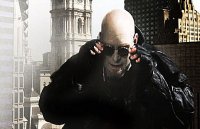 As mentioned, you also play the title role in Renfield: The Undead. What can you tell us about Phil Nichols, the actor?
I was trained in all areas of acting, performing, directing, as well as technical aspects. My main acting mentor was a man named Cecil Pickett. He has trained many names including Dennis and Randy Quaid, and Brent Spiner of Star Trek fame. His daughter is famed actress Cindy Pickett she was in Ferris Beuler's Day Off and Sleep Walkers. I began my profession career with Tony award winner Edward Albee, and performed in many Shakespeare plays, my favorite role there has been Richard III.
A few words about the rest of your cast?
The cast of Renfield: The Undead was a perfect storm. It is a mix of movie and theatre veterans. Paul Damon is a Welsh actor he plays Detective Cranston. He brought such a neurosis to the role. He is wonderful. Keli Wolfe plays Dr. Johnson. This was my first time working with her, she stepped in when another actress we had cast as Dr. Johnson became unavailable. She is a talent and brings a great range to Dr. Johnson. It is fun to watch her journey through Mr. Renfield's world of Madness, Monsters, and Blood. Roxy Hixon plays the undead Mina Harker, she brings a menacing beauty to the undead queen. Roxy has been with Renfield: The Undead since the stage version The Curious Mr. Renfield - here she played Lucy Westenra. John W. Stevens makes his feature film debut as one of the scariest Draculas since Max Scheck in Nosferatu. John played Dracula in the Curious Mr. Renfield. Sam Martinez is a brilliant character actor and plays Willard Caine, a reporter writing about the serial killings. Other supporting cast of note Tyler Tackett plays Quincy Harker the half vampire son of Mina and Jonathan Harker, and Calvin Lafition masterfully plays Detective Landon. Shelly Boozer as Officer Craig.. .she plays a police officer who get bitten and turned into a vampire. Denise Williamson plays one of Count Dracula's brides, and Julin plays the young girl reading the comic book.
What can you tell us about initial audience reception?
People love Renfield: The Undead. I created a vampire everyman antihero. They laugh they scream and they have a very good time watching Mr. Renfield deal with things. In England last fall we screened at the Bram Stoker Film Festival… the film had not reached its final cut and it was nearly 3 hours long - comments were made about the film being too long but they loved Mr. Renfield. Gavin Baddley of Metal Hammer Magazine called my performance and character "the iconic Renfield". The film is now a tight 110-minute thrill ride to the darkside. In the states it's getting awards and rave reviews. Everyone is having fun with this movie. It is a 1980's B horror comic book Dracula movie that doesn't pretend to be anything it's not, and people love it.
When and where will the film be released to a broader audience?
We have worldwide distribution through The Phoenix Group. They are actively marketing the movie globally and it is being reviewed by NBC/Universal for showing on SYFY or CHILLER. If you want to see this movie then email SYFY / CHILLER that they should pick up Renfield: The Undead.
While Renfield: The Undead has just been released, you are already working on your next project, Project Pangea: Dinosaurs Unleashed! What can you tell us about that one?
Project Pangea is a project I came up with the story for and my sister and business partner Melissa Nichols wrote the screenplay for. It's a dinosaur apocalypse type story along the lines of the Roger Corman Carnosaur-movies of the 1990's all set in a small Texas town. Cold war Russian era science runs amok. Melissa has used elements of Stalin's actual Project Chimera and the current paleontology research as the basis for the story. Facades Fx is creating some great dinosaur creatures, and Roxy Hixon is onboard to play Dr. Petrova that's about all I can give away. We're in the financing phase as soon as we re through that phase we'll begin making more announcements about casting.
Project Pangea: Dinosaurs Unleashed! will also be your debut feature as a director. Why did you choose to direct that one, and how would you describe yourself as a director?
I have won awards for directing shorts and plays and I'm at the time in my career to begin directing features. Since this script is more Creature FX heavy than Renfield: The Undead, it just made sense for me to direct it. I'm a low-key director as well. I don't micro-manage my performers. I am very involved in the casting so that to me is a big part of directing the actors, casting the right people for the kind of story you want to tell out of the screenplay.
In the last two decades, you have built yourself quite a reputation as a special effects and special makeup effects artist. Would you like to talk about some of the films you have worked on?
Boggy Creek (2010)
Facades FX created 3 Bigfoot creature suits, prosthetics, hands, feet, and dentures for the Boggy Creek creatures including a chief Bigfoot creature that is very nasty, he has sores and wounds on him, really cool. We also did all of the kills with the gore. It was a hard shoot on location. They were on a shoestring budget.
Walking Distance aka Paranormal Experiment
Facades FX created a face melting effect on Kathy Lampkin (the tea lady in the Texas Chainsaw Massacre remakes) and Glen Morshower (Transformers, 24), and evisceration of a young girl and a flesh sack that serves as the portal through which the creatures emerge into this dimension.
Javelina!
Facades FX created several animatronic killer Javelina hog puppet heads.
Ace Ventura Goes to Africa
I worked for Matthew Mungle (Oscar winner for Bram Stoker's Dracula) and John Jackson (Oscar Winner for Frieda) applying prosthetics to create African tribes people out of Local Texas actors.
Powder
I worked as a puppeteer and assisted Tom Burman (Planet of the Apes, Nip/Tuck) applying the Powder make-ups to stuntmen.
Arlington Rd.
Facades FX created a lot of gore and carnage FX for a bombing aftermath. We worked primarily with Oscar Winner Jeff Bridges and Mason Gamble.
REEL FX
I am the co-creator (The Fiendish Dr. Phil) along with Melissa Nichols (Ms. Monsterella) of the Reel Fx prosthetic make-up kits that have become a staple for indie film makers, Halloween partiers, and haunted house enthusiasts the world over.
Collector's Masks
I have sculpted many limited edition collector mask busts. I was very active in that work from 1996 to 2007. My busts have been collected worldwide and are highly sought after. Two of my Hammer Horror Frankenstein monster busts wound up in the Hammer Films tribute display at the Bram Stoker Film Festival last fall… it was a nice surprise to bring Renfield home to Whitby and be greeted by some old fiends of mine.
What got you into the special effects business in the first place, and did you recieve any formal education on the subject?
I always wanted to be an actor but never had "the looks", and I found that by mastering make-up like one of my idols Lon Chaney I could get roles. It got to the point people were requesting more make-up work from me than acting so that became my focus to make a living. Back then there weren't any specialty schools in Make-up FX other than the Joe Blasco school and I couldn't convince my folks to pay for it, so I went the traditional theatre training route all the while teaching myself make-up FX. I began writing to make-up Fx Legend Dick Smith and in the beginning he did not see much hope for me, but I kept at it practicing, experimenting and he began to share his knowledge with me. When he wrote his advanced make-up Course I was in some of the first students to take it. I also corresponded with Todd McIntosh the make-up artist from Buffy the Vampire Slayer. He gave me a lot of tips and tricks as well. That's basically how I went about it. Over the past 25 plus years I have developed my own techniques that work for me working in Houston Texas.
Special effects you'd really like to create but didn't have the chance to so far for whatever reasons?
I had always wanted to do a Dracula movie and that is a life's dream fulfilled with Renfield: The Undead. I want to do a project on Werewolves. I have written one that I will make after Project Pangea if nobody else's comes in. Dinosaurs Unleashed is another one of those dream projects for me. I was always fascinated by them and actually studied geology and fossils in school.
Special effects artists who inspire you?
Dick Smith, John Carl Buechler, Henry Alvarez, Jack Pierce, Lon Chaney, Mike Westmore, Tom Burman, Greg Canom
Your favourite movies?

Feeling lucky ?
Want to
search
any of my partnershops yourself
for more, better results ?

The links below
will take you
just there!!!

Find Phil Nichols
at the amazons ...

amazon.com

amazon.co.uk

amazon.de
Looking for imports ?
Find Phil Nichols here ...
Something naughty ?
(Must be over 18 to go there !)

All of the Empire movies, all of the Fullmoon movies, Roger Corman's movies [Roger Corman bio - click here], the Hammer and Amicus films [Amicus story - click here], the Universal monster films, the Samuel Z. Arkoff AIP films, House of Dark Shadows as well as the big budget stuff. Films that inspire me are Murnau's Nosferatu, The Wizard of Oz, the original Planet of the Apes, the Star Wars movies, the Jurassic Park movies, The Exorcist, Amadeus, Ian McKellen's Richard III, the Harry Potter movies, the Lord of the Rings movies, King Kong (original and all remakes), Cutthroat Island, Pirates of the Caribbean, the Terminator films, etc. For TV I like Dark Shadows, The Night Stalker, Bones, CSI (all of them), True Blood, Dexter, Burn Notice, White Collar, Mad Men, Walking Dead, Masters of Horror, and Tales from the Crypt, Buffy, Angel, and Blade…
... and of course, films you really deplore?
I won't say deplore… I have learned in the course of my career not to knock anybody's work unless I know exactly what that filmmaker or Fx artist went through to get the movie made. Having said that, if you took all three Twilight movies and did some hard editing as we did on Renfield: The Undead, you would wind up with one pretty good movie.
Your website, Facebook, whatever else?
Renfield the Undead, Facades FX lab, and Project Pangea all have facebook pages.
Thanks for the interview!
This was a great interview thanks for doing it!