To get in the right mood for this interview, you might actually want to read the original TV-Guide article - Aug 27 through Sep 2, 1960 - about the then new Popeye-show first - so click here to do just that!
In 1960, Popeye the Sailor, by then a very popular character from comicstrips, comicbooks and especially theatrical cartoons, made his debut in a series of made-for-television cartoons. So how did his transition to TV cartoon character come about?
I think it best to let Al Brodax, the executive producer, explain how the series came about - quoted from the publication Beatletoons (Wynn Publishing 1999): "At the time Popeye was running very high in the ratings. These were the old Max Fleischer Popeyes that were distributed by Paramount. I thought it would be a good business move to announce that we're making 220 new Popeyes in color and that they were up for grabs. The investment was a mere twenty five thousand dollars for two five and a half minute pieces (the two pilot cartoons: Barbecue for Two and Hits and Missiles). It (the entire series) grossed three million dollars in our first year simply by going to the stations who already had big success with the old Popeyes. What I did was I recorded all of the soundtracks in New York to create a uniform sound, and I had a kid waiting downstairs to send the tracks to places like Czechoslovakia, Los Angeles and some went to Australia. But I had six studios going at once to get them all done. Multiple studios were used when you have a limited amount of time on your hands."
These cartoons were a huge financial success for King Features Syndicate. According to an article in the October 25, 1961 edition of Variety: "King Features Syndicate' sales of the new made- for-TV Popeye cartoons has just passed the $4,500,000 mark. King has so far delivered 150 of the new Popeyes. Production of the remaining 70 is due to be completed early next spring. Animation is being done in both Hollywood and New York."

The June 10, 1964 edition of Variety carried the headline, "Popeye's $20,000,000 Gross" which detailed the success both the theatrical and made-for-TV cartoons were having on television. At the time of the article 190 U.S. stations aired the theatrical films with King's Popeye sold to about 125 stations. The success of the new Popeye series increased the amount of licensed merchandise. The items were so great in number King Features Syndicate published a Popeye merchandise catalog in 1962.
Before we dig any deeper into the Popeye story: While animated TV shows are a dime a dozen nowadays, what can you tell us about the state of TV animation around the time the Popeye-series was launched?
When these television cartoons were launched audiences were still getting accustomed to viewing animated series aired in early evening time periods. This was the case with Huckleberry Hound, Yogi Bear, Rocky and his Friends and Mr. Magoo. While animated films were still being produced theatrically, the field was shifting to accommodate television. Veteran animators had to get accustomed to the limited animation technique which required fewer drawings.
As far as I know, King Features Syndicate set out to release no less than 220 cartoons between 1960 and 1962 - as compared to the 234 theatrical cartoons that were previously produced over a (roughly) 25 year timeframe. Why that volume in such a short time?
King Features Syndicate wanted to come close to the number of Popeye films which were released theatrically. Many TV-cartoon series, at this time, produced at least 100 episodes but having 220 certainly made the series more attractive for television stations to purchase.
No one studio can produce 220 shorts in 2 years (or at least could then), so King Features Syndicate hired a total of no less than five studios - could you talk about each of those and their rendition of Popeye for a bit?
The artistic renditions of J. Wellington Wimpy, Swee'pea and The Sea Hag remained consistent with slight variations depending upon the studio and animators involved. However Popeye, Olive Oyl and Brutus were another matter. Popeye, for example, would have a medium or overly large sized chin. Both of the sailor's eyes remained open or one would close. Brutus' beard would look mangier in some episodes than others. Olive's facial design would alternate in different cartoons. These changes were reflected by the artists' styles. The attire for the main cast, with the exception of one of the pilot cartoons, remained consistent.
What can you tell us about the animation of the series (maybe studio by studio), and how well does it hold up to the theatrical cartoons?
No studios matched the quality of the theatrical cartoons simply because of the limited time and financing provided. Here is a brief summary of the studios involved with the production of the television cartoons: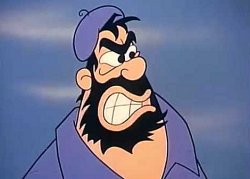 Matinee Idol Popeye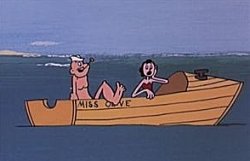 Sea No Evil
Gene Deitch and William L. Snyder - William L. Snyder was one of the first Americans to do business in post Eastern Europe. He imported European films though his production company, Rembrandt Films, founded in 1949. In 1959 he began an association with Gene Deitch, the former head of UPA Studios, to produce animated cartoons in Prague. These cartoons included Tom and Jerry for MGM and Popeye for King Features Syndicate. Their 28 Popeyes credit Snyder as producer and Deitch as supervising producer. The animation quality improved greatly when the names John Halas and Joy Batchelor appeared in the opening credits. The films The Billionaire, Model Muddle, Matinee Idol Popeye, Weight for Me, and Which is Witch all benefited from this team's efforts. Deitch and Snyder's other efforts do not feature horrible animation but, on occasion, the character designs are overly simplified as seen in Hag Way Robbery, Partial Post, Swee'pea Soup and Sea No Evil. Enjoyable cartoons include: The Lost City of Bubble-On, From Way-Out, Roger, Canine Caprice, Goon With the Wind and There's No Space Like Home (where, in a rare turn of events, Brutus feeds spinach to Popeye to stop an alien invasion). These films are best remembered for their eerie musical scores.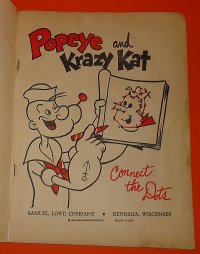 Gene Deitch, who later produced TV-cartoons, based on the Krazy Kat comic strip, recalled, "I made the biggest pitch I could to him (Al Brodax) to let me take Popeye and Krazy Kat back to their Segar and Herriman (George Herriman, the creator of Krazy Kat) roots. But I had only superficial success. It was argued that by that time, the early 1960s, most people knew Popeye from the movie cartoons, and not the E.C. Segar comic strip Popeye of the 1930s. And because of the number of episodes needed, we would have to divide the animation between Prague, Zagreb and Rome. The stories were all organized by Brodax in New York. I could control only the layouts and the soundtracks, for all of the films; I had to ricochet from city to city in the effort to control visual unity." Brodax said the foreign-made Popeyes cost less than $14,000 each, compared with the $15,000 cost of similar Popeye cartoons made recently in the U.S. He added the foreign-made Popeyes contain "substantially more animation" than the American-made cartoons.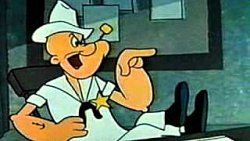 Dead-Eye Popeye
Larry Harmon - According to a 1966 TV Guide article Harmon was a movie actor, TV producer, director, scriptwriter, composer, musician, talent agent, voice specialist and puppeteer. In 1956 he secured the television rights to Capitol Records' Bozo the Clown character. Harmon put together an animation studio to produce 156 Bozo-cartoons. His studio was contracted to produce 18 Popeyes for King Features Syndicate in addition to working on UPA's Mr. Magoo and Dick Tracy films. The director for his Popeyes was Paul Fennell and the artists involved were Tom Baron, C.L. Hartman, Z.T. Jablecki, Lou Schemer, Ervin Kaplan, George Rowley, Jean Blanchard, Hal Sutherland, Cal Dalton and Frank Onaitis. Scripts were credited to Charles Shows with editing by Dan Milner and music by Gordon Zahler. While many of the stories are entertaining, the simplified character designs can be distracting. There would be scenes when Brutus' short sleeved shirt would suddenly become long sleeve, then back to short. Often, when the characters spoke, heads would bob back and forth in rapid motion. Enjoyable films include Ace of Space, Dead-Eye Popeye, Caveman Capers, Foola-Foola Bird, Uranium on the Cranium, Track Meet Cheat and Crystal Ball Brawl.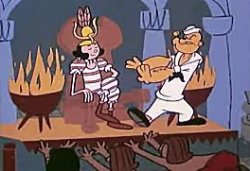 Egypt Us
Gerald Ray worked with Walt Disney and later Jay Ward, who is best known for his work with Rocky, Bullwinkle, Dudley Do-Right and George of the Jungle. Ray formed a commercial animation studio in New Mexico where he lived for many years. Ray is best known for his successful King Leonardo and His Short Subjects series. While the character designs in Ray's Popeye cartoons do not have a polished look, they are suited for the storylines. The scripts are very clever and the personnel involved certainly had a fondness for the characters. All 10 of Ray's Popeye cartoons have enjoyable moments. In Where There's a Will, Brutus tosses a spinach can in Popeye's direction. Upon hearing the familiar spinach-eating theme he looks at the audience and says "Whoops, I shouldn't have done that!" Take it Easel had Popeye and Brutus competing in a frantic painting contest. Egypt Us has Wimpy, rather than Popeye, singing the cartoon's closing song; "It's bad to be tardy to a hamburger party says Wimpy the Burger Man". Each of Ray's cartoons ended with a cute song. The director of these films was Bob Bemiller with layout by Henry Lee. Backgrounds were provided by Dave Weidman and the editor was Norm Vizents. Animators were Izzy Ellis, Sam Kai, Casey Onaitus, Ray Young, Bill Higgins, Barney Posner, John Garling and Bud Partch.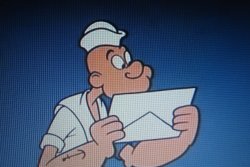 Mississippi Sissy

Golden Type Fleece
Jack Kinney - Kinney was given the bulk of the Popeye cartoons to produce with a 101 entries. Al Brodax told me Kinney was given this task as he "was a respected Disney animator". Kinney was a director on the popular Goofy animated theatrical series. Leaving Disney in 1959 he formed his own studio working on Dick Tracy, Mr. Magoo and The Alvin Show. Kinney had several animation directors and these individuals played a major factor in the quality of the animation. Whenever the name Hugh Fraser appeared as the animation director, you were probably watching a poorly animated cartoon. Episodes to avoid include Popeye the Popular Mechanic, Rip Van Popeye, Time Marches Backwards, Old Salt Tale, Invisible Popeye, Popeye and the Giant, Mississippi Sissy, Double Cross Country Feet Race, Time Marches Backwards and Popeye's Tea Party. Watchable entries under Fraser's direction include The Day Silky Went Blozo, Popeye's Used Car, Popeyed Columbus, Aztec Wreck, Popeye in Haweye and Popeye's Fixit Shop. Animation director Eddie Rehberg's output ranges from the mediocre Popeye's Pizza Palace, Frozen Feuds, After the Ball Went Over, Forever Ambergris to the tolerable Popeye's Museum Piece, The Glad Gladiator, Popeye and The Herring Snatcher, and Lighthouse Keeping. Kinney's cartoons under the guidance of animation directors Volus Jones, Ed Friedman, Rudy Larriva, Harvey Toombs, Ken Hultgren and Alan Zaslove had their occasional awkward animated moments but were generally well done. Enjoyable episodes by these men include Popeye in the Grand Steeple Chase, Popeye the Lifeguard, Bell Hop Popeye (Harvey Toombs), Popeye's Pep-Up Emporium, Olive Drab and The Seven Sweapeas, Popeye's Hypnotic Glance (Ed Friedman & Volus Jones), Golden Type Fleece, Popeye Revere, Popeye and the Phantom (Ken Hultgren), Bottom Gun, Popeye's Pet Store, The Square Egg (Rudy Larriva) and Spinach Shortage (Alan Zaslove).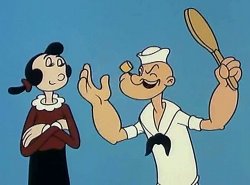 After the Ball Went Over

Aladdin's Lamp
Kinney's scripts are often very funny with a wink to the audience. For example in After the Ball Went Over Popeye is playing ping pong with Brutus. The winner of the match receives a kiss from Olive Oyl. Popeye says to Olive, "Fat Boy doesn't have a chance. If I gets in trouble I can always use me spinach gimmick" and "Ya know I always wins in these stories" - but the sailor ends up losing when a trick intended for Brutus backfires. Olive asks a battered Popeye is there anything special he wants. The sailor looks at the audience and says, "Yeah a new writer to puts me spinach back in the script!"
Paramount Cartoon Studios - The studio was previously known as Famous Studios and produced Popeye's theatrical films. Their 63 TV Popeyes looked polished considering the restrictions of limited animation techniques. The films also benefited from Winston Sharples durable musical scores (heard in the Popeye theatrical adventures). Seymour Kneitel was the director and contributed to the stories. Other writers were Carl Meyer and the voice of Popeye, Jack Mercer. Scenics were provided by Anton Loeb and Robert Owen. Animators included WM B Pattengill, I. Klein, Jim Logan, George Germanetti, Morey Reden, Dante Barbetta, John Gentilella, Dick Hall, Gerry Dvorak, Jack Ehret, Irving Dressler, Nick Tafuri, Sam Stimson and Al Pross. Enjoyable episodes include Strikes, Spares an Spinach, Rags to Riches to Rags, Aladdin's Lamp, My Fair Olive, Gem Jam and A Poil for Olive Oyl. Generally all of the TV Popeyes produced by Paramount are enjoyable to watch.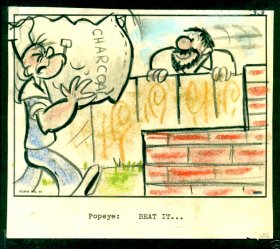 Barbecue for Two storyboard sketch
Having cartoons based on the same characters by five different studios, it's almost inevitable that the style varies quite a bit. So which studio's rendition of the characters comes the closest to E.C. Segar's, which to the Fleischer and Famous cartoons?
There is only one cartoon which came close to matching Segar and Fleischer's version of the characters. Barbecue for Two was one of two pilot cartoons produced to help sell the series to television stations. The cartoon was produced by Jack Kinney and featured the comic strip designs of both Popeye and Olive Oyl. Popeye wore his traditional black shirt, red collar with black stripes and captain's hat while Olive retained her traditional homely appearance. The film was written by Dick Kinney and Al Bertino. Layout for the cartoon was by Bruce Bushman with animation by Harvey Toombs, Eric Cleworth, Abe Levitow, Volus Jones and Bill Keil. For the rest of the series Popeye wore his white sailor's uniform. While Olive wore her attire from the comic strip she kept the prettier facial design from the majority of the Famous Studios cartoons. Her hair was fuller with pretty eye lashes. It should be note the bearded "brute" in this film does not have a name and is referred to as "neighbor" and "Junior". This may have been produced before Bluto was rechristened Brutus by Al Brodax.
Which studio's rendition of Popeye do you prefer in terms of stories, in terms of gags, in terms of design and in terms of animation?
Overall I prefer the cartoons produced by Paramount Cartoon Studios because they looked like an extension of the Famous Studios series. This was, of course, due to the same personnel working on both the theatricals and television films. I do not want to give the impression I avoid watching the work of the other studios. Each produced enjoyable episodes but overall I prefer the cartoons under the direction of Seymour Kneitel.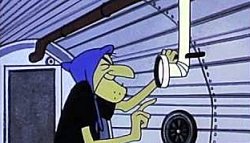 The Sea Hag in
Olive Drab and The Seven Sweapeas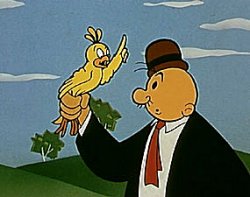 The Whiffle Bird's Revenge
While the theatrical cartoons focused mainly on Popeye and Bluto fighting over Olive Oyl, the TV-cartoons brought back a host of other characters from the Popeye-comics. Why don't you talk about these "new additions" for a bit, and their small-screen renditions?
King Features Syndicate controlled the rights to the characters in the Popeye comic strip. Therefore these figures could be incorporated into the plots of the television cartoons. The Sea Hag, who debuted in the Thimble Theatre comic strip in 1929, made her animation debut here. She was a welcomed sight, giving Popeye someone, other than Brutus, to spar with. Also Olive Oyl became a stronger character due to the witches' presence. Popeye could not hit the old hag due to his sailor's code. Consequently it was Popeye's beanpole girlfriend who ate the spinach and bopped The Sea Hag. Wimpy was able to mooch hamburgers from the same chef who hated him in the comic strip: Rough House. Eugene the Magical Jeep appeared in several fantasy based plots. Alice the Goon, who gave children nightmares when she originally appeared in the comic strip, showed up with a big crush on Popeye. Swee'pea, who was either in Olive or Popeye's care depending upon the storyline, was a main character in several episodes. King Blozo, who was a worrisome ruler, appeared in a handful of the cartoons and originated from the funny pages. The Whiffle Bird, whose magic gave Popeye his initial strength in the comic strip, appeared in a few cartoons. Because of these characters the storylines were not limited to the Popeye-Olive-Brutus romance triangle.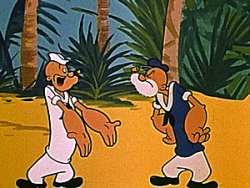 Me Quest for Poopdeck Pappy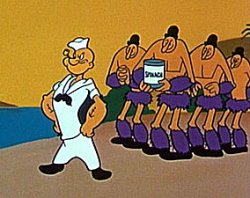 The Valley of the Goons
I've read that the TV cartoons produced by Paramount and directed by Seymour Kneitel occasionally incorporated original storylines from E.C. Segar's Thimble Theatre strips - want to talk about these for a bit, and how faithful did these films remain to Segar?
It is a difficult task to take a storyline which ran for months in the newspapers and whittle it down to a five minute cartoon. Seymour Kneitel and his crew did an excellent job of remaining faithful to the source material. These Segar-inspired cartoons were It Only Hurts When They Laugh (based on a Sunday strip where Olive tries to stop Popeye from brawling but laugh instead), Poppa Popeye (the Sunday strip had Swee'pea's mother returning to claim the infant but a phony father tries it in the cartoon), Me Quest for Poopdeck Pappy (which takes elements and dialogue from Popeye's reunion with his father right from the daily strip), What's News (Popeye takes over a newspaper as he did in a daily storyline), Wimpy the Moocher (Wimpy uses a pearl in an oyster to outwit Rough House based on a Sunday page), Myskery Melody (which was an excellent pairing down of a lengthy daily story of the same title) and The Valley of the Goons (a plot taken from one of Segar's last scripted tales involving the residents of Goon Island).
Who provided the voices for the principal Popeye cast in the cartoons?
Jack Mercer, Mae Questel and Jackson Beck provided all of the voices for the characters in the cartoons. Mercer was Popeye and Wimpy while Questel was Olive Oyl, Swee'pea, The Sea Hag and Deezil, Olive Oyl's niece. The trio would provide the voices for all of the secondary characters and, on occasion, would alternate who did the voice. In Sea No Evil Jack Mercer was the voice of Brutus. Rough House's voice was provided by both Beck (Wimpy the Moocher) and Mercer (The Whiffle Bird's Revenge).
Some of your TV-Popeye favourites? And are there some you really dislike?
Before I discuss my favorites I want to give this a more personal spin. I first discovered these TV cartoons on my local Popeye and The 3 Stooges program around 1967-68. It was a half-hour mix of the theatrical and King Features episodes. As a child I did not see any faults in the animation. To me it was just more of my favorite cartoon character! As a teenager I recall when first watching Popeye and The Giant,. I immediately noticed the stock footage, from other Jack Kinney cartoons, used in this episode. I was aghast! I was even more discouraged as the cartoon progressed. At the conclusion of the cartoon the animators made Popeye's mouth move as if he was talking. Unfortunately the sailor had no dialogue so faint laughter was dubbed in. I began to notice other animation goofs and began to really appreciate the better entries in the series.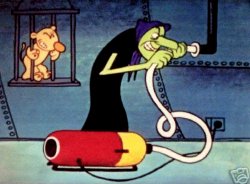 Hag Way Robbery
In my opinion the worse cartoons in the series list Hugh Fraser as animation director and I have already mentioned these titles. Other episodes low on my list are Larry Harmon's Muskels Shmuskels, Hoppy Jalopy and Ski Jump Chump. The stories are fine but some of the animation sequences make me cringe. Hag Way Robbery, from Gene Deitch and William Snyder, may feature Eugene the Jeep and The Sea Hag but the animation is much too simplistic in spots. In one scene Olive Oyl is holding an armless Swee'pea! From Gerald Ray I could never warm up to Popeye's Junior Headache because Olive Oyl's bratty niece beats up her babysitter, Popeye.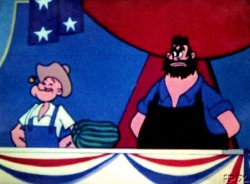 County Fair
The Baby Contest, which has Swee'pea eating Popeye's spinach to bop Brutus, is a favorite from Paramount Cartoon Studios. Other personal favorites of mine from this studio include The Spinach Scholar, Autographically Yours, Scairdy Cat, Hamburgers Aweigh, Popeye's Double Trouble and Popeye Thumb. Brutus competes in the spinach eating contest and "the test to prove its strength" in County Fair. The brute looks right at the audience and says, "you didn't think I'd play fair with that runt and take a chance against his spinach!" At the conclusion of The Leprechaun Popeye sings one of my favorite songs; "A friend I am told is worth more than pure gold says Popeye the Leprechaun... toot! toot!"
Any books, websites, whatever else you can suggest for further reading on Popeye, the TV-character?
I wanted to get another animation historian's thoughts on this series and asked Hal Erickson a few questions. He is the author of a number of television related publications including Television Cartoon Shows 1949-2003 (McFarland and Company, 2005).
FG: It appears, who the animation director was, determined the quality of the individual Jack Kinney cartoons. Do you feel this is true?

HE: Yes, it was definitely due to the director. Some could rise above the cheapness, others couldn't. Perhaps the directors weren't always able to be on-the-spot supervisors. Often it appears things that had been covered on the storyboards were simply left out when filming. The mismatched voice work is dreadful. It doesn't always happen, but when it does it's like the proverbial turd in the punchbowl.

FG: What is your opinion of each of the studio's work on the series?

HE: Larry Harmon: On par with Bozo and I never warmed up to him. Technically proficient but the writing is mediocre at times. Too much rhyming dialogue. Too much corner-cutting but I suppose there wasn't enough time to do better work. The stock music is appropriate if familiar.

Paramount's Wimpy the Moocher

Jack Kinney's Lighthouse Keeping

Gerald Ray's Where There's a Will

Paramount Cartoon Studios: as good as anything they were doing theatrically at the time and an admirable effort to film some of the Segar continuities - but several notches below even what Famous Studios was doing during the 1950-55 period. The 1960-61 Paramounts don't move very quickly either. Overreliances on stock animation (Popeye's closing songs, the explosions) give them a cookie cutter quality. The use of Winston Sharples' music from the theatricals sometimes works, sometimes doesn't, especially when you can't help associating a certain composition with an earlier (theatrical) cartoon. Still, they're slick and moderately amusing.

The Kinneys: As a group, the most uneven, and downright amateurish at time. Ironically, these cartoons boast the best scripts and comic ideas including Olive as a beatnik (Coffee House), the Japanese-drama parody (Spinachonara), the Alice in Wonderland takeoff (Sweapea Thru the Looking Glass), but on the whole pretty bad and hard to watch; badly timed and inexpertly dubbed.

The Snyder/Rembrandt/Deitch: Best animation, though a bit on the hectic side like the studio's Tom and Jerrys. Very good ideas such as the talking dog (Roger), Olive becoming obese (Weight for Me), the outer space juvenile delinquents (From Way Out) and the like. The Halas-Batchelor stuff is about the same.

The Gerald Ray productions come closest to the spirit of the old Popeye with sharp timing, funny throwaway gags and good lines. Henry Lee knows the characters and writes well for them. I liked Deezil Oyl (Olive's niece) and would have liked to have seen more of her.

FG: Do you feel the series has been unfairly criticized as being entirely poor through the years?

HE: Unfair yes. Like any long-running series there are quite a few good ones but too many clinkers. I think they've gotten an overall bad rap because of the sheer volume of the Kinneys. The group isn't as evenly produced or consistently amusing as the theatricals. When I was a kid I was always happy to see the Rembrandts or the Gerald Rays. The Paramounts, moderately happy. The Harmons, ehh. The Kinneys, groan (unless it turned out to be surprisingly good).

I can't muster up too much enthusiasm for these but the public at large accepted them and they made a lot of money so it might be just a personal reaction. Also at the time these came out I was really looking forward to them and disappointed they weren't better. This may have clouded my judgment.

One thing in their favor: They certainly aren't chained to formula as some of the later theatrical Popeyes. Maybe the multitude of studios resulted in more variety!
Anything else you are dying to mention and I have just forgotten to ask?
I urge fans of this series to purchase the DVD Popeye the Sailor from the Warner Archives. It features all of the Paramount and Gerald Ray television produced cartoons. If others are released perhaps some should come with the subtitle, "How Not to Make an Animated Cartoon!"
Thanks for the interview!