Your new movie Sometime Around January - in a few words, what is it about?
The film focuses on a moment a woman meets an ex for the first time after a nasty January breakup. When she realizes what really happened that winter trust is broken and all hell breaks loose.
What were your sources of inspiration when writing Sometime Around January?
The film is inspired by a rock song I love by Airborne Toxic Event. Whenever I'd hear one of their songs the images of Sometime Around January popped into my mind and I had to get it out of my system. This happens a lot to me when I listen to music. Mostly all of my films have been inspired by music. I love music so much, but since I can't play an instrument I figure I'll use film to show my love of it. So yeah, the song is inspired by a piece I love, and of course real events that were dramatically altered for cinematic value.
Quite a few of your movies are about break-ups and their after-effects - any explanation for this? And is there any of you in Sometime Around January's female lead?
My films are about breakups because that's what I like to write about. It's what I feel like writing about right now. I like to write about emotional stories that are real for me. All these stories are my real emotions and that's all I wanna write about, my raw emotions. I'm not gonna write a happy-ending type of cheesy love story because I've had no happy endings when it comes to love, and I have something to say about that. It's been a tough few years hahah. No but women who write about this kinda stuff seem to get a bad rap for it (Taylor Swift for example), but I'm going to do what I want to do regardless. Yes I do see myself in the female lead. You're dating someone who's calling you his gf. You notice there's this woman who goes to his studio all the time and you notice they talk on FB a lot. You ask him about it and he re-assures you it's nothing. A month later he pulls a disappearing act and moves this girl in with him. The story is altered but it's the same concept. But the female lead is a classy lady and won't dare cause a major scene. She only explodes inside herself. And while all of this is going on, her seeing her ex there and watching him and thinking to herself many things and feeling many things, it's all overwhelming and totally unexpected. But that is so real life. All of these thoughts go through your head, and it's only a few minutes of this but it seems like a lifetime. I think it is so fascinating when you actually think about how we feel and how we think when put in a position like this. It's amazing and I wanted to write about it.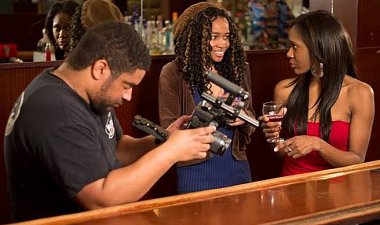 Do talk about your directorial approach to your story at hand for a bit!
My directional approach was inspired by the musical piece by Airborne Toxic Event, the thoughts that would come up whenever I would listen to that song. I wanted them in classy clothing cause it's different, and it's a great contrast to hell that's about to pop off later haha. I wanted the film to start with a real close shot of her face.. That way people watch and they're like whoa, okay. What's about to happen in this one? Cause she's on an emotional journey and I want the audience to be too. I also wanted POV shots and a lot of smooth, musical movement to show what's going on inside their heads. You know, him walking up to her, her looking up at him and down at another woman's hand on him; him being pulled away and then she fades away, and her walking up to them before they leave the place. I wanted to show that stuff. My favorite part is the very end....the wide shot of her just standing there. It's like damn....there's nothing else she can do but stand there and look and feel like the fool she was played as. You can't actually catch an assault charge and what's the point of going off on them verbally? There's literally nothing you can do. But stand there alone and numb like... wow. This actually happened. I wanted to get shots like that to show that kind of emotion and train of thought. Really grateful to have had a hard-working crew to work on this film too, Paul Bulgin as DP, Chris Boylston as second camera, Roland Khorshidianzadeh as the AD, Eileen Slavin as PA. Made this film a reality!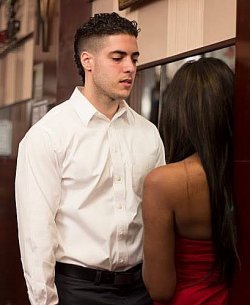 Sometime Around January also features a quite fascinating soundscape - so how was that one achieved, and how much creative input did you have on it?
Steven Lanning-Cafaro was great, he composed the Sometime Around January song. I love that so much much. Sometimes I just listen to that song. It really resonates with me. I was really grateful to meet him and work with him on the song. I had given a song I was inspired by and he created something much better. We worked back back and forth to add things or change things to make it fit more, so I had a lot of creative input. I had Dominique LaFleur (played the lead) record voice overs and then I synced it up to certain parts of the song. I always pictured the short to feel and look like a music video. There needed to be certain parts of the song to match the visuals. I always love it when the soundscape sounds great cause that's the most important part of my short films, the music and voice-overs and how it fits the visuals.
Do talk about your cast for a bit, and why exactly these people?
Dominique LaFleur played the lead. She also acted in my short film Last Words too. People have expressed that the emotion brought she brings is powerful and I tend to agree! That's why I wanted her in the film! JD Achille played the mysterious woman and I thought she did great in that role with the sassyness. I love her facial expressions in the scene where she is hugging Dominique and the very last shot of JD when she is staring at Dominique right before she leaves the place with her new cheating man. Had to go through a lot of guys to find Moises Bournigal (male lead) but finally did and was happy I chose to work with him. He was very easy to work with and he took direction well. He asked questions too. He was paying attention and he was interested. I would recommend him to anyone. I love working with people with a positive attitude who are interested in what they are doing. Aaron Wilson played the musician on set and he is an up-and-coming actor himself. I needed someone to fill that role so I asked him and he thankfully obliged. I needed a musician in the room so the two lovers up front could have something to be distracted by. I also love the idea of having that mysterious musician in the room, can't ever see his face, and he doesn't ever look up to see what is going on, but he is there. It's fascinating.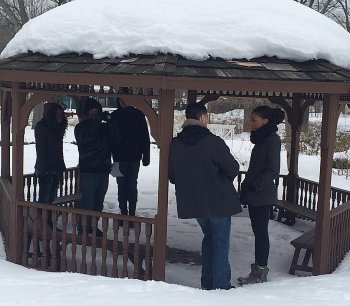 What can you tell us about the shoot as such, and the on-set atmosphere?
The on-set atmosphere was really fun. All the actors got along great. I personally laughed a lot. It was a pressured shoot though because we were on short time in the hotel. I'm really grateful Joann Joseph let us use her hotel (Greenwich Hotel & Lounge). It had the exact look I wanted. They play music there so they had everything we needed already. The outside shots were tough to shoot though cause we had to shoot it in the snow. But that's the story though, sometime around January!
Anything you can tell us about audience and critical reception of your movie yet?
The film has been accepted and shown at a lot of film festivals in the Boston area. I drove out to Boston so much in the time between August to now. People say they think it's powerful and really well done as far as acting and direction and music. It's been nominated for Best Short at the Shawna Shea Film Festival which is just so unreal to me. I can't speak for anyone else but me personally, I have never been nominated for something that big before ever. I was so excited that I asked my brother, "Look at this and tell me, does that look like what I think it looks like?" Hahah, I couldn't believe it. The reception has been great. I'm excited to show this. I will be uploading this to my Vimeo account sometime in January, probably my birthday. So check out my Vimeo sometime in January! http://www.vimeo.com/raeshelle. You can see the film then.
Any future projects you'd like to share?
Yeah I have 3 projects I'd like to do. Just don't know which one yet. His Interlude is a short about a woman who tells her side of why a seemingly perfect relationship didn't work out. It is inspired by Drake's My Side, go listen it. Love that song, man. The short will be narrated by music of course, and spoken word. I was so close to doing it but finding music for it is proving to be difficult, but I will do it. The film is inspired by 2 relationships. You ever met someone who treated you like how you should have been treated, and he was wonderful and great to you, but you screwed it up with him to go back to an ex who treats you like shit? Then later you realized the love and respect you used to feel for #2 is gone, and #2 screws you over a 2nd time in the same fashion as the 1st time, but #1 is already gone and moved on from you? Uh yeah, me neither but I'm just saying hahah. That is His Interlude. Those regrets. Wishing you had handled things differently. Wishing you didn't go one way, but another. It's painful but...that is art. It's not all bad though. If you go back it's because there's unresolved reasons. So you go back thinking you might still be in love, but when you do go back you realize wait a minute... I don't love or respect this man anymore. So it's like... you needed to go back in order to not only see what kinda person he really is, but you needed to go back to truly move on. So I guess even though I ruined something good with a good man, I am happy I went back cause I don't have those unresolved feelings anymore. So now next time, I know it won't ever happen again, you know. Life is strange right? That's all a part of being in your early 20s and maturing though.
The other two films are The Most Dangerous Species, a short sci-fi and commentary on the nature of people, and Mt. Washington, a short inspired by an indie rock band Local Natives' song by the same name. I just literally came up with the concept of their song literally last night as I was laying in bed. Like literally last night. Was listening to it (obsessed with the song) and the images popped up in my head. I immediately emailed the band and their manager hahaha. So we will see how that goes. I NEED to do a short for this song, like... I need to.
So, stay tuned for whatever film comes first! :D

Feeling lucky ?
Want to
search
any of my partnershops yourself
for more, better results ?

The links below
will take you
just there!!!

Find Raeshelle Cooke
at the amazons ...

amazon.com

amazon.co.uk

amazon.de
Looking for imports ?
Find Raeshelle Cooke here ...
Something naughty ?
(Must be over 18 to go there !)

Your/your movie's website, Facebook, whatever else?
http://www.vimeo.com/raeshelle
Anything else you're dying to mention and I have merely forgotten to ask?
Oh yes always show gratitude and support for one another. Many more doors will open up when you have a good attitude and treat people as good as they treat you. Remember that.
Thanks for the interview!