Your new movie Monae's Room - in a few words, what is it about?
It's about an obsessed woman that can't get over her past, and her room serves as the source for her obsession. The story is told with spoken word and music.
What were your inspirations when writing Monae's Room, and to what extent can you identify with Monae and her situation?
Monae's Room is the sequel to my second short film What's the Problem with Bill Winer?, and it is telling the story from the perspective of that woman Bill screwed over. Bill in that film is based on a real man, and I made that film for me. This film is similar to that one in that Monae represented where my head was at the time, and the journal she writes is real, and that phone call in the end is based on an actual email I got from said man. When I read that email I realized what a real jerk this man was, and I felt silly for ever pining over him in the first place. That email was my closure. That is what Monae felt as well; that was the closure she was looking for all along. It wasn't that she finally spoke to David, it was that she realized he wasn't the person she dreamed up in her head; he was a horrible person and showed that in the end, so when she realized it she was able to finally move on.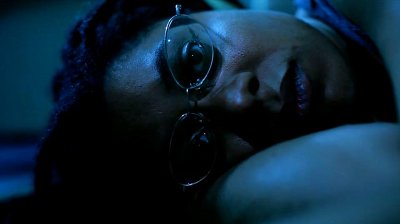 I also wanna say something important. When women make films like this, a woman pining over a man, people like to criticize it, but when men write songs about women that have wronged them no one complains. Donít watch this film with that thinking. Donít focus on the fact that Iím a woman, and that Monae is a woman that is heartbroken over a man. Focus on the art and the little things that went into creating the art; appreciate that, and LISTEN to the overall message after youíve seen the ending. I also wanna point out I wrote this script two years ago. I love that I can make art from these kind of situations and be able to show it to the world, but I also hate how people (friends particularly) see the film and assume I have these feelings still and want the same dude. Itís risky making personal films like this because it invites people to be nosey, or live vicariously through you because they want you, or because they are lonely and wish or hope that you are still heartbroken. First, donít ask who a woman is dating anyway, kinda rude. Second, I actually been pining over a different one for over a year now, lmao. And third, I wish I could tell the person, if you like talking about the guy so much then date him. Other than that, just watch the film and enjoy it.
To some extent, Monae's Room reminded me of your earlier movie On Her Way - at all a fair comment, and would you like to elaborate on this?
I think it's a fair comment. Both films are driven by music, and both films show a young woman stuck in a room, needing to leave to gain sanity again but can't. In both films we see a woman on-screen who's dealing with inner demons, and we are watching this inner struggle play out on screen. These films are ones that deal with the human psyche. These to me are the best films to watch, and I want a hand in making them; it's about facing your fears and getting out of a room, which, that room being a metaphor for the mind. In most if not all my films, I plan to use music and/or spoken word, and I plan to use slow-paced editing and fast-paced editing. This way of storytelling to me is unique and memorable, and no one else is doing it. I would encourage people to follow my social media sites and what I'm doing if you like On Her Way and Monae's Room. That has become my signature style, and I plan to keep with it in my next films.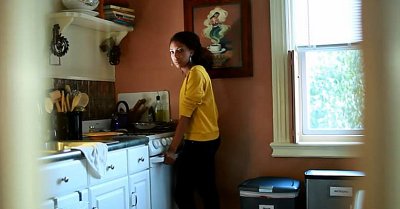 How would you describe your directorial approach to Monae's Room, and what kind of a challenge was it to have only very limited locations at your disposal?
Wanted to try and get Delea Mowatt (Monae) mad so that she could show that intensity on screen. The good thing is people have told me she doesn't overact. She gets mad naturally like a person does in real life without the melodrama that so many films have in them. Some people are looking for that melodrama and expect it in Monae's Room. Well you're not going to get melodramatic acting in Monae's Room. Working with one location was easy for this story. The story called for it and anyway I prefer one location to many locations. I like things to be simple and quick.
In Monae's Room, some of Monae's inner monologues are set to music, almost like lyrics to a song - now what were the inspirations for this particular scenes?
The film is also inspired by Drake's song Marvin's Room, off his Grammy award-winning album Take Care. I always listened to that song that summer when I was going through that time, and I always thought, I wonder what this song would look like as a short film. Well I wrote it and directed it two months later. I encourage anyone to listen to that song. His music and music like that in general is a huge inspiration to my film-making. I'm a huge fan of hip-hop music and paid tribute to that genre in this film. Hip hop IS smart, it is articulate, it is talented, educated and it is intelligent. Hip hop is great. I also write songs sometimes in my spare time, and poetry, and so I was happy to infuse spoken word and music, two loves of mine, to this film. We won Best Genre Blend for this film at Stories by the River so some people like it too. Music like Drake, J. Cole, Schoolboy Q and Kendrick Lamar are inspirations of mine. If I could sing and play instruments, I'd be a musician. And I thank Sean J. McCall for coming up with a great song that captured the same feel and atmosphere as Marvin's Room. That song IS the film and those monologue parts are my favorite parts of the film.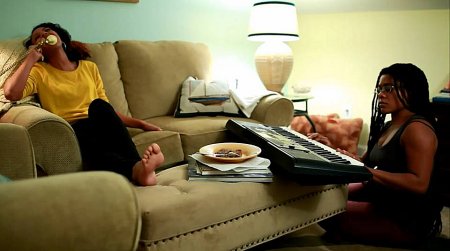 JD Achille, Delea Mowatt
What can you tell us about your cast, and why exactly these people?
It was great working with Delea Mowatt and JD Achille. Delea was toned down. She's authentic. She doesn't try too hard to be dramatic and that fits the character, who is low on energy and mentally-drained in the first place. The character of Monae is based on me. Delea resembles my look and has my toned down personality. I wanted a certain look and a certain personality and awkwardness too. I wanted the character to be an older character. I also want to stress how great it was to have that brighter, funnier side of JD Achille to play Kelly as her younger sister. I wanted someone who looked younger than Delea. I hadn't worked with JD before Monae's Room and she was ready to go and needed no coaching. We need comedy relief at some points in a dark film if we are expected to let our guards down anyway, and JD provided that and more.
Do talk about the shoot as such for a bit, and the on-set atmosphere!
This was a two-day shoot, and I like it a lot when we have minimal people on the set. The first day was chaotic at least for me. The second day there was less going on and I was more at ease. It was less crowded and so I could concentrate more. I work very well under pressure, but I tend to enjoy the experience if it's less crowded and more relaxed. The look and feel of the film came to me when we turned off the lights and lit the candles. We were in the dark for a while and aside from me tripping over things, it was a cool experience.
What can you tell us about critical and audience reception of your movie so far?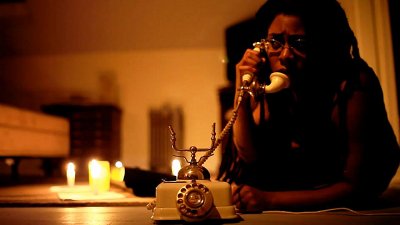 The film has won two awards so far, for Best Genre Blend, and I got one for Best Newcomer, at the Shawna Shea and Stories by the River film fests and that was exciting. We are still circulating it to festivals so we will see what else happens with that. Women have come up to me and said yep, that was me once, great film. People love the music and spoken word; those were my favorite parts too. The film also has gotten more views on my Vimeo than my other shorts. Now of course you canít make art without the criticisms too. For example I've gotten feedback from some saying the acting wasn't dramatic enough, but you can't please everyone. I was also told the lighting was "mismatched" too, which I disagree with. The colors are one of the best parts of the film. We were nominated for best Color Correction at Stories by the River. I was told by others that they liked the colors and the more authentic acting. I got the whole ďYou need more anglesĒ once too. You get crazy shots in blockbusters though, and the story and characterization is lacking. In older movies (and my style is more traditional), you have less crazy angles, as itís more simplified, and the dialog, story, plot and characterization is clearly superior. Iím also very happy with my director of photography on the film William Smyth. He is a professional and gets paid a lot of money to do this. He does this for a living. He is very good. I think he did a great job and we work very well together. He works with me and doesnít care about money and materialistic things like that and this guy gets paid mad money to do this. He believes in me and my projects. I always remember when a person either does or does not believe in me, and does or does not work on my films when I ask. I remember that and THAT is what means the most to me. Will believed in me, the crew did, the cast did and I would help them right back if they ever asked me to.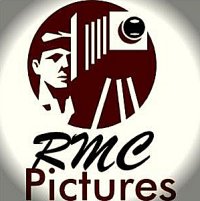 Any future projects you'd like to share?
Currently shooting the fifth short film of RMC Pictures titled Sometime Around January, which is a spiritual short sequel to Monae's Room. Like many of my shorts this one is led by music and told with poetic spoken word, and has a wintry feel. It's about love, betrayal and loss, and a guy gets choked to death, and I tell it all without dialog in less than 15 minutes.
Your/your movie's website, Facebook, whatever else?
Look up Raeshelle Cooke on Vimeo, Youtube and Twitter @RMCPict to view the shorts Iíve started with. Also watch Monae's Room on there too. Also feel free to follow my business blog of my brand RMC Pictures at RaeshelleCooke.wordpress.com. And contact me if you like my work and want to collaborate with me; I write, direct and edit. Iíve also invested in sound and a camera as Iím starting this business, and Iím more than willing to share and help on othersí productions.
Anything else you're dying to mention and I have merely forgotten to ask?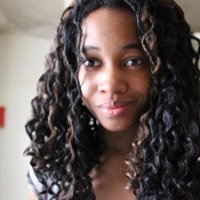 Feeling lucky ?
Want to
search
any of my partnershops yourself
for more, better results ?

The links below
will take you
just there!!!

Find Raeshelle Cooke
at the amazons ...

amazon.com

amazon.co.uk

amazon.de
Looking for imports ?
Find Raeshelle Cooke here ...
Something naughty ?
(Must be over 18 to go there !)

Now you know I never like to end an interview without making an important statement :D I'm a filmmaker but I'm a black woman first. I am passionate about race relations and I talk about it a lot. I have MANY interests and passions. This is who I am as a person and I am not ashamed and I will continue to speak on race. There are people that seem to think that filmmakers should adhere to the sensitivities and ignorance of others in order to keep the peace, or to gain or keep fans, to keep quiet about topics they think are sensitive. Again, I'm a black woman first. I was a black woman before I became a filmmaker, and I'll be a black woman after I've been a filmmaker. If I "lose fans" because I'm being myself, being real, being honest and caring about my experiences and my culture, and talking about things that's important to me, then they weren't fans to begin with and certainly not people I'm trying to hang out with. I don't make films to GET fans or to GET people to like or accept me, and if youíre a filmmaker reading this, neither should you. That's a horrible reason to start making films or to keep making films. I make films because I like to make films; simple. I love to write because I'm good at it, simple. If people follow me cause they like my films then that is just the icing on the cake.
Do not lose your identity or make others make you feel ashamed for being who you are and speaking on what's important to you, JUST because you happen to like making films and people happen to view them. DO speak on what's important to you. If anything, being a filmmaker and having the talent to do this just gives you even more of a reason TO speak on important topics; it gives you a platform to relay important messages, and it gives you a real chance to seek change. You are NOT to ignore that blessing, no matter what you just happen to do for a living.
Thanks for the interview!