Your new movie Last Words - in a few words, what is it about?
A woman decorates a box as therapy to cope from a nasty breakup. This film was shot for Campus Movie Festival and it won top 16 of 44+ films submitted.
Is any of your movie based on personal experiences, and have you ever tried box therapy on yourself (and how did it go)?
I had to do it to shoot the film yeah. Before I shot the film I wanted the box to be prepared. I wanted to get down all of my thoughts and feelings on the box first to capture the realism and raw emotion of the story because yes, it is based on a real experience and how I feel about someone I thought I was deeply in love with. Even today it's a struggle, but every time I fall back into it, I just pause and remember. The fact is I was in love with an idea of who I thought he was. I never really knew what kind of person he was. And he didn't deserve a sliver of who I am. Everything in the film has a story... I wanted that subtext in there. I wanted it to be known how I feel because I felt robbed of my last words. But you're not gonna rob me of my last words. It was fun to decorate the box though, and now, Dominique can say she's tried box therapy too. She seemed to really enjoy it. I know as a woman I can be judged for making films like this because women get the whole "crazy, angry black woman" card held against them when they make content like this but I don't care. Men can do it and it's okay. So I can too. I like to push the envelop and say exactly what I want and need to say. I did it with Monae's Room and I'm doing it with Last Words too. Women have the right to be hurt and angry and we have the right to turn it into art and tell our story without being judged for it. I'm not apologizing for its content and I'm not apologizing for being honest in this interview either.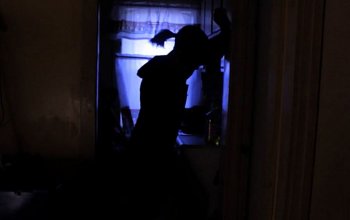 Other sources of inspiration for both story and style of Last Words?
Everyone that knows me knows I love Drake. There's this song of his, Madonna off his If You're Reading This It's Too Late album. I love many of the songs off that album, My Side, Star67, Preach, Wednesday Night Interlude, and the first 6 or so songs. When I listened to Madonna though, I dont know... the general premise of Last Words just came to mind! My interpretation of Madonna was okay, so he is confused, unable to commit, but is apparently still obsessing over a woman (when you read the lyrics). I thought to myself whoa... this kinda sounds like me pre-March: Unable to commit to a man you love for good reason, but still can't let him go. In the song Drake sounds exhausted, probably emotionally and mentally. I pictured Drake in the song to be psychologically unstable to be obsessing over this woman the way he was. Box therapy is something I made up on a whim for the film. I thought it was creative, different and frankly well... funny. I used low key lighting, wanted it to be dark and fit the song in the film. I also wanted a lot of movement. Unstable lovers can make you psychologically unstable so I don't judge and I love Drake's music, his style and the fact that he tackles inner conflict and love woes in his music. That song is kind of sad, sadistic and powerful to me and I wanted to do a film inspired by it, and at the same time close a regretful chapter of my life but in a productive and therapeutic manner. Cue my last words of the film.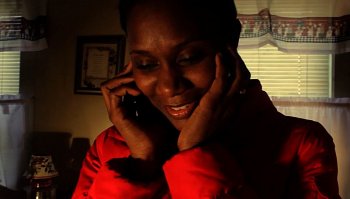 You just have to talk about your movie's soundscape, and your combination of words and music for a bit!
Again, I wanted to look for a song that had Madonna's dark, sadistic hip hop atmosphere, so I searched for music on Jamendo.com and found that instrumental you hear in the film. It was exactly what I needed, it fit perfectly to the atmosphere of the film. I loved it so much I bought the license. I know exactly how the "man" in the film should speak and what he would say, and how, so I recorded the voiceovers. I had a blast recording those. I edited my voice to make me sound like a man. I was laughing while I was recording the male section because he sounds so ridiculous and childish.
Everything I uttered as the man in the film, I was told in real life. After everything I had sacrificed and gone through because of a particular person, the person had the nerve to tell me we didn't have a real or big relationship. And that was the last of that. I can't imagine how another woman would have reacted if having been treated that way. Me, I made the film and laughed at the foolishness. It's basically me saying, "Forget everything? Forget what exactly?" This was my attitude while recording those. Women need to realize when they're way too good for a man and learn to brush it off. Some will try to hurt you not once but twice, and go on about their life afterwards. If you have self-respect you can rise from it and never give them a chance to screw you ever again. I turned an evil situation and rage into comedy and art. What you hear in the film is down on paper but most of that is impromptu/on the spot dialog for the most part. That whole interaction you hear, with the music, that is my most favorite thing about the film; that entire song. You could actually just roll your window down and blast this song while driving through a suburban street somewhere if you want to.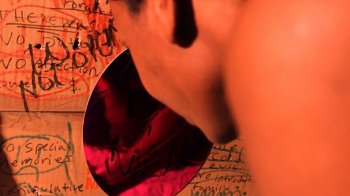 What can you tell us about your "box" as such, and its creation?
All we needed was a box and markers to produce the film. Box therapy is something I made up for cinema's sake, but I still have the box and plan on keeping it as a souvenir for having shot the film. I'm here to be honest about my work: shooting this film helped me so much. When you go through things you think you'll be depressed or angry forever not realizing you're young - very young, and unfortunate circumstances that inspire art like Last Words will only be a distant memory 10-20 years from now. I didn't realize it when I shot the film but I'm thankful that I have my whole life ahead of me, and can sleep at night knowing I've been a great person to everyone who've come across me. When people watch this film I want them to relate, but to also realize okay look... you're young, and have your whole life ahead of you. Be good to people and good will come back to you. I know it will come to me.
And by having the box as a souvenir, well you can never forget the blood, sweat and tears it took to produce the film. The box is also a testament to the fact that you don't need a fancy camera, a huge studio and top of the line effects to make a quality film. All you need is your raw emotion and some creativity. It's great if we have fancy equipment to brag about, but what's the use if the story isn't there?
A few words about your actress Dominique LaFleur, and why exactly her?
She's great! She also stars in my next film to be released Sometime Around January, and I really like her camera presence and the fact that she can pull off intense emotion really well, which you can see in the scene when she is decorating the box. She gets what my experiences have been, she's gone through it too... and she transfers it. Dominique is a blast to work with too; she's funny and so easy to talk to. We just click really well and so yeah, I asked her to act in this film after we shot the January film and she said yes. I feel like she also understands me and how my mind works. When I sent her the synopsis of Last Words before we filmed, she laughed and said it was hilarious and that she loved how sadistic my mind is. My favorite shot of her though, is when she is throwing red roses down at her ex, with that attitude as she's chewing the gum. I laughed my butt off. But we don't know who she's throwing the roses at... not until the end. Basically though, I appreciate and value hard work and gratitude over most things. I recommend Dominique to anyone.
Do talk about the shoot as such, and the on-set atmosphere!
It was really funny. It was just Dominique and I. I set up a work light I bought from Home Depot lol. And we just filmed this in 2 hours. We laughed a lot. I had a lot of fun. Even made bloopers and posted them on YouTube.
Anything you can tell us about audience and critical reception of Last Words yet?
I haven't shown this film a lot if I'm honest. I haven't posted the direct link on Facebook either. But from Campus Movie Fest reactions and close friends, people thought it was creative. But I feel like people are creeped out too, especially by the end. In the beginning I didn't even have the definition of box therapy in it when I first started showing the film. But I felt it'd be less confusing if I added the definition of box therapy to the film, so that people know what they're watching from the start and then on... it's much less creepy? The film isn't a laugh-out-loud film but I find it funny. My mom saw it and said men woudn't like it. I laughed, that's funny. She also said she didn't find it funny since she knows what it's about. My other friend didn't either, cause he knows it is based on a real experience and was sad I went through it. Oh well. If I can laugh so can y'all.
Some people didn't know what to make of the ending either. It's pretty straightforward what happens though. My advice would be, don't over-think it. Take what's been given to you.
Any future projects you'd like to share?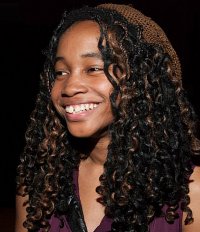 Feeling lucky ?
Want to
search
any of my partnershops yourself
for more, better results ?

The links below
will take you
just there!!!

Find Raeshelle Cooke
at the amazons ...

amazon.com

amazon.co.uk

amazon.de
Looking for imports ?
Find Raeshelle Cooke here ...
Something naughty ?
(Must be over 18 to go there !)

I'm working on my good friend and singer/songwriter Aaron Wilson's stuff right now, his second music video and a short sports biopic. Then after that, it's on to my Twilight Zone-inspired scripts, with Most Dangerous Species on the Planet up first.
I submitted the January short to festivals. I really hope and pray that travel is in my near future. I've also been asked to help create a series based on traveling and trying out interesting foods, with a hip hop vibe to the show. If that pans out, I'll be traveling which I really wanna do. Even if it won't pay, travel is a great compensation for me. Maybe I'll even get to eat a fry or something who knows. But after the January short is released I'm pretty much done with the love stuff for now. I don't feel the desire or the need anymore.
Your/your movie's website, Facebook, whatever else?
First, check out my vimeo - Last Words is on there. Give it a play. When Sometime Around January comes out, that film is going up too so follow me on Vimeo to keep up with all of my film projects: http://www.vimeo.com/raeshelle.
I just joined Instagram too: highwaywomann. I post pictures, I've gotten into photography... and I love the open road, cruising while listening to music like Fleetwood Mac, rap or r&b... check me out on there too if you have an adventurous spirit like me. I'd like to share it with you.
Anything else you are dying to mention and I have merely forgotten to ask?
Last Words is not another Monae's Room.
It isn't another film about a woman who wants her ex, "can't take no for an answer" or who calls him after he's broken up with her.
Last Words is about a conversation between a boyfriend and a girlfriend.
The point of the film that I wanted to get across is the utter hypocrisy that is the then boyfriend. From his first few words at the beginning of the film, to the 2nd conversation: sheer nonsense and hypocrisy.
The film is a subtext, and a very short guide on how to throw your ex's ass outta your house.
Thanks for watching.
Thanks for the interview!