Your new movie Death Kiss - in a few words, what is it about?
Death Kiss is about a vigilante who delivers bloody justice to violent criminals and he donates the money from his actions to a single mother with a crippled child to offset the guilt for the murders he commits.
Death Kiss seems to be inspired by action movies from the 1970's and 80s, most notably probably the Death Wish series starring Charles Bronson - so is this a film genre you're personally fond of as well, and some of your genre favourites?
Yes. I do love the Bronson movies. Especially part 1 and 2. I was so happy to make a movie in that specific vigilante subgenre that I really went full steam ahead in the early 80s style. I usually make all of my movies in the style and feel of the 80s, but on Death Kiss I went all the way.
(Other) sources of inspiration when writing Death Kiss?
Mainly Cannon films of the early 80s. I wanted to make a movie that seemed like it was made by that company and in the era.
Death Kiss is a film that gets rather violent at times - so do talk about the gruesome bits in your movie, and how were they achieved? And is there a line regarding violence you refuse to cross?
I make movies for adult audiences. Death Kiss is R-rated movie. Itís not a safe movie. Itís violent and I make no apologies about that. Itís also not very PC so many people may feel Iíve crossed several lines but itís about a vigilante who murders criminals. If their crimes are to warrant death, then they need to be violent criminals. There are lines I wonít cross as it matters to showing violence against children in a scene.
You also have to talk about the stuntwork in Death Kiss for a bit!
We had lots of shoot-outs and chases. Some fists flying too. All of the actors do their own stunts. We fire blanks and we have real blood hits. We try to be safe but with a movie this manly, we kinda just let it ride.
What can you tell us about your overall directorial approach to your story at hand?
Every actor needs to be directed in a different way. Most scenes overall require their own overall feel and tone. My only actual focus was to make a gritty, ultraviolent, manly movie that looked like it was made by a B movie director from Cannon films in the 80s. I donít usually come up with a tactic, I just feel my way through things.
A few words about the shoot as such, and the on-set atmosphere?
I think weíre mainly all business on set. We might let a few jokes fly and we talk in between shots but my actors and I are keenly aware that we are on a micro budget film and we donít mess around. Itís all work. All business. I make the lowest budget commercially released movies out there, so I donít have time for much of anything other than getting right into filming.
Anything you can tell us about audience and critical reception of Death Kiss?
People will either love or hate this movie. There are always those who wonít give a low budget indie film a chance. Nothing can be done about them. That being said, in this case, so far, most of the film critics have loved this movie. Iím really shocked by how much positive feedback Iíve been getting on this film on all sides. Iím very gratified.
Will there ever be a sequel to Death Kiss, and/or any other future projects you'd like to share?
I would love to make another Death Kiss. And yes, Iíve made a few movies since Death Kiss. The one Iím most excited about is a ninja movie called The Dragon Unleashed. Also a Cannon films 80s type movie.
What got you into making movies in the first place, and did you receive any formal training on the subject?
Iíve had no formal training at all. But Iíve always been an artist. Iíve been writing and drawing comicbooks since I was a little kid. I can also play a couple of musical instruments at an expert level. Working a camera is no different then knowing how to play an instrument, and writing stories for comicbooks is also good training for writing movies. And Iíve done it my entire life. So I have a lifetime of training from an artistic point of view but zero academic training.
What can you tell us about your filmwork prior to Death Kiss?
Death Kiss was my 19th commercial release movie. The others have been mostly in the horror and action genres. Iíve done westerns. I love to make westerns. Iíve made zombie movies, fantasy, martial arts movies. Lots of different movies for the home video market.
How would you describe yourself as a director?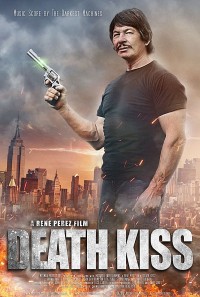 Feeling lucky ?
Want to
search
any of my partnershops yourself
for more, better results ?

The links below
will take you
just there!!!


Iím just a guy trying to tell an entertaining story and please my audience. Simple. Iíve never reflected on what type of director I am. I think film critics and the actors I work with might be able to answer that better than I.
Filmmakers who inspire you?
Oddly enough, Iím not really inspired by other directors. There are directors that I like and even love, but they are far removed from my inspirations. No one that I wish I could emulate or anything like that. As a fan I love how Ridley Scott can create a visual beauty like in Bladerunner and Legend. I love how George Lucas created characters and adventure in the original Star Wars. I love how clever and concise James Cameron can be in movies like Aliens. I love how Michael Mann creates a sense of style in the original Miami Vice. I love how Sergio Leone re-creates the wild west. Iím a movie fan. My fandom and my creativity are completely different things.
Your favourite movies?
The Empire Strikes Back, Wrath of Khan, The Good the Bad and the Ugly, Scarface, Saturday Night Fever, Bladerunner, Rocky, Brotherhood of the Wolf, Halloween, The Exorcist 3, The Road Warrior, Highlander, Death Wish, Goodfellas. Many more.
... and of course, films you really deplore?
I really hate the new Disney Star Wars movies. Iíve never actually cared enough to really hate a movie until I saw those. Force Awakens and The Last Jedi are horrible and deplorable propaganda films.
Your/your movie's website, Facebook, whatever else?
People can contact me at www.thedarkestmachines.com or www.facebook.com/thedarkestmachines
Thanks for the interview!