Your new movie The Dragon Unleashed - in a few words, what is it about?
Itís about an assassin who questions if the child he once was would be proud of who heís become.
I think I'm not too far off by saying The Dragon Unleashed is an hommage to Cannon action and especially ninja flicks from the 1980s - so what is it that fascinates you about these movies, and some of your favourites?
You are correct. I specialize in making retro style movies. Especially the Cannon films kind. I think the 70ís and 80ís were the best years for movies, music and comicbooks. Probably because I grew up in the 80ís so I may be biased. Iím not sure what part of it fascinates me, to answer your question, all I know is that this is what I was meant to do and how I feel Iím doing my best. I donít even know if Iíd have an interest in making a non-retro movie.
Taking away all the action, The Dragon Unleashed can also be read as a story about a man searching for his true self and his place in the world though - now where did that come from, especially in the action context, and is any of it based on personal experiences?
I wrote the premise of this story around 20 years ago, so I donít recall my state of mind at the time. As for your question about it being personal, I donít think so. I used only imagination to write this story. There is a lot of me in any movie I make but the overall premise is not something that plagues me. I did imagine it would weigh heavily on the mind of a character like this. And I hoped it would speak to many of the audience members.
(Other) sources of inspiration when writing The Dragon Unleashed?
This may sound silly but one of my inspirations was Snake Eyes, a comicbook character and action figure I cherished as a child. I imagined I was making a story from a chapter of that action figure's life.
The Dragon Unleashed does feature quite a few elaborate action scenes - so how were they accomplished, and how much preparation went into them?
On a micro budget movie, sadly, I have to use my precious little film time to compose the action scenes. No way to bring actors or stuntmen in ahead of time to rehearse. Whether itís a chase scene, a shoot-out or even complicated hand-to-hand combat scene with intricate martial arts. But luckily, on the martial arts side we had a master of kung fu, John Ozuna. Not only is he a master but heís also the Guinness Book world record holder for fastest punches and he also has a second Guinness Book world record for martial arts but the exact title of that one escapes me at the moment. Either way, he did all of the choreography and Iím super-impressed with him in every way. I also hope to film with him again. We also had a dedicated group of stuntmen for him to trade punches with.
What can you tell us about your directorial approach to your story at hand?
Every actor and scene requires its own distinct directing style. I donít impose myself. I am at the service of the movie, the movie is not at the service of my directorial whims. The only pre-conceived directorial impulse I made prominent was to make this an 80ís retro style genre movie. Other than that, I go with the flow. The story is in charge.
Do talk about your key cast, and why exactly these people?
Chase Bloomquist was the male hero actor and he was able to convey the emotional torture. He made it real and dignified. He was also able to internalize, which was an important ingredient for the success of this character. He was the perfect choice for this role and we were lucky to find him. Emily Sweet was our female hero and she is just a really good actress. Finding beauty and talent is a rare find but Emily has an abundance of both qualities, and her work ethic is astonishing. Emilyís character was also on a journey of change and she was sincere in ever aspect of her performance. John Schneider was our lead antagonist and he is so much better than what I expected. I was just a casual Dukes of Hazzard fan so I was blown away by the level of his acting ability. He plays a complicated character who rides the line of being a patriot and a villain. He knew all of his lines too the letter and said them all with authority. The way only an accomplished star can. Heís also a director so he had some great suggestions for me.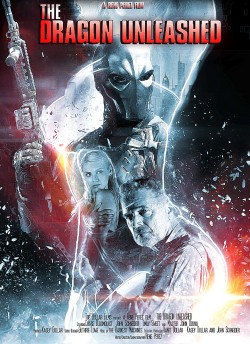 The industrial compound where you've filmed the finale of The Dragon Unleashed - you just have to talk about that location for a bit, and what was it like filming there? And how did you find it even?
Hot - we filmed in the summer but those Industrial compounds were abnormally hot. My camera over heated. I had to put it in a refrigerator. One of the scenes was filmed in a temperature of 140 degrees. There was great comrodery between the men and I because of this hardship. They all had heavy costumes and never complained once. The location itself is like a work of art.
A few words about the shoot as such, and the on-set atmosphere?
Oh we all had a great time. It was actually a pretty happy summer of filming full of wonder and innovation. All of my film shoots are fun but this one was even more so. Iím not sure why. Iím a one man crew for the most part so it was mainly just my actors and I bouncing around. My producer Kasey Dollar came along for a few days too. Lots of fond memories of filming this movie.
Anything you can tell us about audience and critical reception of The Dragon Unleashed?
Well the movie just came out today so I havenít seen any reviews yet, but Iíve been down this retro road before. The critics who are educated on film will probably understand the entire retro grindhouse angle. As for the audience, there will always be a section of them who just do not like B movies and they refuse to give them a chance. And thatís fine. This movie is not for everyone. I specifically make movies for my target audience of old school retro movie fans.
Any future projects you'd like to share?

Feeling lucky ?
Want to
search
any of my partnershops yourself
for more, better results ?

The links below
will take you
just there!!!


Right after The Dragon Unleashed, I filmed a movie called Cry Havoc that Iím very proud of. At the moment, Iím finishing up a western that is turning out to be my most epic movie thus far. Iím not certain of what the title will be for this western, but Cry Havoc is done and there is a trailer online and will be released soon.
Your/your movie's website, Facebook, whatever else?
www.facebook.com/thedarkestmachines/
Thanks for the interview!
Thanks to you for supporting indie films.