I know we've talked about it before [click here], but do bring us up to speed: Your new movie The Sacrifice - in a few words, what is it about?
In a few words, The Sacrifice is the story of a family chased by an ancient Indian demon that wants to kill its children. But The Sacrifice is also more than that. As cliché as it may sound, The Sacrifice is a character-driven movie. Yes, in spite of being a genre low budget piece of entertainment, it is very much driven by its characters. It's the story of a conservative carnivore husband with a liberal vegetarian wife, and how, against all odds, it's the latter one who is the strongest and saves the day with her drastic measures. It's also the story of a clash of cultures (Indian and American). It's a story of sacrifice, that tests how far we all are willing to go to defend our families. It's even the story of a midlife crisis of a woman who's jealous of a younger one, and arough cop that has a hard time coping with the sensitive times in which police actions are judged by the media. Without all these characters and their conflicts, The Sacrifice wouldn't be that much; or maybe, it wouldn't even exist.
As The Sacrifice at heart is about a slightly dysfunctional family - is any of the film based on personal experience, and to what extent can you see yourself in the movie's main character Tony (or any of the other characters for that matter)?
Always... as an independent producer/writer/director, there's always a bit (or a lot) of one or more characters that are based on myself or people I know. Since I will not talk about "people I know", then let me just say that more than one character in The Sacrifice has traits of me. The practical no-nonsense approach to solving problems that Tony shows facing the enemy; but also the cold-blooded calculative way in which Sheila (Tony's wife) ends up manifesting as the movie progresses. I could confidently say that anything vicious and twisted is based on me, and anything nice and gentle in "people I know"...
At times, The Sacrifice tends to get quite violent - so do talk about the gory bits in your movie for a bit, and how were they achieved? And was there any line you refused to cross on that front for other than budgetary reasons?
I'm a big fan of mechanical effects, so all the gore was achieved resourcing to the skills and talent of Valerie Vanderkolk (special effects make up) and Robert Veach (mechanical effects). There are digital visual effects, but none of them were applied to resolve gory scenes. David Pellenz did a wonderful job providing visual effects that the audience might never notice are there (matching sunny days with snowy days by adding digital snow, masking regular cars to make them look like patrol cars, etc, etc).
Back to the blood and guts, the only restrictions I imposed on myself were related to my desire to build up instead of splattering the audience from the get-go. So, if the first crimes are more subtle, that's just a way to build up gore until things get really sticky at the end. And, as you very well know, things do get explosively sticky at the end...
What can you tell us about your directorial approach to your story at hand?
I wanted to tell a fantastic story with the conventional realism of a gritty cop movie from the seventies. The action scenes you refer to in your review, are the result of my endless admiration for movies like The French Connection or Bullitt. Megan Etlinger's cinematography is sober and purposely devoid of unnecessary flamboyance. We wanted the audience to feel inside a regular everyday drama, as a way to kick the audience in the teeth with horror when they are in the middle of a relaxed smile...
Do talk about your key cast for a bit, and why exactly these people?
As you know, most of the movie is centered around the character of Chicago Police officer Tony Salerno. It was very difficult to cast. We did numerous auditions, and even when very good actors showed up for it, at the end of the casting process, we still didn't have the right actor for the role. I was honestly quite worried. I had written a character driven movie, based on a driver I couldn't find... And then, I was introduced to Franco Steeves. In our first meeting, I thought he looked the part, but I also thought his personality came across as someone pretty much opposite to Tony Salerno's character. That was a challenge that I took with caution. I'm so glad we took that chance. Franco turned into Tony on cue. He is an intelligent actor who understands the nuances without even the need to talk about them. He did a wonderful job.
When it comes Sheila (his wife), the story is completely different. I wrote the character for actress Elizabeth Abraham, with whom I had worked in previous projects. I borrowed Elizabeth's deep sweet voice, big bright dark eyes, and calm personality, and infused them all into Sheila's characters. Notice I said "deep/sweet", "bright/dark". I wanted to create a character that is rich in contrasts and crafting it around an actress I knew, was the best way to achieve it. Similar was the case with the character of Nancy Clark and actress Jennifer Lenius. In this case, I had worked with Jennifer in Bachelors Grove for the first time. I had notice her amazing talent to change her personality on cue (something priceless in filmmaking). So much I wrote this character for her, that when we premiered Bachelors Grove last summer, I called her "Nancy" when I greeted her. Of course, she didn't understand what I meant, until I sent her the new script months later. Victoria Flees played officer Stacey Palmer. Palmer is Tony's partner, and she might (or not) have an affair with him. I needed an actress that could portray someone so lovable that audiences would side by her no matter what. Victoria achieved this by infusing humor and intelligence to the character. Finally, let me say a few words about the kids. You know, everything they say about working with children and animals being the big "no-nos" of any movie making process... not true. At least, not in this case. Arman Bajpai and Aditya Kukreja play little Indian brothers Samir and Pran. They are wonderful at transmitting that sense of fragility, mystery and even humor that keeps you liking them and afraid what might happen to them all the time. Also, young actresses Grin and Giuliana Islas (yup, she's my daughter) played sisters Carla and Antonella Salerno. Each one of them has different function in the not so functional Salerno family. Their spontaneity and fresh performances bring drama and humor in all the right places. I had a blast working with this cast, e specially with the children.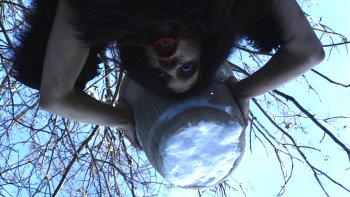 What can you tell us about the shoot as such, and the on-set atmosphere?
It was family all the way throughout a very cold and rough winter. I have a system tailored to our limitations (budgetary mostly) We never work more than 8 hours a day, Saturdays and Sundays. Of course, this implies spending an entire winter shooting. In that long period of time, we became family. My co-producer Debra Fleming and my wife (associate producer) Marisel Islas motherly took care of all of us by catering us home-made hot meals, and very popular desserts. Of course we did have long icy exterior days in which we had to manage to brave the weather. In particular the day we shot the chase and fight scene in the alley, it was a low temperature record for Chicago. We really really froze our butts, but the family ties kept us warm enough to achieve all the shots. Stunts by Brian Connelly and his team, and the meticulous instructions by our police consultant and associate producer Elizabeth García made a very difficult day easier to carry and we finished right before sunset.
The $64-question of course, when and where will the film be released onto the general public?
The Sacrifice will have its world premiere Saturday September 5 at 10pm at the Montevideo Fantástico Film Fest in my country, Uruguay.
The US premiere will take place during the Chicago Horror Film Festival, Saturday September 26th at 3pm.
And the general free release to all audiences will be on Halloween through my YouTube channel newalphastudios. Beyond that, there are plans to release a DVD editions in a 2 pack with Bachelors Grove, probably by the first quarter of 2016.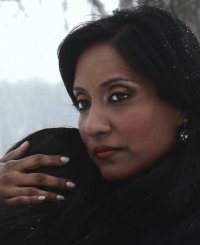 Feeling lucky ?
Want to
search
any of my partnershops yourself
for more, better results ?

The links below
will take you
just there!!!

Find Ricardo Islas
at the amazons ...

amazon.com

amazon.co.uk

amazon.de
Looking for imports ?
Find Ricardo Islas here ...
Something naughty ?
(Must be over 18 to go there !)

Anything you can tell us about audience and critical reception of your movie yet?
Not really, since at the time of this interview, the only showing has been a private screening that we had in August. Of course, the place was packed, and not everybody there had been involved in the movie. What I could observe was several big scares that effectively shook the viewers... That's always a sadistic delicious pleasure...
Any future projects you'd like to share?
I'm taking a little break right after shooting two movies back to back. My plan is to spend this winter writing a couple of scripts (one in English and one in Spanish). I have some ideas, but nothing concrete enough as to share yet.
Your/your movie's website, Facebook, whatever else?
My YouTube channel: https://www.youtube.com/user/newalphastudios
My Facebook page: https://www.facebook.com/ricardo.islas.961
The movie's Facebook page: https://www.facebook.com/TheSacrificeFilm
Anything else you're dying to mention and I have merely forgotten to ask?
These movies we've been making in Chicago for almost 20 years are possible because many folks believe in the pleasure of enjoying the ride over arriving at any particular destination. Executive producers Steven Walanka and Ned Ricks (also actors in Bachelors Grove and The Sacrifice) have joined forces with me to make our and many others' dreams possible: to tell stories and have a blast in the process. We welcome more dreamers. The doors are open.
Thanks for the interview!