Your latest movie (and debut feature film) is called Distortion. In a few words, what is it about?
Distortion is about the character George who begins getting visions of people being murdered. He soon discovers that the killer is William Clark a serial killer who had died decades earlier. He has returned from hell to hunt down people who will one day become soldiers in the fight between good and evil. Only he must do this before they become aware that they are these soldiers. George has become aware early which is why he gets these visions and also the only person who might be able to stop him.
What were your main inspirations for Distortion?
I had decided back in 2002 or early 2003 that I needed to make a film. I kept calling myself a filmmaker but had little to show for it. So at first I decided to make a short film. I wrote it and really liked it but knew it was going to take some work. I figured if I was going to put that much work into something I was going to make a feature. Why not go all out? However, since I was working in the opposite way by not having a script or even a story I had a lot of thinking to do. You can't really force creativity. You can help do things to try and spark it but you can't force it to just happen. I took the title of the short film but knew I could never turn that into a feature. Although I might actually still make that short as part of an anthology I'm considering doing next summer. So it took a couple of years total for me to come up with the story and write the script. It went through several rewrites. The original script was more of a slasher film. The problem was after the set up it was nothing more than every other slasher film. So I took the set up and walked away from it for a few months until one day the ending came to me from literally out of the blue. So I had the beginning and ending of a story. Now I just needed to fill in the gaps. And out came the current version of Distortion.

From an artistic standpoint I tend to like more of an older style. While I do use handheld shots I don't make it shaky cam. I like fluid shots. Kind of like John Carpenter. I love his style. But I do love a lot of editing. Not in a rapid confusing way. Just in creating energy like George Romero. Obviously those two are literally two of my idols. And probably the biggest influence on me with this film. But there was also a lot of Michael Mann influence. Manhunter was watched many times. David Fincher was another. Not just Seven but even Zodiac which had come out during the time I was working on the film. Robert Rodriguez was a big influence. The way he makes his films really showed me I did not need a lot of money or a lot of people to make something. I could list so many filmmakers but overall stylistically you could say it was shot like a John Carpenter film and edited like a George Romero film. Not saying I am anywhere near in the same league as they are. Not even close. They were just very much a big influence on me and on the film.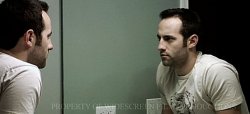 The lead character of Distortion is a video editor, which is not too far removed from your own profession. All the fantasy aspects of the film aside, are there any autobiographical traits worked into Distortion?
Very much so. In everything that I write all of the characters, at least the main characters, have several personal aspects to them that come right out of me. Not always on the surface aspects but their reaction to something. More emotional. I can tell what I was going through emotionally at the time whenever I see or read something I made during a specific time of my life. So for me the film is very personal. I made it to work on an entertainment level but under the surface it is personal. I don't think I could make one that wasn't. The fact that the lead character has confusion and doubt about what he is I'm sure was a lot of my own fears and doubts knowing this was going to be my first feature film and my feelings as to whether or not I was going to succeed or fail at it.
As far as I know, you made this film with virtually no crew other than yourself. Why is that, and what did a typical day of shooting Distortion look like?
Outside of one day, which was the last day of principal photography, where a friend was there to help I had no crew for the duration of the shoot. That was a decision I made early on. Because I was not shooting consecutive days but instead everything was spread out (some weeks I even only shot one day) so I could work around the actors' work schedules and I knew that figuring out when to shoot with the actors working and the availability of locations was an issue. Let alone have a crew on top of that. If you can't pay people you can't ask them not to work either. I knew if I had to do that for a crew as well that it would be a logistical nightmare. Once the decision was made I just plunged ahead with the understanding that is how it was going to be. It created a nice laid back atmosphere too. So each day was not overly stressful. The actors could just work on what they needed to do and I think it made it so there was no reason for them to ever feel self conscious. I would show up with my gear and walk through the location. and get everything prepped. The actors would show up and we would walk through the scene. They would go off and rehearse. I would set up and we would then shoot. As I've often said, it was difficult but never hard. And considering I'm about to do it again I'd say I'm ok with it for now.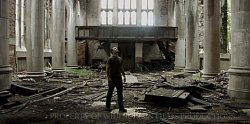 Do you consider working without a crew a handicap or does it nurture your creativity?
It can do both actually. The downside is it can wear you down both physically and mentally pretty quick because you have to think and do everything. And if you're doing a 15 hour day then by the end of it you can be practically a zombie. On the plus side though you are not wasting time explaining everything that you want to the crew. You want something done you just do it. If you want to try something then before you even finish the thought you can already be setting it up. Working on pure creative instinct. I find it quite invigorating but I also know everything that I'm doing. I have spent years learning all of these aspects of filmmaking and several of which I do for work. When you work on a corporate shoot for example there may be only two of you for the shoot. You're setting up the camera, rigging the lights, getting the sound ready. I just applied that same technique to a narrative film. It does mean I can't do overly elaborate shots but I can also work at almost the speed of thought.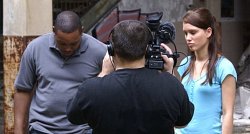 What can you tell us about your cast, and how did they deal with the absence of a crew?
The cast was incredible. I looked a long time to find the right people and luckily I did. From the time I put out the casting notice to when the cast was finalized was about 8 or 9 months. I warned them in advance about the no crew aspect and at first I think some of them were apprehensive fearing this film might be one of those ones that we see a lot of on the independent film circuit. The ones that look horrible and look like they were shot in someone's backyard. On the first day of shooting I was able to show them that I knew what I was doing and that made them feel a lot more comfortable. After a few weeks though I could tell they were starting to wonder if the film itself looked as good as it felt while filming. I edited a few scenes together and once they saw them they were confident the rest of the shoot. Luckily now for future projects I make in the same way I have Distortion as my backup. I didn't have that before so it is comforting having a film to back up what I say. And kudos to the actors for being the first ones to trust me under those conditions.
Your film's website, and when and where will it be released?
Right now Distortion is being submitted to festivals literally all over the world. Outside of a few friends and the cast no one has seen the film so I am both excited and terrified to have it shown in front of an audience. Everytime the trailer has been shown in front of an audience it has been received really well so I'm hoping people feel that way about the film as well.
While Distortion is your debut feature film as a director, you have been in the film industry for years, and you have even studied film. What got you interested in film in the first place, and what can you tell us about your beginnings as a filmmaker?
In many ways the seed was planted when I was about 4 years old. My parents took me to see Star Wars and it literally changed my life. I was forever fascinated by the moving image. I started watching movies and television differently. When I would play with my toys my eye became the camera and I would go in tight for a close up on my action figures or pull back for wide shots even before I knew what any of that meant. As I got older I studied movies and tried to get my hands on anything and everything I could. This was back before the internet so I had to rely on the occasional TV special, books, and magazines for information. Specifically Fangoria. That magazine was such a find for me. They interviewed directors, actors, special effects people, everyone. It was just a wealth of information. Plus it was on horror films which I love. And most horror films are low budget and independently made so I was getting those stories at a young age. I knew I wanted to tell visual stories and when I found out that is what the director did I knew that was what I wanted to be. I went to film school at Columbia College Chicago where I studied all aspects of filmmaking not just directing. I wanted to learn it all. So when I graduated I was just ready to explode with everything I knew. But at the time it was still a film based world. This was right before the digital revolution took place so making anything was hard and expensive. I tried making a feature after graduation, an action film called Drop Off. I wanted to make it like Robert Rodriguez made El Mariachi but was convinced by people that it couldn't be done. Instead I was told to make a promotional trailer and raise money for the feature. Well, needless to say I have a promotional trailer to show but the feature was never made. Years later though I was able to make a film the way I wanted to make it with Distortion. And my next film, Dark Light, will be the action film I never got to make. While the story is completely different than Drop Off I never lost the desire to make an action film on this level.
Over the years, you have directed quite a few shorts. A few words about those?
I've been lucky enough to produce a few short films for some very talented friends including the drama Broken Echoes directed by Kirk Sanders, a film I am very proud of, and the Star Wars parody The Skywalkers from Joseph Hillock. More recently I have been fortunate enough to co-direct two dark comedy short films written by a very talented writer Stephen Bastien. Both of them, The Interrogation and The Last Option, were made in a similar fashion as Distortion in that there was no crew. Just me, my gear, and the actors. Each one shot in a day. Those were a lot of fun to do. Mike Pusateri, who plays the character Sam in Distortion and will play Phillip in my upcoming film Dark Light, introduced me to Steve who was looking for someone to help turn his scripts into short films. So I have to thank Mike for that.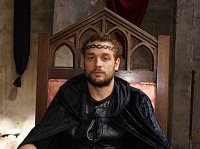 For years now, you and fellow filmmaker and frequent collaborator Kirk Sanders have been trying to put together a futuristic adaptation of William Shakespeare's Macbeth. Why Shakespeare, why Macbeth, and at which point in development of the movie are you presently?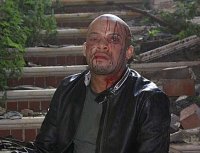 It is a long time in the works but we are determined to make sure we do it the right way. This is very much Kirk's baby. He came up with the original concept which takes the original play, verse and all, and sets it in a post apocalyptic setting. We explored the characters very deeply. We didn't just take the play and slap a different setting on it. We spent years fleshing out the characters more and adding a strong visual sense to the story but never changed the original story or the verse. Shakespeare for me always felt like homework. I never really got it. Kirk was a Shakespearean trained actor and he opened my eyes to how to understand it. When he told me about his Macbeth adaptation I was completely blown away. Macbeth being about as close to a horror story as Shakespeare wrote with murder, witches, demons, ghosts, and a very dark tale that just lends itself to a visual medium probably more than any other of his plays. That was also one of my big attractions was how to make this film accessible, in essence, to people like me. People who may not at first understand what is being said. Finding ways of how to visually show what the characters are going through in subtle ways. Kirk and I worked on the script for years and are seeking out funding for it. We even have a promotional trailer that we made for it which I think is just amazing and shows that Kirk's baby is ready to be born.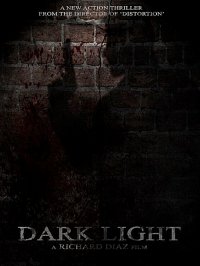 Your next film project as a director is called Dark Light I believe. Anything you can tell us about that movie yet?
It is the action film I have been wanting to make for a good 14 years now. Not specifically as far as the story goes but overall the idea of making an action film. I love movies of all kinds as a film buff but horror and action are my two favorite genres as a filmmaker. I love drama but I'm not so sure I could make a straight drama. I like infusing drama into genre pieces. And this one I am really so excited about. I have friends who tease me because they know I am a big Christopher Nolan fan so when I announced the film a lot of them kept calling it Dark Knight. I even debated changing the title but I came up with the title and basic story about 7 years ago. The title is in reference to a line in the script," ... when all that is left is the dark light of the soul." When I first decided to make a feature I thought about making an action film since I never got to make Drop Off. I came up with the basic concept of Dark Light but at the time decided that I wanted to concentrate more on horror. So Distortion came about. I still loved the idea so when the time came for me to start thinking of doing a second film I originally was going to do a second horror film but I felt like I was traveling down familiar streets. So I decided that now is the time to go back and make an action film. So I revisited the Dark Light idea and all of these new ideas popped in my head so off I went to make it.

On the one end it is very simple. A basic revenge story where this guy Carter comes back into town after his cousin is murdered only to discover that the city he's coming back to is not the same one he left. Everything is controlled by a guy named Derek Drake and Carter's cousin was just another long line of murders committed by Drake and his men. Everyone wants Carter, with his military background, to come in and be this big hero and take Derek Drake out but he isn't sure he can. A lot of room for some dramatic elements which I love plus a whole lot of action. I literally have no clue how I will do half of it but that is the exciting part. If I knew all the answers now then why bother? I always said that if I'm not scared then a project isn't worth making. Well, this one is worth making because I am terrified!
Are you once again planning to be your whole crew on Dark Light or will you accept some outside help this time around?
I will be getting some outside help with certain things but overall a lot of it will once again just be me. Mainly the dialogue scenes will be just like on Distortion. The action scenes for example there will be help with. A lot of the stunts and fights will be done with the help of an amazing professional stunt group in Chicago called Asylum Stunts which will really make the film a lot more exciting and bring it to a higher level. So overall it'll be mixed as far as extra help goes but at the end of the day all of the technical aspects, camera, lighting, sound, will mainly be just me.
Any other film projects (past, present or future) you'd like to talk about?
There is one I would like to mention only because I don't usually. One day I would love to turn this script I wrote called Another Sunrise into a film. It would require a bit of a budget, and even a crew, so I need to keep it on the back burner for now. But I really think it is the best thing I have ever written. It's about a group of bank robbers wanting to pull one last job. I just love it and can't wait to make it one day. Another script is a werewolf script called Red Moon which I would love to do. Imagine Seven meets The Howling. Again, I would need a big budget for that one. So hopefully one day for those. In the near future I have two projects. One is called Killer Talk about a talk radio host who does a show about horror films but he becomes obsessed with a local serial killer. So much so he tries to track him down but soon finds out that real murder is not the same as it is in the movies. Another, which I might make this summer, is called Strange People. Basically it is three short films I have written over the years that I never made but oddly enough all have similar themes. So I might make an anthology horror film which would be cool. A fun thing to do and it's a way to not let those stories fade away. Including the original short I wrote called Distortion which was much different than the feature film.
You have pretty much worked in every capacity in filmmaking, from writing, directing and producing to filming, editing and whatnot. What do you like the most, what could you do without?
Directing is always my full passion. I love being the storyteller. For me the other things are just extensions of directing. I produce what I need as a director. I shoot what I see as a director. I edit how I feel as a director. Out of all of them I hate producing but it is a necessary evil. Ironically one that I probably won't give up because I do like to keep a certain amount of control over projects I am involved with. I won't lie. I can be a bit of a control freak. Producing gives me that. I love editing. I really do. Those moments when it's 2am and you just finished editing a scene and you sit back and watch it is like a high. A creative high. Something that just can't be replicated. I think it's why I don't do drugs and even rarely drink. Nothing comes close to the high when you have just created something. And I experience that while editing. Shooting is the only thing I'm not fully sold on. I love working the camera but lighting is not my strongest thing. I admit that. While I am good at it, I don't mean that to sound conceded, I know what I can and cannot do and I know I can light something good. But I can never be great. I am amazed when I work with a really talented cinematographer and see how they come up with how to light something. If I had to give something up I would give that up because there are so many people who can do a better job than I can. But for right now I must admit I am enjoying it. One thing I wish I did do more of was acting. I love to act and have in a several things over the years. Also studied it back in school. When I told an acting teacher that I only took the class to be a better director she insisted that I not give it up and pursue it which was such a compliment. I do love doing it and hope to do a lot more.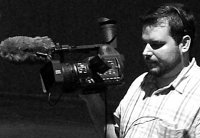 A man with as much experience in every aspect in filmmaking as you, do you have any advice for rookie or wannabe filmmakers?
The key is to just go do it. Get whatever you can and make your film. Put the word out if you don't have immediate access to stuff. You'd be surprised what you will find. Don't have a camera? Find a DP that has their own. Don't have editing equipment? Find an up and coming editor who needs stuff for their reel. If you have a script or an idea for a movie but you need to raise money for it then don't make that one yet. Make something that you know you can make right now with whatever you have access to. Make a name for yourself on some level. Then you can go for the bigger project. When someone asks you what you've done you can tell them you've made this film or that film. Trust me. It's better than saying nothing. You don't need a lot of money or a lot of people to make a film. Just know what you have and use it. And don't be afraid to ask people for help. You will be surprised what you can get. Always be polite. And always ALWAYS have food around. If you can't pay people then feed them. If you do spend money on something I cannot stress how important it is to get production insurance. I know it's a lot money up front but having it, and you can get a blanket coverage that lasts for a year, will cover any injuries to the actors that might happen, any damage to equipment or locations, but it also opens doors. You go into a business or restaurant and ask to shoot your film in their location and you don't have money to pay them but if you tell them you have insurance then people are much more receptive to it. I just hope the way I've made my films inspires people to go make their films. You don't need a lot of money, people, or even a lot of equipment. You need the knowledge and the dedication. No one will work harder on your film than you. At the end of the day it is just you and your film. You will face hardship, disappointment, fatigue, stress, and possibly self doubt. But at the end of the day you can sit back and have your film right there in front of you. That is a sense of accomplishment that no one can take from you. Getting there though is no picnic but if I can do it then you can too.
Directors who inspire you?
There are so many to list. I'll try and list a few that I have admired the longest or have had the strongest impact on me. In alphabetical order - Dario Argento, James Cameron, John Carpenter, Larry Cohen [Larry Cohen bio - click here], Francis Ford Coppola, David Cronenberg, Alfred Hitchcock, Stanley Kubrick, Akira Kurosawa, George Lucas, Michael Mann, Robert Rodriguez, George A. Romero, Martin Scorsese, Steven Spielberg, Quentin Tarantino, John Woo. Oh man. I really need to stop or I'll keep naming people.

Feeling lucky ?
Want to
search
any of my partnershops yourself
for more, better results ?

The links below
will take you
just there!!!

Find Richard Diaz
at the amazons ...

amazon.com

amazon.co.uk

amazon.de
Looking for imports ?
Find Richard Diaz here ...
Something naughty ?
(Must be over 18 to go there !)

Your favourite movies?
You have found my weakness and that is making lists of things I like. This can get out of hand so easily. I love movies of all kinds but I'll try and keep the list short and to the point if I can. A few would be - Casablanca, A Clockwork Orange, Creepshow, Dawn Of The Dead, Escape From New York, The Exorcist, For A Few Dollars More, The French Connection, A Funny Thing Happened On The Way To The Forum, The Godfather, Heat, Jaws, The Killer, Manhunter, Pulp Fiction, Raiders Of The Lost Ark, Rear Window, Seven Samurai, Singin' In The Rain, Star Wars, Suspiria, Taxi Driver, The Terminator, The Texas Chainsaw Massacre, The Third Man, The Wild Bunch, Videodrome. Ah! I really need to stop or I'll keep going.
... and of course, films you really deplored?
Haha I have to admit while there are films I don't like I can learn something from them. Even if it's what not to do.
Your website, Facebook, whatever else?
Thank you so much for asking. My website is richarddiaz.com. I also have one for each of the films at distortionmovie.com and darklightthemovie.com. And people can friend me on Facebook at facebook.com/richard.diaz. Plus both of the movies have Facebook pages as well.
Anything else you are dying to mention and I have merely forgotten to ask?
I just need to give a shout out to all of the people that constantly support me. I don't want to start naming names because I know I'll forget someone but they know who they are. I am just one guy at the moment trying to get these films made so outside of making the films on my own I am also the only one promoting them. So all of their support, and the support I get from people on Facebook and Twitter, is something I can never be grateful for enough.
Thanks for the interview!
This has been a real pleasure for me and I seriously cannot thank you enough for this.