Your new movie Shadows of a Stranger - in a few words, what is it about?
The film is about a struggling private investigator who is presented with a mysterious job: to bring a missing man home by Christmas. To do this he enlists the help of a reclusive young psychic and the two of them go on a cat and mouse pursuit to track down this missing man, something that leads them further and further into peril!
How did the project fall together in the first place?
I had been working with my friend Chris Clark [Chris Clark interview - click here] on a couple of feature film projects with another filmmaker. Unfortunately things weren't going so well with them and the wheels were falling off, so we were feeling very down and frustrated with everything. For some reason I decided to show Chris a script that I had been working on – it was something I'd written way back in around 2002 and had tried to sell to film producers. It was intended to be a big budget production with A-list stars, but Chris really liked the script and came up with a plan whereby we could make the film ourselves, and that was by shooting everything on blue screen. That way we could create a stylized environment in post-production which made sense seeing as the film was set in a big city rather than the fens and fields of sugar beet that we had around us in Lincolnshire! Somehow things fell into place nicely – it felt like the universe really wanted this film to be made as people came to us, crew members, actors, plus one guy came to us with an extremely important element: a place for us to set up a blue screen studio where we could film it all! There were many ups and downs along the way: tragically our lead actor passed away as we were building the first studio, and then we were kicked out of our studio space just as we were finishing building the blue screen. But it all worked out in the end as our friend found another place to build a new studio and it was way better than the first studio. So by a lot of belief and perseverance we eventually got there, filming the bulk of the film in the summer of 2010 and then spending many years afterwards creating the post-production effects and filming endless pickups.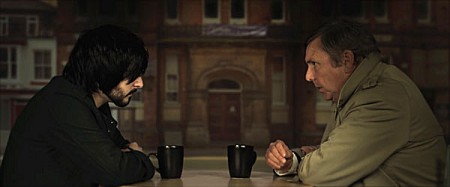 What were your sources of inspiration when writing Shadows of a Stranger? And in what way could you identify with either of your protagonists?
At the time I remember I was reading a lot of Dean Koontz books, but I also had a big interest (and still do) in the powers of the human mind, and psychic abilities, so I was reading a lot about that subject. I think the dynamic between the two main characters Xander and David was born out of my circumstances at the time. Back in 2002 I was still fresh out of university starting my first job, wet behind the ears. I was taken under someone's wing, a guy who ran his own business. We got on really well which I always found odd as he was so completely workaholic and down-to-earth whereas I was quite the opposite – rather shy and head in the clouds. It was like we balanced each other out, which is essentially what happens to the characters in the film. Xander comes out of his shell and 'walks abroad among his fellow men' and David stops and realises there was more to the world than his worldly mind could perceive.
Do talk about Shadows of a Stranger's approach to the thriller genre for a bit!
One of my all-time favourite films is Se7en. I remember seeing that film and thinking that that was exactly the sort of film I would want to make. So that was definitely an inspiration when I was writing and making it, where characters who are essentially good people are brought down into the darker realms of humanity. It's not all about catching the bad guy, it's also about the psychological journey that our heroes are dragged along on, about recognizing the shadow in themselves, recognizing that capacity for evil is there inside them as well.
You filmed Shadows of a Stranger mostly in front of a blue screen, using quite a bit of CGI - why, and could you talk us through the process of filming that way for a bit? And how did it influence you as director?
The reason for the blue screen approach was just to enable the whole thing to happen in the first place. We didn't have the budget or resources to do it out in the 'real world'. It meant that I had to explain the surroundings a lot to the actors – I remember, for example, showing Colin Baker photos on the internet of the big mansion that his character lives in (we later went and photographed this very mansion for the film).
It probably helped with scenes such as the office scenes where we had physical furniture on the blue screen – something for the actors to mentally latch on to and anchor themselves in this imaginary environment. From a directorial point of view, as you know, Chris and I shared duties. Chris would focus on the technical side of things whereas I focused on directing the performances out of the actors. When you're in a stark, featureless blue screen studio I think it was quite conducive to the tone of the film in a lot of ways, in that there was more inner focus rather than being distracted and influenced by the environment. There's a natural bleakness and melancholia to the blue screen which matched up with the film well.
With the experience gathered from Shadows of a Stranger, would you ever shoot another movie that way?
No!
I suppose I should never say never, but really it was something that felt right for that particular project and at that point in our lives, but I just feel like it's a t-shirt I've got now.
What can you tell us about your overall directorial approach to your story at hand?
In terms of the performances, I tried to go for quiet and brooding and subtle, trying to keep it under the surface rather than having a load of showy, shouty stuff. When you're creating your own environments in post-production you can really think about the mise-en-scene side of things and get things really precise in the detail. You can convey so much there.
What can you tell us about your cast, and why exactly these people?
I think our cast was weirdly different in that you have all these recognisable faces (or voices) popping up, mixed with actors from independent films, mixed with actors we sourced from our local town. We knew for the main actors we had to have people from our home town of Sleaford – Chris [Chris Clark interview - click here] was always set to play Xander. David was going to be played by a professional actor I'd befriended and who lived near me, James Aubrey. He wasn't doing so well though and right before we were about to start filming he passed away. Fortunately we'd had some successful audition sessions so we were able to look back at who we'd seen and found our lead there, which is when Ian Mude stepped in. He was originally set to play one of the policemen in the opening scene so after his 'promotion' we then had to recast this policeman – our co-producer Kit Tinsley got his brother to do that one in the end! I actually think our cast was one of the best aspects of the film. It was something we spent a lot of time on – even when we had the problem of recasting our lead. I think we got a really strong group of actors together and they all fit into their roles really well.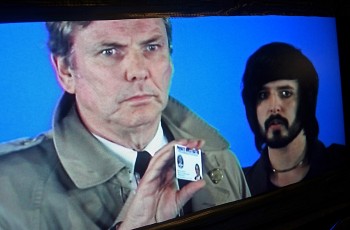 A few words about the shoot as such, and the on-set atmosphere?
We shot the bulk of the production over the summer of 2010 and for me it was a really great time. I'd worked out the schedule, and I made sure that we could go at a pace that would suit us all, so generally it was relaxed. There were inevitable tensions sometimes, and some days were really hot in that barn. I remember remarking at the time to Ian that we seemed a right bunch of rag tag scallywags and perhaps we were somewhat a bunch of filmmaking misfits (no more so than myself I hasten to add!). Ultimately it seemed we didn't even fit in with ourselves, but I hope that everyone enjoyed the ride.
Anything you can tell us about critical and audience reception of Shadows of a Stranger yet?
I think the picture is still emerging on that one. But if I combine what we've seen already with my hunches, I would say that I think a certain amount of people find it really unusual, perhaps to the extent that they don't really know what to make of it. Some people evidently think it's total trash. Reassuringly there are some people who 'get it' though. I think people with a film brain understand the film, and understand what must have been involved to get it made and they appreciate what we've achieved – we've seen this in the critical reviews. So really we've had the whole spectrum of reactions. By putting it on Amazon we realise we've essentially entered it into the great sea of choice alongside 'proper' industry produce, and I do wonder if the audience is watching far enough into the credits to see that there isn't some massive long list of visual effects artists but just two people.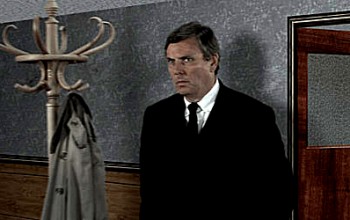 I guess I'm looking forward to a bit more critical engagement with the film from audiences. We live in an on-demand age where people form quick opinions and need to be instantly hooked – the pop music industry, for example, is totally geared up that way, and maybe audiences are conditioned to get hooked on movies by painting-by-numbers trailers featuring heartbeat sound effects, someone screaming, an explosion, someone saying something about 'being at war' etc… We don't have the benefit of a global advertising campaign and publicists getting us on TV shows or influential people telling you it's good so you must like it too. We're kind of hitting audiences cold and, like I say, maybe they don't know what to think. I probably wouldn't either, not without watching it again – it's more likely they'll be onto the next thing though rather than taking time to reflect on it, in this 'infinite content' world. Shadows of a Stranger probably doesn't give that instant hit like the latest single from Little Mix or the latest superhero film might.
We've gone our own way on this one, so if you're looking for a high octane, ultimate in CG special effects flick, something that goes bigger and better with its visuals of destruction, always trying to outdo the last big thing, then Shadows of a Stranger is not the film for you.
Any future projects you'd like to share?
To prove we've moved away from the blue screen, we've now started work on our next production, which is a horror film called Video Nazi. It's completely different from Shadows of a Stranger – a comedy horror, with maybe a lot of shocks and outrageous stuff along the way. It did start off as a semi-intelligent straight-laced horror, but we decided to take all the intelligence out of it and go out and out ridiculous. Sorry to add to the dumbing down of civilisation but I've come to the conclusion that we're screwed anyway.

Feeling lucky ?
Want to
search
any of my partnershops yourself
for more, better results ?

The links below
will take you
just there!!!


Your/your movie's website, Facebook, whatever else?
We have a whole bunch of places for our adoring fans to connect with / abuse us:
www.facebook.com/shadowsofastranger
Anything else you're dying to mention and I have merely forgotten to ask?
Nah.
Thanks for the interview!
Thank you!