Your new movie Muse - in a few words, what is it about?
Muse is about Harry Newman, a Stephen King-esque author struggling with writers block following the deaths of his wife and daughter. His agent Mr Williams suggest he retreat to his country house in the South of France to clear his head and whilst there he befriends a new neighbour who bares an uncanny resemblance to his daughter - that friendship soon turns to a distorted and perverse obsession and things spiral out of control from there.
What were your sources of inspiration when writing Muse, and was any of this based on personal experience?
Originally, no, it wasnít based on any personal experiences - it was heavily influenced by Misery by Stephen King and also Secret Window. It also draws on a lovely little short story called Whistle and I'll Come to You by M R James. When I originally wrote the first draft years back, the ending was a lot more sinister and twisted. It went through various guises over the years; this movie has been one of those projects that just gets stuck in 'development hellí. Either the money would fall through or a member of cast would hit the big time whilst we were trying to get things together and then we couldnít afford them. I was also busy off having children and various projects came along. Then late last year we finally got the film greenlit and my best friend had just passed away, whom the film had originally been written for. Heíd remained onboard as a producer, as much as his health would allow, but sadly he never got to see the finished product. But when writing the final shooting script, it became a lot more about grief, and then twisted ending got removed. It just felt right.
For Muse you've chosen a rather slowburn approach to horror - care to elaborate?
I think the last movie I saw before we shot (and I took several cast and crew to see it multiple times before we started shooting) was Hereditary and I adored it - it terrified me but I thought it was phenomenal - that slow burning grief that takes centre stage - it's much more of a psychological horror that really gets under your skin slowly - Iíd say its equal measures horror, thriller and drama.
Muse was shot mostly in the South of France - so what were the advantages but also challenges filming there?
The only challenge was it was terrifying at night - the top floor hadnít been refurbished and there was still German writing on the walls from occupation during the war. We definitely slept with the lights on - we were fortunate enough to all be able to stay at the place, so there was a wonderful family atmosphere. Nicholas Ball would take on the role of lighting the fire for us every lunch time - and opening the bar - youíd come down and find another actor cleaning in their pyjamas, etc - it was just a wonderful shoot - everyone got on, ate together, laughed together.
Richard directs Jeffrey Charles Richards and Emily Price
Since the locations play such a big part in Muse, did you write it with them already in mind, or did you have to scout for them after the script was done?
After - absolutely. When I first conceived the idea, it was called Snow and he retreated so his cabin in Norway where cabin fever set in. Then we were planning to shoot in Pasadena, where we actually did shoot a beautiful trailer that managed to get us greenlit. Then one day during pre-production, I ended up reading a random article about a couple who had restored a beautiful French Chateau. It just looked like it belonged on screen so I contacted the couple and they told me to f**k off. So we looked for other similar holiday rentals rather than via a location agency and eventually found one, owned by an author no less - again, it just seemed right, and then the final shooting script was polished with our location in mind.
Do talk about your cast, and why exactly these people?
The lead is a wonderful man named Jeffrey Charles Richards, whom I met when we shot a lovely little short film called In The Still Of The Night with the intention of using it to raise the finance for Muse. Iím sure thereís a clip from it on YouTube somewhere, if you dig hard enough. Then we did a couple more shorts together, and he was always there in the background, attached to this film that most of the time, we felt was never going to happen - but he stayed with me throughout even the most disheartening of times. Then we shot a proper trailer for the film, then again, nothing happened for two years. By the time the film was greenlit, it would have been inappropriate for anyone else to have the role - heíd been living with this character of Harry for so long, none of us could really picture anyone else doing it. Above all though, heís just a good man - the kind you want to be godparent to your kids - I look forward to many more years of friendship and movies with him, although I predict in a few years we wonít be able to afford him - he really is tremendous - so I guess the friendship will have to suffice.
Nick and I go back the best part of a decade now but Iíd most recently worked with Nicholas Ball (Lifeforce, Croupier, Hazell) on my previous movie The Krays: Dead Man Walking and he completely stole the show in that, so I had to have him again - heís so underrated, has such presence and a the most beautiful voice. I wish he could read my children stories every night! Heís the kind of actor who should really being showing up as the bad guy in an episode of Ray Donovan or Game of Thrones - heíd have thrived in something like Deadwood, so hopefully after a couple more projects together, more people will take note - he deserves it.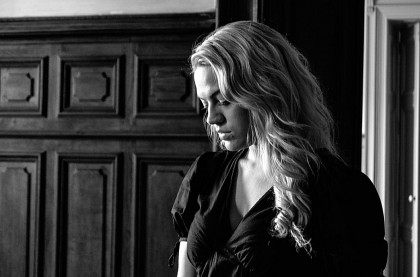 Emily Price
Emily Price was, aside from a friendship with a lovely actress named Rachel Warren, the only other good thing to come out of a shoot I was working on up in Leicester last year - it was her first film gig and she completely took my breath away - sometimes you just meet someone and know they belong on the big screen. Her attitude was great, she was incredibly down to earth, she was confident and I just kept thinking Ďif you put this girl in a movie, there isnít a man or woman alive who wonít fall a little bit in love with her!í Several months later I sent her the script for Muse, and fortunately for us, she said yes.
The two supporting roles were suitably filled by Kev Orkian, a wonderfully talented man who I adore, we met, literally, over our friend's deathbed, and again, it just felt right and Iím looking forward to working more with him. The second is Lowri Watts-Joyce, who although only in a small role, was good enough to convince us sheíll be appearing in a much more prominent one in the next film. Sheís very young but is just a naturally gifted talent - I really like her acting style - sheís one of those smart-arse kids whoís top of the drama class, always has the lead role in the school play and knows everyone's lines - not just hers - she was prompting everyone - wonderful girl.
The $64-question of course, where can your movie be seen?
Youíll find it included with your Amazon Prime subscription today in the US and the UK, followed by Japan and Germany next month. Weíve also got some festival dates coming up and will share those on our Instagram (@musemovie) as and when they come in.
Anything you can tell us about audience and critical reception of Muse?
Weíve had some very kind and flattering reviews and at a private screening in January, the audience response was great - everyone jumped when they were supposed to, laughed and cried when they were supposed to.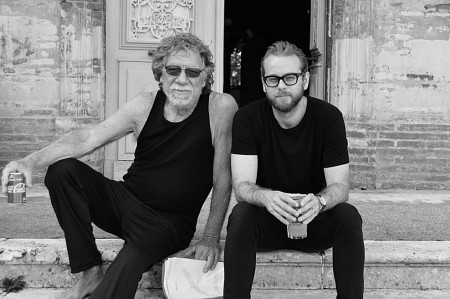 Richard with Jeffrey Charles Richards
What got you into filmmaking in the first place, and did you receive any formal education on the subject?
Itís all I ever wanted to do but I first really knew when my grandmother took me on a holiday to Blackpool - we went to Granada Studios on a day trip and did the backstage tour - I sat at this editors desk and decided íthis is what I want to do with my lifeí - my grandmother took a lovely photo of that moment, I have it on my desk at home. Then when it came to GCSEís, I took Media Studies and followed that with a BTEC National Diploma in Media Studies and Film Studies.
What can you tell us about your filmwork prior to Muse? And as far as I know, you reside in LA these days but make movies primarily in the UK - care to explain?
My main background was post-production - I started as a runner in various post houses - Cut & Run, Rushes, The Machine Room - itís strange now that when I was there, those places were taking over as many buildings as they could, and now a decade later, theyíre downsizing, closed or moving out of Soho, itís a shame. Iíve great affection for Soho but apart from one or two remaining restaurants, I barely recognise it - itís terrible what theyíve done to Berwick Street Market.
The first significant gig I had that changed it all was on a movie called Rise of the Footsoldier as the assistant editor and trailer editor. A couple of years after that I made a documentary and a couple of independent films which never really got off the ground, then I went to Los Angeles in 2013 for a meeting with an actor, and completely fell in love with it - so I came home, packed and went straight back. I met my wife, an immensely talented chef, and then I ran a film location agency for a while, which was a nice way of being on a film set every day, but not having the responsibility of it being your production - Iím about to expand that to the UK - I love architecture so combined with the film aspect, itís a really rewarding and enjoyable job. It was a nice way to keep my toe in the water whilst I took a few years off pursuing film to have kids - three wonderful boys, whom their very patient and beautiful mother definitely and unquestionably deserves all there credit for.
So it wasnít so much a choice to only shoot in London but live in America so much as the natural order of things. I alway love shooting in the UK - you can just get on and do it, partly thanks to the incredibly skilled crews we have - in the US, people just talk about doing things for so long and never actually do it. Unless youíre Marvel or Disney, itís very hard to get things started. You can get tied up by unions and red tape and thereís so many hoops to jump through.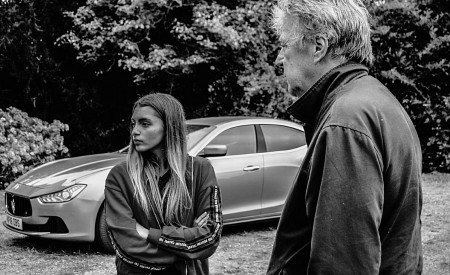 Nicholas Ball and Lowri Watts-Joyce in Whatever Became Of Richard Blaine?
Any future projects you'd like to share?
Weíve just finished post-production on a short film called Whatever Became Of Richard Blaine?, which also stars Nicholas and Lowri - itís kind of a precursor to one of two features I have in development thatís called Life & Other Times. The other is called His Last Stand.
Weíre about to shoot a horror movie, Baba Yaga, over in Los Angeles. It follows a successful film producer, whoís daughter was abducted by her mother at birth. Thirteen years later, heís reunited with her, but something sinister follows her home - itís been described as Mama meets The Orphan, which again is flattering. Iím excited to shoot it in LA - when we finished the screenplay, it just didnít feel right to compromise on shooting in Los Angeles when the story pays homage to so many iconic locations.
Then itís back to London to film gangsters swearing and shooting at each other - a film called The Hunt, an adaptation of short story called The Most Dangerous Game by Richard Connell - with two really great names weíre excited to announce soon - that one would be described as Sleuth meets Death Trap but with heavily armed gangsters.
Iíve also just started work on a book which will be out next year and I'm in the process of expanding the portfolio of locations we represent over in England.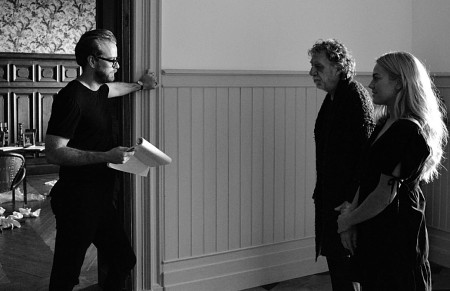 Richard with Jeffrey Charles Richards and Emily Price
How would you describe yourself as a director?
I like the way Crissy Rock said it - she compared my director's approach as reminding her of Ken Loach. That meant a lot.
Filmmakers who inspire you?
David Slade is an incredible director, both in his film work and recent television.
Your favourite movies?
Of all time? Casablanca - the ultimate Hollywood great that defies Hollywood convention - he doesnít get the girl - but he loves her - he understands loving her means wanting the best for her, even if that means not being with him. I could watch it over and over, and always make the pilgrimage to see it whenever it plays at The Prince Charles Cinema. That aside, Edward Scissorhands, Hard Candy and little known film called Lawn Dogs. As we delve further into horrors, Iíve found myself watching them in abundance - last year I loved Hereditary, Get Out and Halloween.
... and of course, films you really deplore?
I watch a lot of films - I try to give as much as I can a fair hearing, even if Iíve heard its terrible, because thereís always something you can learn - be it something you should do, or shouldnít. But if you canít say anything nice, donít say anything at all!
Your/your movie's website, Facebook, whatever else?

Feeling lucky ?
Want to
search
any of my partnershops yourself
for more, better results ?

The links below
will take you
just there!!!


My personal Instagram is @fatherandfilmmaker and you can follow the progress of Muse and our future films by following @musemovie
Anything else you're dying to mention and I have merely forgotten to ask?
I must thank a few people, for their unfaltering support, or I wouldnít be able to do what I do - the mother of my kids, who deserves the world but puts up with me instead, my kids for giving me the reason to never give up, our composer and my favourite collaborator Craig Gannon, and of course Richard, Rhian and Mark who made Muse finally possible.
Thanks for the interview!