Your upcoming movie The Krays: New Blood - in a few words, what's it going to be about?
In a nutshell, itís based around the rumours that Ronnie Kray was involved in the death of Frances Kray and the ramifications of that.
What can you tell us about your sources of inspiration when writing The Krays: New Blood, and to what extent is it based on actual events?
Thatís the beauty of doing a Krays film. Not only has there been so much written but everybody has a story about them. I donít know anyone whoís spoken to me about it and not opened with "Oh, I hear youíre doing a film about The Krays, you must talk to my mate, heíll tell you the real story...Ē Itís equal parts exhausting and useful. I was in a meeting with an actress who has connections to that world and I had mentioned to her one particularly dark twist that at the time, to me, was fictional and something Iíd made up for the script. She asked me whoíd told me as it was also a well known rumour and as I started to research even further, it turned out there appeared to be some truth behind this incident.
You have made another Krays-movie not long ago, The Krays: Dead Man Walking - so will The Krays: New Blood in any form or way be related to/a continuation of that earlier movie?
We were only actually given a stipend of the original budget on The Krays: Dead Man Walking, and to me it shows on screen and the result is that it wasnít the best film but it also sold incredibly well, and so we were asked to do two sequels - and The Krays: New Blood is the first of those. The ending is very much deliberately set up for the third and final chapter.
Do talk about The Krays: New Blood's intended look and feel!
I think Nina Cranstoun would be disappointed to read this and not see the word Ďbleakí. But it is a bleak, dark and brooding film. Things like The Gentlemen and Gangs of London make you realise thereís still so much life in the genre, but also that you have to keep doing things better. The bar is set to high, which is partly why pre-production has taken ao long - we were adamant that we wouldnít move forward with this until everything was just so.
Anything you can tell us about The Krays: New Blood's cast yet, and why exactly these people?
A lot of the cast Iíve had the pleasure of working with before. Nathanjohn Carter and Marc Pickering are back as the twins, Charlie Woodward, Josh Myers and Lacey Bond are also back, and of course Nicholas Ball. Brian Capron is joining us, who I grew up watching as Richard Hillman in Coronation Street and he's a wonderful actor, plus Michael McKell and Rachel Warren, who I met on another film a couple of years ago but this is my first time directing them. We also have two huge names joining us that will be announced during filming.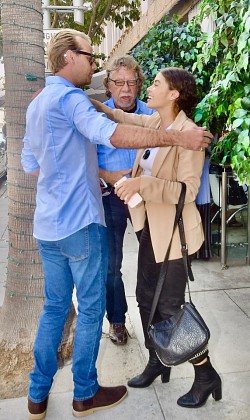 Richard John Taylor, Jeffrey Charles Richards and Jasmine Thomas reunite at Villa Blanca in Los Angeles after announcing The Huntress Of Auschwitz
As far as I know, The Krays: New Blood is still in pre-production as we speak - so what's the schedule, and any idea when and where the film might be released (even though I know it's probably waaay too early to ask)?
Weíre in the final stages of pre-production and are currently planning to shoot in June, unless we all die from coronavirus. Because we have such a huge ensemble cast, tying everyone down to the same dates has been our biggest hurdle but weíve jumped that one nowÖ almost.
Any other future film projects you'd like to share?
The Krays: New Blood will be the second collaboration between my production company Hello Princess and financiers Altis International. Once thatís out of the gate, we will be moving forward with our gangland epic The Hunt as well as the horror Baba Yaga. Hello Princess has just announced a slate of six additional films that Iím writing and directing: The Disappearance of Little Lottie, Man Eater, The Butcher Baker, The Huntress of Auschwitz, Actors Vs Zombies and Silent Assassin.
Silent Assassin was inspired by an article I read about Romanian gangs that have been dosing the babies you see with the beggars with heroin to keep them calm and placid all day long. Nicholas Ball plays a retired hitman who canít speak who gets unexpectedly wrapped up in this world when he attempts to rescue a young girl from it. Obviously, he himself is running from a troubled past and when you find out the reason he canít speak, itís both horrifying but also sad.
Iím also excited to reunite with Jeffrey Charles Richards on The Huntress of Auschwitz. It stars Jasmine Thomas as a young American girl who travels to Europe to track down a man she believes to be the Nazi guard who killed her great-grandfather in Auschwitz. I met Jasmine purely by chance at home in Los Angeles where my wife and I have a film location agency. I was site repping a shoot at our own house and Jasmine was the assistant director on the production. We got talking about her love of horror films and at the time I was looking for an actress for a proof of concept trailer for my film Muse. That trailer ultimately led to it getting greenlit and weíve stayed in touch since and when this project came up, I couldnít imagine writing it for anyone else.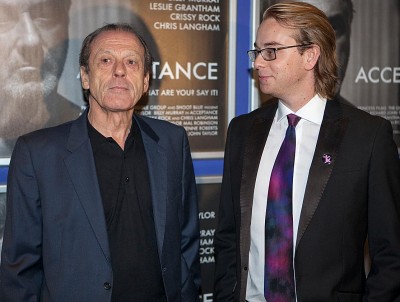 Leslie Grantham and Richard John Taylor
You've also recently written a book on Leslie Grantham - so how did that come about, what fascinated you about Leslie's story, and when and where will it be released?
Initially I was approached by a publisher, but then I decided to work on it alone. People forget he is still responsible to this day for the most watched episode of TV drama in the country. There was an assumption that after his second stint in EastEnders, he didnít really do anything but in fact he had a wonderful career on stage and also in Bulgaria where he continued to act and also wrote. There was also so much reported incorrectly about his passing and I wanted to set the record straight. Itís been very difficult to write but there were particular chapters that were therapeutic. It was originally supposed to have been released last month to tie in with the 35th Anniversary of EastEnders, but now it will be released this Christmas. There were parts of that that just didnít feel complete. Iíd often go over a page or chapter and rewrite it and I needed more time to walk away from it and come back to it with fresh eyes. Iím also in a different emotional state now to when I started writing it and that has an effect on the tone of some of the chapters that are more personal. We didnít actually work together on a film until 2012 but weíd shared a very private friendship for many years before that. I just want it to be right and know that heíd be proud of it.
While we're at it, any other book projects in the forseeable future?
Yes, two. One I canít talk about, but the second is an adaptation of my film Muse into a novel. The very first drafts of the script were much darker and disturbing and it was always a script I was very proud of, so it felt like an appropriate way to do it justice.

Feeling lucky ?
Want to
search
any of my partnershops yourself
for more, better results ?

The links below
will take you
just there!!!


Your/your movie's website, Facebook, whatever else?
Iím on Instagram: @fatherandfilmmaker
Anything else you're dying to mention and I have merely forgotten to ask?
Muse was definitely a passion project and now there is another in the works, Iíll See Myself Out, Thank You. When it will get shot I donít know, as again, it has to be absolutely right. It was an idea that was bounding around on my head for some time, and then I came across two actors, Gary and a hugely talented friend of mine, Noel, who sort of just joined the dots for me. Noel had introduced me to another musician friend of his, Nev and a song heíd written called Life. With that on repeat and Gary and Noel in mind, the script started coming to me more naturally. It follows Eddie Willis, a faded musician who discovers he has the gene for early-onset Alzheimers and decides he wants to challenge the right to die, to end his life early. Before doing so, he reunites with his best friend for one last road trip to right his wrongs with his estranged family, only to discover people arenít as welcoming or forgiving as heíd hoped so heís forced to take a hard look at himself. Itís not cheerful, but it has something to say.
Thanks for the interview!