Your new movie Vengeance - in a few words, what is it about?
Itís about revenge and it's about acceptance. Itís about a man whoís been on the run for nearly three decades but when his daughter is brutally raped, heís forced out of hiding and returns to a London he no longer recognises to deal with the attackers when the police do nothing.
I think one way (of many) to look at Vengeance is as a swan song to the gangster genre of old - would you at all agree, and is that a genre at all dear to you?
I wouldnít say it's a swan song to the genre, but Iíd certainly say it's a farewell to the way things used to be and those types of villains. The line ĎItís all changed, I donít recognise ití recurs throughout the movie with good cause. Itís of course a genre I hold dear and over the years has treated me very well. There are a lot of cheap imitation films out there but when the British do a great gangster film, itís really great. Iím talking Lock, Stock and Two Smoking Barrels, 44 Inch Chest, Sexy Beast, Layer Cake. The original Rise of the Footsoldier was a film Iím still incredibly proud to have been a part of. Did you see Will Gilbey just won a BAFTA for editing? Itís very much deserved, he taught me a lot while we worked on Rise of the Footsoldier, heís bloody good.
(Other) sources of inspiration when writing Vengeance?
It was back in 2010 when an attack took place in which someone very close to me was the victim of a rape and I was the victim of an attempted murder. It was a night I will never forget and will carry with me to my grave. Out of respect to the identity of my friend, I have never spoken about the specifics of what happened to her but I have spoken publicly about how I was kicked in the head for over ten minutes by this gang made up of three guys and a girl, all teenagers. It was only the arrival of the police and paramedics that stopped them or I wouldnít have lived to tell the tale. The consequence of the police deciding to not take any action spurred me on to make a documentary about the realities of rape and its aftermath; not just on the direct victims but those around them. After years as an editor, from that moment I decided that independent filmmaking was the path I was going to follow and I branched off into feature films.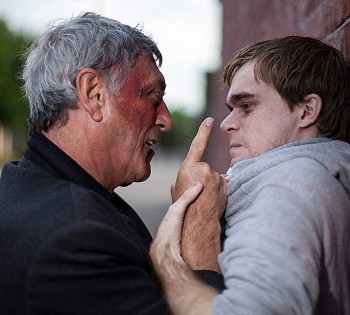 As much as Vengeance is a revenge film, thereís also social commentary in there on how much things have changed. I donít want to get too into the way things are now, because these days you canít f**king say anything without people taking offence. Christ, you canít even tell a joke anymore because weíve forgotten that in humour, offence is taken, not given. But needless to say the gist of my take on things is young hoodies with knives run the country and our prisons and police couldnít be further from a deterrent.
To what extent could you identify with the lead character of Vengeance, and was Eric in any way or form based on yourself?
Iíd identify with him so much as I fully understand his frustration at how the authorities deal, or rather donít deal with the situation and his rage at the attackers. I wouldnít say he was based on me. Maybe he was based on a version of me that I wished I could have been at one point in time. Thereís something to be said for the way he tries to deal with whatís happened, he definitely means well and thereís no doubt heís seen some s**t.
Although my film proceeds this indecent, I fully understood what Liam Neeson meant when he was recently stitched up by that journalist. In the days that followed my attack, I spent a few days skulking round pubs and streets looking for anyone that looked like my attackers. Nothing can prepare you for the rage, itís this primal rage that you canít describe to anyone, no one can understand it until they feel it but you hope no one ever will. Iím not condoning it, nor saying itís the answer, because it isnít. But it is a normal human reaction to someone you love being raped and I can tell you that itís got absolutely f**k all to do with race.
Vengeance tends to be very raw in its outbursts of violence, as well as showing all the scars and bruises - so what was the idea behind that? And what can you tell us about your overall directorial approach to your story at hand?
It was very important for me to strike a balance in showing that the aftermath of any violent acts in the film is equally as painful and shocking as the violence itself. I think that goes across the board for the approach to the entire film - bleak - thatís the one note I gave to the composer when he asked for the tone of the film. Much like Harry Brown, which was a big inspiration for me when writing. Itís very bleak.
Do talk about your key cast, and why exactly these people?
Iíd been friends and neighbours with Billy Murray for years, we had houses just down the road from each other in Turkey and lived in the same docks in East London. Heís a terrific actor, I think heís one of the best British actors we have, and at a test screening a few years back, a lot of compliments were along the lines of Vengeance being his best performance, because thereís so much range in it - not just the usual point and shoot, so to speak.
Leslie Grantham and I had been friends for a while and been looking for a film project to work on together. Both he and Billy were still huge in terms of their EastEnders reputations, so it will always be a career highlight for me standing in my apartment in London shooting a scene with ĎJohnny Allení and ĎDen Wattsí. The last scene they have, in particular, is absolutely electric.
Iíd been trying to make a documentary about Chris Langham for years and have always been incredibly supportive of him and what happened. The subject of press intrusion and sensationalist journalism is something I have absolutely no truck with. He kept saying Ďthank you, but no thank you' and in time that extended to íthank you, but no thank you, but maybe we can find another projectí, so we had lunch and luckily that worked out.
Iíd met Crissy Rock when I made my documentary and was desperate to work with her on a film as I knew she was a great actress - she won the Silver Bear for her performance in Ladybird, Ladybird at the 44th Berlin Film Festival. In Vengeance, she delivers an incredible monologue; itís one of my pieces of writing that Iím most proud of - but my God, she really brought it to life. That scene brings a tremendous amount of gravity and emotional depth to the film.
The rest of the cast auditioned although Iíd worked with several of them before. I actually went to school with Freya who plays the female lead and weíd always kept in touch. She came and read for us and it was hands down one of the best auditions Iíve seen to this day.
A few words about the shoot as such, and the on-set atmosphere?
If you asked me to describe it in one word, Iíd say intense. It was a very very tight shoot, only pulled off because we shot everything within one square mile of East London, with the exception of a 2nd unit shoot in Bodrum, Turkey, which was frankly a welcome break at the end of principal photography. I still marvel at quite what we pulled off, from filming in the extravagance of Canary Wharfís Plateau restaurant, filled with a hundred extras to fight scenes and burning buildings. The rape scene itself was shot at the end of a very cold and very long day when tensions were already running high and so I remember that being a particularly unpleasant moment for obvious reasons. But like every independent film, we got on and did it.
From what I know, Vengeance took quite a few years from being finished until its release - so what's the story behind that?
Iím very blessed at the number of movies Iíve been fortunate to be involved with in a very short period of time, but you know what, sometimes s**t happens. Many a better film has sat on the shelf in a sales agents office for a lot longer. Despite how hard it is to actually get an independent film made in the first place, there are a bloody lot of them made and so, for too many reasons to even fathom, sometimes selling them is just as hard as getting them off the ground in the first place. I find why it's being released now more fascinating. With the passing of Leslie Grantham last year, the knife crime epidemic London is experiencing, and the resurgence in British crime DVDs (my film The Krays: Dead Man Walking was the fastest selling British non-theatrical DVD of 2018), in many ways now feels like a far more appropriate time for the filmís release.
That said, when and where will the film be released, however tentatively?
Itís in post-production now and Iím working with Craig Gannon on the score so weíre hoping it will finally see the light of day this Christmas or early 2020 at the latest.
Anything you can tell us about audience and critical reception of Vengeance yet?
I know youíve seen an early cut and enjoyed it. We had a lot of good press and feedback at the time of the original test screening back in 2012, so it will be interesting to read some of the new reviews, especially as I say, in our current climate. Isnít that sad? That the situation has only gotten worse and the subject more releveant in the best part of a decade since we filmed it...
Any future projects you'd like to share?
Speaking of all those reasons things donít go to plan, we were literally about to roll on two films, a horror in Los Angeles and a crime film in London, but earlier this year I was approached to write a book. Thinking I knew best, I ignored the [better] advice of the publisher and drastically underestimated the time needed to undertake it so I sat down with my producers and they fortunately agreed to move our dates to accommodate the book. Thatís due out next February and has been a wonderful opportunity and an invaluable experience. Not entirely unrelated to the book, Iíve also been having some provisional meetings with a couple of charities about another venture which is also a new change of pace and very refreshing and rewarding.
Your/your movie's website, Facebook, whatever else?

Feeling lucky ?
Want to
search
any of my partnershops yourself
for more, better results ?

The links below
will take you
just there!!!


That Instagram, itís everywhere. The other week, it went down all over the world and for a day everyone realised they werenít all actually models and no one really wanted to see their breakfast after all and so they just got on with their lives, which was nice. You can follow my personal account at @fatherandfilmmaker and our production companies at @princessaltis
Anything else you're dying to mention and I have merely forgotten to ask?
Do you have any vodka?
Thanks for the interview!