Your recent release is Cannibals and Carpet Fitters. Tell us about it!
Cannibals and Carpet Fitters is exactly that. It's a British comedy horror movie that revolves around a group of working class carpet fitters sent on a job to an old country house in the middle of nowhere. They soon discover it's a trap set up by the savage cannibalistic family, the Hannings. The carpet fitters are forced to fight for their lives or risk ending up being the evening's dinner. Unfortunately they are not quite your typical heroes!
I had the idea about 7 years ago, I'd been acting for a little while but wanted to try and create my own work. It initially started as a short film that seemed to go down really well with audiences and critics, this gave us the confidence to get it made as a feature film. It also helped that I was a huge horror fan and used to be a carpet fitter so the ingredients were always there.
What differentiates this, in your opinion, from the many horror comedies out there?
I think people probably won't expect the amount of violence there is in the film, we have a fantastic cast, a lot with martial arts and stunt performer backgrounds that managed to pull off some exciting fight scenes. Keeping these guys on camera as well instead of getting someone else in gives it that great authenticity. We were lucky to get Zara Phythian, a former world martial arts champion who was recently seen as one of the Zealots in Marvel's Dr Strange, fighting against one of our cannibals played by 6x World Kickboxing Champion Lee Charles, so the action is pretty intense.
I was also a huge fan of adventure films when I was younger, like Indiana Jones and The Goonies as an example, so I wanted to bring an element of that. You will find our Cannibals and Carpet Fitters coming across hidden rooms and booby traps which works great for horror and comedy as you can get our characters in some really funny and messy situations (without giving too much away). I love the idea of taking ordinary, everyday people and just putting them in the most deadly and insane situations.
You wrote and worked on production but did not direct this?
Yes, as I mentioned before, my background is acting and this was about creating an opportunity to work on something unique, I didn't feel I had the confidence to direct as well or also be that guy that acts in the film, tells other actors what to do, but then never really directs himself. Creating a film is a huge collaboration and I work better with someone else directing, it keeps the film fresh when you start bouncing ideas around with the director.
Would you have preferred directing?
If I decided not to act in the film, then maybe. James Bushe the director I've known for a long time now and he's put a lot of time and energy into this as well, which is why we recently teamed up to create Pretty Dead Pictures, where we will initially work as writer, director and a co-producing team. James is very good from a technical angle in terms of how to get the shots we want and how it should flow in the edit, where I'm very much more the story teller and know how and what all the characters should be thinking and feeling so the balance works quite well.
What can you tell us about the cast?
We've been very fortunate with our film especially for a low budget movie as well. As I mentioned before Zara Phythian and Lee Charles were on board from the get-go who have been working on some top blockbuster movies. Alex Zane loved the idea was keen to get on board. Actress and model Jessica-Jane Stafford, who's been seen in recent horror movies such as Red Wood and Devil's Tower, loved the original short film and wanted to get involved. We even managed to get the 7ft giant Phill Martin who's worked on the likes of Prometheus, Pan and Jack the Giant Slayer to play one of cannibal sons Charlie. Myself and Darren Sean Enright reprise our roles as Colin & Dean. There's a young up-and-coming actor called Dominic Holmes (Coronation Street) who plays Malcolm which I think will end up being a fan favourite. It's such a huge ensemble cast and I think the audience will most likely have their favourite carpet fitters and/or cannibals, depending on whose team you're on.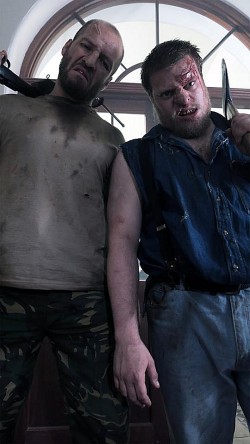 Is there a webpage or spot to order the film?
The film isn't available to the public yet, release date still TBC. However you can keep up to date with the film on ...
Facebook: https://www.facebook.com/CannibalsandCarpetFitters/
Twitter: https://twitter.com/CannibalsCF
Website: http://www.cannibalsandcarpetfitters.co.uk/
You are going to be shown at Shriekfest?
Yes we are currently making our world premiere at this year's Shriekfest in Los Angeles. We are showing on Saturday 7th October at 6:15pm and tickets are available from the Shriekfest website - https://www.shriekfest.com/schedule/los-angeles/
It's exciting for anyone to get their film shown at an event in Hollywood but I absolutely love Shriekfest, it's one of the original horror film festivals in the US. We were fortunate to get the short film shown there back in 2014, which really got us noticed and myself and James said then how cool it would be to get a feature film shown at the event so to come back now feels like we've gone full circle.
Are other fests on the circuit in the works?
We've just been announced as part of the line up at the 36th Terror Molins Film Festival in Barcelona, showing in November. Again another well-established long running horror film festival I'm hoping to be in attendance.
http://www.molinsfilmfestival.com/en/2017/09/11/
cannibals-and-carpet-fitters/
We will keep people posted on our social media with any new updates of when and where the film will be showing.
What has reaction been like to the film?
It's been really positive, as soon as you tell people the name of the film they seem to get it. I think it's just one of the those film titles that screams "comedy horror", and if that's your cup of tea you are going to love it. I had an email from a carpet fitting company letting me know that the boss let all the staff watch the trailer and can't wait for the release, so it's little things like that that make me happy.
Do you feel this will continue?
I hope so, I think it's one of those films that people will talk about after they watch it and I hope it finds a cult audience, either way it will make you laugh or want to throw up or probably both.
Didn't you act a brief part in the film?
Yes, I play Dean, he's part of a double act alongside Colin played by Darren Sean Enright. Dean & Colin are referred to as the B-team in the carpet fitting company and they definitely give the film a "Laurel & Hardy meets The Hills Have Eyes" feel.
What do you enjoy most with making films?
Probably writing. It's the best part really coming up with the characters and the situations, it's something I'll continue to do and it's such a delight when you see the cast come together and bring it to life.
And least?
All the problem solving. Literally if you're going to produce your own work, get ready for a storm of problem solving from "how are we going to be able to afford that?" to "why has all non-vegetarian crew eaten all the vegetarian pizza?".
Are there other films planned for you?

Feeling lucky ?
Want to
search
any of my partnershops yourself
for more, better results ?

The links below
will take you
just there!!!


I'm in the process of finishing two scripts, so depending on what treatment is preferred and what gets financed first, that will be the road we go down. Again both scripts are of a similar genre to Cannibals and Carpet Fitters.
Anything to add?
Do keep up with us on social media, that's the way us independent filmmakers get our work out there these days, and do check out our trailer here https://www.youtube.com/watch?v=GilTpKNEFp0 and give it a share. For future projects feel free to check out www.prettydeadpictures.co.uk as we will be posting on here with what's next.
Closing remarks?
Thanks for having me, guys, it's been a pleasure. Never work on an empty stomach!
Thanks for the interview!