Your movie M is for Myctophobia - in a few words, what is it about?
Myctophobia is the fear of darkness, we simply put a character with this affliction in the dark with yet more unknown threats.
The ABCs of Death - what do you find so appealing about the series you want to be a part of it?
Anthologies in general are great for independent filmmakers, it allows you to be part of a feature that has a realistic chance at distribution without the sheer expense and logistics of producing an entire feature. The inspired thing about ABCs of Death is that it takes this basic ideal and stretches it to the Nth degree, giving twenty-six filmmaking teams the opportunity to be part of a distributed movie. As a film fan I think the rising popularity of the anthology is fantastic, short films aren't really taken that seriously in any other situation, so it's good to see this forum opening again.
Here's a link to our short: http://26th.abcsofdeathpart2.com/entry/m-is-for-myctophobia - Facebook-"like" us to vote for us.
What were your inspirations when writing M is for Myctophobia? And is myctophobia, the fear of darkness, something you can at all relate to on a personal level?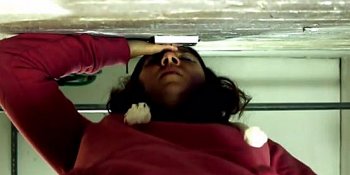 No, I have no particular fear of the darkness, and in all frankness myctophobia wasn't our first choice to make the film about. From the start we decided that a death based on a phobia would be great for building tension, so we went through M phobias until we found one that would make for an interesting short. Our first choice was maniaphobia, the fear of insanity, and we quickly put a script together but it required a clinical set, which, unfortunately, we couldn't acquire. Waiting for responses on the set ate up loads of time though, so with only about a month left before the deadline we looked at other phobias, picked a couple and bashed out some scripts. I think on one level we went with myctophobia because a large portion of it would require it being in the dark, saving on shoot complications. It'd also mean not having to scavenge for a set again, which was just fine with me, a bit of a cop-out I know, but the set-up and concept were solid enough and we put a lot of stock in that, so it worked out.
As far as I know, your involvement in M is for Myctophobia went beyond merely writing it - so what can you tell us about your work on set, and your collaboration with director Jordan Morris?
Though I physically typed out the script and was credited as writer, the shooting script had as much input from Jordan as it it did from myself, equally, on set, Jordan was designing all the shots while I was directing Anna (our lead) [Anna Sanderson interview - click here], so the lines between jobs were kind of blurred but the credits were listed as they are to save complication, we don't ordinarily work that way but it felt natural enough. This besides we had a minimal crew, just Anna, Jordan, myself and Jordan's partner Carrie helping out on set. I was working sound, Jordan lights and camera and we split dogsbody work equally. During post production I pulled in the first edit, Jordan fine-tuned it then the rest was all him.
What can you tell us about the film's sole actress Anna Sanderson [Anna Sanderson interview - click here], and why exactly her?
Anna is an actress from our hometown (Mansfield). There isn't a lot of filmmaking done here, so we regularly get requests from local actors on Facebook to consider them for future productions. The last few films that we've made have featured another local actress but we didn't want to rest on our lorrells so decided to go with someone else this time, though we still consulted with this other actress to see who she would recommend. She pointed us towards Anna, who, it turns out, had already contacted us in the past, so we went with it. We'd actually never worked with her before the shoot, but it all turned out well I think.
Do talk about the shoot as such for a bit, and the on-set atmosphere?
As mentioned, there wasn't many of us for the shoot, but it took place in a single garage, so this didn't really bring up too many issues. We always try to keep a light but professional atmosphere on set and if nothing else we're highly proficient at planning shoots because we don't have the luxury of time to waste, so all in all it went without any real hiccups. We did the entire shoot in about four hours which is practically unheard of, but in all fairness, knowing that we could post in the majority of the darkness, we shot some of it very loosely, mainly concentrating on grabbing good sound.
Any future projects you'd like to share?
We actually finished another short just before Myctophobia called Home Movies, but it hasn't previously been viewable on our website or Vimeo page as it had been accepted into Sheffield's Celluloid Screams Horror festival and Nottingham's Mayhem Festival. It's screened at both now, to great responses I'm pleased to say, so that'll be going live soon enough. Besides that I've just finished my first draft of a script for a fan film I'm making based on the Hellblazer comic franchise, but it won't start shooting until early next year as it's the most ambitious thing I've attempted to put together. Meanwhile Jordan is working on a concept that I shan't reveal that he intends to be his next feature script. On top of that we're in the very early stages of trying to put together our own Nottinghamshire based anthology feature with a number of other very talented, local filmmakers.
What drew you into the filmworld to begin with, and did you receive any formal training on the subject?
I started working at the same place that Jordan worked about seven years ago (we still work together, and at the same company no less). He'd already acquired a load of kit and established Waking Dream Studios as he'd aspired to be a filmmaker from an early age, I however was just a massive film nut that had never considered film as a possibility for a pastime OR a career, though I am a cartoonist, so did have some concept of narrative and storytelling, but when Jordan got wind that I loved films as much as he did he asked if I'd like to help him put a horror short together for a contest, to which I agreed and we've never looked back since. Neither of us are film school trained, we make shorts to learn the craft.
What can you tell us about your filmwork prior to M is for Myctophobia?
We've made dozens of shorts over the years, each one being a pretty steep learning curve. In 2008 Jordan wrote and directed our first feature length movie, a twenty-something comedy/drama called Gabriel Small, which won a number of awards at various festivals. We made if over three weekends and with a budget of just £500, though it has to be said, there was around four solid months planning beforehand to make that happen, we relied on the generosity of a lot of local businesses for sets and there was many more months of post work done by Jordan single-handedly. Anyway, despite its festival successes we were unable to secure a budget for a second feature, so we went back to doing shorts, this time with more ambition (though the same amount of cash), and of late we're putting stuff together that we're really quite proud of. We've made a number of prize winning 24 hour films, which is to say, films made in their entirety within a 24 hour time frame, the latest of which, Dog Day, is amongst the best looking films we've ever put together. As well as that one I'd also recommend the aforementioned Home Movies, a talking heads mockumentary called Henchmen, and a comedy/horror called Evening Exorcise of our work to watch if you enjoyed Myctophobia.
Do talk about your company Waking Dream Studios for a bit, and the philosophy behind it?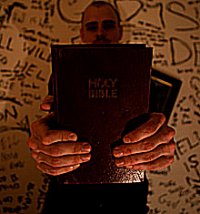 Evening Exorcise
As mentioned previously, we use filmmaking to learn about filmmaking, we always have. We talk to people so often who plan to do things but prefer to get bogged down in the details rather than actually just pulling their socks up and doing it, by hook or by crook... We actively work against this sensibility, when we have an idea to make something we do it, carefully, quickly, inexpensively and to the best of our abilities, with the hopes that next time our abilities will have increased somewhat. We like to keep it fun for everyone involved, which has worked out for us, as, over the years, we've built up a really solid group of like-minded friends who help out wherever they can. Also, we're big believers in making things that serve a purpose, there's no point in making a film, even a short one, that's generic. We always try to find new slants to our subject matters, an original viewpoint or a twist in the tale, my own preference is to take extraordinary set-ups and give them a normal, down-to-earth backdrop, or vice versa, usually humour ensues or at least an unpredictable ending. We don't just make films though, we've also recently finished a free online comic called St. Shawshank's Infant School, under the Waking Dream Studios Press banner. It came out weekly for two years but it was a finite narrative which is now complete, we'll hopefully be able to self publish the finished work within the year.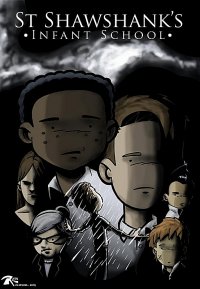 Filmmakers, writers, whatever else who inspire you?
Honestly, almost too many to even mention, and I certainly can't talk on Jordan's behalf on this subject. I'm such a massive fan of stories in all their forms and a full-time appreciator of the people who tell them, but to reel off just a few:
Filmmakers: Christopher Nolan, Guillermo del Toro, Kim Jee-woon, Takeshi Kitano, John Carpenter, Edgar Wright, James Gunn, Sammo Hung.
Animators: Brad Bird, Satoshi Kon, Hayao Miyazaki.
Novelists: James Ellroy, Peter F. Hamilton, Joe R. Lansdale [Joe R. Lansdale interview - click here], David Gemmell, Orson Scott Card.
Comic writers: Warren Ellis, Alan Moore, Jonathan Hickman, Katsuhiro Otomo, Keiron Gillen, Kazuo Koike...
Don't even get me started on comic artists!
Your favourite movies?
This is even harder than the previous question. Narrowing it down a bit, some of my favourite horror films are actually pretty much the usual suspects, The Thing, Halloween, The Omen and The Exorcist.

My favourite films of more recent times, which is to say, the ones I find myself putting on the most frequently and almost subconsciously include Warrior, Super, Scott Pilgrim vs The World, Inception, The Dark Knight, I Saw the Devil, Stranger Than Fiction...
... and of course, films you really deplored?
I tend to despise films that get insane critical kudos due to their smug sense of self importance and faux intellectualising, when in actuality they're saying very little about anything and usually have shitty narratives. Bronson would be on the list, I hated it and for the life of me could not understand it's got across the board good reviews, ditto Kill List, it had some moments of tenseness but beyond that what was all the fuss about? The ambiguous (read, incredibly lazy) ending? This year's main offender has been Spring Breakers, it had a good trailer and one good character, nothing else. Sorry to anyone who likes those films... you asked :)
Your/your movie's website, Facebook, whatever else?

Feeling lucky ?
Want to
search
any of my partnershops yourself
for more, better results ?

The links below
will take you
just there!!!

Find Richard Reynolds
at the amazons ...

amazon.com

amazon.co.uk

amazon.de
Looking for imports ?
Find Richard Reynolds here ...
Something naughty ?
(Must be over 18 to go there !)

You can find out more about Waking Dream Studios from our website http://wakingdreamstudios.com/. Keep up with regular news via our Facebook page https://www.facebook.com/wakingdreamstudios.mansfield?fref=ts, watch high quality versions of our films on the Waking Dream Studios Vimeo page https://vimeo.com/user10410266 and read our webcomic at http://www.stshawshanks.com/.
Oh, and here's a link to the film: http://26th.abcsofdeathpart2.com/entry/m-is-for-myctophobia - Facebook-"like" us to vote for us.
Thanks for the interview!
Thank YOU, I hope it's not too wordy.