Your new movie Sinful - in a few words, what is it about?
Sinful is about two lovers who hide out in a house after committing a horrific crime. As they wait for their partner to show up with their new identities, things start to unravel, and the two women slowly slip into madness.
What were your sources of inspiration when writing Sinful?
The inspiration came out of quarantine and how weíre all so afraid to go anywhere. I pictured what it would be like if I was trapped in a strange house with someone I loved. What if being around that person made me feel such intense guilt that I couldnít stand the sight of them? Like if I was holding in a secret that was tearing me apart, a secret that made me feel so horrified that it caused me to me feel rage towards that person. I wanted to write something that explored the complexities of a relationship that was held together by a fragile thread, with manifestations of guilt threatening to sever that thread.
What can you tell us about Sinful's approach to horror, and is this a genre at all dear to you?
Horror will always be close to my heart and even when I try to write something that deviates, the spooky stuff always ends up in their somehow. With Sinful I wanted to do something thatís a little different than the typical horror film, something thatís more atmospheric and psychological. The film carries a creepy vibe throughout and it definitely fits the genre, but sometimes horror is more about what we donít see, and less about things jumping out at us. Iím a huge fan of Twilight Zone, which I also consider horror if you really think about it. Iíd be terrified if something like what happens in that series would happened to me.
With Sinful being very restricted to just one location, what were your techniques to keep things visually interesting throughout?
We were very aware that using the same handful of rooms could get stale, especially with only two characters, so we experimented with all kinds of angles and camera set ups to keep things looking fresh. But really itís about the story-telling. The movie Buried is just one guy in a coffin for 90 minutes and that film holds your attention due to some incredible writing/filmmaking. I think the one location really works here as well, and Sinful also has an intended claustrophobic feel. The house itself is its own character; in a way itís the catalyst that forces the characters to face the horror theyíre trying to keep buried.
From what I know, Sinful was filmed in its entirety under quarantine conditions - so what sort of extra strain did that put upon you as a director?
Covid and the quarantine forced us to think about filming in a more strategic and controlled way. We were limited in terms of how many people we could have on set at a time, but having a bare bones crew allowed us to work fast; we werenít waiting on make-up, or sound, or whatever like on a bigger production. We also made sure to only shoot what was absolutely necessary so we could get in and out without any risk to everyoneís safety. Luckily everyone came to set prepared and ready to go. Christina Lo and Nicole DíAngelo (the two leads) knew their characters so well that they nailed most takes on the first try. We shot the entire film in four days which is ridiculous for a feature.
What can you tell us about your overall directorial approach to your story at hand?
For Sinful, there are a lot of secrets scattered throughout if you pay attention and things that donít necessarily make sense at the time. People get uncomfortable when they donít fully understand whatís happening around them and I wanted the audience to feel as trapped and unsafe as the characters. I also wanted lots of subtlety that you might not pick up at first, but when it all comes together you have one of those holy shit moments. We shot this mostly in sequence which allowed the intensity of the scenes to build much like they do in the film. We didnít have to go back and say, ok weíre about to shoot scene 38. What was I experiencing in scene 37 that we shot a week ago? Once we started shooting, everyone was on the same journey into madness which really comes through in the performances.
Do talk about Sinful's cast, and why exactly these people?
Since we shot during the pandemic, we wanted to limit the cast to people we knew well. Sinful shared sets with a film Quarantine Girl that Nicole was co-directing/starring in, so luckily she was open to spending her downtime playing Salem. Nicole and I had worked together previously on several projects, so I was thrilled to have the chance to direct her. Christina, who played Remy, starred in one of Nicoleís previous films, Acrylic, where she steals the show. Although she played a much different role in that movie, I was excited to see her do something much darker. Sinful a character-driven film so it needed intense performances to pull you into the story. I couldnít be happier with the job Christina and Nicole did. They really gave their all and it shows.
A few words about the shoot as such, and the on-set atmosphere?
Even though we were working hard and fast, this was the most relaxed set Iíve ever been on. I think the key was the limited number of people on set. We had no more than six people around at a time. I didnít have to spend time yelling for anyone to be quiet or running around crazy looking for someone like I normally do. But also, everyone took this movie seriously and came ready to go every day, which made it a stress-free experience.
Anything you can tell us about audience and critical reception of Sinful?
Itís still early, and I donít really look at reviews, but since Sinful is a film that makes you think the people who come into it with an open mind are enjoying the experience. That said, itís a low budget movie and the internet isnít kind to these types of films, especially with the horror crowd who are just looking for something to hate on. You have to take most of the overly negative comments with a grain of salt. Sinful isnít for everyone, but if you want to see something different, give it a chance and you wonít be disappointed.
Any future projects you'd like to share?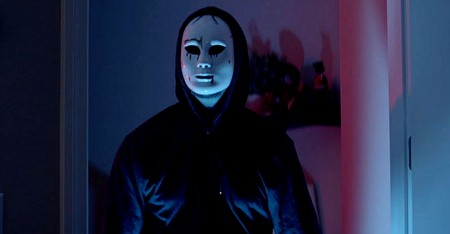 Right before the shutdown, we were about two weeks away from starting production on The Hunted, which is a film I canít wait to sink my teeth back into. Picture an Eyes Wide Shut-type character journey, but with a LGBTQ and BDSM angle, and of course with plenty of horror elements throughout. Unfortunately we had to put that on hold until we can shoot it risk-free, but hopefully we can get started before the end of the year. Weíll see how things go. With Covid some people are starting to get more productions going, but I want to make sure we can do in a way that keeps everyone safe. But while Iím still bummed The Hunted is on hold, if the shutdowns didnít happen we wouldnít have Sinful, so thereís a silver lining there. After that, I have a few other films in the works. Thereís one called Coven about witches that weíll get to after The Hunted that Iím very excited about. In the short term though, Iím in the process of putting together something that we shoot in limited locations with a small crew like Sinful. I have a script thatís kind of like Single White Female with a ghost that we may start shooting that late September if all goes well.
What got you into filmmaking in the first place, and did you recieve any formal education on the subject?
Not at all. I learned everything on set. Mostly through making mistakes. When I first moved out to LA I took a script supervisor job on the webseries Tabletop that a friend of mine was producing. I had never felt such excitement and I craved more instantly. Around that time, I had lunch with Gregory Hatanaka and Nicole DíAngelo, who were about to shoot a film Darling Nikki. They brought me on board to co-write the script which turned into me doing all kinds of jobs on set including producing. Although we shot most of that film nine years ago, Gregory and Nicole are putting the finishing touches on that now, so you should be able to watch it in a few months. Itís a trippy Alice in Wonderland type film. I canít wait to see how cool it came out.
What can you tell us about your filmwork prior to Sinful?
Sinful is the third feature I wrote/directed. I have two others that Iím proud of for various reasons. Sociopathia, a female-driven serial killer film inspired by Maniac, was my first time directing. That shoot was a huge learning experience in what not to do as a director. I had no idea what the hell I was doing when we were making that, but somehow the film came out cool as hell. My other feature Holy Terror is my homage to The Exorcist and The Changeling, two of my favorite films. Among other things I also co-wrote/produced Samurai Cop 2, which was also an insane learning experience. I could spend a whole interview talking about that shoot.
How would you describe yourself as a director?
I have a very specific vision that I want to create, and so far Iíve been lucky to work with people who are on board with whatís in my brain. Iím always thinking about the finished product, so Iím editing in my head as weíre shooting which I think helps everyone be efficient and keeps things under budget. I take the filmmaking process very seriously and expect everyone to give their all, but I also do whatever I can to make sure my sets are comfortable and relaxed, and people are encouraged to contribute if they have any ideas. Iím a huge fan of the collaborative process and I love working with actors on developing their characters and seeing their spin on what Iíve created.
Filmmakers who inspire you?
I get inspired all of the time. Sometimes itís as simple as a scene that sparks an idea. There are certain films though Iíll see and Iíll say damn, I wish I could make that movie. Antichrist is one that I wish Iíd have thought of. Martyrs, High Tension and Duke of Burgundy are some others. But if I had to pick a specific filmmaker style, Iíd say Kubrick, Cronenberg, Argento and Lynch are some of my inspirations.
Your favourite movies?
My favorite film of all time is Heathers, hands down. I could watch that every day. But I like all kinds of stuff. Iím a huge fan of Death Wish, Dirty Harry, late 70ís stuff like that. If I had to pick a favorite horror film, depending on the day itís either Martyrs, Audition, Suspiria or Halloween.

Feeling lucky ?
Want to
search
any of my partnershops yourself
for more, better results ?

The links below
will take you
just there!!!


... and of course, films you really deplore?
Star Wars: Phantom Menace
Your/your movie's website, social media, whatever else?
You can find me on Twitter - @richmallery
Anything else you're dying to mention and I have merely forgotten to ask?
You can watch Sinful and Holy Terror on Amazon Prime. Also, if you want to see the unedited version of Sociopathia, check it on Tubi. Other than DVD thatís the only place to watch it uncut.
Thanks for the interview!