Your new movie The Hunted - in a few words, what is it about?
Vampires, swords, silliness. That about sums it up. To go into a bit more detail, I play a struggling actor who is mistaken for the "chosen one" - destined to lead a group of ragtag slayers against an army of vampires.
You have recently also made a webseries named The Hunted in which you also play a character named Bob - so how closely are the two related, actually?
The feature is the origin story for the series which has been around for about 15 years. It was one of the first web shows online (way before YouTube) and is still one of the only shows based on user content, meaning virtually anyone anywhere can shoot their own episode. To date, we have over 100 episodes online from all over the world.
I had always intended to shoot a pilot episode for the series, but we decided to shoot a few episodes first just to get our feet wet and we didn't know when to stop. So yeah, it's a bit strange that the film is supposed to pre-date all these episodes.
Other sources of inspiration when dreaming up The Hunted - and what can you tell us about your co-writers Tex Wall and Andrew Helm, and what was your collaboration with them like?
Coming up with an idea for the series, I knew that we didn't want to try to do too much, which is the problem with most web shows. Folks get all ambitious and by the third episode they've either run out of time, money or energy. When I came up with the concept, reality TV was big. And that gave us some leeway in terms of production value - cameras, sound and lighting didn't have to be perfect. We also tried not to take ourselves too seriously, since folks tend to forgive the budget limitations if you can make 'em laugh.
One of the main assets we had was action. I was teaching a stage combat class and I came up with the idea to give the students a project they could work on. Vampires were also big at the time (Buffy the Vampire Slayer) and I decided to tweak the lore so the only way vampires could be killed is with a sword.
10 years later, we were still shooting episodes and still hadn't gotten around to shooting the pilot that I had written. By that time, unfortunately, the show had changed so much that the pilot needed to be re-written. And unfortunately, I was too close to it and had no time for a complete rewrite. I needed someone with time on their hands who could think outside the box. Fortunately, Tex lives outside the box on a daily basis. I've known Tex ever since I came to LA and he's an absolute nut, but a brilliant writer. And fast! And available! I also brought on Andrew Helm, a talented writer who I had met in the early days of shooting the series. We took almost a year to rewrite the script, and during that time I came to the realization that the two had to be in the show. And I was right, they were absolutely perfect!
Do talk about The Hunted specific brand of comedy for a bit!
The Hunted is more about social commentary than it is about vampires. It's the sort of thing Buffy the Vampire Slayer did so well. How do you have a relationship with a vampire? Do they need to exercise? Do they make good actors and/or stuntmen? Do they like comic books?
You of course also have to talk about The Hunted's many action scenes, and how were they achieved?
Rehearsal. Something not many big movies think about anymore. Rehearsal and training equals free production value. I've trained in swordplay and stage combat for over 30 years and many of the folks on the show are professional stuntmen and women.
You just have to talk about the Vampslayer-bit in your movie for a bit, which I believe is based one of your earliest movies as an actor! And how much fun was it to film that?
Vampslayer was our movie within a movie and it parodied a film I did in the mid 90s called Dragon Fury. In it, an actress gives me the classic line which I lifted directly for the film, "I will answer all your questions after we rest and have sex."
Dragon Fury was produced by Silverlake Entertainment but somehow fell into the hands of Troma. I originally wanted to use Dragon Fury in our film so I actually called up Lloyd Kaufman. I figured they'd be happy for someone to actually use the film, but Lloyd wanted to charge me a crazy price so I just resigned myself to shooting Vampslayer, which was a lot of fun!
What can you tell us about your overall directorial approach to your story at hand?
The Hunted episodes have traditionally been shot in "reality TV" style. This means wide master shots and very little cutting. Unfortunately, this is a pain in the ass to shoot since it means long takes, and the shots aren't always very interesting. At some point during filming the feature, I realized I had to make the transition to a more theatrical style. I also had to cut out a lot of talking to the camera (our cameraman is a kid named Mikey), which took folks out of the story.
Fortunately, I had shot a lot of the film with a 5K Redcam, which allowed me to push into shots during editing which gave the illusion of coverage.
Beyond that, like most films, it was all I could do to keep that whole train wreck on the tracks. We were working on virtually zero budget with no sleep for about 3 weeks straight. And the obstacles we faced were huge! I have a blog which goes into all sorts of gory detail which you can find here - https://thehuntedtv.wordpress.com/category/internet-epic/?order=asc
You also play the lead in The Hunted - so what did you draw upon to bring him to life, and have you written him with yourself in mind from the get-go?
Yeah, I found it made things easier from the start of the series to play ourselves. That was one of the original concepts from the beginning - to blur the lines of reality a bit to keep folks guessing if this was an actual group of slayers or what. At some point, I decided to make it clear that this was a show. Primarily because we started attracting the attention of some truly crazy people online who believed they were real vampires or slayers, and a few were mad we were making fun of them.
Do talk about the rest of The Hunted's key cast, and why exactly these people?
They were willing to work for free! Seriously though, everyone who signed on to this film are friends of mine who stepped up big time and I owe them all - at least a really good all-you-can-eat buffet at Denny's (which is all I can afford). We do this stuff for the fun of it sometimes and we help each other out. In the end, it's not always about a paycheck. I was just fortunate that my friends also happen to be badass actors and stunt people.
The only person I hadn't really worked with before was Monique Ganderton and she was amazing. Somehow she's been pidgeonholed into being a stunt person, but she's also an amazing actress and brilliantly funny. The other big surprise was Dave Baker, who I've known for years, but I had no idea he had been a professional actor. He stepped in at the last second when we lost one of our leads and he was fantastic. Both Anthony DeLongis and Gary Kasper are also great friends that I've worked with many times before. They really brought the entire project to the next level.
What can you tell us about the shoot as such and the on-set atmosphere?
Much like any shoot, is was complete chaos, although with less people since we had virtually no crew. Jessica Cail was our producer but also handled everything from craft services to costuming. Our DPs, AJ Raitano and Josh Gill also worked as grips, lighting, production design, whatever needed to be done. I wore so many hats I lost count - director, actor, props, transpo, VFX, second unit, stunts.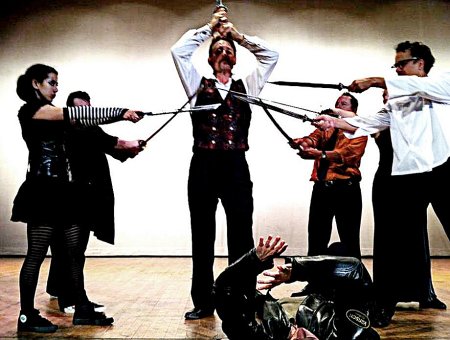 And there was definitely a curse on the production. It seemed that every day the universe was conspiring against us. Crazy stuff happened. And I mean crazy stuff. On one of our first days of filming, the online hacktivist "Anonymous" decided to hack Godaddy, which hosted all my email accounts. Suddenly, I was unable to get call sheets to anyone so I had to call everyone personally. During the shoot we also had an RV blow up, SAG threatened to shut us down, a fire on the 405 shut down the freeway, we lost a few of our locations days before shooting, etc. Once again, this is all in our online blog. But everyone knew this was a labor of love and they stepped up. Sleep deprived and stressed out beyond reason, we still had a blast.
The $64-question of course, when and where will The Hunted be released onto the general public?
If we're talking about the series, the show has been out there since 2001 on www.thehunted.tv, it's just never been advertised. As for the film, it was just released on Vimeo VOD which you can find here - https://vimeo.com/ondemand/thehunted
In a few months, you should also be seeing it at various film festivals, film reviews, as well as various online streaming services - Hulu, iTunes, Amazon and Netflix.
Anything you can tell us about audience and critical reception of The Hunted yet?
The response has been awesome so far, although some folks who don't know the difference between an non-existent indie film budget and a multi-million Dollar blockbuster have been a bit more critical. To them I say alcohol. And lots of it. We've even come up with a drinking game. Every time someone says "chosen one", you take a drink.
Any future projects you'd like to share?
I'm hoping the feature will help to finally kick off the webseries in a big way, which is designed to sustain itself based on user content. No one has really done this before - figured out how to leverage user content as part of an ongoing series. If you think of it, the only reason YouTube became the most-watched channel in the world overnight is because of user content.
But yes, I've got a stack of projects other than The Hunted I'd like to tackle next. Next up is a sci-fi love story called Body and Soul, but who knows what direction I'll get pulled into next. That's Hollywood.
From what I know, you first got into the filmworld in a rather roundabout way - care to elaborate?
I think most folks get involved in film in a roundabout way. Unless you happen to be born into it. My folks were puppeteers, but I have no idea how much of an influence that had. My brother and I loved to make short films when we were kids, and it seems like that stuff hasn't changed.
I made my way from Miami to LA in 1989 completely unsure of what I wanted to do. I had trained as a swordsman at renaissance fairs and I quickly found work on a few big films, Hook and Army of Darkness. Still, I was little more than an extra and decided to write myself a screenplay called Ring of Steel. Within a couple years I starred in that film which was distributed by MCA/Universal.
Since then I've continued to develop my own projects while keeping active in everything from stunts to visual effects.
When it comes to making movies, you've done it all, not only acting, writing and directing, but also stunting, handling special effects and whatnot - so do talk about your different positions for a bit, and what do you enjoy the most, what could you do without?
I dig it all, which is why I started the webseries and decided to direct the feature. The best directors know about every step of the process and this was my chance to use every random talent I've acquired over the years. Everything from editing to music - which was one of my majors in college.
What I could do without? I could probably do without trying to do all those jobs at the same time. By the end of the film, I was certain that I had PTSD. I'd wake up in the middle of the night with a panic attack, certain that we had to shoot something.
I'm also not fond of skulking around doing guerilla film making. I don't like conflict and I don't like breaking the law, and shooting without a permit (which we've had to do more than a few times) makes me feel like I'm a criminal. No wonder there's so much runaway production in Hollywood. I can't even shoot in my own apartment building without getting busted by a security guard.
What can you tell us about your filmwork prior to The Hunted (in whatever position)?
Prior to the webseries and film, I had mostly bounced back and forth from acting and stunts to visual effects. It gave me a wonderful opportunity to work both in front of and behind the camera. I had also worked on various budget films - from multi-million dollar blockbusters to no-budget indies. And I realized they typically suffer from the same problems.
Filmmakers, actors, writers, whoever else who inspire you?
For this film, my inspiration was Ed Burns, who also wears a lot of hats, has a strong foothold in indie films, and believes in creating his own work. I also took up a mantra from James Cameron while filming, "Curiosity is the most powerful thing you own, imagination is a force that can manifest reality".
I tend to embrace a lot of mantras when working on a seemingly insurmountable project. Whatever helps to get me through the day. Another popular one was "stop worrying about what could go wrong and start thinking about what can go right." But the best quote was from a producer at New Deal Studios. My biggest problem going into this show was asking people to work for free. He simply said "Ask them, they will do it or not."
Your favourite movies?
I dig sci-fi. I'm a huge geek and I was the perfect age when Star Wars came out. I was one of those kids who saw it in the theater at least 20 times. Second after that was Raiders of the Lost Ark. Classic sci-fi, Close Encounters of the Third Kind, Terminator, Logan's Run, Alien. And the modern classics like Avatar and Galaxy Quest. I got to work VFX on the new Star Wars film and I found myself grinning like an idiot through the first half of the film. And then there's the sword fighting classics - Three Musketeers with Michael York, Duellists, Princess Bride, and a childhood fave, The Court Jester.
... and of course, films you really deplore?
I'm a traditionalist. I think films should have a beginning, middle and end. Unfortunately, "slice of life" art films don't always fit that mold, so I find it impossible to sit through some Woody Allen films. And then there's the modern day big budget action/VFX films that don't bother to have a solid script before going into production. These are more than just annoying, they make my blood boil. Because there are folks working crazy long hours in post production VFX - sacrificing nights, weekends, time with families, holidays, looking at literally every pixel to make things perfect. But when you see the film, it's a complete mess. Not because of the CG, but because of the writing. If only the writers had spent a fraction of the time on the script than we did perfecting every frame of CG. And then there's stunt people who are literally risking their lives for these films. Sure, they're making a paycheck, but you can make money doing anything. You're just hoping that there's something to show for it at the end of the day. And when the movie sucks, you wonder why you risked your life for this piece of crap.
Your/your movie's website, Facebook, whatever else?

Feeling lucky ?
Want to
search
any of my partnershops yourself
for more, better results ?

The links below
will take you
just there!!!

Find Robert Chapin
at the amazons ...

amazon.com

amazon.co.uk

amazon.de
Looking for imports ?
Find Robert Chapin here ...
Something naughty ?
(Must be over 18 to go there !)

I think I mentioned it a couple times already, but why not? We're at www.thehunted.tv. You can find links there to the rest of The Hunted multiverse. I was bummed that www.thehunted.com was taken when I started the show, but we were one of the first with the .tv extension (thanks Tuvalu!).
Anything else you're dying to mention and I have merely forgotten to ask?
For the filmmakers out there, join us! grab a camera and shoot an episode. To make things more interesting we have an annual contest with cash prizes and industry judges. You can get all the details on our website at http://www.thehunted.tv/frameset_affiliate.htm
Thanks for the interview!
My pleasure Michael! Thanks for the interview and helping to get the show out there!