Your movie Zombie Isle - in a few words, what is it about?
In the late 70's, a group of college students and their professor set off to explore a supposed uninhabited island. They discover the "uninhabited" island is crawling with flesh eating zombies and an insane Nazi doctor who tries to control and experiment on the creatures while working to save his near dead wife.
What were your inspirations when writing Zombie Isle?
H.G. Wells The Island of Dr. Moreau, Zombie, Dawn of the Dead (1978), Zombie Holocaust, Day of the Dead and even The Walking Dead. I recently saw a trailer for Shock Waves and saw a lot of Zombie Isle similarities, but haven't watched it yet…
With Zombie Isle being an old-school zombie movie, is that a genre at all dear to you, and some of your genre favourites?
I loved the 70's and 80's Italian zombie films - even the bad ones are good - and Romero's zombies. I watched most those as a teenager on VHS, we copied as many of the FX that we could in our own Super 8 movies…
Your movie has a very distinct 1970s grindhouse vibe and look to it, down to the edit, actually - to put it bluntly, why, and how hard was that to achieve?
Adding the "look" was not as hard with the available software these days, but deciding when to add certain effects was harder. Going back and watching the old films on YouTube and on DVD helped. I tried to make it look and sound authentic without being distracting. There is a sound that I remember from watching movies in the theater as a kid that seems to be gone now, that scratchy grainy audio between reels and before the movie started was important for me to hear, I wanted it in there on Zombie Isle. It takes me back in time almost.
Zombie Isle does get pretty gruesome quite a few times - so what can you tell us about the gore scenes and also the zombie designs in your movie, and how was everything achieved?
You can never have enough blood and guts in a zombie movie, haha. I wanted to recreate the carnage of zombies eating victim's intestines and such. It's funny the things you can get motivated zombie actors to munch on at the right moment, really though. I tried to make things that tasted good at least, a lot of sugary stuff. I like the look of the zombies in The Walking Dead, I tried to go for a similar look. Most were latex and cotton and paper towel build ups. I think they looked good for the most part.
Do talk about Zombie Isle's brand of comedy for a bit, and to what extent does it comply with your own sense of humour?
We had a line that we really never crossed I think, the zombie scenes were never funny, they were always threatening or gruesome, and I tried to allow the humor to come from the action and interaction of the characters. I love horror and really don't find to many comedies very funny... BUT I am always trying to find the humor in everything, almost constantly. My friends at work and I are always competing for "Joke of the Week"...
What can you tell us about your key cast, and why exactly these people?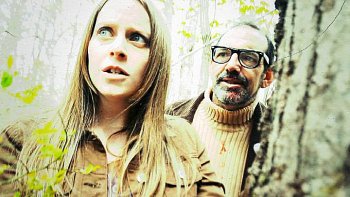 Kyle Billiter, Tony Jones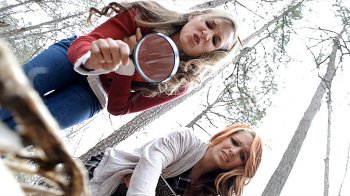 Apryl Crowell, Crystal Howell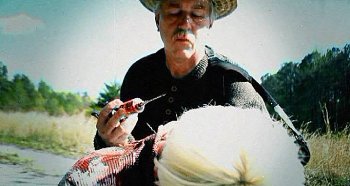 David Witt
Kyle Billiter (Amie) - wonderful, talented, beautiful. I am lucky to have her in a few of my movies. Tony Jones (Professor Grant Foster) - funny, talented and down to earth, always there when you need him. Crystal Howell (Heather) and Apryl Crowell (Laurie) [Apryl Crowell interview - click here] - both talented and gorgeous, both will jump in with both feet and give great performances - I can't say enough nice things. And David Witt (Dr. Claude Von Wolff) - a great and talented character actor, he made a really creepy villain... and is such a nice guy.
I'd worked with Kyle and Tony and David on previous movies - always great -, but this was my first movie with Crystal and Apryl, and they too were fun and amazing.
You of course also have to talk about your location for a bit, and what were the advantages and challenges filming there?
Well, the big secret is that we were never on an Island. We shot the boat scenes on a lake and all of the land scenes in a local park. The worst part was dealing with the TICKS. Ask everyone in the cast... TICKS!!!
What can you tell us about the shoot as such, and the on-set atmosphere?
I think it was pretty relaxed and fun. A lot of work, but that's what it's about. I would meet up with zombies at about 9am and start makeup, then the rest of the cast would show up about noon-1pm, and we'd start shooting till the light gave out. This went on Saturday after Saturday for the most part for a few months. Most of the time we were working from a rough outline and at rare times some pre-written dialogue. It's just the way I operate on a movie like this, I like to give the actors an opportunity to improvise if thats what the scene needs. I try to keep things fun but want everyone to leave feeling like they were part of something cool.
A few words about critical and audience reception of your movie so far?
I've seen three positive reviews to include yours, like 4 days out from the official DVD release, so I'm really excited. No audience reactions yet, nobody has seen the finished movie yet. I'm screening it in front of an audience for the first time ever on October 12th at Hell-O-Ween Fest 2014 in Fredricksburg, VA!
Any future projects you'd like to share?
I've got a new project in preproduction again in association with the Zombie Isle distributors, World Wide Multi Media, it's a voodoo inspired monster movie, Zombie Croc.
What got you into filmmaking to begin with, and did you receive any formal training on the subject?
I always wanted to be an effects artist as a kid and we started making Super 8 films. Then video came along, and now anyone who ever wanted to make movies has no excuse not to, especially with the quality of modern DSLR cameras and such. I tell anyone who wants to make a film, just do it. Get a camera, ANY camera, and make a movie, a short or whatever... NO EXCUSES.
What can you tell us about your filmwork prior to Zombie Isle?
I have made 5 features since 2006 (Backwoods, Backwoods 2: The Revenge of Caleb, Psychopath, Flesh of the Living, Vengeance is a .44 Magnum, plus a few shorts, Chick'n-Head and Nightmare at Bunnyman Bridge).
One can't help but notice your work never strays too far away from the horror genre - coincidence, or is horror a genre especially dear to you, and why (not)?
Just a horror fan, at least a fan of the older stuff. The modern world of horror leaves a lot to be desired.
How would you describe yourself as a director?
Learning. A control freak striving to get better. I tend to try to do EVERYTHING on set, but I think I am good a scrabbling and putting together an entertaining movie out of little to nothing.
Filmmakers who inspire you?
John Carpenter, Robert Rodriguez, James Cameron, George Romero, Terry Gilliam, Sam Raimi...
Your favourite movies?

Feeling lucky ?
Want to
search
any of my partnershops yourself
for more, better results ?

The links below
will take you
just there!!!

Find Robert Elkins
at the amazons ...

amazon.com

amazon.co.uk

amazon.de
Looking for imports ?
Find Robert Elkins here ...
Something naughty ?
(Must be over 18 to go there !)

Halloween, Big Trouble in Little China, Escape from New York, Terminator and Terminator 2, Evil Dead, Zombie, Aliens,The Empire Strikes Back.
... and of course, films you really deplore?
The Saw movies, I hated Wolf Creek, the Paranormal Activity films are pretty lame to me at least...
Your/your movie's website, Facebook, whatever else?
American Eyesore Films on Facebook, Zombie Isle is on there, or look me up under "Robert Elkins".
Anything else you are dying to mention and I have merely forgotten to ask?
THANK YOU for the review, thank you for supporting independent movies and horror - and everyone should go buy a copy of Zombie Isle.
Thanks for the interview!