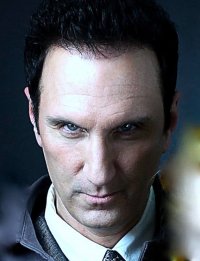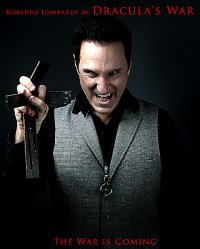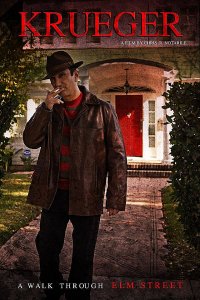 First of all, why don't you introduce yourself to those of us who don't already know you?

Hi everyone! My name is Roberto Lombardi. Iím an actor from the USA.

You've recently been cast as Dracula in Dracula's War - now how did that happen, and how do you plan to bring such an iconic character to life?

I was in Los Angeles filming another project when I received an e-mail from Draculaís War director/writer Jonathan Moody asking if I would be interested in playing Dracula. As I have always wanted to play Dracula, I told him I was very interested and to please send me the script. I read it and really liked it, so I accepted the role.

I always have a plan for playing iconic, established characters. That is to research what makes them iconic and incorporate key mannerisms and voice inflections into my version of the character. That way the character is recognizable to the audience, but Iím still acting it in my own way.

Speaking of iconic characters, you have played Freddy Krueger in quite a number of shorts. What can you tell us about those and your depiction of the character?

Playing Freddy Krueger in our Elm Street prequel shorts has been nothing short of amazing. From the first time I saw Robert Englund [Robert Englund bio - click here] in the original film, I wished I could have played such an original and iconic character. Little did I knowÖ

Chris R. Notarile [Chris R. Notarile interview - click here] first approached me about playing Freddy in early 2011 and I immediately signed on! What interested me most was that the films are prequels. Freddy is alive, unburned, not a dream demon and Chris wrote him as a truly repulsive human being.

I was a little worried about playing Freddy because of what the fan reaction might be, but the fans have been about 90-95% supportive of the films and have really accepted me as Freddy. Some have even dubbed me Robertís successor! Itís humbling and very much appreciated. There will be a 4th Krueger short in Spring 2014!

Over the years, you've been in quite a few quite diverse movies of Chris R. Notarile [Chris R. Notarile interview - click here], the director of the Freddy Krueger-shorts, - so what can you tell us about him, how did you first hook up, and what's your collaboration with him usually like? And do talk about some of these other films you've done with him for a bit!

I first met Chris when I auditioned for his first feature film Methodic in 2007. He cast me in a small, principal role and that was the beginning of our working relationship. He is also now one of my very best friends! I have an amazing, collaborative working relationship with Chris and every project Iíve done with him has been not only a career boost, but a fun, enjoyable experience. We laugh a lot on set and we work fast!

Iíve been in around 25 of Chrisís projects, but my favorites have been Escape from New Jersey (a Snake Plissken fan film), Kill or Be Killed (an emotional story about a hitman and his target), American Lawless (a western set in the future), Dig a Hole and Die (about a man who is kidnapped after he attempts suicide), Stand Off (a betrayal story about female bank robbers), Perfect: Android Rising (a story of an android killing machine that is reprogrammed to think and feel) and of course the Krueger-short films!

I'd like you to talk about some other films (and your roles in them) I've picked from your filmography:

The Cemetery?

Directed by the talented Adam Ahlbrandt, The Cemetery is about a group of ghosthunters that travel deep into the woods to find an ancient burial ground for their reality show. What they find is possession and murder! I play the priest leader of a religious cult in the flashbacks and murder quite a few people myself trying to expel demons! The Cemetery has won numerous awards at film festivals for direction, acting, FX and even best feature. Itís probably the bloodiest movie Iíve ever made! Iím very proud of its success and it will be released on DVD in Austria and Germany through Illusions Unlimited Films in 2014.

Dead Collections?

Directed by my good friend John Orrichio, Dead Collections is the story of a woman who loses her husband and her home who then has to move in with her elderly uncle in his creepy old house. Strange things happen and she wonders if the house is haunted or if someone is stalking her. She comes to find out that itís both! I play Thomas Callan, a psychotic debt collector! He makes people pay off their debts or pay with their lives! Itís set for DVD release in 2014 and itís my favorite of the projects Iíve done with John.

The Underground Kings?

Written by Skye Dennis and directed by Lionel Anthony Cook, The Underground Kings is currently a four part mini web series available on YouTube. It is a multi-ethnic crime drama set in Philadelphia. There are three different criminal organizations, one Black, one Latino and one Italian that control the drug trade and gambling in the city. When a police officer investigating them is killed, his partner and the FBI investigate and find police corruption that is linked to these three organizations. I play Paulie DiRocco, the head of the Italian crime family, who is trying to modernize and expand the family business. We are doing many promotional events for the series and itís being considered by several television networks. The executive producer is NBA star Richard ĎRipí Hamilton. Everyone involved is very talented and Iím really proud of the show

Masks?

Directed by award winner Charles A. Christman III, Masks is a short film about two men who were best friends in high school, but grew apart. They meet years later and end up at a cabin where an intruder with a death mask confronts them and changes their lives. I play Steve, a drug addict, who has his world turned upside down by The Mask. The film is set to screen in film festivals in the summer of 2014.

Any other past, present or future films of yours you'd like to talk about?

I was very happy to have had a role in M. Night Shyamalanís film The Happening. I had a great time on set and he couldnít have been nicer. It was my first real taste of Hollywood and brought me international recognition. I am also in pre production on Chris R. Notarileís [Chris R. Notarile interview - click here] next film Smith which is a comedy/sci-fi/horror hybrid. We are going to be making some big announcements about it soon.

What got you into acting in the first place, and did you receive any formal training on the subject?

I come from a family of entertainers! Many of us are actors, musicians or artists of some kind, so I think Iím kind of hard wired for the entertainment business. I was on a local television show as a child and that sparked my interest in acting. I went on to tour the United States in several rock bands (Iím a bassist), and then returned to acting. I have had formal training both in high school and college. Iíve also taken some advanced classes since then.

Can you still remember your first time in front of a film or TV camera, and what was that experience like?

Yes, absolutely. Being a child in a TV studio was fascinating! It made an impression as to what it takes to make what you see on TV a reality. Later on, when I acted as an adult, I remember having more nervous excitement when I heard ACTION! The entire experience is surreal. I still feel that way.

How would you describe yourself as an actor, and some of your techniques to bring your characters to life?

Iím a character actor. Some actors essentially play the same part or extensions of themselves in their movies, and thatís fine, but I like becoming someone other than myself. The amount of research I do depends on the complexity of the character. For example, I researched common traits for sadists, masochists, sociopaths and child abductors to play Freddy Krueger I also have different memory triggers. For example if I need to cry in a scene, I have memories I use to get to that emotional place.

Actors (or indeed actresses) who inspire you?

Tom Hanks, Robert DeNiro, Meryl Streep, Robert Englund [Robert Englund bio - click here], Anthony Hopkins, Helen Mirren, Donnie Wahlberg, Sandra Bullock, Denzel Washington, Don Cheadle. I could go on and onÖ

Your favourite movies?

Itís not all horror! A Nightmare on Elm Street, All the Presidentís Men, the Scream-series, Halloween, Jaws, the Star Wars-series, Raider of the Lost Ark, The Thing, the Alien-series, Grease, Murder on the Orient Express, the Harry Potter-series, The Exorcist, Saw, the ďLord of the Rings- and Hobbit-series and many Universal and Hammer horror films. Again, I could go on!

... and of course, films you really deplore?

Of course there are actors, films and television shows that I donít care for, and I could list them, but I donít think itís positive to be negative! I will say that I am not a fan of reality television.

Your website, Facebook, whatever else?

Feeling lucky ?
Want to
search
any of my partnershops yourself
for more, better results ?

The links below
will take you
just there!!!

Find Roberto Lombardi
at the amazons ...

amazon.com

amazon.co.uk

amazon.de
Looking for imports ?
Find Roberto Lombardi here ...
Something naughty ?
(Must be over 18 to go there !)

Facebook: http://www.facebook.com/RobertoLombardiRTLProductions
IMDb: http://www.imdb.me/robertolombardi
YouTube: http://www.youtube.com/user/PacoPapo
Twitter: http://twitter.com/RTLombardi
Instagram: http://instagram.com/robertolombardiofficial
Krueger Facebook: http://www.facebook.com/KruegerElmStreetTales
Anything else you're dying to tell us and I've merely forgotten to ask?
Only that if you are interested in my music and the albums I played on, they are available for digital download on most sites. Itís 80ís and 90ís rock. Bands are April Fool, The Rage, Road Trip, Red Sky and The End.
Thanks for the interview!
Thank you for interviewing me! Itís been my pleasure.