Your new movie Truth - in a few words, what is it about?
Truth is about a young man, Caleb, played by Sean Paul Lockhart, who falls in love with Jeremy. Their relationship becomes intense quite quickly and the two are inseparable. Caleb hides haunting demons from his past and in the middle of the film, he discovers that his true love has one of his own. This sets Caleb on a downward spiral and a quest to find the truth.
Is any of Truth based on your personal relationship experiences (though I hope not the climax), and other sources of inspiration when writing the film?
Actually, there are many elements in script that come from real experiences. Iím talking about the personal things that both Caleb and Jeremy share with one another. The story came to me while recovering from surgery last February. I was reading some blog entries from Sean online and realized we had so much in common regarding our past, and the experiences that shaped us into the men we are today. I started writing the story with him in mind and followed my gut instinct about him through the very last page of the screenplay. I have had a few relationships that were not the best. Either co/dependent, based on just sex, or just plan unhealthy. Love can wear many disguises and sometimes we are blinded by what we think we need or want. The one thing I was sure of was that I wasnít going to make the film without Sean. It was tailored for him, and I couldnít see anyone else playing the role.
How would you describe your directorial approach to your story at hand?
Since the film has so many personal elements, I think for the both of us (Sean and I), it was easy for us to get into the characters. Another thing that helped was the fact that we became close and the chemistry was real. Heís a sweet guy. A few months before we shot, Sean and I got together and spent an intense 5 days going through the script and doing some re/writes. Looking back, I donít think weíd have the same film if we didnít do that. I also made sure that the cast and crew were completely comfortable while working on the film. Having a good synergy on set while making such an intense film is important. I also let Sean find his character and then fine-tuned it while rehearsing prior to stepping onto set. That aspect may have been hard for the crew waiting for us every day, but it was the best way for us to work and bring what we did onto the screen.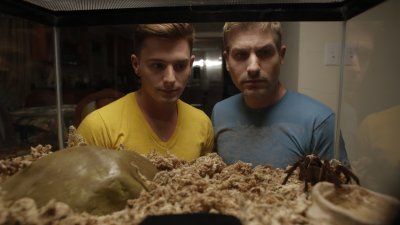 Sean Paul Lockhart, Rob Moretti
You also play one of the leads in Truth - so what did you draw upon to bring your character to life, and have you written Jeremy with yourself in mind from the get-go?
Since there are many elements of myself in Jeremy, it was easy for me to find the character. I did write the part with me in mind. There are also many shades of Caleb that are based on my past. It was truly a rollercoaster ride for both of us to dredge up personal experiences and bring them to the forefront. Thankfully we had each other to walk through it. Itís definitely brought us closer as friends. Reliving the dark things I went through while growing up like being verbally and sexually abused was tough. I do find that it was therapeutic to go through it. If what we created can help others, or is something people can relate to, then I know what I did was the right choice.
What can you tell us about the rest of your cast, and why exactly these people?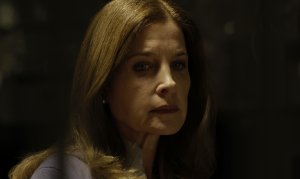 Blanche Baker
Blanche Baker who plays Dr. Moore was a thrill to work with. I worked with her on another film called An Affirmative Act and we hit it off. I knew that I wanted to work with her again. Originally, I had her in mind to play Calebís mother. I sent her the script and she wrote me back and said she loved it, but wanted to play the therapist. She felt strongly about playing that character and brought so many things to it that I hadnít first envisioned. I was completely honored that she felt so strongly about being involved.
I was also happy to find Phillip McElroy who plays young Caleb. I auditioned several kids and was so impressed how this young kid took direction. To me, I knew from the get-go that he was right. He has an intensity in his eyes that matched Sean nicely.
Suzanne Didonna, who ended up playing Calebís mother was just incredible. Her big scene was amazing to film. She takes the audience on such an intense journey that you forget itís a film. I still get uncomfortable watching her in that scene.
Do talk about the shoot as such and the on-set atmosphere for a bit!
Most of the film takes place in Calebís house. I ended up renting a large house in Englewood Cliffs and most of us stayed there during the entire shoot. When you make a film, people get close. When you are working and living under the same roof, itís like a family. It was a time that Iíll always hold dear to me. Bringing a crew of about 30 people together that are there for you and are all out to make a good film is such a rewarding feeling. We made a production office on the lower level of the house and thatís where all the fun was. We had a huge kitchen and cooked every night. It was great. We even spent Thanksgiving together there.
The $64-question of course: When and where will the film be released onto the general public?
I would love to do a small theatrical run in NYC and LA in January. The DVD and VOD will be released on February 11, 2014. The release strategy is to make it available worldwide on that date. We are hoping to place it on iTunes, Netflix, Amazon on demand and on cable VOD. Another avenue I am releasing is on Vimeo. They have developed a new platform for filmmakers to distribute their films without the hassle of a middleman. This would make it available to everyone who has an internet connection. Iím very excited about that.
Any future projects you'd like to share?
Sean and I are working on another film early next year Ė a romantic comedy called Common Cupid. Iím also working on Out to Kill, the new Rob Williams film. The next thing I want to do is write a book.
You initially entered the filmworld as an actor - so what can you tell us about Rob Moretti, the actor, what are your techniques to bring your characters to life, and did you receive any formal training on the subject?
I made my first film when I was 15. It was a horror film called House on Tombstone Hill. It was an amazing experience. I recall the director telling me after doing my very first take "Donít change. Just be you." I always remembered that and use that approach to my acting. I am not the type of actor who is very method. I read somewhere that James Dean, while shooting Rebel Without a Cause, cut an apple and put blood on it and sat and stared at it for hours to find his emotion. Truthfully, Iíd rather eat the apple. To me, acting is simply reacting. I did take classes and trained with several coaches over my career. I enjoy taking a class now and then. It helps keep me in check.
Can you still remember your first time in front of a movie camera, and what was that experience like?
I did that horror film House on Tombstone Hill in the late 80ís and knew that this was what I wanted to do for the rest of my life. I remember it like it was yesterday. Making a slasher film when youíre a kid was like a dream come true. I was scared as hell but once I got into it, there was no turning back.
What got you into producing and directing eventually?
I started a production company in order to make my first film Crutch. During that time while trying to raise the budget, I was asked to produce and be assistant director on a number of short films. I remember getting a phone call out of the blue asking me to produce a short film called Evil and Upside Down by Croatian director Goran Dukic. I never did anything like that before and just jumped in. It starred Will Arnett and was a great little film. From there, it just grew. I think that working on other films prepped me for when it came time to actually shoot Crutch.
Do talk about your filmwork prior to Truth (in whatever position) for a bit!
I spent the last three years working as an actor in films like An Affirmative Act, The Great Fight and Snapshot. It was cool to work with some great talent in these films. It was cool to work with actors that I grew up watching, like Robert Loggia, Joyce DeWitt, and Michael Pare. I never thought that one day Iíd be sitting on set smoking cigarettes and hanging out with someone like Joyce Dewitt. Iím proud of those movies. It taught me so much.
How would you describe yourself as a director?
Anal! I want what I want basically. When I have a vision in my head, nothing will stop me until I find a way to bring it onto the screen. A big help too is that I am an actor, so coming at it from both angles makes it easier. I think it also helps the actor as well.
Filmmakers, actors, whatever else who inspire you?
I love the horror genre, so directors like Wes Craven inspire me. Hitchcock, Kubrick, Woody Allen, Francis Ford Coppola are all role models. I also love Jodie Foster and Kathy Bates. Both very intense actresses that Iíd love to work with some day.
Your favourite movies?

Feeling lucky ?
Want to
search
any of my partnershops yourself
for more, better results ?

The links below
will take you
just there!!!

Find Rob Moretti
at the amazons ...

amazon.com

amazon.co.uk

amazon.de
Looking for imports ?
Find Rob Moretti here ...
Something naughty ?
(Must be over 18 to go there !)

The first movie that made me want to be an actor was The Outsiders. I wanted to be Ponyboy! I knew I could do what those guys were doing. I love that film. I reference it in Truth actually. I also could watch the film Dolores Claborne and Silence of the Lambs over and over again. I love the way they were shot and the performances are amazing.
... and of course, films you really deplored?
Thatís something I think I should keep to myselfÖ There are some pretty bad movies out there, especially in gay cinema, which make me cringe.
Your/your movie's website, Facebook, whatever else?
The filmís website is www.truth/the/movie.com. You can always find me on Facebook at www.facebook.com/robmoretti and on Twitter www.twitter.com/robmoretti.
Anything else you are dying to mention and I have merely forgotten to ask?
Yes! My shoe size it 12! HummmmmmmÖ
Thanks for the interview!
Thank you so much for the interview. Itís been my pleasure!