Your new movie Remnants of a Disaster - in a few words, what is it about?
The narrative is about two assassins who are in a combat simulation as part of an experimental drug therapy being run by a(n evil) corporation, however the scientist running the experiment is insane. Needless to say everything goes horribly and psychedelically wrong for everyone concerned. Thematically itís about mistakes, albeit in quite an abstract, metaphorical way. How personal and professional mistakes bring you to a point in your life you donít really want to be and how you can turn that to your advantage.
How did the project come into being to begin with, and to what extent does it relate to your earlier short of almost the same title, Remnants (Of a Disaster)?
I just wanted to make a feature length film to see if I could do it. It doesnít really relate to the short except the script I adapted to make the feature was developed from the short, but what I ended up making isnít like either of those stories.
What can you tell us about your movie's screenwriter Barry Nyle, and what was your collaboration like?
Thereís two answers to this one:
Dr Barry Nyle is the main character in a 2010 Canadian film called Beyond The Black Rainbow which was a massive influence on Remnants of a Disaster, hence me misappropriating the name. Basically the script is developed from an earlier version I wrote a couple of years ago based on the short I did in 2011. It was about an assassin whoís had an enough but canít kill herself so tries to get killed by various other people and ends up in a house with a psychopath. A guy (who I thought was a friend, letís call him JP) came in as co-writer and producer in early 2013, he had access to an amazing derelict building in Leeds so I agreed to let him adapt Remnants of a Disaster to work in a single location instead of a village. But basically he couldnít write films, he tried to do it in Quark Express page setting software and the page count was all wrong not to mention what heíd written was shit. JP expected that was what would get shot without any revision or improvisation because thatís how weíd done a short film. He was also putting half the budget in consequently he spat his dummy out and walked out on the project two weeks before shooting taking half the budget with him. Luckily Iíd already had the notion of exaggerating mistakes and went back to a previous draft of mine and improvised that with the actors.
Alternatively hereís answer two:
Iíve never actually met Dr Nyle, heís a very mysterious Canadian psychologist who did a lot of experimentation with psychotropics and hallucinogens on patients with dissociative disorders and himself and got in a lot of trouble. A lot of people think died in the 80s when he was attacked by one of his patients, but he was just badly injured and became a recluse. He contacted me via the internet during the latter stages of the shoot (after heíd seen the images on the filmís website and Facebook page) and thatís how his contributions and collaboration continued. He filmed himself (or possibly someone else) and sent me the video files (heís the strange coloured head in the film) and lots and lots of notes as the edit progressed, we really didnít have a script, but his influence on the film was so great I felt he deserved the sole writing credit.
Remnants of a Disaster is associative rather than linear in its narrative approach - so how difficult was it to not just lose your story? And do talk about your associative approach for a bit to begin with!
Iíd had the idea of trying to make a film where the viewer puts the story together themselves based on clichťís and tropes of the genre and a few deliberate scenes to point them in the right direction, itís quite common at the minute (Iím thinking of Only God Forgives, Beyond The Black Rainbow, A Field In England). Part of the idea came from Bram Stokerís Dracula, where the story isnít written as a straight narrative but collected together in diaries, letters and memos. What really crystalised the process was Beyond The Black Rainbow, the director Panos Cosmatos said the film was based on when he was a child and how he imagined what films (The Exterminator, Blade Runner etc) were like based on the VHS box artwork because his father (George Cosmatos director of Rambo and Cobra) wouldnít let him watch violent films. So basically Remnants of a Disaster is an attempt at combining those somewhat disparate ideas into a process.
For me, Remnants of a Disaster has a very experimental, maybe even nouvelle vague air to it - can you agree to any of this, and what can you tell us about your directorial approach?
I do agree though Iím not massively familiar with nouvelle vague although I remember watching Alphaville, ņ Bout de Soufflť and Le Samourai on a famous cult film TV show called Moviedrome (presented by Alex Cox [Alex Cox bio - click here]) over twenty years ago and the existentialism and style really stuck with me. My directing of the actors was very lacking because I was doing camera or sound and supervising whichever one I wasnít doing so I wasnít able to fully focus on the acting. Consequently the post production process (which was holistically editing/sound/vfx) effectively became me re-directing the actors, a lot of the scenes are in a different order to the rudimentary shooting script and dialogue is replaced or cut up or rearranged. In one scene I even turned a character into a blob to reshape the narrative and mitigate a particularly bad bit of acting.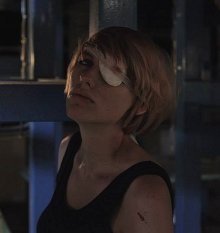 According to my information, Remnants of a Disaster was made on a very low budget - so what were the challenges but maybe also advantages of that, and would you have done anything differently with more money at hand?
The shooting budget was around £2000. Most of that was fuel and food, I already had the equipment and the locations were free. With more money I would have paid the actors and shot it all in one go instead of over several months. The advantage of having no money is I could do whatever the fuck I wanted so I experimented and learned.
Do talk about your locations/sets for a bit!
The main location was Queens Mill in Castleford West Yorkshire, they basically let us shoot whenever we wanted sporadically over a two month period in return for me running a filmmaking workshop with local high school students. The location in the opening sequence is a community theatre (that was shot in 2012). Two of the the other locations were houses where I lived and one was my current office before we moved into it. Basically I used whatever I could get into and made it fit.
What can you tell us about your cast, and why exactly these people?
With the exception of Laura Louise Whitehurst Iíd worked with everyone else before and being completely honest they were the only people who would do it for free. Waleed lived near me at the time (he was in the short film as well) and Laura OíDonoughue had agreed to do the original version of the Remnants of a Disaster feature (as K, the Ďbadí assassin) after we worked on music video together, the others I done various short film projects with.
A few words about the shoot as such, and the on-set atmosphere?
On set atmosphere was really good 90% of the time, positive and upbeat despite the fact the temperature inside the Mill was pushing 30C, it was the hottest summer in years and the building was wood so it became like a sauna and incredibly energy sapping.
There was one day where one actor/crew member was particularly negative and abusive to another actor (not the two Lauraís who were both incredibly professional), which resulted in a really bad atmosphere on set all day. Ironically the scenes we shot that day were particularly good, particularly the final fight scene in it which we shot in 55 minutes.
Anything you can tell us about audience and critical reception of your movie so far?
Mixed, itís won an award at a small festival, most people just donít get it but even then theyíve been engaged. Some people have hated it (including someone who worked on it because their role got cut down) and it got flamed on Facebook by another film producer who obviously just didnít get it but thatís cool as long as it provokes a reaction.
Any future projects you'd like to share?
Iím part of a film making collective in my home town with some friends, as part of that Iíve just produced a feature which Iím also editing. Weíre working on a dark sketch show pilot which weíre shooting in the new year and also developing a horror feature (probably a slasher) film which Iím going to direct. Doing the score and sound design for Remnants of a Disaster has got me back into music production in a big way so Iím buying hardware synths and drum machines to use instead of the software Iíve been working on for the past few years. Keep an eye out for new LaptopAcidXperience material.
What got you into filmmaking in the first place, and did you receive any formal training on the subject?
When I failed all my high school exams and realised I wasnít going to be a fighter pilot or astronaut I decided I wanted to make films. About the same time I got into cannabis and didnít do much for the next ten years except stack shelves, make techno music and write down the odd film idea. Unfortunately it took me another ten years after that to teach myself the skills to do it, I have no formal training, Iím completely self-taught.
What can you tell us about your filmwork prior to Remnants of a Disaster?
In 2010 I started a production company called StudioLAX and Iíve lost count of the number of shorts and music videos Iíve made. I made my first short in 2002 at university (I was a mature student) - although I studied IT I borrowed a video camera and used their computers to edit on. In 2003 I got a job editing football highlights for small football clubs and in 2005 became a cameraman and editor at Blackburn Rovers football club when they were still in the English premiership. The run and gun ENG style of gathering content I learned there has really influenced how I work now, fast, efficient and cutting in the camera.
How would you describe yourself as a director?
Dangerously unqualified but learning on the job.
Filmmakers who inspire you?
Takeshi Kitano, Daniel Myrick, Robert Rodriguez, Ben Wheatley, the Coen Brothers.
Your favourite movies?
Blade Runner, Sonnatine, Drive, Beyond The Black Rainbow, Blair Witch Project, The Objective, Dredd, Kill List.
... and of course, films you really deplore?
I hate the Lord Of The Rings films, theyíre really dull (or at least the one I half I could be bothered to watch were) and people rave about them like theyíre this amazing achievement and cultural event when theyíre just really average and a waste of effort.

Feeling lucky ?
Want to
search
any of my partnershops yourself
for more, better results ?

The links below
will take you
just there!!!

Find Roger Armstrong
at the amazons ...

amazon.com

amazon.co.uk

amazon.de
Looking for imports ?
Find Roger Armstrong here ...
Something naughty ?
(Must be over 18 to go there !)

Prometheus was a mess, a massive insult to the Alien fan base and I like Alien: Resurrection. However I was surprised after twenty years of average and disappointing films when Ridley Scott made The Counsellor which I consider to be up there with his best work.
Christopher Nolan is incredibly overrated, I just donít get it. His films are superficially interesting but lack any real depth or intelligence, but because theyíre ever so slightly offbeat and use practical effects people go nuts for them.
Your/your movie's website, Facebook, whatever else?
http://studiolax.co.uk/index.php/remnants
https://twitter.com/RemnantsFilmUK
https://www.facebook.com/RemnantsFilmUK
Anything else you are dying to mention and I have merely forgotten to ask?
Just to say thanks for the opportunity to promote such a niche film as Remnants of a Disaster and I look forward to reading your reviews of Ďotherí films old and new.
Thanks for the interview!