Your upcoming movie Megafoot - in a few words, what is it about?
A highly classified experiment accidentally unleashes a top secret killing machine known as MEGAFOOT. Part Cyborg. Part Bigfoot. All Terror! And now it's up to an elite squad of soldiers to track down the beast and kill it before it destroys everyone and everything in its path. A married couple, a group of college students, the scientists who know the truth, and some not-too friendly locals are about to confront their worst nightmare in this action-packed, horror thriller, gore-ride that's bigger than big... It's Megafoot!
Now how did the project come into being in the first place?
I was contacted by the producers to write the screenplay. They had a basic concept and the title. I agreed to write it and was not attached to direct at first. When I was about 70 pages into the script, I got a call and was asked if I would be interested in directing. I agreed pretty quickly because I thought this could be a really fun over-the-top action horror creature feature.
What were your inspirations when writing Megafoot - and what was your collaboration with the writer of the original story Justin Martell like?
Well, I was just given a few concepts from Justin. He wanted Megafoot to be an escaped army experiment and they send in a team of soldiers to find and destroy him before he kills again. In the end, they wanted another captive Bigfoot who has to battle Megafoot in a smack-down finale. Besides that, I had free rein. My big addition was to add the young married couple camping in the woods that get caught up between the creatures and the soldiers. I felt they would be the heart of the story amidst all the gory and gunfire. I also wanted Megafoot to be a fun but gory "R" rated flick with practical effects, rather than CGI.
Your movie being (to some extent) based on the Bigfoot-legend - how much research did you put into that aspect of your story, and is this legend something at all dear to you?
Well, this really isn't a Bigfoot origin story. It's a government experiment to create a super soldier that of course, goes wrong. So, we're really going for an action horror movie in the tradition of Predator and Dog Soldiers. I've seen a handful of Bigfoot movies and most of them I find lacking. I thought the second half of Abominable and the 1981 Bigfoot movie Night of the Demon had some of the gory fun I was going for. I mean, it's called Megafoot. When I hear that title, I want to see some major Bigfoot crushing going on. Blood needs to flow freely.
Megafoot being a creature movie, you of course have to talk about your creature effects!
Well, we've been talking to a very, very good special effects artist. Since the deal isn't 100% locked yet, I'm not supposed to name names but he's done a lot of great creature work in the past. We are planning on having a 8-10 foot Bigfoot creature with a "Terminator" feel. Basically, it is a bionic Bigfoot, and I am a big fan of the classic two part Six Million Dollar Man vs Bigfoot episode, but with a James Cameron approach. Cool with just a touch of camp.
What can you tell us about your directorial approach to your subject at hand?
I want this to be a very slick production. It is NOT a found footage movie. Well-lit, moving camera, some P.O.V. shots and a lot of energy. I am not shying away from the gore and I believe there are some really creative kills in this film surrounded by characters that are engaging. Some humor throughout but the film keeps moving. It's almost a chase film with actually multiple chases going on. Aliens in the woods.
Anything you can tell us about your projected cast yet, and why exactly these people?
There are no actors locked yet. At the moment, we are not focusing on names. We just want very strong actors and great effects. We plan for the money to go into the creature design and the production value so we have as many days and time possible to really deliver the goods. If we wind up working with another company for the money, they may insist on getting some "name cast" members but that is not our concern right now.
As far as I know, your film is still in its fundraising stages - so what can you tell us about your fundraising efforts?
Well, last year when we first started seriously talking about the project, there was a producer overseas on board who had some money. I felt that we were rushing the production too fast and I had some concerns so we decided to wait. Last November, during the AFM, we put together a package and started shopping it around. A great artist, Justin Osbourne, was hired to create the poster. I was so happy with the art that I posted it on my Facebook page. Within days, the art went viral and dozens of major websites started announcing our project. We had a script and poster but that's all. Well, everyone was talking about it. We had producers that would with the SyFy Channel interested in getting involved. But we knew if this became a SyFy project, the script would be completed re-written, the effects would most likely be CGI and it wouldn't be the film we wanted to make. A few companies said that if we could show them a 90 second promo with the creature, they might give us the rest of the money. That's when we started to seriously consider doing a fundraising campaign. I suggested that we should eo a scene from the movie that we could actually use in the final film. So, the plan is to raise $35,000 or more, make a kick-ass creature and then shoot the "camp massacre scene" that occurs in the beginning of the film. It's a cool, gory scene where everyone is killed so we wouldn't have to bring any of these actors back when we're shooting the rest of the feature. It made sense and so we launched our IndieGoGo campaign on February 25th, 2014. If successful, we'll have a great ten minute sequence to show and use to raise the rest of the funding for the feature.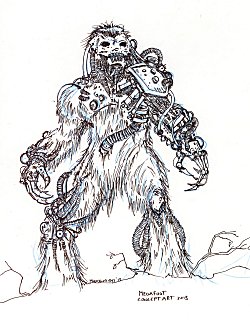 When we started the Facebook page, I posed the question "Who would like a MEGAFOOT" shirt based on the cool poster artwork. We got over 2,000 responses in a couple of days. So, based on that demand, we came up with the incentives for people who donated funds. We have Megafoot pins, tee-shirts, posters, music tracks to download, script, a clump of Megafoot's fur, chance to work on the film, play a dead body and even a victim with a line of dialogue. We really want this to be a film for the fans where everyone can be a part of the fun.

http://www.indiegogo.com/projects/project-megafoot/x/6152923

Once your funds are raised, how do you plan to proceed, and when can the movie be seen by the general public (and yes, I do know it's waaay too early to ask)?

Like I said, once we have the scene, we already have a few producers and companies that we can contact and hope they can come up with the rest of the budget. After that, we hope the film comes out everywhere. A small theatrical would be great. But then V.O.D., blu-ray, cable, iTunes, Netflix, etc.. The goal of every movie is to be seen by the widest audience possible.

Since creature features are sequel-prone, will there ever be a Megafoot 2 - and/or other future projects you'd like to share?

Feeling lucky ?
Want to
search
any of my partnershops yourself
for more, better results ?

The links below
will take you
just there!!!

Find Rolfe Kanefsky
at the amazons ...

amazon.com

amazon.co.uk

amazon.de
Looking for imports ?
Find Rolfe Kanefsky here ...
Something naughty ?
(Must be over 18 to go there !)

When I was hired to write the script, they did already have the title for the sequel. It's called Ultra-Foot. Megafoot has a good ending but there is always room for a follow-up. My goal is just to make one great movie. The franchise potential comes later.
Your/your movie's website, Facebook, IndieGoGo?
https://www.facebook.com/megafootmovie
http://www.indiegogo.com/projects/project-megafoot/x/6152923
Anything else you are dying to mention and I have merely forgotten to ask?
Megafoot will be MEGA-FUN! We truly want to make the best cyborg-Bigfoot movie ever mainly because we want to see it. And from the sound of it, there are others like us out there. So, please support our dreams of bringing Megafoot to life. We promise the film will deliver what the title and tagline promises: "IT'S BIGGER THAN BIG!"
Thanks for the interview!