Your upcoming movie Stirring - in a few words, what is it about, and what can you tell us about your character in it?
Stirring is a holiday horror. It is not an ďall is merry until a killer comes a knockiníĒ kind of film though. It is dark from the beginning. There is already a dark cloud over the main character. The character I play, Alexandra, is a go-with-the-flow, just wants to have fun type. She didnít come to the party to be dragged down by the drama.
What did you draw upon to bring your character to life, and how much Ronni Lea can we find in Alexandra?
I was able to call upon a bit of my past to bring Alexandra to life. I am certainly a go-with-the-flow type, but I wouldnít say I am much of a crazy partier these days.
How did you get involved with the project in the first place?
A friend of mine, Luc Bernier [Luc Bernier interview - click here], told me about the casting call for a few more characters that Troy Escamilla was looking for. I emailed Troy and he sent me sides. I sent him my audition video and the rest is history.
What can you tell us about Stirring's director Troy Escamilla [Troy Escamilla interview - click here], and what was your collaboration like?
Troy is super easy going. I really enjoyed working with him. He is very personable and an overall nice human being. He knew what he wanted for this film and he knew how to get it. I would love to work with him again.
Do talk about the shoot as such, and the on-set atmosphere?
The cast and crew for this film is amazing! I really enjoyed being in a room full of such talented individuals. Everyone was very light hearted and fun and at the same time took their roles seriously. It was nice to be in a room full of people who want to achieve their dreams and work hard to do so.
Any future projects you'd like to share?
There may be a couple of projects in the works, but nothing that I am allowed to talk about just yet.
What got you into acting in the first place, and did you receive any formal training on the subject?
Would you believe me if I told you I had a bit of stage fright as a young kid? It wasnít until my 6th grade reading and writing class where I had to get up in front of the class and ďsellĒ an advertisement I had to make for a cookie I created. I got a really good response from my classmates during and after the presentation. The feeling I got being in front of everyone and making them laugh made me feel really good. It is a feeling I will never forget. After that I was hooked on entertaining people. I did a bunch of little classroom plays in school after that. In 8th grade we had to write our own script and act it out, which was a lot of fun, I have a few scripts I wrote as a kid that will never see the light of day. I continued with some acting/stage in high school and I minored in Theatre in college. That was a lot of fun, I learned a lot of stage combat, which was my favorite, and even behind the scenes of set building and props.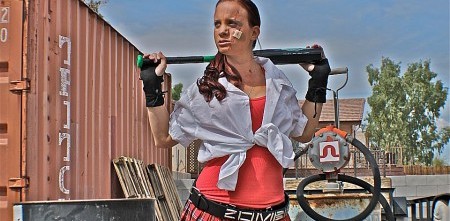 In the past, you worked with late cult genre director Ted V. Mikels on two occasions - so how did that come about, and what was working with him like?
I LOVED Ted. I miss him dearly. I believe I was introduced to him by another friend who had worked with him in the past, Donna Hamblin [Donna Hamblin interview - click here]. Ted was such a great guy. He had been in the film business for forever and you could tell. He also tended to run films in a ton of different locations with different actors and tie them all together in the editing room, which was neat.
Other past films of yours you'd like to talk about?
I had a different experience with every film I have done. I learn something from every experience. I canít say that any one film has made a difference in my life, as all of them have. I have had the chance to meet so many great people in this business.
Going through your filmography, one can't help but notice that many of your films are of the horror variety - so is that a favourite genre of yours, and why (not)?
Horror is fun. I always enjoy my time on horror sets, but really I love acting in any genre. I would absolutely love to do a kick-ass action and adventure film.
Besides making movies, you've also done your fair share of theatre - so what can you tell us about that aspect of your career, and how does performing on stage compare to acting in front of a camera?
Nothing can beat performing on stage. It is such a thrill. It is a feeling that lasts well after the play is finished. I was so nervous and never thought I would do a stage play, after I did I didnít want it to end. Yeah, there are things you can do in film that you canít do on stage, it is nice to be able to do another take if you need to and you can work out kinks as you go, but stage is awesome. The audience gives you something and you give them something back through the whole production. Each night leaves you with a different feeling.
How would you describe yourself as an actress, and what do you draw upon to bring your characters to life?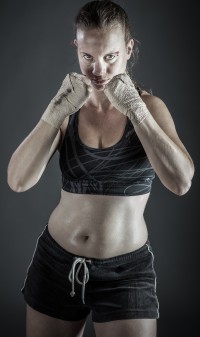 Feeling lucky ?
Want to
search
any of my partnershops yourself
for more, better results ?

The links below
will take you
just there!!!


As an actress I like to make sure I am believable. I like to read through the whole script at least once first for pure enjoyment. I try to get a feel for the characters and atmosphere of the film. I really love creating each of my characters' pasts. Their parents and siblings, if any. Where they were raised and the way they grew up. Their interests, likes and dislikes. I have to be having fun. If I am not having fun, then something is wrong.
Actresses (and indeed actors) who inspire you?
There are so many. Honestly, I tend to like the actors and actresses where I know nothing about their personal lives. It makes me able to watch them as the character they are portraying and not who they are as a person.
Your favourite movies?
That is another long list. Empire Records has always been an all time favorite. Also lots of action, adventure and fantasy movies.
... and of course, films you really deplore?
I canít do subtitles! HAHA!
Your website, Facebook, whatever else?
My website is www.ronnilea.com.
Thanks for the interview!