Your new movie Is That You? - in a few words, what is it about?
It's about Lili, a 13 year old girl who lives with her parents in the Cuban countryside. When her father goes missing, she uses a spiritual ritual to find him but she gets it wrong and her life turns into a nightmare.
What were your sources of inspiration when writing Is That You??
I started with an idea for a film about a girl who was in conflict with her family. I knew I wanted to work with the sub-genre of psychological horror because I felt connected with films such as Alfred Hitchcock's Psycho, Rosemary's Baby and Repulsion from Polanski, and The Innocents from Jack Clayton. Through my research, I found that psychological horror hadn't been explored in Cuba, so this took me back to Cuba to make the first psychological horror film. I couldn't find a better place to set the story than coming back to my roots, the place that I grew up in, and the place I understood best. I felt, after having been away, I had a desire to put in this film some of my experiences of growing up in Cuba and, after having lived in England for more than 15 years, I was able to see things differently.
Now correct me if I'm wrong, but Cuba isn't exactly known internationally for its indie horror scene - so what were the challenges of shooting a genre movie in Cuba?
You're right. The Cuban cinema doesn't have a long history of horror films. The challenges played in my favour. When the cast read the script, they loved it straight away because they were hungry for characters and a setting like this because they don't get the opportunity to do this in Cuba. Although it was a challenge for me to explain my vision to every head of department in the Cuban crew because of the novelty of a psychological horror, they were also very enthusiastic, because it gave them the opportunity to make something that challenged them as well. For example, when I was talking to Raul Perez Ureta, a legendary Cuban cinematographer that I was honoured to work with, I remember how excited he was to create the atmosphere that Is That You? required, because it was so different to anything he's done before. I hope this film influences other Cuban filmmakers to carry on exploring and developing this beautiful genre because Cuba provides a really good backdrop that can generate a lot of horror stories.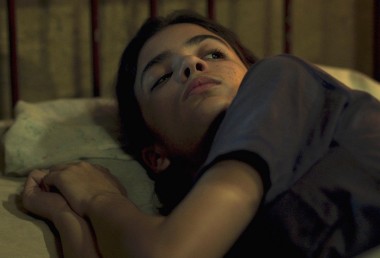 What can you tell us about Is That You?'s specific locations, and what was it like filming there?
I decided to set the film in the Cuban countryside because I wanted to avoid the well known sights, such as 'Old Havana' with its streets full of tourists and the Havana Malecón. I wanted to portray an unfamiliar image of rural life in Cuba, liking the idea that the film would provide audiences with a new view of Cuba that is timeless and less clichéd. The first thing was to find the main location for the family house where Lili and her parents live, but we didn't find anything that fitted with my vision. Everyone was surprised when I suggested building the main set from scratch. We visited a big farm owned by RTV Comercial, the company that provided us with production services in Cuba. We had to use horseback to visit locations on the farm and we found a suitable spot. Then we were scouting all over the Havana countryside to find the houses for two other characters in the film. One house was owned by a lovely elderly couple and their sons and daughters were really helpful. For the other house, we were passing by private land and we saw a ramshackle house that I knew would be perfect. The stadium was found after visiting around eight stadiums in the countryside. A week before the shoot somebody decided to restore and repaint the stadium that we'd chosen so it didn't work for the film anymore, so we had to rush and visit more stadiums until we found the one that we used in the film. We had many challenges shooting in the countryside but one that took us by surprise was that we had to wrap up warm for the night shoots because the temperature dropped to 2 degrees some nights. For almost all of the 37 days of shooting we had to travel one hour each way from Havana to the countryside and back, which added to the long days. Another challenge was the noises of the countryside, such as cows in the distance constantly mooing and then toads and frogs croaking at night. There were also planes passing by in the middle of scenes because, although we were away from Havana, the airport was close by.
Do talk about Is That You?'s approach to horror for a bit?
The approach to horror in Is That You? is influenced by the idea that when you experience a permanent feeling of fear, that feeling can become normal. Feeling fear of a power can lead people to lie as a way of protecting themselves. Fear is a means of control and we see how Lili's father uses fear to maintain control over his family. The characters in the film show the normalisation of fear, of dysfunctionality and claustrophobia, and the consequences it can have.
A few words about your overall directorial approach to your story at hand?
As a director your ideas will be challenged all the time by other creative and intelligent people so you have to make your vision very clear and know when the contribution from another member can bring something to the project. As a writer and director you are the person who has spent the longest time with the story and this gives you an advantage, to be able to see what ideas will really make the film stronger. Also, as a director, you should stay open to hear other ideas but be vigilant to keep the film true to your vision. Before making this film, I was lucky enough to take part in Simon Phillip's Tools of Directing'workshops which were really helpful because they gave me the right tools for talking to the cast and getting the cast to understand my vision.
What can you tell us about Is That You?'s cast, and why exactly these people?
Gabriela Ramos, who plays Lili, was recommended to me by Raúl Pérez Ureta as he'd previously worked with her on Últimos Días en La Habana. I then mentioned her to our producer Emma Berkofsky and our casting director Libia Batista who also thought Gabriela would be great for the role of Lili. When I met Gabriela, I could see her potential and she looked like I had imagined Lili looking. I also had the privilege to work with Eslinda Nuñez (Lucia, Memories of Underdevelopment). When Eslinda and I met, we instantly got on and she read the script and liked it. We were under pressure to find the rest of the cast quickly but thanks to Libia we had no problems. When I auditioned several actors for the remaining roles, I knew straight away that Lynn Cruz, Osvaldo Doimeadiós, and Jorge Enrique Caballero were going to be the right actors.
Do talk about the shoot as such, and the on-set atmosphere?
Emma brought the cameras from the UK, 14 suitcases with two mini Arri Alexas, lenses, and accessories, because the cost of this kit is too high in Cuba. Thanks to Reymel Delgado, our line producer and main contact in Cuba, we had the full support of RTV Comercial and the Cuban government. This helped to make sure everything went smoothly. Everyone we dealt with were really kind and helpful and all the cast and crew worked really hard. A moment that stands out is the death of Fidel Castro. We were having dinner when the waitress told us. After the initial shock, we realised it might affect the shoot but we couldn't find out anything until next day. The next day we were about to start shooting the stadium scenes when the local authorities of the small town where we were told the production team that we had to stop filming. But luckily, because we had all the correct paperwork and the support of RTV Comercial and the government, we were allowed to carry on, so we only lost a few hours on that day. Another challenge was our main star Gabriela falling ill. Luckily Gabriela wasn't ill for long but this obviously put pressure on the production team to find solutions. We also found out, on the day we were going to use it, that the horse to pull Caridad's cart had been stolen. Both times, Geraldine León, first assistant director, did a really good job of moving things around so that we could carry on working and we lost as little time as possible. We even managed to finish shooting the film an hour earlier than planned, finishing at 9am on December 31st 2016, in time for New Year's Eve celebrations.
The $64-question of course, where can your movie be seen?
Is That You? can be seen theatrically in August. It opens on August 2nd at the Laemmle Music Hall in LA, and will be followed by DVD and VoD from August 13th. Look for it on iTunes, Amazon Instant Video, Google Play, PlayStation, Xbox, Vudu, and on your local cable and satellite providers.
Anything you can tell us about audience and critical reception of Is That You??
The critical reception of the film has been very positive. In addition to lots of good reviews, the film has received seven awards and two nominations at festivals. I'm really pleased that Gabriela's talent has been recognised, receiving three awards for her performance, because she worked so hard and played a complex character at the young age of 15. We've also been pleased with the reception of the audience to the film at festivals and have really enjoyed the challenging questions and discussions in the Q&As. At the San Francisco Independent Film Festival, I was approached by a woman from the audience after the Q&A who reiterated that it's important that the film is shown because some of the things shown are happening in real life and she and her daughter had similar experiences to those shown in the film. That conversation made me realise the impact that the film could have on the audience.
Any future projects you'd like to share?
I'm currently working on the script of an adaptation of a novel that I fell in love with. I can't say much at the moment but I'm setting it in the United States.
What got you into filmmaking in the first place, and did you receive any formal education on the subject?
When I was younger, living in Holguin, Cuba, my neighbour, dramatist and theatre director Carlos Jesus Garcia, aka Carlin, invited me to audition for his company. I passed the audition and started working in theatre. He trained me as an actor for a year before giving me a role in a play. After being in a few plays with the company, I truly believed that I was going to be an actor for the rest of my life. One day the company watched the film of 'Hamlet' from Franco Zeffirelli and we discussed it afterwards. I noticed that everyone was talking about their vision of the play on stage. I said to Carlin that when I read 'Hamlet' I visualised it quite close to the film and that when I read plays I never see them on the stage, I see them as a film. So Carlin told me that I was in the wrong career and I should go and make films. He said that this is what he had wanted to do but he hadn't been brave enough to make that change because he had already built up his reputation as a theatre director and dramatist. Because I respected him so much I took his advice seriously. I studied film in the Instituto Superior de Arte (ISA) in Havana and then when I came to the UK I carried on my studies to Masters level.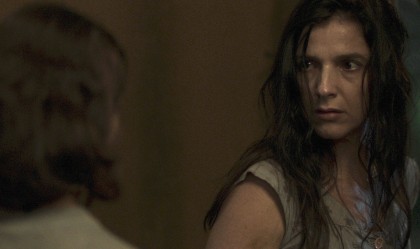 What can you tell us about your filmwork prior to Is That You??
In my final year of the BA (Hons) I did at York St. John University I directed a short film 'Beyond Reach' which was nominated for the Royal Television Society Student Award for the Yorkshire Region. I then worked on several low budget independent feature films, shorts, and music videos in a variety of roles, before setting up my own production company through which I directed a number of music videos. The music videos were great experience and helped me to develop my vision, but then I knew I wanted to move onto something bigger which is when I started working on Is That You?.
How would you describe yourself as a director?
First of all, I would describe myself as determined and persistent. If I didn't have that, 'Is That You?' wouldn't be where it is today. I don't give up, no matter what. During the development and the production of this film, I learnt to be patient and thick skinned. I was always myself and my belief in my vision was important. Throughout my years in the film industry, I've kept working and learning and I will carry on learning. But at the same time I've learnt to be selective about the projects I choose and the people I work with - I am intolerant of mediocrity. Based on my experience with this film I believe that when the whole team are connected and understand each other, the film will have a better result.
Filmmakers who inspire you?
It's hard for me to select just a few from a sea of so many talented directors but some that stand out for me Andrei Tarkovsky, Ingmar Bergman, Roman Polanski, Werner Herzog, Lars von Trier, David Lynch, David Cronenberg, Mikhail Kalatozov, and Alfred Hitchcock.
Your favourite movies?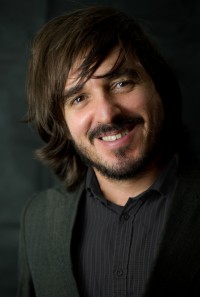 Feeling lucky ?
Want to
search
any of my partnershops yourself
for more, better results ?

The links below
will take you
just there!!!


Again I find it hard to select but I'd say Magnolia by Paul Thomas Anderson, Crash by David Cronenberg, 3-Iron by Kim Ki-Duk, and'Tokyo Story' by Yasujiro Ozu.
... and of course, films you really deplore?
My taste is varied and I'm open to a wide range of films and genres. That said, I'm selective about what films I watch. Of course there are films that I feel are more suited to me as an audience than others but films that I might deplore I wouldn't invest my time to watch.
Your/your movie's website, Facebook, whatever else?
https://en-gb.facebook.com/erestupapa/
https://twitter.com/erestupapafilm?lang=en
https://www.instagram.com/rudyriveronsanchez/?hl=en
https://www.imdb.com/title/tt7353454/
Anything else you're dying to mention and I have merely forgotten to ask?
I can't thank enough everyone who has supported this film in one way or another, particularly my team Rebecca Randell, Emma Berkofsky, and Marina Barabanova who've been by my side from the beginning and through this journey. I'm very lucky that I made my first feature film with a highly experienced and professional cast and crew from the Cuban film industry, LipSync and Aquarium Studios, two great post production houses in London, and it's now great to be working with Rich Wolff and Breaking Glass Pictures as distributor for North America. I'd also like to say a big thank you to all the film festivals who selected our film and showed their appreciation for Is That You?.
Thanks for the interview!