Your new movie Creation - in a few words, what is it about?
Creation is the story of a man who wakes up in an empty white room with a laptop that gives him the power to create anything he desires. Itís a romantic comedy that asks some deep questions, such as Ďdo we know what we really need?í
With Creation being a story about the Creation (hence the title I assume), did you let yourself be inspired by whichever creation myth(s) at all (beyond the obvious of course), or did religious influences play no role in scripting your movie?
Strangely enough, neither religion nor myths played a role in coming up with the story. I got the idea of this man waking up in the featureless room - the idea woke me up at 5am one morning - and I just followed where that idea lead. Adam and Eve were the obvious names that popped into my mind, and of course I then reflected on the theological implications of my story - but I didnít set out to make a story about the Creation-myth.
(Other) sources of inspiration when writing Creation?
Itís hard to say, to be honest. Everything I read or watch influences me somehow, so there have definitely been influences in the making of this movie, but they havenít been conscious ones. I havenít made up a shot as an homage to another movie or the like. I think the influence of the aesthetics of Japanese anime and manga - which I grew up with - can be seen in some of the shots, but again itís not something I consciously planned.
Quite honestly, if you found yourself in the same situation as Adam at the beginning of Creation, would you do anything any differently?
Haha probably not! To a certain degree I am Adam of course, so Iím not sure I would behave in a very different way. Or maybe I would, now that Iíve made the movie and know what are the consequences of Adamís actions...
At least for me, Creation has a humourous streak to it - would you at all agree, and if so, how would you describe your movie's brand of comedy?
I completely agree! I think of Creation as a romantic comedy, though it definitely doesnít fit well inside that box - it doesnít fit well into any box, I donít think... Iíd say the comedy is quite broad and overt (not in a vulgar way, I hope), but it is quite clear when Iím making a joke. We even have a fourth-wall break!
Do talk about your directorial approach to your story at hand?
The key element to the storytelling in Creation is the thought process of the characters: For the whole first act, Adam doesnít speak a single word and yet we have to be able to understand exactly what heís thinking moment by moment. So, first of all, I looked for actors who were able to communicate a lot without speaking and who were also able to follow very specific directions - every movement is carefully choreographed and rehearsed, even though it all looks spontaneous. I storyboard everything, so the first thing I did when we started rehearsal (we had two full days of rehearsal for this), I showed Ben and Sian all my horrible drawings and explained in detail what I wanted to achieve, then we worked on each single scene and, finally, I asked them to perform it all as if it were a theatre piece - with the only difference that the Ďaudienceí was the moving camera I was recording them with.
What can you tell us about your cast, and why exactly these two?
I had very specific requirements for the two characters: for Adam, I needed someone extremely good at expressing his thought processes without any words, someone likeable and with great comedic timing, but also someone who had a certain vulnerability - otherwise seeing him create a woman for sex would have come across just creepy! For Eve, I still needed the ability to communicate the thought process without speaking, but I also needed an actress able to believably embody a manís idea of a Ďstunningly beautiful womaní (as he writes her at first) as well as transforming into a down-to-earth, likeable and relatable young woman later on. If this wasnít enough, I also needed her to be able to access deep emotions and cry on camera!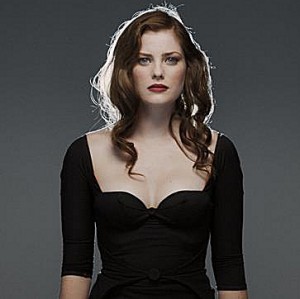 Weirdly enough, Sian Altman was the very first actress we auditioned! She just blew us away and no one else even came close. I remember I wanted to stubbornly stick to my plan to recall three actors and three actresses and test all possible combinations, but luckily my producer Paul Dewdney and my casting director Beau Rambaut made me see how pointless that was: we had already found our Eve! So, I then recalled three male actors and tested them with Sian. Benjamin Coulter was the best one because of his combination of vulnerability and a slight awkwardness, which makes you like him straight away. I couldnít be happier with my cast, theyíre both just fantastic!
A few words about the shoot as such, and the on-set atmosphere?
The atmosphere was overall pretty good and fun, though I was quite nervous and, looking back, I can see how my then lack of experience made me handle some situations poorly. For example, I wasnít prepared to give a Ďstart of shoot speechí, so I started rambling a bit and realised quickly that I was losing my audience. Iíve learnt a lot on that set!
The $64-question of course, where can your movie be seen?
Creation is now finally online, after completing a successful festival run, and can be watched on my YouTube channel: https://www.youtube.com/user/ShiversAboveMadness
Anything you can tell us about audience and critical reception of Creation?
Iím very proud of how Creation has been received, both by critics and by general audience. I especially love observing people while they watch it - they laugh at the jokes, hold their breath at the intense moments and, in general, I can see them being fully engaged throughout. The critics have been very grateful so far, too. The best comment I received was from one of the judges of the Muybridge Short Film Festival, which we won: he said that Creation was the one film out of all the entries that really got stuck in his head - the movie that he was still thinking about the next day after watching it!
Any future projects you'd like to talk about?
Iím currently in preproduction for a mini-series called #honesty, which Iím very excited about. Itís a dramedy about a ruthless PR manager who arranges for an internet-famous client of hers to be left at the altar via an Instagram video, as a publicity stunt - only to then realise what a huge mistake she made! Itís an usual series in the sense that itís both very current - dealing with the whole ĎInstagram influencerí culture - while having lead characters in their forties, which we donít normally see. We already shot some teaser scenes and a trailer, which weíre publishing in the lead up to production (https://www.youtube.com/channel/UC3jw8FndBi5LTFfhEPgHGsw), and we have a fantastic cast and crew, so I'm super pumped about starting production this spring!
Let's go back to your beginnings: From what I've read, your road to filmmaking took you pretty much around the world - so do talk about your early days and your education as an actor and filmmaker for a bit!
My passion for storytelling in general came from my parents, I think: my father was a comicbook artist and my mother wrote scripts for comics, so I grew up around stories. I taught myself how to edit with Premiere Pro when I was fourteen, in a misguided attempt to create my own cartoon - while not being able to draw! I got my first camera (with miniDV tapes) when I was nineteen and made several shorts, mainly documenting my travels to Asia (I got a degree in Oriental Languages). When I was living in Beijing, I re-discovered acting (I used to act a lot in primary school, because my teacher loved theatre) by joining an amateur group and decided I wanted to become an actor - to my parentís horror and dismay. So then I auditioned for about ten drama schools in the UK - where I knew I could get the best education - and got accepted at East 15 Acting School, one of the very best. During my time in drama school, I took it upon myself to shoot with multiple cameras and then edit together all the shows we did (over 20), which was a great learning experience in itself. Once I came out of drama school in 2011, I needed a showreel and, after several months of unpaid jobs that resulted in extremely poor footage, I decided to put my passion to work and made three scenes for myself with some friends. That showreel proved good and effective, so I started making them for other actors.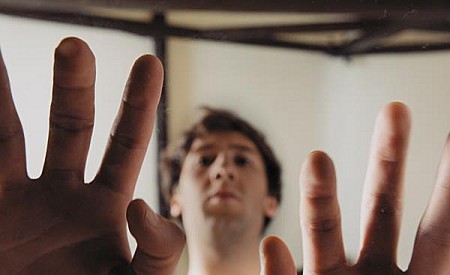 What can you tell us about your filmwork prior to Creation?
Making showreels from scratch for a living gave me the great opportunity to learn, experiment and improve my skills in all aspects of filmmaking - itís been like having my own private film school, which Iím paid to attend! As long as I manage to deliver footage my clients were happy with, Iím free to do what I like, so I played around with all sort of genres, shooting techniques, styles etc. and slowly became a confident writer and director thanks to all that.
Alongside that growing business, I started making more and more professional short movie projects, the first of which was the pilot for a horror-comedy webseries called Aleister Caravaggio - Conman of the Occult, which taught me the harsh lesson of never acting in my own projects! After that came a series of short movies I was either hired to shoot, or I made in collaboration with other actors. These are projects I look fondly on, as they taught me a lot, but I wouldnít really want them representing me now, as they were made with shoestring budgets and are not of the best quality.
In 2015 I made the pilot for a webseries called Mirrors, which I co-wrote with Niall Bishop, an extremely talented actor and creative. Mirrors was a very fun show with an interesting premise (which I wonít reveal because Iím still hoping to make something of it!), but it took us too long to get ready for production and the landscape of streaming series had changed dramatically by the time we did, so we decided to rework Mirrors into what has now become #honesty.
Creation was the culmination of this first phase of my career. It was the project where for the first time I had a real budget to work with and, most importantly, a full crew of professionals who were all more experienced than me, so itís been a fantastic learning experience that prepared me for the next steps in my career.
How would you describe yourself as a director?
Iím definitely an actorís director, not a visual one, in the sense that I always start from the story - which, for me, is always all about the emotions of the characters and, in order to get those emotions right, I need (and like) to work with the actors on the performance. Now, donít get me wrong: I am an absolute geek when it comes to the visuals! I always storyboard everything and enjoy trying to find the better shot, the most interesting way to film something. But, in my process, I never start from a visual idea - I start from story and characters.
Filmmakers who inspire you?
My favourite, though Iíve only discovered him recently, is Michael Haneke. Even though I donít enjoy all of his movies - and in fact, you could say I donít Ďenjoyí any of his movies because they are extremely hard hitting and tough to go through - I find all of them extremely intelligent, engaging and challenging, both emotionally and intellectually. I love Joss Whedon, especially for how he writes dialogue and characters, and adore how Damien Chazelle manages to take the audience on an emotional and intellectual journey by relying mainly on unspoken moments.
Your favourite movies?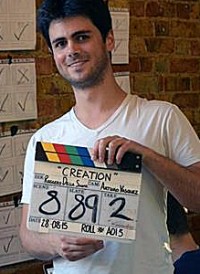 Feeling lucky ?
Want to
search
any of my partnershops yourself
for more, better results ?

The links below
will take you
just there!!!


Oh man, thatís toughÖ Iím very eclectic and love different movies for different reasons. Here are a few of my favourite, in no particular order: Funny Games, Titanic, Warrior, La La Land, The Matrix, the Before trilogy by Richard Linklater, Logan, Mulholland Drive, Pacific Rim, Back to the Future.
... and of course, films you really deplore?
Again, I hate these for very different reasons: The Transformers movies, The Great Beauty, X-Men Origins: Wolverine.
Your/your movie's website, Facebook, whatever else?
http://www.ruggerodallasanta.co.uk/
http://www.creationshortfilm.com/
https://www.facebook.com/rdallasanta
https://www.youtube.com/user/ShiversAboveMadness
https://www.instagram.com/ruggerodallasanta/
https://twitter.com/rdallasanta
Anything else you're dying to mention and I have merely forgotten to ask?
Here are the links for #honesty:
Official YouTube channel: https://www.youtube.com/channel/UC3jw8FndBi5LTFfhEPgHGsw
Instagram: @honestyseries
Twitter: @TheTimeProd
Thanks for the interview!
Thank you for the opportunity!