Your movie Drinking Games - in a few words, what is it about?
Drinking games is about what happens when you hesitate in the face of evil. When you plan to be saved by someone else instead of taking action yourself. It's also about the concept of evil, we ask the question "what is evil?"
This is part of the narration, but so many people think evil is a mythology or a creature or something larger-than-life, but the cruelest evil I've ever seen has come from humans in some cases in day to day interactions. So we have a main character who is truly banal and boring and common, but also evil. I think that's scarier than many movie monsters (I hope).
Of all the characters represented in Drinking Games - whom could you relate to the most, and is there anything in the movie that reminds you of your own college years?
My college years were pretty tame, but I played football in college and I can relate to the masculinity or aggression of the evil main character, Noopie. But I didn't do many drugs and I certainly didn't push them on other people, and I never tormented a dorm full of people. I was probably closer to a combination of Richard and Shawn, the two main guys who are tormented by Noopie. They are just average dudes who think things always work out okay, and they're wrong about that.
How did the project come into being in the first place?
Blake Merriman wrote a really good play and was able to put together some money and instead of making the project as a play we rewrote it as a screenplay. It was intended to be a play, but we wanted to create something that'll live forever as opposed to a play which is here and then gone.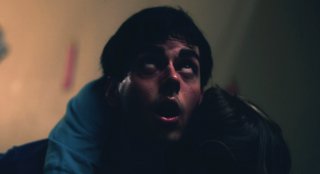 Blake Merriman
You have collaborated with Drinking Games's writer Blake Merriman quite a bit over the last few years. So how did you first meet, what's your collaboration usually like, and since you've been directing him in a film he has written - what was that like?
I originally cast Blake in my first feature film called The Graduates, and I hit it off with Blake and several members of the cast and crew – we were all pretty young, it was our first big production and we've remained friends over the last five years. By now directing him and the rest of the cast is easier because we have a shorthand – we know each other very well and can communicate pretty fluidly.
When it came to rewriting the script I would take the script and write for a couple days and then give it back to Blake and take notes from him, and then rewrite some more and then he would rewrite and eventually we had a finished piece and Blake's role became the protector of the original intent, and I became the director who interpreted what I saw and tried to get it on screen.
What can you tell us about the rest of your cast, and why exactly these people?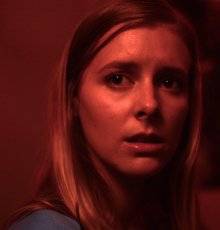 Riccarda Albrecht
Several of the parts were written specifically for certain people that Blake knew and wanted to work with, and we cast a few others. Riccarda Albrecht (Melanie) was the only person we cast from scratch, and she was a truthful, understated actress, and I loved the German accent, because it made her feel like she belonged in a different world than the rest of the characters, which was important to the role of Melanie in my mind. She and Richard needed to feel like outsiders in this vacuous little world.
Do talk about your directorial approach to your subject at hand for a bit!
My approach is pretty common, I think… I like to let the actors do their thing and just try to nudge them a little bit to the left or a little bit to the right. And having rehearsed this for a few weeks, everyone knew their roles really well. My job was pretty easy.
The rehearsal process really saved us, because we only had 13 days in which to make the film on location in Connecticut. If there were miscommunications and we got something wrong, there was no time to go back and fix it.
Drinking Games was filmed in no more than a handful of sets - so what can you tell us about your location(s), and refining yourself to just a few rooms ... what are the advantages as well as challenges?
The challenges of filming in an actual dorm are exactly what you might imagine – small rooms, small hallway, small bathrooms, small stairwells, small everything.
The advantage, however is that it forced me and my cinematographer Andrew Rivara to be extremely thoughtful with how we approached shooting each scene. We were terrified of presenting scenes in a boring way, or in a redundant way. So we played with the camera quite a bit. There are only six or seven different locations in the film, and they are all within one dorm. Yet I don't think we shot a single scene the same way as the scene before it or after it.
What can you tell us about the shoot as such, and the on-set atmosphere?
The on-set atmosphere was amazing. We were basically 20 young people coming together making a funny, dark new type of film and we pushed each other every day and had a great time every night. It was basically summer camp for grown kids. We got in some trouble, had a great time and went to work again in the morning.
The food however was terrible. I take full responsibility. We had so little money that we had to figure out how to feed 20 people three times a day for no more than three dollars per person per meal. That means a lot of Costco meals and maybe one night of Chinese take out. Everyone was thrilled to get home and start eating normally again.
Could you talk about critical and audience reception of your movie so far?
The critical and audience reception has been overwhelmingly positive. Most people come to the film having very little idea what to expect because it's not a traditional thriller or horror film. Because it's based on a play and there are limited locations, We have rich characterizations and complex scenes. We also don't follow a traditional narrative structure, so the reaction I get the most is "holy shit I had NO IDEA where this was going" and that makes me incredibly happy. What's the point of making an indie film with no oversight and no restrictions if you're just gonna make a cookie-cutter horror or thriller? We wanted to do something completely different that represented us as true indie actors, writers, producers, directors… And this film based on an off-Broadway play was the perfect way to do that. I love that people are completely surprised by how the film plays out and especially how it ends.
Any future projects beyond Drinking Games you'd like to talk about?
I have a couple projects in the works, one about a military experiment that goes horribly wrong and turns an entire platoon gay, called Love Bomb and the Pink Platoon, based on a novel. Writing a couple other things and reading scripts that I might direct, but really my focus is on spreading the word about Drinking Games.
What got you into filmmaking in the first place, and did you receive any formal training on the subject?
I always had a camera in my hand growing up and started taking it seriously in college. Growing up in Columbia, Maryland, in the suburbs, I didn't know any filmmakers or creative professionals so it never occurred to me that I could do this for a living. It wasn't until college when I interned at MTV and then was a production assistant on a few films that I realized people from all over the country can be filmmakers not just people born in New York and Los Angeles. It may sound crazy but it just never occurred to me that I could take this thing that I loved and actually get paid to do it. I've never seen any training, I just started making films and they've gotten bigger and bigger, and I hope that continues.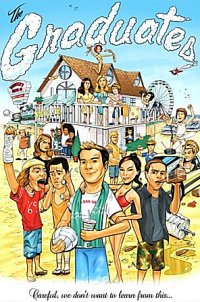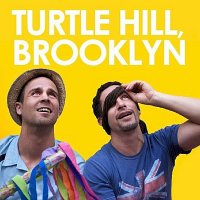 Feeling lucky ?
Want to
search
any of my partnershops yourself
for more, better results ?

The links below
will take you
just there!!!

Find Ryan Gielen
at the amazons ...

amazon.com

amazon.co.uk

amazon.de
Looking for imports ?
Find Ryan Gielen here ...
Something naughty ?
(Must be over 18 to go there !)

What can you tell us about your filmwork prior to Drinking Games?
My first film where I met a lot of people that I worked with on Drinking Games, was a comedy called The Graduates. For several years it was in the top five comedies all time on Hulu. I'm incredibly proud of what we accomplished on a small budget with that film. My second film, Turtle Hill, Brooklyn just came out and received some great reviews and is now available on most digital outlets. All three films were financed, produced and released completely independently. We have had distributors come on board for all three films, but only after production and editing. I mentioned that only because I'm sure some independent filmmakers will read this and ask or wonder how to get feature films off the ground, and usually the best way is to just start making features. If they are good and you hustle you will find an outlet for them.
How would you describe yourself as a director?
I have no idea! I think and hope I bring out the best in those I work with.
Filmmakers who inspire you?
Filmmakers who inspire me are anyone who takes risks, says challenging maybe offensive but more importantly challenging things with their work, and who don't wait for permission. I'll drop everything to go opening weekend to films by Paul Thomas Anderson, the Coen brothers, Inarritu, Cuaron, Judd Apatow, Chris Nolan, or to see anything based on a play.
Your favourite movies?
Too many to name but I will say in one week in college I saw Apocalypse Now, Dr. Strangelove and Il Confirmista. That was a major turning point for me.
... and of course, films you really deplore?
Anything lazy or created to cynically to sell stereotypes back to people. Too many to name :)
Your/your movie's website, Facebook, whatever else?
Facebook.com/drinkinggamesmovie ... when directing people to buy/rent the film, please use: http://bit.ly/DrinkingGamesiTunes
Anything else you are dying to mention and I have merely forgotten to ask?
THANK YOU!
Thanks for the interview!