Your upcoming movie The Stray - in a few words, what's it going to be about?
The film The Stray is about a little girl who longs for a best friend and falls in love with him when she sees him...
What were your inspirations when writing The Stray, and what can you tell us about your collaboration with your co-writers? And how do you personally feel about the film's topic in the first place?
There were many incarnations of the story and the characters, and I had several drafts I had written myself, but it wasn't until I started collaborating with my group of producers and writers that all the pieces fell into place. I knew what I wanted to portray, and since it was the first film I was writing and directing I knew it was important to get as many eyes on the script as possible. I think it's always a good idea to do this even if there isn't a studio involved. I mean if you can't pitch it to the person in front of you, how could you ever do it with the film right? Eventually we'll all be at a place where it's impossible not to collaborate, whether it's your creative team or a studio. I've always believed that making a film is about creating a team of people that believe in you and will support you. So I did my best to create that environment, and I think we were successful. Everyone involved was very invested in the story and put a great deal of effort to bring it to life.
Originally the idea came to me in a half-dream, and I had to wake up and write it down as quick as I can. I know it sounds cliche but it happens quite often and there actually is a scientific explanation for being able to think while you're sleeping. I think the process is fascinating and it's my favorite part of the creative process. It's quite literally a dream come true.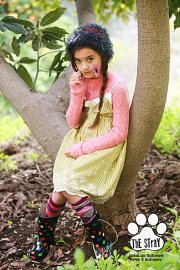 Zoey Diaz
There is a quote usually attributed to W.C. Fields that goes "Never work with children or animals" - and on The Stray you got both. Now I have no idea how to turn this into a proper question, but would you like to comment on it anyways?
It was never my intention to work with children or animals. Actually it never has been. I used to live in a small house surrounded by neighborhood kids screaming their heads off every day after school around the block, kicking balls into my yard etc... So I know how hard it can be to deal with children, but in this case it was quite a pleasure. The choice to cast children was the result of the collaboration between my producers and the writers, and we're really glad we went this route. In fact I don't really think of them as kids. I just think of them as Zoey and Xi. They both have a maturity and professionalism beyond their years, and are both quite accomplished. Perhaps more than most "adult" actors trying to make it in Los Angeles.
For example dialogue is always quite tricky from the words on the page to the actor, and it's usually quite a process working with them to get the right reading. However in Zoey's case she nailed it the first time without any direction. All of the intentions and inflections of the character were there, and at that point I knew she was going to be great.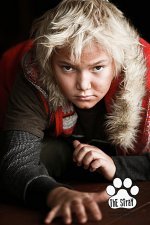 Xihuaru Kilcher
I'd also like to note that there was quite a bit of stunt work in this film. Xihuaru's been trained in Wushu Kung Fu for many years, so we took advantage of that and really showcased what he can do. He's really amazing with his physical work, and I really doubt there are many child actors who can perform on his level. In fact I think we'll have to put in swords, knives, ninja stars, throwing knives, etc. in the next film I do with him to really show what he can do. If the zombie apocalypse happens I'm sticking with him.
In any case, Zoey Diaz and Xihuaru Kilcher are tremendous individuals. Working with them really brought me back to what it feels like to be excited about life. Often times working to pay rent can get tedious and strenuous, but this film really inspired me to remember what it feels like to pursue your dreams - to really go for it. Something I hadn't mentioned before was that we really wanted to focus on the innocence and purity of children. I often refer to Steven Spielberg when he says that children are really the only ones that are not afraid of anything, and will walk out that open door when adults would have closed it. The Stray is really about doing what you love, loving what you love, and living life how you want to live it. It has a really positive message, and it's universal among all ages and cultures.
That's actually an important point. I'm interested in creating stories that can be shared across different cultures, whether it's based on a fantasy world or a real world. Of course it has to be something very specific, but the story and the characters have to be universal. It's something that I've really thought about over the years as I write my scripts, and it's definitely a balancing act. Universal, but very specific.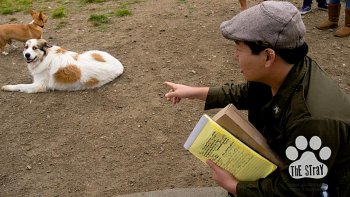 Ryo Rex directing his dog stars
So what can you tell us about your dog stars, and what are the actual challenges working with animals from a director's point of view?
Animals can be quite tricky, and in our case we didn't use them too much. But it's interesting because the story is about what animals actually feel. We wanted to tell their story. But I think we'll leave it at that as I don't want to give too much away.
What can you tell us about the rest of your key cast and crew?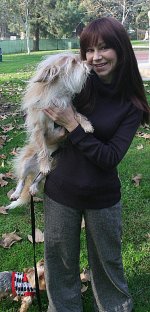 producer Jennifer Scott with another dog star
It's always a challenge to create a team that is completely invested in the project, especially for something so small with no monetary compensation. Everyone on the team has a lot of experience, and I pulled a lot of strings to make it happen. Asking for favors is my least favorite thing to do, but in this case I felt so strongly about the project that I did anything it took to make it happen.
How would you describe your directorial approach to your subject at hand?
Directing is an interesting thing. I've worked alongside many directors, features, commercials, corporate, etc., and they are all very very different. I've shot many things as a DP and an operator, so it took quite a bit of time to understand how I wanted to approach directing. What I've learned so far is that good directing is about leading a team - a team that understands you, and will do anything for you. Actors and the crew. Not because they are afraid of you, but because they want to. So in that way I think directing is about everything. It's about life, relationships, communication, problem solving. There are little things you can learn in a book about shot lists and storyboards, but it's really about the people. You have to be able to be a leader and make decisions. Other than that the story itself should be in the script, and it has to be amazing from the get go.
What can you tell us about the actual shoot, and the on-set atmosphere?
The set was really relaxed. There was no reason to rush through shots, so we took advantage of that. Most of the work was done prior, so it's really just about getting the lighting and the composition right. Since I was shooting and directing at the same time, we took our time. I think we shot about 3-4 pages a day. Another thing to note is that almost the entire crew consisted of women. I didn't intend it that way but it was refreshing to see a crew like this. The film industry is very male dominated and I think more women should work behind the camera.
Now I realize it's probably way too early to ask, but any idea when and where the film will be released onto the general public?
I think we'll be done with it sometime in the Spring. I'm out here in Colorado shooting a feature so I won't be back for a while, but we'll be working on post when I get back to Los Angeles.
Let's go back to the beginnings of your career: What got you into filmmaking in the first place, and did you receive any formal education on the subject?
Filmmaking was never on my radar. In fact I took a class in high school my senior year in film thinking it was going to be easy, and I nearly failed it. For a very long time I was pursuing a rockstar career and that was my sole purpose in life. I laugh at it now because I was so serious about it. I think a lot of creative people go through that rockstar phase and eventually graduate. Maybe some people don't but that's okay too. I did eventually fall into film studies at UC Irvine, and I think it was really important that I did. It was a happy accident since I had nearly failed my high school class and thought it was impossible to learn film. The program consisted of film theory and history, and we wrote a ton of analytical papers on all aspects of the content of the films throughout history. That's all we did-write papers. In fact I loved it so much they awarded me an outstanding senior achievement award when I graduated. It was quite ironic since I had nearly failed my film class in high school. I love telling that story. But UC Irvine was a great backbone to what I learned on my own playing with cameras and lenses. There was a point when I was completely obsessed with cameras. I would engross myself with online forums gathering all the information I could, buying cameras and lenses, shooting millions of tests and color grading the footage until my eyes would bleed. I think I did that everyday for about 2 years until I got completely sick of it. But it made me really realize that a beautiful image means absolutely nothing without a good story, at least in cinema. In photography I think a different argument can be made.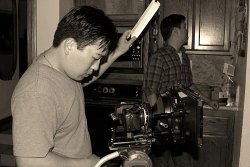 As far as I know, you started out in the business as a cinematographer. Now what can you tell us about that aspect of your career?
I've always been a fan of beautiful images, and being a cinematographer is about creating and capturing those images. I remember a particular moment when I was a kid, sitting on my shortboard at Black Point on Oahu waiting for a set. We were dawn patrolling (surfing) and the sun had just poked it's head through the palm trees and I thought to myself "It's so beautiful... I want to share this with the world some day." I think growing up in such a beautiful place (Oahu) had a lot to do with my love for beauty. There actually was a point in my life when I thought I'd be content doing nothing but just surfing everyday.
What got you into directing eventually, and what can you tell us about your filmwork prior to The Stray?
I think I've always been interested in directing. Since I was always working right beside directors all the time, I felt myself wanting to contribute more than what I needed to. More often than not I would keep to myself out of respect, but I feel that I learned a lot just by observing and seeing what works and what doesn't. Then there came a point when I had accumulated a library of ideas and scripts in my laptop and I eventually said to myself "I have to make these dreams come true!"
Any future projects you'd like to share?
All I can say that there are a lot of projects in development, and they are very different worlds. However they all usually deal with similar themes. Some are very close to real life, some involve fantastical worlds, and some are based on favorite themes such as the ones in Ridley Scott's Blade Runner. We're in preproduction on another short film which is equally if not more exciting than The Stray...
How would you describe yourself as a director?
I'd like to think of myself as a nice person who knows what he wants. Someone who will listen and then make a decision that's going to work.
Filmmakers who inspire you?
I have to say there are many people that inspire me, some of which are Christopher Nolan, Steven Spielberg, Ridley Scott, Robert Rogeriguez, Robert Richardson, Roger Deakins, etc...
Your favourite movies?

Feeling lucky ?
Want to
search
any of my partnershops yourself
for more, better results ?

The links below
will take you
just there!!!

Find Ryo Rex
at the amazons ...

amazon.com

amazon.co.uk

amazon.de
Looking for imports ?
Find Ryo Rex here ...
Something naughty ?
(Must be over 18 to go there !)

I have to say Vanilla Sky, the remake. I know it's a remake, but there's something about the story that really intrigued me. I don't know if it was intentional, but that film explored the idea of the mind and perspective - which is what filmmaking is about. It's about point of view and the personal story of the character, and I liked that about the film. The same story can be told a billion different ways which is why I love filmmaking.
... and of course, films you really deplore?
I don't think there's a film that you can't learn from. Actually I find some films quite entertaining. One film in particular is Tommy Wiseau's The Room. I find it amazing. "You're tearing me apart Lisa!" It's hilarious. Now that I'm recalling the movie I'm going to have to have another movie night with my friends with some whisky.
Your/your movie's website, Facebook, whatever else?
You can find us at facebook.com/thestraymovie.
Anything else you are dying to mention and I have merely forgotten to ask?
I don't think so, I think we covered quite a bit!
Thanks for the interview!
Thank you Michael for the opportunity to talk about the film, I really appreciate it!