Your new movie Yamasong: March of the Hollows - in a few words, what is it about?
Yamasong: March of the Hollows is about discovering a new world and seeing through anotherís eyes. Learning to understand the Other. This is a theme that began in the short film and the audience is literally thrown into a fantasy without explanation. Now with the feature, we return to the world thatís in peril. Once we set up the backstory, we jump in to save paradise from being overrun by machines! And itís the outcasts and misfits that do the saving!
Now I don't think it's too wild a guess saying that Yamasong: March of the Hollows is somehow based on an earlier short of yours, Yamasong - so how closely are these two films connected, and what made you want to return to the world of Yamasong?
Yes, the two main characters Nani and Shojun meet by accident in the short film. The feature basically picks up weeks or a month after the short. The two met, had a short adventure, developed a bond, and were forced back to their former lives. Nani is trapped back in the Prison Moon and Shojun back on the shores where he fishes. It could almost be considered an answer to the shortís ďDid this meeting actually happen?Ē And the answer is given in the feature film - ďYES!Ē
I didnít think Iíd ever get to explore this world again. I shopped it around L.A. for a while, hoping to get a series or movie, but the response was bleak. ďItís too artsyĒ ďItís not mainstreamĒ ďItís not a reboot or remake of a beloved 80s TV showĒ So I shelved it until the fortunate day when I met Sultan Saeed Al Darmaki, my future producer, who loved the short film and wanted to make the feature!
(Other) sources of inspiration when writing Yamasong: March of the Hollows?
I love a lot of Hayao Miyazakiís animated films, particularly Princess Mononoke. Some of the visual inspiration comes from Japanese woodblock artists like Yoshitoshi, and classic comic art by Jack Kirby. I vividly remember Jim Hensonís Dark Crystal from my childhood and that dark Brian Froud style. I love Star Wars and Star Trek, so the sci-fi inspiration comes from those stories, as well as Doctor Who. And the epic quality of my stories reflects Lord of the Rings. So itĎs all of these influences rolled into one big sushi puppet film!
Basic question, why puppets? And did you ever consider going all digital for Yamasong: March of the Hollows?
I never considered all digital. The real love here is for the puppets! Thereís a magic here that I think is rather untapped. There are a lot of assumptions about puppets, and disrespect for the artform. I wanted to make Yamasong: March of the Hollows to show people just how AMAZING puppetry can be, together with digital enhancement.
What are the main challenges but maybe also advantages of making a movie with an all puppet cast?
First, you find no divas among puppets. They do what you tell them - LOL! In puppetry thereís a joke about ďmeat puppetsĒ, in other words living actors, which I donít often work with. But for those familiar with shooting puppet film, the puppets can be challenging. They only do certain things. What makes working with puppets fulfilling, in part, is when you have such super talented puppeteers that can make them do flips, or fight, or complicated choreography, DESPITE the limited construction of the puppet. These artists are magicians that bring these inanimate characters to life. And thatís the real joy for me to witness, as the director.
What can you tell us about your overall directorial approach to your story at hand?
Generally I start with a few sketches. Concepts or ideas on paper. Then I stare at the paper. Listen to music. And stare a lot, until I start to see a world and characters emerging from the page. Then I start writing some situations or dialogues. Then I go back to sketching. Eventually I get inspired enough that I start sculpting character heads. Then writing some more, connecting all the separate chunks of ideas.
As the shoot approaches, I storyboard A LOT! I find storyboards are key to communicating the camera direction, composition and action of the story to all the departments. And then I let the performers do their jobs - and give them my trust they understand what the shot calls for and how to make those puppets move in this imaginary world. Then I become the audience and enjoy the show as we record it!
You were also responsible for production and character design on Yamasong: March of the Hollows - so do talk about your designs and their inspirations for a bit!
Iíve been drawing forever! My mom has sketches from when I was 5 or 6 years of dinosaurs, superheroes and monsters. Once I saw Star Wars, I was crazy about that fantastic universe - especially the droids, spaceships and Wookies. And comic books - those were a big inspiration too and my connection to the outside world. I grew up in the countryside looking up at the stars at night and wondering whatís out there. So I spent a lot of time making up alien races and assigning them to worlds around distant suns. I guess Iím still doing that, and also infusing them with both a feudal Japanese and steampunk quality. I donít feel like I have a specific style, but many may disagree. I just havenít solidified it in a way that would make it a formula. I hate formulas! The funny thing is when I was living in Japan, people called my art ďAmerican-style.Ē When I make art here in the U.S., people call it ďJapanese-style!Ē I canít win! LOL!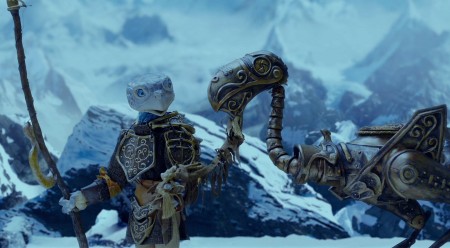 So what can you tell us about the shoot as such, and the on-set atmosphere?
I love the energy of a shoot! Itís intense and focused. You assemble a pro team of artists with a razor sharp goal and you dive in! Iíve been working with this same team, on and off, for five or six years, so we have developed a kind of short hand for making the magic happen. Itís still puppets, so that can make things slow, but when we get those shots, especially the hard ones, we celebrate! Itís paying adults to play with action figures, and we love it! Iíve been told I make a sandbox and invite some of my favorite people to come and play for a few days or weeks. Itís hard work but such a blast!
For Yamasong: March of the Hollows, you have assembled quite a stellar voice cast - so do talk about your voice actors a bit, and why exactly them? And how did you get them even?
Let me just say the voices we got were thanks to my producers at Dark Dunes Productions. They gifted me with all these super-talented voices, starting with Malcolm McDowell, who had previously been in Sultanís film Kids vs. Monsters. After a few voices, it just snowballed and got bigger!
The $64-question of course, where can your movie be seen?
Yamasong: March of the Hollows is now available on VOD and DVD. Itís also playing in select theaters through MyCinema and Gathr (where you request the film to your local cinema). I know for sure itís on iTunes and Amazon worldwide. Iím very excited - it just launched!
Anything you can tell us about audience and critical reception of Yamasong: March of the Hollows?
Itís been very well-received! The reviews are overwhelmingly positive and people have been very curious about it. I think once people hear more and more about it, and then find it and watch it, theyíll be really impressed by the world of Yamasong: March of the Hollows! We premiered it at Atlanta Film Festival last year and had a reception at the Atlanta Center for Puppetry Arts afterward. People had so many questions and comments about the movie. I hope this enthusiasm continues to grow and grow, as there are more stories Iíd like to tell!
Any future projects you'd like to share?
In my free time, I work on my Kickstarter short film Monster of the Sky. I got the funding just a few months before I started contract negotiations for Yamasong: March of the Hollows. And that took me 3-4 years to complete, so Iím hoping to circle back and finish up Monster of the Sky, as I have backers waiting for it! I have a couple other projects Iím hoping to get off the ground, all puppets with digital enhancement like Yamasong: March of the Hollows. Of course, the pie-in-the-sky dream is to have 2 or 3 shows all running at once, right? I also produce puppet short films for Ibex Puppetry, called the Handmade Puppet Dreams series. We make 2-3 films a year which are distributed by Jim Henson Company. Every year is a different group of directors, so we end up with an amazing variety of artistsí work through puppets! Iím working to advance the art of puppetry one film and filmmaker at a time.
From what I know, you entered the filmworld as a visual effects artist - so what can you tell us about that aspect of your career, and did you receive any formal training on the subject?
I actually started as an illustrator, trained at Academy of Art University in San Francisco. Did some digital art then, learned Photoshop, Illustrator, etc. When I moved to LA, there was more work for visual effects, so started working in that field. I worked for years in stop-motion animation doing VFX and cleanup. Iím mostly self-taught from books and instructional videos like Creative Cow. I naturally started thinking about ways to bridge both the world of puppets and VFX, as Iím experienced in both.
What made you want to branch out into directing eventually?
I thought Iíd go in to producing at first. And I am a producer of short films for Heather Hensonís company Ibex Puppetry, producing close to 20 short films. But early on when I was writing, building, puppeteering and producing with a directing partner, I found I wasnít able to tell the stories fully. I hate to say it, but I had one bad partner that inspired me to branch off on my own. I needed to direct to realize my style and vision. It was when I got to direct the Yamasong short film for Heather, that I finally got to express the full story in my head. And that experience gave me the confidence that I could be a director!
What can you tell us about your filmwork prior to Yamasong: March of the Hollows, in whatever position?
I worked for years at Chiodo Brothers Productions, from a production assistant all the way up to production manager. Theyíre the guys that made Killer Klowns from Outer Space, Critters, and made the puppets for Team America. Working for them I got to touch a lot of movie and TV pilots, commercials, many with live puppets, stop-motion animation, mixed media and costume creatures. I worked in VFX for a Disney Jr. show called Bite-Sized Adventures of Sam Sandwich and the Amazon show Tumble Leaf, a Disney XD show called Team Smithereen, and digital art director for Annoying Orange on Cartoon Network. I got to help design the studio for Annoying Orange, which was exciting to be on the ground level of a show, but discovered in time that production was underfunded and artists overworked. I left after a season, carrying my experience in management and as a creative with me to start doing my own stuff, with aspirations of forming an artist-friendly studio. That is my current evolving company called Mighty Pug Studio. I produced the original Yamasong short under this name and look forward to making more puppet adventures through this studio!
How would you describe yourself as a director?
It may be clichť, I hate using the term, but I have ďvisionĒ. Literally the imagery in my head that I have to get out. Itís the vehicle of puppets that has allowed me that full range of idea expression. Iím a director that can create a new reality thatís different and fresh. Tell stories that can be adventurous and explore deep ideas, without being heavy-handed. I also hope people will remember me as being generous in sharing the creative process. The good director can only direct well if he has a crew he can trust, and I try to nurture that.
Filmmakers, effects artists, whoever else who inspire you?
I really appreciate the artistry of film prior to the rise of digital. Limitations forced artists to be creative and to problem-solve. When you set up shots, you had to get them right because there wasnít a such thing as ďfix it in post.Ē Not everything was inside a monitor with virtual sliders and nodes and keyframes. You had to physically handle the objects and work out solutions in the real world.
I have a soft spot for Jim Henson and his team of artists - the people who created the worlds of Dark Crystal, Labyrinth and The Storyteller. But I also see the use for new technologies, like Jim Henson or George Lucas, who pioneered early digital effects. I just feel the pendulum has swung too far in the direction of digital, and Iíd like through my work to bring back appreciation for practical effects. I appreciate when filmmakers show their love for practical effects like Sam Raimi, Guillermo Del Toro, Spike Jonze and others.
Your favourite movies?
Too many to list! Many of Hayao Miyazakiís animated films. Also Satoshi Kon. Classic Kurosawa movies. Really digging the work of directors like Taika Waititi, Tarsem Singh (The Fall), Guillermo Del Toro, Alfonso Cuaron, and Bong Joon-ho (Snowpiercer). Dark Crystal and Empire Strikes Back will always be old favorites. And anything with time travel - I LOVE time travel!
... and of course, films you really deplore?
I hate films done by formula. Thereís a book out there thatís kinda a bible for writing stories Ė I think Spike Jonzeís Adaptation made fun of that book, and Hollywood mentality of cookie cutter storytelling. Remakes and reboots drive me nuts! Oh, and stories made by committee. I prefer a smaller team of artists and the indie spirit of storytelling and story-making.
Your/your movie's website, Facebook, whatever else?

Feeling lucky ?
Want to
search
any of my partnershops yourself
for more, better results ?

The links below
will take you
just there!!!


Best place to find me is Instagram at samkojihale. You can also follow the Yamasong: March of the Hollows Facebook page at YamasongOfficial as well as Dark Dunes Productions announcements at Darkdunesproductions.com and their Twitter Page DarkDunesFilms
Anything else you're dying to mention and I have merely forgotten to ask?
I really have to plug the Yamasong: March of the Hollows music. Everything started with the original song Yamasong and then expanded in the feature, created by my friend Shoji Kameda and his group On Ensemble. Itís so cool and a blend of Asian instruments, throat singing, all kinds of percussion and modern western instruments. Iím a big fan!
I also have to thank my puppeteers, the unsung, invisible force that breathes life into the characters, and my director of photography, Alex Griffin, for his talent, his eyes and his expertise. Couldnít do this without them!
Thanks for the interview!