Your upcoming movie Senseless - in a few words, what's it going to be about?
When Jason storms out on his wife, Diane, one summer's night, he seeks refuge in a nearby forest. Little does he know the forest is plagued with lost souls manifesting in his darkest desires and innermost fears. Lost and tormented in the forest, will Jason find his way home?
Now how did the project fall together in the first place?
Sam was working with co-writer, Jackson Batchelor, on various other projects which were planned to be shot in 2020 and then the UK lockdown happened. Once that was in place the focus could only turn to post-production on existing projects and outline thoughts of future possible scripts. But once various producers' organisations started releasing guidance for filming after the lifting of lockdown, both Trash Arts and HB Films wondered what would be feasible to shoot before the creation of the 'new normal' for filmmaking.
Sam, what were your sources of inspiration when writing Senseless, and what was your collaboration with Jackson Batchelor on the script like?
Sam: I have always wanted to tell a story of someone with reality-based frustrations walking into woods and then being 'welcomed' by a supernatural evil. Once we had that base idea, we had a lot of freedom to take it into any fantasy horror realm we wished, but obviously with the restriction of social distancing was able to be put in place for filming. Personally, I wanted something which was minimal cast with a Hellraiser/Mandy/Evil Dead vibe.
Hill, where do you see the main challenges of bringing Senseless to the screen from a producer's point of view? And in what way do you see the current COVID-19 situation impacting the shoot?
Hill: All the usual production challenges apply of course, with the need to find a location, cast actors into the characters, ensure the crew is right, efficient and just know what they are doing, and plan for the shoot. But with Senseless there is also a bit of upskilling required by the crew with the planned 'green screen' work so that needs time being allowed for practice and created the need to obtain that kit before the shoot. Then the COVID-19 situation, of course, which demands additional consideration in the usual pre-production planning. So what we have planned to achieve is the ability to minimise the pandemic risk by not only considering social distancing on location but finding the right mix of cast and crew that limit the number of households, enable same household members to travel together, ensure that the cast and crew is minimal, and all involved have a good working, and social, relationship with each other so that they can easily monitor their post-shoot health and immediately raise any concerns to allow others to isolate for 14 days. There's also the need to ensure temperatures check, that the makeup artist is aware of the need, and has the ability to provide, appropriate PPE for herself, pre-shoot health confirmations, the need to provide travel authorisation just in case it is required en route. Everything needed, or that should have been undertaken, in the old normal, but now with an even greater concern for the health and safety issues arising from the pandemic.
Do talk about Senseless's approach to horror for a bit?
Sam: The film works in three acts. We wanted the first act for Jason to become aware of having to use his own base five senses. Once that has been brought in and he is dragged into the evil of the forest, then the strangeness can kick in for act two. His own memories as to why he came into the woods are fully manipulated, which allows us to play with manifestations of death. We wanted this forest to feel as alive as possible by filling it with the perceptions of ghosts, monsters, and skeletons, building our own twisted folklore to the wood, and therefore requiring some trickery on screen. Then the third act being the impact of the forest on Jason and, ultimately, his relationship with his wife which, of course, is also the basis of the start of the film.
What can you tell us about the overall look and feel you intend Senseless to have?
Sam: Jackson and I completed the shot list for the shoot together, taking into consideration the use of green screen for some of the more fantastical elements, but also having a good level of practical effects. We both love the golden age of practical effects but also know when CGI can come in handy. It is trying to give the same energy as Evil Dead but without simply copying every frenetic shot that Sam Raimi pulls off so well. Recently, we have been trying to experiment with improvisation and letting the story move forward without forcing dialogue - basically let the actor's own physical actions push the story forward.
With much of the film taking place in a forest, what can you tell us about the projected location, and why there?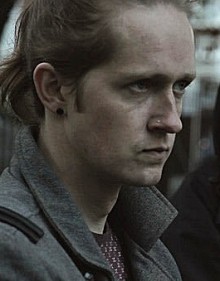 Ryan Carter
We are looking to shoot in Emsworth in Hampshire (UK). We actually intended to shoot a different film there towards the end of March 2020 - a slasher reboot of Dustin Ferguson's Tales From Black Tree Forest [Dustin Ferguson interview - click here] - so we were scouting it out in January, so we knew the woods are accessible and local to us and we had already contacted owners for approvals. Then the lockdown happened! So, whilst we have postponed that shoot to 2021, Senseless became a lot easier to consider as possible shoot early after the release, or weakening, of the UK lockdown.
Anything you can tell us about key cast and crew of Senseless yet, and why exactly these people?
I can tell you the cast is minimal! Ryan Carter, playing Jason, the lead character, is part of Trash Arts and, in 2019, was the lead in our psycho thriller, Decline (still in post-production). I know he can do a lot with silence and letting his body portray emotions, plus I live with Jackson and Ryan so that's 'one household' (we've had the worry throughout lockdown of isolating with a key worker so mentally that actually helps us with this shoot). Jackson and I will crew and double up to play two of the monsters. Ella Palmer, originally cast for the Tales from Black Tree Forest film, has agreed to play the wife, Diane, which will be a single day shoot and we can socially distance sufficient for her scenes during that. We are also joined by the Dazey Hills Company's Abbie Hills and Jack White, again a single household, who crewed a feature shot in January, Acting.
You are currently running a fundraiser for Senseless - so do talk about your campaign for a bit?
Hill: Given this is a recent addition to the slate, and mindful of the need to provide financial support to other projects which, although delayed, should still happen, we've taken the opportunity to call for funding support for Senseless. This is also the first of what could become more standard for Trash Arts as they have an impressive portfolio of feature films, with distribution, and so moving them towards a future where films can be made using sourced funding rather than relying on the, limited, budget approach that HB Films has supported and will continue to support. Of course, it was very important to make sure the crowd funder is clear on all the COVID-19 precautions/production guidelines we have set in place, in consultation between HB Films and Trash Arts, and also ensuring those who are looking to support are able to do so to their advantage. In the first two weeks of the funder, with an initial funding target set deliberately low, we have been greatly encouraged by having 75% of that target being funded and have every hope and chance of hitting that target so we know the shoot will happen. HB Films had already agreed to underwrite the shoot so the film could be made, but gaining the support of Guerrilla Girls Productions (US) as an executive producer is very encouraging and Sam and I hope that they will see a benefit of their involvement. We are still hoping for another executive producer to come on board. By having this additional external funding, we will be able to increase the computer-generated imagery, increase the practical effects, and have more freedom to make Senseless the film we set out to make. And then we can resume work on the other projects on the slate, especially once we get to 2021, which is when we anticipate the 'new normal' will start to happen (and not in 2020!)
Once the budget's in place, what's the schedule, and any idea when and where the film might be released yet?
Sam: We have scheduled the shoot for August 3rd throughout that week, and then post production for the remainder of 2020, so looking to release in early 2021. One of the perks of the crowd funder is that we will produce an exclusive edition Blu-ray of the film for our supporters in the funder so that we can ensure they receive that perk ahead of any definite distribution arrangements being made. We've been very fortunate to receive the support of Darkside Releasing with three previous features - Lonely Hearts, The Millennial Killer and, being released later this year, Truth Will Out - and continue to be in talks with them about our future output so, as they say, watch this space!
Any future projects you'd like to share?

Feeling lucky ?
Want to
search
any of my partnershops yourself
for more, better results ?

The links below
will take you
just there!!!


Trash Arts is in a very lucky position with four features that were nearing, or in, post production at the start of the lockdown, have continued to move closer to completion and being ready for festival releases in 2021! These are: Decline, a psycho thriller; Monstrous, a satire set on the European Referendum day which we hope will be the next 'pig' thing in monster horror; Unwanted, a found footage ghostly horror set in a music venue; Para-Psych Trauma, a tightly connected horror story line filmed by five different directors all in 4k on mobile phones starting from a Ouija board session. We also have projects requiring just a bit more filming to complete such as Acting, a dark psycho drama, and at least one other feature that we are looking to shoot in September/October, Underneath, an arthouse horror about demonic complicity.
Your/your movie's website, social media, IndieGoGo, whatever else?
Trash Arts website: www.trasharts.co.uk
Facebook is \trashartsUK
Twitter is @trashartsfilm
The Senseless crowdfunder is at igg.me/at/senseless-film
Thanks for the interview!