First of all, can you introduce yourself and tell us a bit about you?
Hi - Iím Sarah Maddocks a British actress & voice artist experienced in film, television, theatre & radio. I trained at RADA and Drama Studio London and have acted in crime drama, thriller, sci-fi, action, romantic comedy and period drama. I love playing strong female roles - the more challenging the role, the more exciting it is to play.
Your upcoming show Emergency: LA - in a few words, what's it going to be about, and what can you tell us about your character?
Emergency: LA is a scripted drama featuring the fictional officers of LAPD, members of LA Fire Dept Station 77 and staff at Emergency Centre Trauma One - we follow their day to day adventures, rescues and everyday lives. The show is designed to celebrate the heroes that respond to 911 calls without question.
Christine Rosen has been in the medical administration business for several years and recently divorced her surgeon husband after a difficult marriage. She arrives in Los Angeles and seeks to establish her position in Trauma One as their newly appointed administrator. Let's just say she has no intention of making any mistakes in her new life.
Your character Christine is going through the motions quite a bit from what I gather - so how do you even prepare for such a role, and what will you draw upon to bring her to life?
Creating a credible backstory for any character is vital - emotionally I will either draw from any events or experiences from my life, or from somebody else's life and make them my own. Learning the trade of a hospital administrator is key, so I will no doubt arrange with the producers to shadow one for a few days before filming starts.
Working with the script, I will consider my characterís motives and how they react and interact with the other characters - and I also consider the reactions of the other characters towards my character. Basically, itís all about fleshing out the character - lifting them off the page - giving them reasons why they do what they do, say what they say and react in the way they do. Often what a character doesnít say is actually more important that what they do say.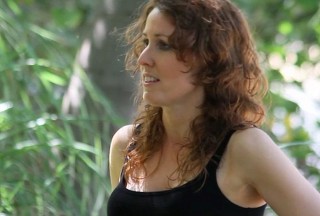 The Scattered
As Emergency: LA is still in pre-production as we speak, what can you tell us about your collaboration with the showrunners so far?
We're in contact almost daily and I'm being sent the scripts and story outlines as they're being finalised in order to familiarise myself with the flow of the show. They are very interested in hearing my ideas for the development of Christine which I find incredibly exciting - it really feels like we are a team.
How did you get involved with the series in the first place?
The show creators had seen some of my work, I was asked to do a self tape and was fortunate enough to be cast!
As you live in the UK and Emergency: LA is shot in the US, do talk about the challenges regarding this for a bit!
Obtaining the necessary visa to be able to work as an actor in the US takes time and is incredibly complex - itís also quite an expensive process, but if acting in Hollywood is your dream then you have to push as hard as you can to achieve it!
Other current and future projects you'd like to talk about?
I have been cast in a two feature films that are currently in development. I canít say too much about them at the moment, other than they are very different genres - a romantic comedy and a sci-fi - and they are both strong female roles, which I love playing! I am also working on a sci-fi radio drama series and hope to be doing more voice-over work for gaming.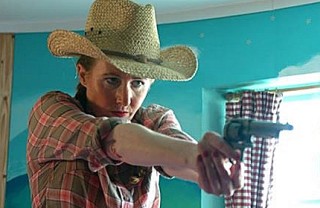 The Ballad of Evil Roy Badfinger
What got you into acting in the first place, and did you receive any formal training on the subject?
I have always been passionate about acting and whenever I experience a great production, as a viewer or listener - be it in film, television, theatre or radio, I become totally absorbed. I love inhabiting different people and telling their stories. I auditioned and was fortunate to be given the opportunity to study at RADA and Drama Studio London. This training has given me a fantastic grounding, as well as teaching me many different acting techniques and methods.
What can you tell us about your filmwork prior to Emergency: LA?
I have acted in crime drama, thriller, sci-fi, horror, action, romantic comedy and period drama. I am fairly versatile, but I have been cast mainly in professional roles - psychiatrist, detective, doctor, lawyer, police officer, teacher - as well as mother, lover and schizophrenic! I love inhabiting different characters and telling their stories. The more challenging the role, the more exciting it is to play. One of the most memorable characters I played was Pepper in The Ballad of Evil Roy Badfinger. She was a bit psychotic, but with a big heart - so she was rather contradictory, which made her somewhat unpredictable in her reactions. It was exciting to play her because she was such a challenging character.
Criminal Eyes
How would you describe yourself as an actress, and some of your techniques to bring your characters to life?
I enjoy playing a variety of characters - especially strong female roles. Itís an organic process for me, I donít tend to use just one acting technique - I use a variety and it all depends on the role. I think I have used most techniques at least once! Sense memory is one technique I particularly like. I always read the script several times, to understand the story and the characters and do any necessary research. Then itís all about fleshing out the characters and breathing life into them. I spend time building a backstory for my character & exploring their motivation in each scene. I always create a strong backstory for my character, based on what I know about them from the script. If there is little information in the script, then I create my own backstory.
Actresses (and indeed actors) who inspire you?
That is such a difficult question to answer - there are so many who inspire me - here are just a few:
Actresses: Meryl Streep, Helen Mirren, Jodie Foster, Tilda Swinton, Charlize Theron, Emma Thompson.
Actors: Al Pacino, Robert De Niro, Tom Hanks, Jack Nicholson, Denzel Washington, Javier Bardem.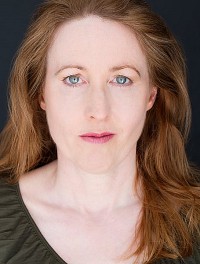 Feeling lucky ?
Want to
search
any of my partnershops yourself
for more, better results ?

The links below
will take you
just there!!!


Your favourite movies?
Again - so many, and so varied!
Itís a Wonderful Life, Blade Runner, The Silence of the Lambs, Man on Fire, Slumdog Millionaire, As Good as It Gets.
... and of course, films you really deplore?
The most important things for me in a film is that I can engage with the story and care about the characters. I really ďfeel somethingĒ after watching a good movie. I donít enjoy films that are self indulgent or exploitative - I just wouldnít watch them again!
Your website, Facebook, whatever else?
IMDb: http://www.imdb.me/sarahmaddocks
and Twitter: @sarahmaddocks1
Anything else you're dying to mention and I have merely forgotten to ask?
My mantra: Be true to yourself and be kind to others. You can never stop learning.
Thanks for the interview!
My pleasure - it was great talking to you!