You have very recently finished your film Scarlet Fry's Junkfood Horrorfest, which you yourself hosted, co-produced, co-directed, and co-scripted. Could you tell us a bit about the plot of this movie?
Scarlet Fry's Junkfood Horrorfest is an anthology, basically the movie starts of with a junkie trying to score some dope, the dealer gives her a bag & tells her to get lost. As she finds the only thing in the bag is a video tape she returns to kill the junkie & then approaches a passer by & asks him if he'd like to watch a movie, then the credits roll & the whole anthology is actually the junkie killer watching the video, the video IS a horror anthology hosted by Scarlet Fry, & there's six individula movies that Scarlet Fry will introduce & comment on in the end before the next on rolls. He also does a little killing of his own, Its like Toxic Avenger meets Tales from the Crypt.

When and where will it be released, and how are you planning to distribute it, through the usual channels (i.e. big video outlets) or independently?
We have several distributors interested who have yet to see the screener. If we don't land a deal by January we will take it to Troma Dance & sell it ourselves, if we don't get a deal by then. We've already projected thousands of sales to Alice Cooper fans alone so will be ok as far as making some dough. We really do this for the love of the genre but a little $$ would be nice & our goal is to be in there, be noticed & make more films that can be sucsessful. We want to get distributed first & foremost, & I really think we will!
Update June 2011: Scarlet Fry's Junkfood Horrorfest will be released on October 11th 2011 with bonus features Scarlet Fry's Horrorama and Carnival of Souls by Chemical Burn - www.chemicalburn.org.

Do you have a homepage for those interested in the film/your work?
Yes you can go to www.scarletfry.com, there is also a Scarlet Fry's Junkfood Horrorfest-my space group & a yahoo group as well. You can do a google search & find tons of stuff on this movie.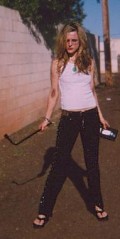 Calico Cooper,
playing 'the junkie'
You have managed to get Calico Cooper, not only the daughter of Alice Cooper but also one of his on-stage performers, to star in your film. How did that come to happen?
I obtained her e-mail adress from Alice Cooper's guitarist Ryan Roxie who also submitted a song exclusivley for the movie called Psycho Fighter, which also features Cooper-bandmate & ex-Mötley Crüe frontman John Corabi !

How hard/easy is it to get people to work on/perform in independent horror movies these days?
It's not so hard getting them to agree, the challenge is finding people who can actually act & then getting all of them to show up on the same day!


Scarlet Fry's Junkfood Horrorfest is not your first film though, you have quite a career in (genre-)movies reaching back as far as 1989, and in various functions. What can you tell us about your past films?
The first movie I was in, Satan's Story Book had a 90,000 dollar budget & starred porn queen Ginger Lynn. It was her first legit movie. She tried to capitalize on the whole porn queen crossover thing like what happend with Traci Lords ... It was a huge flop, but was distributed quite well & had a moderate sucsess. I also starred in a movie called Grossout which was done in the old school John Waters style - need I say more - that had a small theatrical run in Los Angeles, but is now only available in Europe. I also made a previous Scarlet Fry movie in 1990 called Scarlet Fry's Horrorama. That was a fun movie but was only 30 min & had no chance to get distributed cause in those days nobody wanted a 30 min video, although I managed to get it into about 60 video stores nation wide & sold a few through Fangoria magazine !
&nbsp
Your alter ego Scarlet Fry was created way back in 1994. How did that come into being, & where else can we see Scarlet Fry?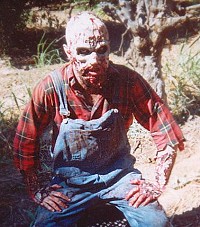 Walter Ruether,
in Scarlet Fry make-up
Scarlet Fry was actualy a name I thought up in 1983, I originally wanted to start a band & be the next Alice Cooper, but Marilyn Manson beat me to it so I went in to the film business.

Where does Walter Ruether end and Scarlet Fry start (and vice versa)?
Scarlet Fry only lives on camera, I'm reallly just as all-American as Leave it to Beaver, I don't walk around wearing gothic clothes & all that, I go to church & play golf. But on camera I'm a sick twisted maniac, but when the camera stops rolling, I go home & watch baseball games.
Could you name any influences on your work as filmmaker and/or performer, and which films (horrorfilms and films in general) did impress yout he most?
Alice Cooper, & Herschell Gordon Lewis [Herschell Gordon Lewis bio - click here], Dario Argento, Lucio Fulci [Lucio Fulci bio - click here] etc ...

Feeling lucky ?
Want to
search
any of my partnershops yourself
for more, better results ?

The links below
will take you
just there!!!

Find Walter Ruether
at the amazons ...

amazon.com

amazon.co.uk

amazon.de
Looking for imports ?
Find Walter Ruether here ...
Something naughty ?
(Must be over 18 to go there !)

A very general question: What do you think of today's horror genre as a whole, and big budget films opposed to independent productions?
I love the Asian horror stuff right now, they scare me, American horror is great but I've seen a lot of independent stuff that is a lot better, like Dead Meat, etc ...

What are your plans for the future, any projects we just have to know about?
I'm working on a lot of scripts right know & I haven't decided which one will be next but I will say this one will not be tongue in cheek, it will be very very creeepy !

Anything else you want to tell us which I might have forgotten to touch?
That is watch for the DVD-realese around the end of the year, the sneak preview will be held in the Dungeon at Alice Coopers restaurant in Phoenix AZ Oct 13th 2005.
Thanks for the interview.