Your latest short is called Mr. Mullen - in a few words, what is it about?
Mr. Mullen is a 12 minute short film about a man, Chris Mitchell who loses everything due to the corruption of a politician who causes him to lose his home and life savings.
What were your inspirations for the film?
The inspirations for Mr. Mullen were from the political and societal crippling that we face in our country today. The lies of the politicians saying one thing and doing another as well as the dumbing down of society through media and the mainstream way of thinking was something that irked myself and others so we felt the need to comment on it throughout the film.
What made you decide to use a serialkiller story as a framework for your political message?
The first day of shooting was on a dark and rainy afternoon and we were waiting for an actress to show up and actor Chris Margaritis and I were discussing the scene that we were getting ready to film and he suggested that his character was out for the politicians daughter due to money laundering that caused his character to lose his life savings and home so that's where the film started from - that one sequence. The message of the film unraveled as the storyline became more in depth with ideas that ultimately shaped the film to be what it is today, a commentary on the political and societal landscape so it was being made with current events in mind for sure.
Originally, Mr. Mullen was intended as a PSA about something completely else, right? How come it eventually evolved into the film it is today, at which point did you notice you had to ditch the original idea of the film, and how much of the footage of the originally intended PSA did eventually end up in Mr. Mullen?
Yes the scene I had just described was the scene that was shot for the PSA. Actually we did two Public Service Announcement type segments - the main one that we did was never finished due to not enough daylight left because of how long the other PSA took - it was a segment where Chris talked on camera about the election of Barack Obama and where he questioned who he was and if him or any of those in the 2008 election were worthy of being the President of the United States of America. The Public Service Announcement which we shot prior to that was a Rape Awareness PSA to get people aware of being careful when going out for a jog in a secluded place, such as the woods. For me, it was to shoot something new and get it up online on the website with the new equipment we had which was a 35mm adapter. From there it expanded over the course of about a year and a half. There are about four clips from the shoot that we used in the film which was one of the Mullen sisters driving, Chris stabbing her and then a connecting shot of him pulling her into a swamp.
Based on this, how does the creative process usually work when you write and direct a film?
It's honestly different for each film. When I first attempted my first feature film at the age of seventeen, I purchased a book on directing. I believe it was called Directing for Dummies. Soon after that I learned that there is no right way to direct and that the book wasn't going to teach me how to find myself as a filmmaker. I had to find out for myself through my own path. What I've learned over the years is that directing is heavily about communication and being able to make the crew and talent understand your vision for the film. If the communication is lacking your product will lack in many aspects.
How has the response been from people who have viewed the film online so far?
The response to the film has mostly been positive. We had an online radio interview with a site and it's rival site bashed the film saying that it was political porn. From the positive end, people have really enjoyed it and told me that it connected with them on a personal level due to the honest reality of it. It's a dark and serious film which was what our intentions were so I'm happy that that type of feeling carried throughout the film with many who have viewed it.
At least in my opinion, Mr. Mullen at times feels like a trailer for a feature film rather than a film itself. Were you ever tempted to turn Mr. Mullen into a feature length movie?
It would be nice on a bigger budget for sure. If someone had the money and wanted to produce it, surely I'd be interested as long as the freedom to express the concept in a dark and serious tone. I feel with the short I said what I needed to say about the political landscape in America. I was very angry while making that film because I would hear all of these talking heads on various news stations and radio shows spouting their mainstream ideas and agenda and I felt that I needed to express things in a different light.
It's interesting because making movies is in some ways a therapy for conquering real life fears that one may have. I used to fear government but now I just see it as something you shouldn't fear because life is short and one needs to focus on their own lives rather than worrying or trying to change the system through protests and minor means. Yes, in certain instances things can change like laws and such, but with corruption and greed running rampant, you need to find a leveled way of thinking - if you're fearing things all the time, you're going to be very paranoid. I think some of that paranoia and anger shows in the film, but I'm actually glad it does because it was the type of person I was at the time - you need to have some type of emotion in a film, otherwise a film just won't have the certain amount of fire or venom - especially when it's a film that has the dark themes that Mr. Mullen does.
A few words about your lead actor, Chris Margaritis?
Chris is not at all like his character in Mr. Mullen in the sense of him being on the edge but during the filming of Mr. Mullen, he was going through some financial issues which I think helped develop the character, naturally. He was a trouper when it came to shooting the film. He would always coming out even when it was ten degrees outside and we'd shoot scenes in the dead of winter. Chris is a really nice person and fun to be around. We always get a lot done and it's because he's extremely easy to work with.
The film you have made before Mr. Mullen was Loss of Hope, a quite fascinating portrait of a man who has lost all hope. What can you tell us about that one, and what were your inspirations?
Like Mr. Mullen, this film was also based off my fears at the time. This one being about war in general. Just like Mr. Mullen, it was a therapy for me because at the time of making the film, there was a lot of nuclear arms talk about North Korea and Iran and a lot of the fear mongering through the mainstream media concerning nuclear armament and various other things that can be scary for many. So those topics were something I wanted to comment on through the art we make.
What are some of the events at the time that was happening in the world that shaped Loss of Hope?
September 11th for sure - even though the film wasn't made in 2001, the date of September 11th surely had an impact on the film. In the beginning of Loss of Hope, we hear a voice through CB transmission saying that planes were being used as weapons with nuclear bombs on board and that nuclear explosions were going off in all major cities. In the film, Paul Sanders' (Paul Kratka) wife had taken a plane on her way to work in New York (which we hear on the answering machine in a scene during the film) and that was one of the planes that was hijacked and detonated while crashing into New York. The low budget nor time to explain this further gave us not much time to explain that but some people did catch the two connections, while others had a hard time putting two and two together. These are the things you learn in independent filmmaking - and just like Mr. Mullen, Loss of Hope started from one scene which was Paul's character in the basement reflecting on his life prior to the end of the world. There is also a line where Paul says "We used to live so happy and free, totally aware of the corrupt policies that would take all of this away from us…" That line comments on the ignorance and unawareness from most people on governmental policies that are corroding our world today.

The events prior to the finishing of the film was also the whole Election 2008 race. The illusion of Democrats versus Republicans. Prior to starting the film, which we started in early 2008 I was part of a few organizations that spoke out about corruption in government, lies of the media and the concern for our country. I was actually making a documentary at the time about these topics and I learned a few new things both about myself as well as the political structure in this country.
The lead in Loss of Hope is played by Paul Kratka, whom you have brought back to the movies an few years ago after he went into film retirement after Friday the 13th Part 3 in 1982, and you have since cast him in several movies. Why did you bring him, of all people, back, how did you initially get in touch, and what did it take to bring him back?
I had contacted a few people actually. This was back in 2004. I contacted four actors that I looked up to in the horror genre and asked them if they'd be interested in being in a film we were gearing up to make. None of them replied except for Paul. He showed some interest and when the time came to prepping the dates of the shoot I filled him in with more information on the movie and he agreed to take on the role of Detective Jason Ronner. We accommodated his schedule and flew him out to New York in April of 2005 and I remember being very nervous during the directing process. This was my first film out of college so I felt really ashamed of the non-budget aspect of the film. We shot in a cabin where we rigged up lighting and shot for about an hour. Since then we've worked on many films and he's just like any other friend. I don't see him as Paul Kratka the lead of Friday the 13th Part 3 like I used to on the first shoot I did with him - I just see him as Paul, you know? Paul is the type who loves to act and since working on The Day They Came Back he has worked with a few other independent filmmakers on their films so I'm glad to see that Paul is doing what he loves to do.
A few words about Jennifer Baltusis, who wrote the original story for Loss of Hope and was also in it as well as in Mr. Mullen?
I had an idea to have a man in his basement with another man as they both expressed their fears and concern during the end of the world due to a nuclear war. For some reason I had the vision of a Steve Buscemi type playing the lead role in the short. When I had told her about the concept she wanted to write the story. She came up with a solid foundation that was more subtle and after reading it a few times I had added some dialogue about nuclear war and some political aspects to the monologue. That's all it really was honestly. It was a monologue piece at first for Paul to showcase his acting talents He actually added some small changes to the final dialogue to make it best fit his type of speech patterns. After we had shot the monologue piece, I flew Paul back two more times to shoot some flashback scenes of him with his family and the life he lived prior to nuclear war.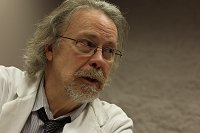 John Amplas in The Three
You have worked recently with actor John Amplas who played the lead role in the 1977 horror film Martin, which is what many refer to as a classic horror film. What was it like working with him?
I first saw John's talents in Day of the Dead, one of my favorite horror films of all time. He plays the role of a scientist named Ted Fisher. A year or so ago was the first time I saw Martin. My friend Chris Garetano and I were having conversations about horror films and he asked me if I've ever seen Martin and at the time I had not and he told me it was a must see. So I checked it out and loved it. This was Romero's film just before Dawn of the Dead and you can see him starting to become an solid filmmaker.
John and I had conversed online for a good few months prior to getting together to shoot his scenes for The Three. I wanted him to act in two other productions but the traveling expenses and time was a big issue. When the time came to shooting in the Wampum mines (where Day of the Dead was shot) I had noticed that John didn't live that far from there. So I contacted him and told him that I am doing a short teaser concept film that we're making to try to find funding for the feature length version. He took interest and we shot his scenes on two separate occasions - one at the Pittsburgh Playhouse and one at the Day of the Dead mine in Wampum, Pennsylvania.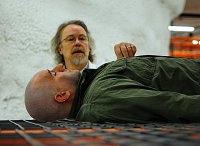 The Three
Tell us more about The Three. What is it about?
The Three is honestly a hope that myself and a lot of others have about ending all wars and bringing the troops home from the harmful conditions they now face and are in. That is what is at the core of both the feature length screenplay and the short film concept. The hope of withdrawing the troops from all over the world and finding peace through alternative means is something that is appealing to many because we all more than likely know someone who has a brother or sister, mother or father whom are stationed over in Iraq and Afghanistan and want them to come home safely and for good. Myself and others believe the government has a hard time staying out of other nations affairs and rather than trying to fix things overseas they should worry about the United States and making things better for people here in the United States of America. So the idea in the film is to have that as a core message but to make it realistic in the sense of new technology which would make it easier to withdraw troops was important to us. So you have scientists working on a solution to try to end the wars through building soldiers that are meant to be on the battlefield. You somewhat see this happening already within the beginning stages of new technology.
The film is more of a dark and psychologically driven concept that we're looking to showcase in the short teaser concept film.
You are shooting at the same mines where George A. Romero's film Day of the Dead was shot, right?
Yes, well the mines are deep and vast. I believe they shot mostly around where the main office area was located. When you go deeper in the mines, there are many different warehouses and sections to the mine. There is a maid road with white limestone walls which are brightly lit and then sections branch off. We shot in a warehouse around that area, If you continue down the main road you come to a dark mine area where there is nothing but rocks, gravel and dark limestone walls and columns. It really is an amazing atmosphere, very claustrophobic. When I watch the footage we shot I get this sense of smell from the place which was a musty and damp type of smell - it's interesting how certain smells come back when you see certain visuals of footage you've shot.
Was there anyone from the time of Day of the Dead that still works there?
Yes, one person actually. Skip, a man who worked with Romero on Day of the Dead actually had showed us a tour the first time we came to the mine so it was awesome to see the missile silo, the area where Captain Rhodes holds the meetings as well as the place where the Ritz and the zombie corral was built. As a fan of Day of the Dead it was awesome to see all of that. He showed us the closed up warehouse area where a lot of the sets were built by Cletus Anderson. There was this back room behind the offices where we saw the complex where the office area was shot. The offices are now broken down and certain areas and walls were built but when Skip and I were going over the scenes on my laptop while in the office area he showed us all the actual sections where the walls were torn down as well as the limestone columns where Lori Cardille and John Amplas would converse in certain scenes. When we toured the facility with John, Lori and my crew it was interesting hearing and seeing Lori point out where all the rooms were for those scenes, like the water fountain, Logan's lab and so on. It was surreal for me, especially since I'm a huge fan of Day of the Dead.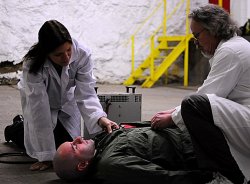 Lori Cordille and John Amplas leaning over their creation in The Three
Lori Cardille you just mentioned. What was it like working with her?
Working with Lori on The Three was great because I knew the type of talent I was going to be able to work with. I am a big fan of her acting in Day of the Dead and have always thought she was a great actress. I have seen the film countless times so working with her, being able to direct her and have her play a role that was close to both our hearts was a great opportunity and I'm happy that she took on the role.
What role did Lori take on for the film?
Well Lori plays a Scientist who lost her son in the Iraq War and wanted to bring an end to the fighting so she joined her husband James L. Fisher to get this project finished to where no more troops had to die overseas. The idea was that their son had died in the Iraq War and she wanted to pay homage to him by create a prototype soldier that was a replica of her son.
Let's go all the way back to the beginning of your career: You studied film, right? How does what you learn in college relate to actual on-set experiences, and what got you interested in filmmaking in the first place?
I became interested in filmmaking when I was very young. My mother had a VHS camera and I would edit Friday the 13th-style films using her camera. I remember vaguely being young, maybe 10 or 11 and making home movies that were spin offs of Friday the 13th and other horror films. The imagination was always there. Even a little further back, when I was maybe eight years old I shot videos of things that interested me. We had this couch that I was able to take the cushions off of and make into a "fort" with a roof and I'd shoot video of me falling through it. I was surely influenced by Friday the 13th films and the stunts in those films. There was something about capturing things like that on video.
At age seventeen I tried to make a feature film with a few friends of mine at that time - that fell through due to loss of interest. And that was one of my first valuable lessons of movie making, to never cast your friends because not everyone can stay as excited as you are nor see the end product in the vision you hold in your mind. As for learning in a place like the classroom, I suppose it really depends on the college or type of film school you go to. Some people learn more than others. No one is the same when it comes to being artistic. Textbooks are one thing - they help you understand certain words, aspects, etc while working on a film gives you hands on experience that you can't get in a textbook.
You also made quite a few shorts during your college time, right? A few words about those?
Well they were projects that made a few small film festivals in 2003 and 2004. My Valentine was a project I shot while at film school which was unfortunately a cliché horror film. The film was a cross between Scream and A Nightmare on Elm Street. Just thinking about that makes me cringe and think, "What the hell was I thinking?" because nowadays I have no interest in those type of films. With the new possibilities in commenting on world issues, society, politics and different genres that can be refreshed, I believe that cinema deserves better than the old cliché shorelines, especially in the horror realm. Horror films just are not scary anymore because of the same concept which lacks creativity or realism, and I think each filmmaker goes through struggles trying to find their voice.
What can you tell us about The Day They Came Back, your first out-of-college short (if my information is correct)?
The Day They Came Back was a zombie film that I made after graduating film school which was inspired by Day of the Dead and Dawn of the Dead. We used a DVX100 to shoot the film. I had a concept for the script and had two friends at the time come in and write the dialogue which looking back on it now was extremely cliché. At the time I felt that making a zombie film would be a way of paying homage to George Romero but now I don't believe that doing a zombie film is paying homage at all because it's copying what has been done over and over again. Looking back if I had the chance to do a different horror film I would have. I believe the zombie genre has been out-done to where it's very boring and stale. Wish I would have understood that back then when I made the film because it would have been different and perhaps not even a zombie film. The thing you get out of a project like that is the experience and memories of some very fun death scenes for sure. At the time of making the film it was something I personally remember as a fond memory. It was filmed nearly six years ago and funny how when you remember the visuals and days of shooting these, senses and smells come back.
Since The Day They Came Back, you have made many a short. Want to talk about those for a bit?
In 2006 and 2007 I had worked on a few short films which can watched online, All I Want For Christmas, Nightmare and United We Sleep, shot on literally no budget with a DVX100. All I Want For Christmas started out like Mr. Mullen, with one scene. The scene was of a demented Santa pervert whom had kidnapped a young girl and brainwashed her into being his little killer. Nightmare is another short film about a girl who falls asleep and never wakes up, and United We Sleep was a film we made about the lies of the media concerning terrorism. United We Sleep was very similar to Mr. Mullen in the sense of it being very political and in-your-face.
Having all these shorts under your belt, doesn't it itch you to once again make a feature film, or is the short format the format that fits your needs the best?
Well we currently have a feature length we're planning to shoot as soon as we get funding. It really depends on money and attaching someone to the project who has the same views we do with the subjects in the film that we are deeply passionate about. Currently we're shooting a short film concept to show investors the film we're looking to make, of course on literally no budget, but we feel it's something that can really bring the dark element of horror back rather than the comedic horror that we've seen in the last few years with remakes and generic horror films.
You seem to return to the horror genre on a regular basis. Why is that and is horror a genre especially dear to you?
Horror films are one of my favorite genres next to dramatically themed films. I think horror is a good escape from everyday reality. My favorite type of horror films are those that are dark, sad, depressing, terrifying and scary. That has been missing from many independent and mainstream horror films that have come out in the last fifteen years or so. I don't mind remakes as much as I did a few years back because remakes have been done over and over in many different genres. The issue I have with remakes of today is that they lack in many aspects - if you're going to remake a horror film at least make it scary and terrifying.
Any future projects you'd like to talk about?
We've covered pretty much everything so we appreciate the interest in the projects. We hope others enjoy them as well.
On your films you pretty much do it all, writing, directing, producing, cinematography, and God knows what else. What do you prefer, what could you do without?
Filmmaking in general is what I live to do. I like being hands on in every aspect. You have to in order to get it done, especially when directing, producing, writing and shooting the movie yourself. Every filmmaker has a certain vision so doing all of the above ensures that vision will come to life as long as you're good at what you do.
As an independent filmmaker who has already survived in the business for several years, what's your advice to rookie filmmakers?
Make movies. Do it because you love it, not because you wish to be famous or make money. Personally I do not care about the personal fame aspect. To me that's not what filmmaking is about - never has been, never will be. I've been making independent films for a few years now and am still working at my craft and I feel one of the best ways to make films is to get a camera, understand the aspect of cinema and to just make movies. Learning and educating yourself is important and to never try to be like any other filmmaker is important. Everyone has their own style and journey. The things that inspire me are filmmakers and films that understand and get "it". The ones who make great films that contribute to quality cinema. That is what I believe everyone should strive for if they want to or do make movies.
Directors who have inspired you?
George A. Romero for sure. Day of the Dead is the ultimate horror film in my opinion. It's dark, the music is fantastic and you feel the depression in the film and score. John Carpenter is a big inspiration as well. Halloween, The Thing, They Live - all great films with an awesome atmosphere. I also enjoy films by Sean Penn like Into the Wild. I feel that the film Into the Wild is one of the best films within the last decade. As a person and filmmaker it really connected with me on both a spiritual and entertaining level. A guilty pleasure of mine has to be John Hughes films. Planes, Trains and Automobiles has some really sad and touching moments and the eighties sounding synths really fit with that film.

Feeling lucky ?
Want to
search
any of my partnershops yourself
for more, better results ?

The links below
will take you
just there!!!

Find Scott Goldberg
at the amazons ...

amazon.com

amazon.co.uk

amazon.de
Looking for imports ?
Find Scott Goldberg here ...
Something naughty ?
(Must be over 18 to go there !)

Your favourite films?
In the horror genre, my top three would have to be Day of the Dead, Halloween and The Shining - all the originals not the remakes. Other horror greats for me are The Thing, The Texas Chain Saw Massacre, Dawn of the Dead, Carrie, Creepshow.
... and of course, movies you have really deplored?
Hatchet. A disgusting subtraction to the genre of horror. I don't even think it can be considered a horror film. A poorly written comedy at best. I also dislike most modern horror films due to lack of understanding of what true horror is. Generic concepts really bother me since they bring nothing new to the genre of horror. They are a waste of time.
If a horror film is dark, creepy, scary, terrifying I'd be willing to support it much more than if it's a comedic horror film with none of those elements.
Your website, Facebook, whatever else?
Loss of Hope and Mr. Mullen can be viewed at http://www.lossofhopefilm.com and http://www.mrmullenfilm.com
The trailers and clips for The Militia 15 can be seen at http://www.themilitia15film.com
And the website for our upcoming short film concept (featuring John Amplas and Lori Cardille) The Three can be seen at http://www.thethreefilm.com
Anything else you are dying to mention and I have merely forgotten to ask?
Seems like we covered a good amount. Thank you for your interest in what we do.
Thanks for the interview!