Your new movie X - in a few words, what is it about?
Our movie is a queer thriller about a young woman named Christian King, known to her guests as X, who hosts masked charity balls at her beachside estate that double as sex parties. The debauchery that takes place at these events is all fun and games until the arrival of an unexpected guest from Christianís past threatens to bring to light her darkest secret: She has a hidden camera in the guest bathroom.
What were your sources of inspiration when writing X?
The initial idea came to me out of nowhere. When I brought it to my writing partner Hannah, she suggested we structure it like a Shakespearean tragedy, with sort of a chorus of party guests. We ended up taking some Hitchcockian tropes and running them through a queer, feminist lens. When we started, I had just seen Mulholland Drive and also the work of Xavier Dolan, so both of those also had an influence. Looking back, I think the sense of otherness and shame that comes with being queer were the main driving forces behind the story.
What can you tell us about your co-writer Hannah Katherine Jost, and what was your collaboration like?
Hannah and I had been creative partners for years in college, and X was both our first project after graduating and our first time writing together. I pitched her my idea and gave her my story treatment, and then she wrote the first draft and we went back and forth from there. Our writing strengths compliment each other well - Iím very focused on character drama, reveals, and symbolism, but can be clunky, while Hannah is much better than me at writing human characters and has a more crisp, deft approach. In addition to co-writer, Hannah was also a producer and art director, so she wore many hats, and the two of us incorporated the design of the movie very heavily in the writing process.
To what extent could you actually identify with X's lead Christian - or any of the other characters for that matter?
Iím very different than all of the characters, but Hannah and I put a lot of ourselves into all of them - especially Christian, Danny and Stella. Even though Iím not a predatory voyeur, I immensely relate to Christianís shame, and even moreso her desire to create a community she felt she never had. Our hope is for the audience to feel empathy for this character who is doing something terrible and violating, and sees herself as a monster. I also definitely relate to Dannyís experiences in the film.
X touches some, shall we say, quite delicate topics - so how did you deal with bringing them to the screen from a director's point of view?
I always just try to approach everything with an earnest and honest perspective. Our only two focuses in this respect were telling the story in as engaging a way as possible, and making sure the actors were comfortable and felt like they had agency. Exploitation was not only not our goal, but would have gotten in the way of our goal. At the end of the day, the actors are just as much storytellers as I am, so all that mattered was making sure we were synchronized in that pursuit.
What can you tell us about your overall directorial approach to your story at hand?
In the same vein as my last answer, I just believe in ruthlessly pursuing the story and using that to make every decision. The color of curtains, the way a shot is framed, the background score are all elements that come quite easily when you decide them based on what the character is going through in the scene. Of course, I have a heightened perspective and a sort of theatrical approach to how I look at the world, so my execution in that regard may be a little different - not to mention this was my first movie, so I was learning as I went and making quite a mess along the way! But I love having a naive approach, I think sometimes too much analysis and knowledge can be paralyzing, at least for me.
Do talk about X's key cast, and why exactly these people?
We had gone to school with Hope Raymond, the lead actor, but when we asked her to audition we didnít expect sheíd be available. About ten seconds into her reading I immediately started thinking about how we were going to style her - it was effervescently clear that she would bring the charm and swagger the role needed. Hannah had worked with Brian Smick (Danny) and Valerie FaÁhman (Lynda), and knew Eliza Boivin (Stella Marie) from a class, but all of them auditioned. Zach Cowan (Jackson) was also from our alma mater. The cast was just a motley crew of talented Bay Area actors, none of whom were named talent, but they each had the spark that we were looking for.
A few words about the shoot as such, and the on-set atmosphere?
The shoot took place at a gorgeous beach house on the coast of Big Sur owned by one of our executive producers and wonderful host Susan De Nicolo. The shoot was like camp - we would shoot all night, and the cast and crew would sleep in, go for jogs on the beach, cook and relax while Hannah, Kevin, and myself would panic about how to make everything work. It was a constant state of stress in the most comfortable house in the world. One onset disaster involved a ceiling sprinkler wreaking watery mayhem on everything in sight - but every member of the cast and crew stayed to help us clean up after. Our team was so unendingly committed to telling this story. I was especially grateful for our cinematographer Chantel Beam, who was so imaginative and calm that I felt very able to focus on my job and know it would look amazing.
Anything you can tell us about audience and critical reception of X?
Critical reception has been all over the map - we won ďBest Overall FilmĒ at the Indie Gathering in Ohio on one hand, and have been skewered by some critics on the other. Itís definitely not for everyone, and itís the work of rookies and so it has that DIY, raw edge to it, but the audiences weíve put it in front of have responded warmly and loved the story. I love midnight movies, and so I love that X is sort of both a serious drama and ridiculous and campy at the same time!
Any future projects you'd like to share?
Hannah and I are writing another movie that has some thematic overlap with X but is very different. Itís not finished, but that script feels like the kind of movie Iíve always wanted to make, and the story feels even more personal for me than X was.
What got you into filmmaking to begin with, and did you receive any formal training on the subject?
I started putting on shows for my family and writing ďbooksĒ bound with construction paper when I was 3 or 4. I think I started involving a camera when I was around 12, and I learned how to edit on a blank tape with a VCR around 14. I started making music videos with my sister lipsyncing to Britney Spears songs where she would dance to choreography by my mom. I went to San Francisco State to study Cinema, and joined a co-ed cinema fraternity called Delta Kappa Alpha, where I met Hannah, Kevin, and Hope Raymond who plays Christian in the movie. I became president of DKA and was in the thesis program at SFSU.
What can you tell us about your filmwork prior to X?
X was my first real movie, but I tried to make a feature film in college when I was 19, which I spent 3 years working on and was unable to finish for a variety of reasons. I also made a lot of random work for classes, a few films with my friends, and a lot of fan videos. The feature I tried to make was probably the most important film school experience I had even though it wasnít for any class. The concept behind it still excites me even though most of it was garbagio.
Meanwhile, in addition to X, we also made three music videos to songs from the score while we were in post production, which are short films in their own right, and which we also took to festivals.
Do talk about your production company The Foundation, and how did it come into being, and what's the philosophy behind it?
We started The Foundation just so we could create an LLC during production. Our philosophy is to create subversive work that disturbs the comfortable and comforts the disturbed. Just speaking for myself, I find the concept of ďnormalĒ to be menacing, so Iím always thinking of how I can destroy norms. I feel like Iím still growing and learning and that weíve barely scratched the surface of possibility. In that same vein, The Foundation is also about being limitless in medium: telling stories across different media, including music, short films, music videos, and who knows what else!
How would you describe yourself as a director?
I would say I am quite hands on.
Filmmakers who inspire you?
I recently became obsessed with Anna Biller, who my friends always were talking about. Xavier Dolan is also a big inspiration. I love Luca Guadagnino, I recently got into Derek Jarmanís work. I really admire Debra Granikís creative process, even though my work isnít exactly neorealist! And then John Waters is also very comforting to me.
I find a lot of the ďgreatsĒ kind of boring even though I love their work and think itís super valuable. David Fincher is so fun to listen to though, I could hear him talk for hours, as is Agnes Varda!
Your favourite movies?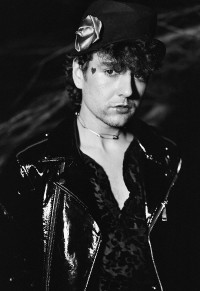 Feeling lucky ?
Want to
search
any of my partnershops yourself
for more, better results ?

The links below
will take you
just there!!!


There are too many to mention and they change, but some of my favorites are Black Swan, Batman Returns, The Rules of Attraction, Vertigo, Call Me By Your Name, I Am Love, Beauty and the Beast, The Love Witch, The Fifth Element, Paris is Burning, Pink Narcissus, The Social Network, Eyes Wide Shut, A Clockwork Orange, Capernaum, Leave No Trace, Mother!, Neon Demon, The Matrix, Death Becomes Her, The Shining, Mask of Zorro, all the Star Wars and many Hitchcocks! Iím forgetting a lot.
... and of course, films your really deplore?
I donít like Marvel movies, but to be fair Iíve only seen like three, so maybe Iím being unfair. At the very least I am not a fan of the visuals.
Your/your movie's website, social media, whatever else?
My Instagram and Twitter handles are scottjramsey, our movieís Instagram is everybodylovesX and Twitter is letshaveX. We also have a behind-the-scenes webseries called Blood, Sweat, & Rose Petals that can be found on our YouTube channel, youtube.com/XeverybodylovesX. And then the film also has its own website as well, everybodylovesX.com, and my website is scottjramsey.com.
Anything else you're dying to mention and I have merely forgotten to ask?
While Lien Do and Kevin De Nicolo were composing the score for the movie, Kevin and I formed a music act called The Major Arcana and made several new wave influenced goth pop songs for the soundtrack, with me as vocalist. We ended up recording a whole album called At the Devilís Ball that exists on its own separate from the soundtrack as a complete body of work. At the Devilís Ball, plus the movieís score called Music from the Movie X, can both be heard on all music platforms, and those music videos can be seen on our YouTube channel.
Thanks for the interview!