Your film Crowbar - in a few words, what is it about?
Crowbar is a throwback to the great slasher films of the late 70's and early 80's. Those films relied a lot on in-camera effects, audience imagination, and the idea that what you couldn't see was actually scarier than what you could see. Today's horror films are all about the gore, the bloodier the better. With Crowbar I wanted to make a film that had an eerie atmosphere, some gore, but mostly I just wanted to let the audience imagine what the violence would look like rather than show it all.
What especially the gorehounds among my readers will want to know: Why did you choose a crowbar as your weapon of choice?
The crowbar became the weapon of choice based on the fact that I love the shape, the intimidation factor, and I loved it when I was playing GTA. I also had never seen a film that used it before so I thought it would be perfect.
The weird small town Crowbar is set in - is it in any way based on an actual place, or where did that part of the story come from?
I knew it had to be a small town that seemed to be trapped in time somehow. With all of todays technology it's hard to make a film where someone's cell phone or Google Maps couldn't help them out of a bad situation. I knew that if this was going to work, it had to be somewhere that had very limited access to things like the internet. We shot most of the film in the small town of Coburg, Oregon just north of Eugene. So the small town feel really came from Coburg, which only has a few thousand residents.
Other inspirations for Crowbar?
The old slasher films, Halloween, Psycho, those kind of classics that really stand the test of time.
How would you describe your directorial approach to the subject?
Since I come at it from a cinematographer and editor point of view, I really wanted the film to look a certain way. My great DP Kurt Richter really achieved the look we were going for from the first scene all the way to the end. As far as the actors go, I really let them do their thing, but we worked really hard on blocking each scene to get the most out of our small budget.
A few words about your two leads, Natasha Timpani and Michael Ray Clark, and how did you find them?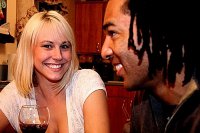 Natasha Timpany, Michael Ray Clark
We found both Natasha and Michael Ray through the audition process. They both came in and Natasha was actually reading for a different role. We had a callback and paired 3 guys with 3 girls and mixed and matched them to find the right 2 people that had the best chemistry. When Michael Ray and Natasha read together, we all just looked at each other in the audition room and knew that these two were the right fit. This was actually Natasha's first audition and we gave her the part, and she did not disappoint. She was always on time, knew her lines and was ready to go, even when it was 2 in the morning and 33 degrees outside. She was a trooper and did a fabulous job for us. Michael Ray is a true professional. He's appeared in major motion pictures like Training Day, he's been in countless commercials, TV shows, the man has done it all. He was really the guy that brought authenticity to the role and to the whole film. Without these two, I'm not sure how the picture would've turned out.
Dave Polland
Of all your supporting actors, Dave Polland as off-the-hook realtor has probably given the most memorable and bizarre performance. What can you tell us about him?
Dave was another guy who came in and auditioned for us. When he came in he had this great mustache that he had grown for another role he was doing and we just loved it. We asked if he was willing to keep the stache for our film and he said sure and the next thing we knew he was this crazy psycho real estate guy. I wanted him to be the only guy in the town that had really gone over the top and he delivered. We had a great time shooting his scenes.
A few words about the rest of your cast and crew?
The tough thing about a movie like this is that we wouldn't really afford to pay anyone. But that was also a good thing because everyone who got involved, got involved because they wanted to be there. We didn't have to force anyone to participate, they did it willingly. Everyone worked hard and there's no way to say thank you enough to all the people who came out for one night, or all 9 months of shooting. Susan Bunker (Janice), Elizabeth Schrey (Nancy), Scout Sinay (Young Wendall), there's too many to mention. Everyone did an outstanding job and I will always remember Crowbar for the people who made it happen.
For me at least, Crowbar is a blend of slasher movie, conspiracy thriller and supernatural horror. A statement you can at all live with, and would you like to elaborate on it?
I would say that's pretty accurate. I wanted it to have that slasher feel up until the last third of the picture when things really start to get weird. And once you get to the end, you might have to go back and watch it again to figure out the meaning of certain things.
With Crowbar being essentially a horror film, is horror a genre at all dear to you, and your genre favourites?
I've always loved horror films mostly because my mom never let me watch them. But since I grew up on the 'less is more' style of horror film, that's the kind I wanted to make. Some of my favorites include, The Shining, Halloween, Psycho, Rosemary's Baby, The Exorcist.
Let's go all the way back to your beginnings: How did you get into filmkmaking in the first place, and did you receive any formal training on the subject?
I actually got into filmmaking by accident. I had always loved movies, but was going to college for a music degree. A friend of mine was a journalism major and was working at a local TV station. They had an opening for an evening news editor and he said I could have the job if I wanted it. I agreed and ended up learning how to edit and eventually shoot broadcast quality images. Eventually shooting the news evolved into shooting things that I had a little more control over, like short films and music videos. I still don't have any formal training, but I'm currently enrolled at The University of Oregon as a Cinema Studies major, so I'm working on it.
What can you tell us about your filmwork prior to Crowbar?
Mostly short films, music videos, weddings, and a lot of live events like concerts and sporting events.
Any future projects you'd like to talk about?
I've got a few things in the works, but they are completely top secret. When it's time to let them out, you'll be the first to know.
Filmmakers who inspire you?

Feeling lucky ?
Want to
search
any of my partnershops yourself
for more, better results ?

The links below
will take you
just there!!!

Find Scott M. Phillips
at the amazons ...

amazon.com

amazon.co.uk

amazon.de
Looking for imports ?
Find Scott M. Phillips here ...
Something naughty ?
(Must be over 18 to go there !)

Kubrick, Malick, Aronofsky, Paul Thomas Anderson, Richard Kelly, The Coen Brothers, Hitchcock.
Your favourite movies?
The Shining, Boogie Nights, Donnie Darko, Halloween, Psycho, The Big Lebowski.
... and of course, films you really deplore?
Anything by Kevin Smith (post Chasing Amy), anything by Michael Bay.
Your/your film's website, Facebook, whatever else?
http://www.facebook.com/pages/Crowbar-The-Movie/166034177002
Anything else you are dying to mention and I have merely forgotten to ask?
My favorite band is 1/2 Acre, a country band out of Eugene. Crazy good.
Thanks for the interview!
Thanks! And remember. "I'm not going to hurt you, I'm just going to bash your brains in."