Your new movie The Last House - in a few words, what is it about?
Itís a deranged fairy tale about a hooker named Love and a maniac named Hate who are two white, hot stars that collide in a way that changes them both forever. I think the Brothers Grimm would be proud.
How did the project fall together in the first place?
Years ago I teamed up with Wes and Mary Laurie to make two films. The first being Silent Night, Zombie Night which I wrote, and the second which was Wesí screenplay Breath of Hate. Silent Night, Zombie Night sold fairly quickly because it was a genre film and those are easier sells. Breath of Hate was weird and non-linear and although the distributors who saw it liked it they didnít know what to do with it. Our rep and my dear friend David Vasile was a big champion of the film and convinced he could eventually give it a proper home. Sadly, when he passed away I had no idea what I was going to do with it until I spoke with Rob Hauschild at Wild Eye Releasing. He really liked the film and wanted to take a crack at it so I figured it would be in good hands and let him do his thing. Because it had been listed on IMDb way back in 2011 places like Wal-Mart and Redbox would view it as being an Ďoldí film so he changed the name to The Last House to give it a chance to sell better in those markets.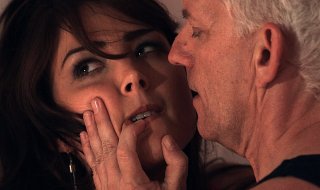 What can you tell us about The Last House's screenwriter Wes Laurie, and what was your collaboration like?
Wes Laurie is one of those unique voices whose scripts I always find really interesting. When we decided to do these two films back to back he gave me a choice of what script of his I wanted to make. I really liked Breath of Hate and thought it was do-able for the budget we had. Part of what makes Wesís stuff fun to read is the weird quirks involved. He claims all the foot worshipping is a way to get Tarantino to watch the film, but I believe thatís just a cover for Wesí own stuff. Thereís also a story about a Ďroommateí of his who liked to fuck melons, but I have to question the validity of this story as well. Itís like one of those Ďfriend of a friendí type deals I think.
In the film's central intellectual conflict between (your characters) Love and Hate - honestly, who could you identify with more, whom did you find more fascinating?
Intellectual conflict, huh? This is starting to get deep! Honestly, the part I liked the most about the script was the love story between Love and Ned. Love has an edge, which doesnít let her get too emotional. When the going gets tough in the mush department she has a way to deflect with dark humor. I liked that about her.
Hate spouts a lot of bullshit, which I donít even know if he believes. The only reason this aspect of the film turned out really good was because Ezra Buzzington is a great actor. He makes the bullshit sound interesting. What Wes was trying to say exactly Iím not sure, but it seems like Hate wants to be his own god and make people in his own image. Thatís all crazy talk, but then again I think religion is a bunch of crazy talk as well.
The Last House is certainly full of violence and also features its fair share of sexual allusions - so how did you handle these aspects of the movie, and why?
I didnít want this movie to be some torture porn garbage. I canít stand those types of movies. I donít get why an audience wants to see people tortured for torture sake, but then again thereís a lot of crazy fuckers out there. The violence in this film, which is mostly perpetuated upon Love by Hate is done in a measured fashion. Hate uses pain and suffering, in his mind, for a higher calling. Instead of giving you a kiss heíd rather bust your fingers. But if you are asking me how, as a director, I handled these things? Well, I just worked with exceptional actors. I sat down with them, told them what was expected and let them run with it. I try to hire actors who I trust to take the material and make it the best it can be. In this respect I was not let down during the filming of The Last House. Itís all a matter of trust really. However, there are some cleanliness issues in which if you have two girls sucking each otherís toes then you should make sure they clean those stinky feet and possibly get a pedicure as well!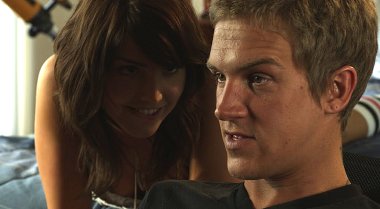 The Last House features a rather stellar cast - so why exactly these people, and what was your collaboration like? And how did you get some of them even?
Jason Mewes was approached through our associate producer Aine Leicht who knew someone repping him at the time. When I first started pre-production I didnít have an idea of who I wanted for Ned, but after he was suggested I thought it could be really interesting idea. Or a total miss.
He basically plays that one-note character in the Clerks films, which isnít much of a stretch emotional-wise, but there was a sweetness I thought that we could tap into. After all is said and done I think itís one of his best performances. Of course, I did have Lauren Walsh on my side when it came to handling him. We agreed the approach that she should take during their intimate scenes, which helped put him in a natural setting because at first he was really shy!
Sadly, I believe the only reason we got Jason in the film was because he needed money at the time. Once he did all his scenes he was immediately out of there and hasnít supported the film after the fact.
Ezra Buzzington was someone I found when I produced the film Someoneís Knocking at the Door. I donít remember how I stumbled upon his reel, but I saw it and decided I really wanted him in the film. When it came time to do The Last House I know that Wes saw someone much younger with a Trent Reznor-like quality as Hate, but I wanted Ezra. I knew he would do a fantastic job and he did. Much of why the film is interesting to watch is because heís interesting to watch.
I had worked with many of the other actors previously. Both Jack Forcintio and Felissa Rose were in Silent Night, Zombie Night and Ricardo Gray/ Tim Muskatell were in Knocking. I thought all these guys were wonderful so I waned to work with them again.
I found Lauren Walsh through the audition process. I didnít think she was a perfect Love, but she stood out from the rest for the role.
Monique Parent was introduced to me through a mutual actress friend at the time. I tested them both for the role of Selma and thought Monique was outstanding. Sadly, the other actress decided because of this she would never speak to me again. I tend to lose Ďfriendsí every time I make a movie. I guess itís like that line from A Bronx Tale, which Iíll paraphrase:
ďThis guy owes me twenty dollars. Itís been two weeks now, and every time he sees me he keeps dodging me.Ē
ďLook at it this wayÖit costs you twenty dollars to get rid of him. Heís never gonna bother you again. Heís never gonna ask you for money again. Heís out of your life for twenty dollars. You got off cheap.Ē
Anything you can tell us about audience and critical reception of your movie yet?

Feeling lucky ?
Want to
search
any of my partnershops yourself
for more, better results ?

The links below
will take you
just there!!!

Find Sean Cain
at the amazons ...

amazon.com

amazon.co.uk

amazon.de
Looking for imports ?
Find Sean Cain here ...
Something naughty ?
(Must be over 18 to go there !)

From what I can tell most of the reviewers were expecting a torture porn film and some of them seem pleasantly surprised that it was different. Not all of them liked it, but whatever. If you like the film then Iím glad. If you didnít then I could care less.
Any future projects you'd like to share?
Since Breath of Hate aka The Last House Iíve been doing a lot more monster SyFy-type movies. I recently went to Austin, Texas and filmed a new one called Terror Birds. It was for a company called MarVista so Iím guessing they will be putting it out sometime in 2016. It was a difficult shoot, but in the end I was pleased with the results. I got to work with Leslie Easterbrook, Greg Evigan and Jessica Lee Keller who were all fantastic. So look for that in the near future!
Thanks for the interview!